February is an exciting month in kindergarten! With the holiday season in the rearview and the learning routine back in full swing, our young learners are usually thrilled to find out that Valentine's Day is just around the corner. In this post, I wanted to share some of my favorite Kindergarten Activities for February. These hands-on activity ideas will help your students channel their excitement for the upcoming holiday as they practice a variety of important skills.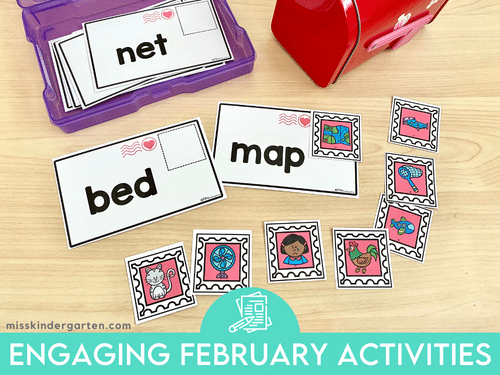 Engaging Kindergarten Activities for February
These engaging kindergarten activities are a great way to supplement your lesson plans with a fun seasonal twist! Whether you're looking for morning work activities or hands-on centers for your classroom, this round-up of February activities for kindergarten should give you some inspiration. It might even remind you of some resources you already have on hand!
February Morning Work
Morning work is one of my favorite ways to help students ease into a day of learning. Young learners thrive when they know what to expect as soon as they walk in the door. Self-directed morning work gives students a chance to refocus their attention and prepare for the day ahead. When your morning work uses a predictable format, it sets up your students for success!
If you have downloaded my bundle of kindergarten morning work, you already have a month's worth of math and literacy activities for February. These are activities that students can complete mostly independently by this point of the school year. For example, many of your students will be comfortable identifying the middle sounds in words. Your students may also be able to independently write and solve an addition equation to model objects in a ten frame. These February morning work printables also include a touch of Valentine's Day festivity to grab your students' attention as they sit down to work.
Literacy Centers for February
You can also bring some valentine's fun to your literacy center rotations! My low-prep centers are designed to be easy to distribute and clean up each day. The task cards fit in your favorite photo storage boxes so they are organized and ready to grab and go. Low prep centers are a great way to bring extra engagement to literacy practice without a bunch of prep time.
Your students will love adding stamps to valentine's envelopes! They will read the word on each task card and find the stamp with the corresponding picture. Another engaging activity for students is a Valentine vowel sort, where they sort valentine cards to the correct mail cart based on the short vowel sound.
The best part about these low-prep centers is that you can also incorporate them into morning work tubs, small group practice, or even fast-finisher activities. They are perfect for additional literacy practice during the school day, whenever that works best in your classroom.
Math Centers for February
In addition to literacy centers, you can also bring some seasonal engagement to your math stations! Your students can practice making ten and counting teen numbers. Plus, they can practice addition and subtraction with hands-on activities.
These activities are perfect for extra engagement because you can add seasonal manipulatives that students love. (Mini erasers are always a crowd favorite!) However, these themed learning activities are also fun for students to complete with a dry-erase marker. These activities are designed to be used with whatever you have on hand!
Print and Go Printables
Do you ever find yourself looking for a simple printable activity to supplement your daily lesson plans? Print-and-go printables can be used in many different ways throughout the month!
These are great for literacy and math practice in small groups. Plus, fast finishers enjoy these engaging seasonal worksheets. You could even send home individual printables for some extra practice. You can choose to staple these activities into a February activity packet or use individual pages as needed throughout the month.
In addition to practicing important literacy and math skills, these print-and-go activities help students strengthen their fine motor skills. For example, the ending sounds worksheet above has students cut out the letter cards before using them to build CVC words. Students also love this spin-and-write activity where they write the word for the picture they land on after each spin. If you don't have any clear spinners on hand, students can use a pencil with a paper clip.
February Crafts for Kindergarten
Finally, crafts are a great way to practice important skills in kindergarten. Your students will have fun spelling and recognizing the letters in their names with this adorable Valentine's Day craft. As students create their own Valentine's mailbox craft, they will also be practicing fine motor skills and following directions.
This craftivity is editable if you'd like to give your students printed letters to put in order on their mailboxes. Simply use the template to type the letters of their names onto colorful envelopes. Otherwise, students can practice writing their own names by putting one letter on each envelope.
The finished product looks great on a Valentine's Day bulletin board! Students are always so excited to find a mailbox with their name on it. This is a great way to encourage students to recognize their own names and the names of their classmates!
Kindergarten Activities for February – Printable Bundle
All of the activities mentioned above (and more!) can be found in one easy-to-download printable bundle. This money-saving resource includes morning work, low-prep centers, digital task cards, no-prep printables, a Valentine's Day craft, and number sense interactive journals. You'll find everything you need to supplement your kindergarten lesson plans with a bit of seasonal engagement!
If you'd like to take a closer look at everything included in this bundle, you can find it in my shop.
$20.00
This February activity bundle is filled with meaningful resources that will make your monthly prep so much easier for you! Your students will work on important kindergarten skills while also building fine motor strength, following directions skills, and independence.
Shop Now
Save These February Activities for Kindergarten
If you'd like to come back to these kindergarten activities for February, be sure to save this post! Just add the pin below to your favorite teaching board on Pinterest so you can quickly find these activities when you're working on your February lesson plans.