I get asked a lot about centers; how I choose centers, how I introduce centers, and most often how I prep them all and keep them organized.
These are such great questions and I am happy to share what I do.
Since I've already shared about the first two topics (click the links above to check them out!), I'm going to focus on ideas for prepping and organizing centers for the classroom.
Take the Time
I know that prepping and organizing centers feels like an overwhelming task. But if you take the time to do it right from the start, you will save your future self A LOT of time by not having to print and prep (or find) the centers again. I'm going to share some simple steps you can have your centers prepped and ready to go. And once they are prepped, you can use them year after year! It is definitely worth taking the time, because the time you invest now will pay off for years to come!
One Bite at a Time
I'm sure you've heard this saying . . .
"How do you eat an elephant?"
. . .
"One bite at a time."
Well this is a great philosophy to remember any time you are faced with a task that seems a little daunting.
Instead of focusing on the entire year of centers, start with the present time and begin working forward. This allows you to meet the immediate need first and then work on getting ahead.
You may have some centers prepped already. They may not be organized yet, but we will get to that! And if you are completely new and have no centers yet, then just remember this – One Bite at a Time!
Have a Plan
What centers do I need?
Before you begin, it is important to have a plan for your centers. Without a plan you don't really know what you need to prep and how to best organize it. For example, in my classroom I generally have around 20 students. For centers, students rotate in pairs, which means I need to have 10 centers at any given time for all my students to have a place to go.
Organizing Centers
Next, I like to think about how centers will work. Will students get their supplies on their own, will I set things out? This will make a difference in how I organize my materials.
I also try give my students as much independence as possible and allow them to do what they can do on their own. This comes with a lot of guidance, teaching, and modeling of procedures at the beginning of the year. I promise that it is worth every.single.minute to teach students how to work on the centers independently.
With this rule in mind, it won't surprise you that I choose center organization and storage that is easy for students to grab, stays closed, and also easy for students to open. AND . . . I label everything! Having a consistent place for keeping centers helps to keep them organized as well. When we are done with the center for the year and it's time to put it away, I stick it in a ziploc baggie and file it in these clear poly envelopes by month or skill.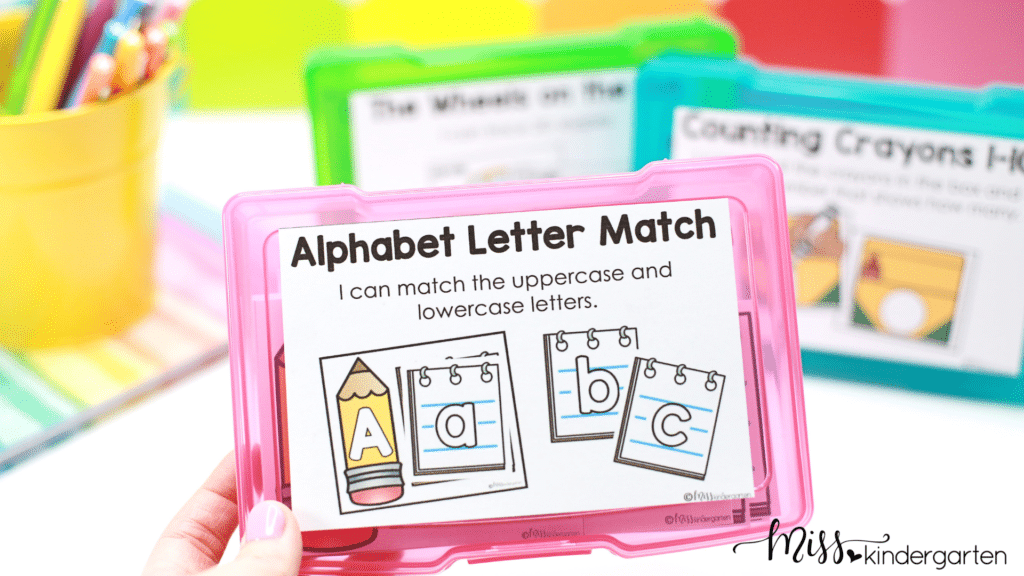 Grab these FREE Low Prep Centers to use with your students!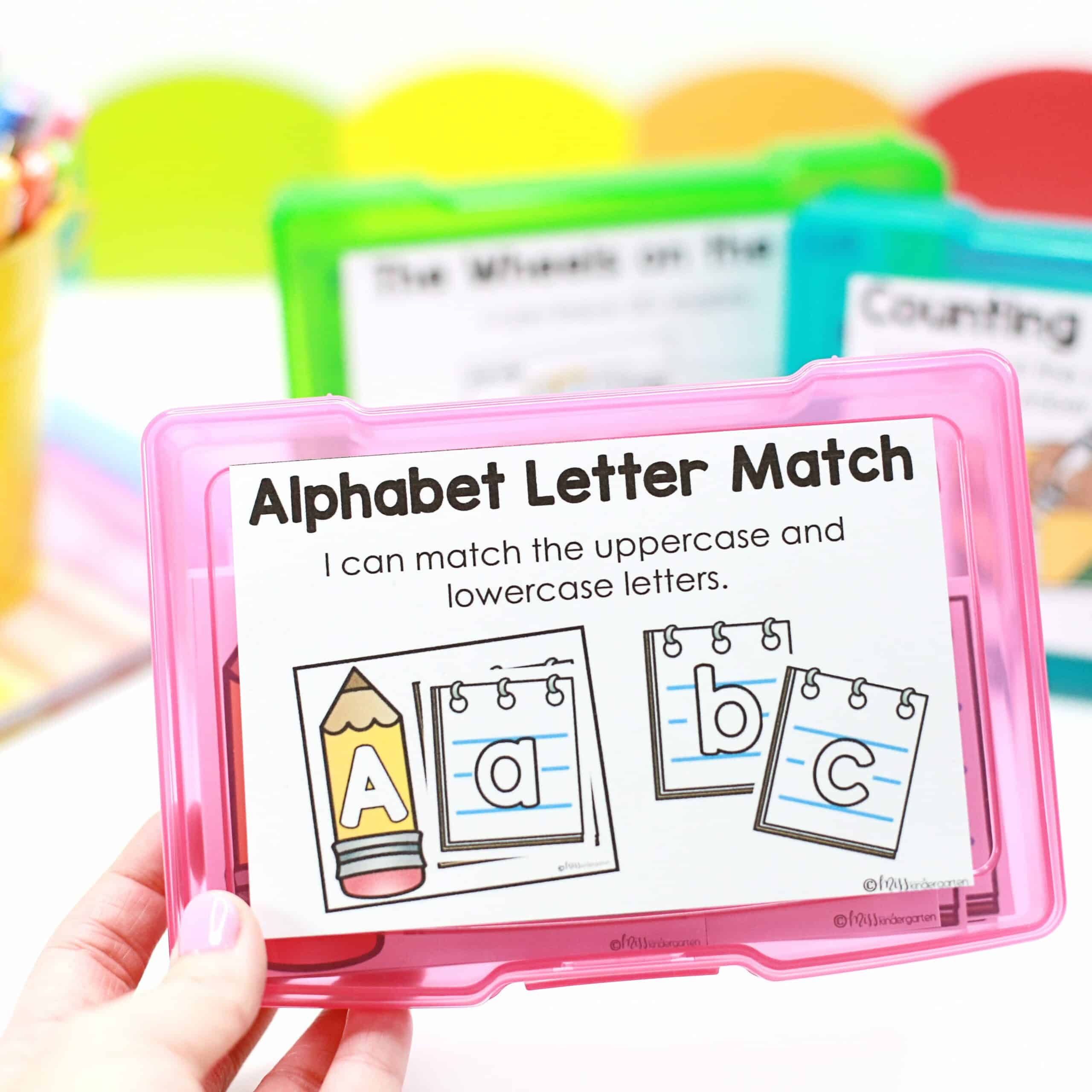 Free Download
Free Low Prep Centers!
If the thought of planning and prepping centers has you feeling extremely overwhelmed, then these low-prep centers are EXACTLY what you need! They're so easy to prep, you could use them tomorrow! Click the button below to sign up for the free download.
Be Intentional
When it comes to choosing centers for the classroom, it is important to be intentional. It would be soooooo easy to get carried away with all the fun and engaging activities that fill your Pinterest feed. But not all will help further your learning goals. The more centers you choose, the more you have to prep and organize. I don't think any of us have time or space for centers that don't meet a goal.
Come up with a general guideline to follow when selecting centers. For example with literacy centers you might have 2 handwriting centers, 3 sight word centers, 3 phonics centers and 2 phonemic awareness centers. This really helps to keep your centers balanced and make sure that you are providing students will all the practice opportunities they need.
Time to Prep!
The last and final step is the actual prepping. This includes printing, laminating, cutting, sorting, storing. You get the idea. Many of my centers don't require a lot of mental focus which means they are great for a little multi-tasking. You can laminate and cute while you binge watch your favorite show, or catch up with friends on the phone while you add labels to the center boxes or bags. If this is not something you enjoy, ask for help and have a prepping party. Add some friends, music, and snacks and all of a sudden prepping isn't so bad 🤣
Some of My Favorite Centers
Low Prep Centers
These centers are a great way to provide fun and engaging skills practice for our students without taking a lot of prep time. Low prep does not mean there is less educational value. It just means you have less to do to get them ready!
The low prep centers can be easily cut with a paper cutter, and you won't need to spend hours cutting out intricate snowflakes 😉
All of the centers can be used with manipulatives you likely already have in your classroom! Here is a list of all my favorite manipulatives to use with centers. I also love that the center cards, dry-erase markers, and manipulatives fit right into the 5″x7″ storage boxes.
This full year Low Prep Centers Bundle includes both math and literacy skills practice! Each month offers 4 math centers and 4 literacy centers. These low prep centers are full of engagement that allow students to practice important skills all year long.
$60.00
Get your math and literacy centers for the entire year planned and ready to go! These LOW PREP centers are full of HIGH ENGAGEMENT! Allow your students to practice important kindergarten skills all year long with these fun, hands-on centers, and watch their confidence grow!
Shop Now
Monthly and Seasonal Centers
Connecting centers to the month, seasons or holidays is a great way to engage students. These themed center activities provide students with hands-on opportunities to practice all the skills and concepts they are learning. These seasonal and holiday themes are a great way for students to connect these skills to real world experiences.
It is important for students to have lots of opportunities to practice skills in order to master it. Centers are that time in the primary classroom. With these seasonal centers you will have lots of options for both math and literacy activities all year long.
These are fun, hands-on centers targeted to help students learn and thrive in math and literacy. This seasonal center bundle includes 100 centers, that will provide learning opportunities for the entire year.
$96.00
Hands-on centers are one of the most engaging parts of our day. Students love to use the monthly centers to practice and reinforce important skills taught throughout the year. This MEGA bundle includes 14 math and literacy center bundles to keep your students learning and engaged all year long!
Shop Now
Themed Centers
Themes are often used when teaching in the primary grades. It is a great way to connect science and social studies concepts into math and language arts learning time. Adding these themes into our centers is another great way to engage students and reinforce the concepts and vocabulary related to the theme.
This bundle of themed centers is the perfect addition to your classroom if you teach using themes. These themes can be used any time of the year to connect with your other teaching, or just to add some themed learning to center time! These centers include fun themes like, construction, zoo, pet, space, weather and community helpers.
$30.00
Play is so important when it comes to learning, so I work really hard to incorporate meaningful play into our day during math and literacy centers. Centers are a great way to keep your students engaged in their learning, while also working on building important academic concepts. This bundle includes my favorite learning themes that can be used ANY TIME of the year!
Shop Now
You Got This!
Being prepped and organized for centers is something you can do! It will make your center time run so much easier and smoother. If you can't prep all your centers over the summer, you can make it a year long goal to prep and organize your centers. Your future self will thank you!
Save these Tips and Ideas for Prepping and Organizing Centers
Save these tips and ideas for prepping and organizing centers by pinning this to your favorite classroom Pinterest board. Then you will be able to come back any time you need teaching tips, ideas or resources.