Mornings in the classroom can be hectic! Some mornings we are trying to greet our students, answer a parent's question, respond to an important email, and field a call from the front office, all within the first 3 minutes. This can be more than stressful and why it is so important to have a morning routine so you can actually deal with all those "extra" tasks when needed. It took me a while to figure out the best morning routine and then I found the perfect solution to keep my kiddos learning and engaged…morning tubs! We incorporate both math and literacy into our morning tubs, and today I want to share our favorite fun and engaging literacy ideas for morning tubs.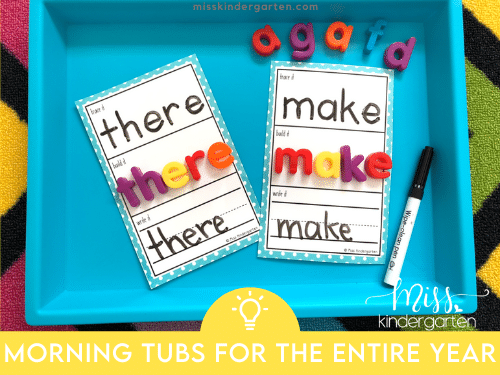 What are morning tubs?
Morning tubs are center activities that students can work on independently when they arrive in the morning. Each activity goes into a plastic tub, on a colorful tray, in a box, or whatever organizational system works for you! I found my colorful trays in the Target Dollar Spot, but these craft trays from Amazon work too. Whatever you use, just make them something easy your students can grab in the morning and clean up when it's time to move onto the next activity.
In addition to the actual tub or tray, you will also need the materials to go in each tub. I like to incorporated hands-on manipulatives that help strengthen fine motor skills. These are things you likely already have in your classroom. We use pom-poms, play dough, dry erase markers, and magnetic letters. I print all the centers out on card stock and laminate them so we can use the morning tub activities again and again.
Why use morning work tubs?
Morning tubs will help you create a calm and organized morning routine that can function in the midst of all the morning tasks. They create a consistent routine that students can complete on their own while you take care of other administrative tasks.
I like to implement morning tubs from the very beginning of the school year. Morning arrival time is one of the very first procedures I teach my students. As students enter the classroom, I have them hang up their backpacks, put their lunchbox away or make a lunch choice, and grab a morning tub. After a few weeks of practicing this procedure, they become morning tub experts!
How do you manage morning tubs?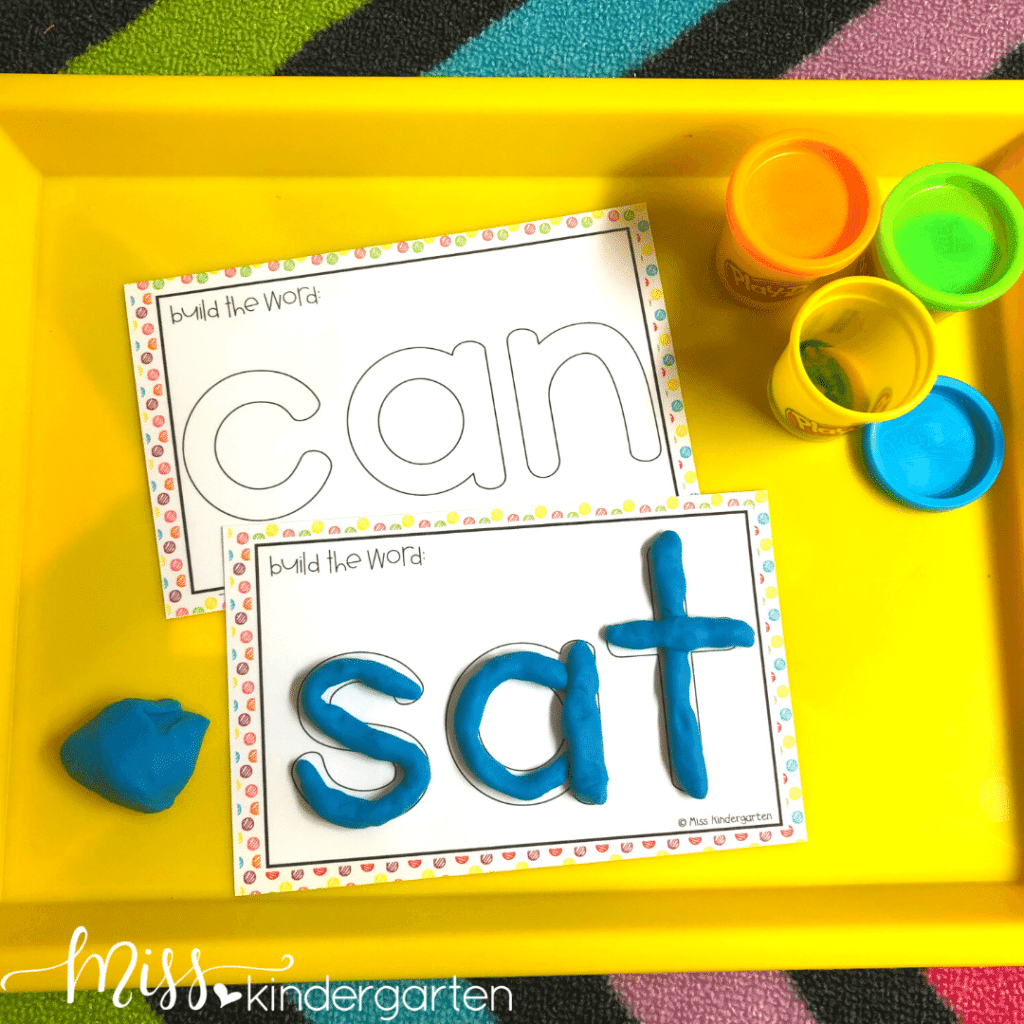 Morning tubs are really versatile and allow you to set up in a way that works best for you. These activities can be done individually or with partners. You can choose what works best in your room.
I have found that partners work well in my classroom. This way the students can help each other when needed, but the noise level doesn't get too loud. I use a pocket chart with my students' photos to let my students know who their partner is and what tub they will be working on. We rotate tubs every two days so that students have a couple of days with each activity. Once every group has been through all of the tubs, I switch the tubs out to new activities and we start the cycle over again.
How long should we spend working on tubs each day?
I have found 15 minutes to be the magic number in my classroom. This allows most of my kids to come in and unpack, grab their tub and have some time to work on it. This amount of time also allows me enough time to take care of any of the extra tasks I need to attend to in the morning. Your classroom might have a different magic number and that is great! Find what works for you and your morning procedures.
Beginning of the Year Literacy Morning Tubs
It's important that your students are able to work on the morning tub activities independently. While you will need to model the activities to your students in the beginning, they should be able to complete them on their own. Remember, the goal is to free up some of the morning craziness, not add more questions to the mix.
Activities that include the beginning of the year skills are the perfect ways to start off morning tubs in your classroom. I like to include things like name writing, alphabet tracing, alphabet matching, and letter sounds.
Some other fun beginning of the year literacy tub activities included:
Beginning sounds
Sight word practice
Rhyming words
Color words
While you may already have lots of activities right at your fingertips to use for setting-up morning tubs, I know that having everything in one place can also save a lot of time. If you are looking for a complete set of Low Prep Morning Tubs for the Beginning of the Year you can find them in my shop!
Middle of the Year Literacy Morning Tubs
As the year progresses, you will see how quickly students are learning new skills. In just a few months, those beginning of the year review activities can be replaced with new skills that students can review. Many of these will be skills that the students have learned since the beginning of kindergarten. This allows morning tubs to be a great spiral review for students.
Here are some of the skills I like to review through our morning tubs during the middle of the year:
Letter and number writing
Continute sight word practice
Word families
CVC words
Syllables
Beginning sounds
You can incorporate any skills that your students have learned up to this point. You can find my ready to use Middle of the Year Morning Tub Activities in my shop as well.
End of the Year Literacy Morning Tubs
As we get closer to the end of the year, our students have learned SO MUCH! We have a well established morning routine to give our students some fun, structured, hands-on practice. And yay for you! By the time you've gotten here, you have almost an entire year of activities ready to go and completed for the next school year! At the end of the year, we focus on continuing our spiral review of previous skills, as well as:
Introducing blends and digraphs
Reading and writing sight words
Sorting short & long vowels
CVC & CVCE Words
Reading simple sentences
Writing words
You can continue to mix and match any of the skills we talked about from the beginning of the year and the middle of the year activities. In fact, with some planning, you can strategically assign students to the morning tubs for skills they need extra practice with. Another chance for differentiation means another chance for learning!
If you'd like to check out the End of the Year Morning Tubs you can find them in my shop too.
Morning Tubs Year Long Bundle
I hope you are inspired and ready to jump into morning tubs with both feet! There are so many benefits to using morning tubs. From classroom management to spiral skills review, morning tubs are a great addition to your daily classroom routine.
If you are ready to add morning tubs to your classroom and you're looking to save time, then I have the perfect bundle of resources for you! My Yearlong Morning Tubs Bundle has everything you need and more! It includes ideas for setting up and managing the tubs, all the activities mentioned above, plus more fun and engaging literacy and math activities for your students. Your entire year of morning tubs will be planned out, sequenced, and ready to print!
Save these Morning Tub Ideas
Pin this to your favorite classroom Pinterest board so you can save these literacy morning tubs and create chaos-free mornings in your classroom.