Here's a kindergarten truth for you: Mornings can be wild! Students are coming in the door, parents have questions, backpacks and lunch bags need put away, attendance needs to be taken…the list goes on and on! The last thing you want is your head to be spinning as soon as that bell rings. As teachers, we need something for our kindergarteners to do successfully and independently in the morning. We also want it to be meaningful and helpful to their learning. This is why kindergarten morning work can be such a great way to start your school day!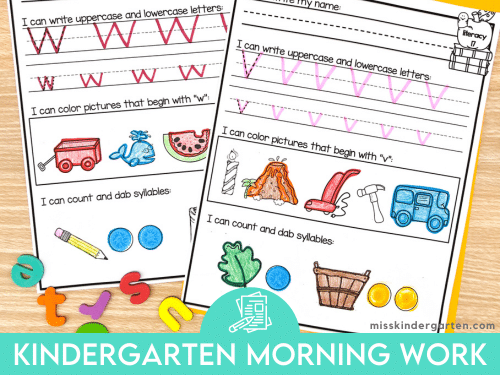 6 Benefits of Using Morning Work in Kindergarten
On the surface, kindergarten morning work might just look like any other worksheet your students will complete during the day. However, there are so many benefits to starting your daily routine with this simple activity!
1. Establish a Morning Routine
Kindergarten morning work is a great way to establish consistency and routines in your classroom right off the bat. Students will know to come in and get started right away on their morning work activity. Once you practice this routine for a couple of days, you'll be amazed at how well they do with it!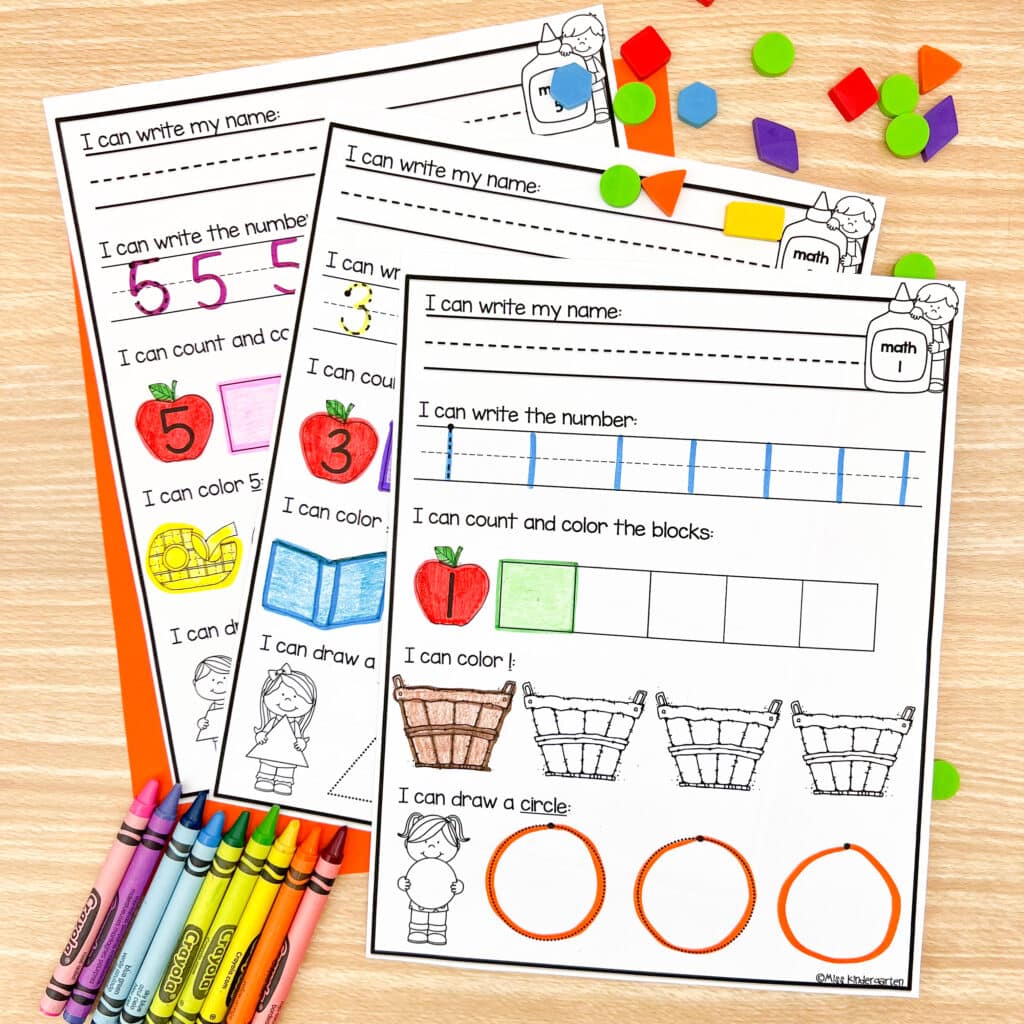 Something I like to do is have soft, uplifting music playing in my classroom in the morning. When my students come in, they feel calm and relaxed and can get right to work. Meanwhile, I can greet students and take care of housekeeping tasks. This is a win-win for everyone and it sets the tone for a positive and productive day of learning!
Another tool that helps my class is using a noise meter and projecting it onto the screen. The noise meter goes up the louder it gets. My students know that we must keep the noise meter in the "green level" during morning work time. This means they work quietly while listening to the music.
2. Review Academic Skills
Kindergarten morning work can include meaningful review of math and literacy skills in a predictable format. The consistent format of daily activities helps students focus more on the skill they're practicing and less on the navigation of the actual worksheet!
To ensure that students get both literacy and math practice each morning, you can create two-sided morning worksheets. This is a great way to spiral review so students keep those key skills sharp while learning new skills. You can add a cover page or bind it into a booklet to create a morning work packet. This can cut down on prep time even more!
3. Encourage Independence and Build Confidence
The key to kindergarten morning work is structuring it so that your students can successfully complete it independently without having to ask for directions. Otherwise, the morning work routine will become a source of frustration for students instead of a "quick win" that eases them into a day of learning.
By using a spiral review of academic skills along with a predictable format, morning work helps students grow more confident and independent each day!
4. Add Seasonal Fun to Your Classroom
Another benefit of kindergarten morning work is that it can bring a touch of seasonal fun to your classroom while still maintaining the overall structure of your day. My morning work printables use themed activities for each month that add just a touch of extra engagement to the daily routine. Students are always interested to see what pictures are on their work each day, which encourages them to sit at their seats to check it out!
5. Provide Fine Motor Practice
Fine motor practice is so important for our young students since their hand strength and coordination are still developing. Morning work time allows students to complete engaging activities and practice fine motor skills with coloring and writing. You can incorporate even more fine motor practice by providing other hands-on materials and manipulatives, like magnetic letters, counters, or bingo daubers.
6. Low-Prep Flexibility
One final benefit of kindergarten morning work is that it is totally flexible! A year's worth of low-prep morning work printables can save you so much stress about what to do with your students each morning.
On the other hand, the flexibility of morning work means you don't have to actually use it during that time! For example, if you have decided to use morning tubs or another option for kindergarten bell work, you could still use this resource to cut down on prep time in other areas. The spiral review and predictable format of kindergarten morning work makes it easy to use as homework or as a station during your literacy or math stations.
You can also mix and match your morning work to best meet your needs. You could start the day with literacy morning work but use the math morning work during centers. The beauty of kindergarten morning work is that you can decide what works best for your students and your classroom routine!
Kindergarten Morning Work for the Whole Year
Are you thinking that kindergarten morning work is the ticket to smooth mornings? Do you want an effective way to spiral review with your students during centers, independent practice, or even as homework? Check out my year-long morning work bundle for kindergarten!
Each month of printables includes 20 literacy and 20 math activities that provide meaningful spiral review for your students. To save yourself time and precious copies, you can copy the math and literacy pages back-to-back. I have also included a cover page for each month so you can easily create packets or booklets. You'll be set for the year with low-prep, effective activities that your students will love!
To take a closer look at this resource, you can click below to find it in my shop.
If you have any questions about kindergarten morning work or routines, please reach out! I'm happy to help!
Save This Morning Work for Kindergarten
Be sure to save this post so you can come back to it later! Just add the pin below to your favorite teaching board on Pinterest. You'll be able to quickly find these kindergarten morning work ideas and resources whenever you need them!