Here's a truth for you…mornings can be crazy! Students are coming in the door, parents have questions, backpacks and lunch bags need put away, attendance needs to be taken, etc., etc. The last thing you want is your head to be spinning as soon as that bell rings. As teachers, we need something for our kindergarteners to do successfully and independently in the morning. We want it to be meaningful and helpful to their learning. Insert…kindergarten morning work! These activities will help you start your day off right and give your students a sense of responsibility.
Morning Routine
Kindergarten morning work is a great way to establish consistency and routines in your classroom right off the bat. Students will know to come in and get started right away on their morning work activity. Once you practice this routine for a couple of days, you'll be amazed at how well they do with it!
Something I like to do is have soft, uplifting music playing in my classroom in the morning. When my students come in, they feel calm and relaxed and can get right to work. Meanwhile, I can greet students and take care of housekeeping tasks.
Another tool that helps my class is using a noise meter and projecting it onto the screen. The noise meter goes up the louder it gets. My students know that we must keep the noise meter in the "green level" during morning work time. This means they work quietly while listening to the music.
What's Included In Kindergarten Morning Work
I wanted my kindergarten morning work to include meaningful math and literacy activities. Therefore, each month includes 20 literacy and 20 math activities. To save yourself time and precious copies, you can copy the math and literacy pages back-to-back. The students can do both sides each morning. That way they get to review both key math and literacy skills. I also included a cover page in the file in case you want to make a packet for your students. Of course, you can find the system that works for you. If you would rather, they can do just one activity per morning. You can also use them throughout your day or as homework.
Kindergarten Morning Work Structure
The key to kindergarten morning work is structuring it so that your students can successfully complete it independently without having to ask for directions. Each math and literacy activity follows a predictable format. Even though the skill will change, the format and structure remains consistent. Kindergarteners thrive on consistency and predictability!
The kindergarten morning work bundle includes activities for the entire year. The skills align with what is being taught each month. This is a great way to spiral review so students keep those key skills sharp while learning new skills. Each month has a fun theme, which makes it even more fun for students.
Benefits Of The Activities
There are so many benefits to using these kindergarten morning work activities. Not only do they help structure your mornings, free up your time, and teach your students responsibility, but they also cover key math and literacy skills in a fun way! Students get to complete engaging activities and practice fine motor skills with coloring and writing. You can incorporate hands-on materials such as magnetic letters and numbers, counters, etc., if you would like. Another option is using bingo dabbers to fill in ten-frames. Students love this! That's the beauty of these morning work activities. You can make them work for you and your class by incorporating manipulatives and coloring tools as you wish.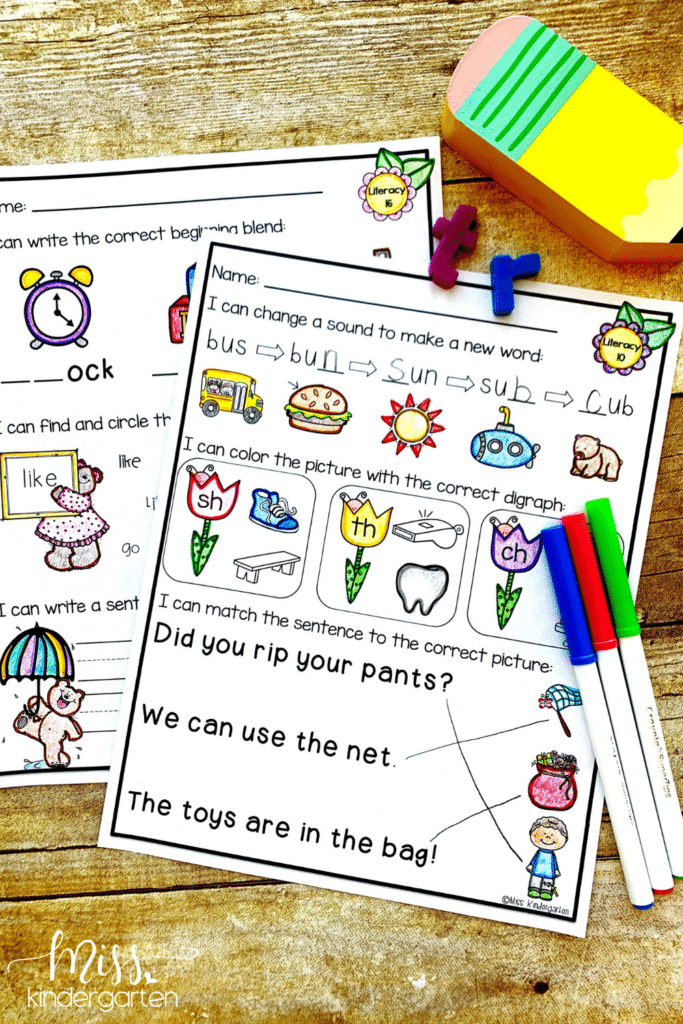 Get Set Up With Morning Work
If you are thinking that this is the ticket to winning your mornings or maybe you just want an effective way to spiral review with your students during centers, independent practice, or even as homework, check out my year-long morning work bundle for kindergarten! You'll be set for the year with low-prep, effective activities that your students will love!
If you have any questions about kindergarten morning work or routines, please reach out! I'm happy to help!