I know how stressful the start of the school day can be in kindergarten!  Between parents who have questions, students who need immediate assistance, and phone calls from the front office, your attention is likely being split in five different directions!  This can make it difficult for you and your students to start the school day on the right foot. That's where Kindergarten Morning Tubs can come to the rescue!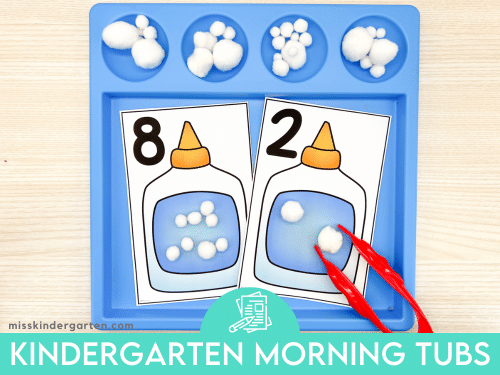 This post contains affiliate links. By purchasing through this link, we get a small commission. Rest assured – we only share links to products that we use and love!
What Are Kindergarten Morning Tubs?
Kindergarten morning tubs are activities in small totes or trays that are ready to go as students enter the classroom.  Some teachers choose to have the bins in a designated place in the room, so students can choose a morning tub after hanging up their backpacks.  Other teachers choose to have morning tubs already set out at desks or tables.  The management is up to you and the needs of your class!  
The simple morning tub activities can be completed independently or with very little assistance.  This allows students to ease into a day of learning while you tie up any loose ends before starting the morning routine.
Benefits of Morning Tubs for Kindergarten
There are many reasons why morning work tubs are such a helpful tool in the kindergarten classroom.
Benefit #1: Provide Structure and Routine
First, kindergarten students thrive on consistent routines! Morning tubs can help you add structure and routine to a tricky part of the school day. Your students can be engaged in simple(but meaningful) activities as soon as they walk in the door. 
Benefit #2: Literacy and Math Review
Morning work activities can incorporate concepts that you've previously taught to help students keep those skills sharp!
Benefit #3: Fine Motor Practice
It's so important for young kindergarten students to have as much fine motor practice as possible, but it can be hard to find the time!  Morning tub activities are a great way to fit some hand-strengthening tasks into the school day. Here are some of my favorite manipulatives to add to morning tubs for extra practice with pincer grasp, hand-eye coordination, and more:
dry-erase markers
colored pom poms
play dough
clothespins
pipe cleaners
plastic buttons
seasonal manipulatives
dice
dominoes
snap cubes
base-ten blocks
Benefit #4: Build Independence and Confidence
As students experience success with the morning routine, they will grow in confidence as they become more independent learners.
Benefit #5: Save Time
One of my favorite parts of morning tubs is that you can access all of the benefits of this routine with minimal prep time! Just laminate and place all the materials for each activity in a tub or tray and they're ready to go!
Now it's time to take a look at some of my favorite morning tub ideas!
Literacy Morning Tubs for Kindergarten
Name Writing Practice
Name writing is a very important skill for kindergarteners that requires plenty of repetition! To keep this practice fun and engaging, you can add it to your morning tub routine. Have your students use a dry-erase marker to practice writing their names and their classmates' names.
I have an editable document that allows you to type each student's name to personalize for your class. To easily switch up this task, you can swap out (or add to) the markers with magnets or letter tiles.
Alphabet Practice
Have your students practice the alphabet while strengthening their fine motor skills! They can use mini pom-poms or play dough to form each letter. I found these awesome plastic tweezers at Dollar Tree, perfect for building those teeny finger muscles!
Another fun alphabet morning tub idea is to have your students practice writing the uppercase & lowercase letters with dry-erase markers. They can also use different colors to differentiate between the upper and lowercase letters.
Phonemic Awareness
Your students can practice rhyming during morning work time as they match pictures with rhyming sounds. You can use Velcro dots to keep the cards from sliding all over the place.
Help your students strengthen their fine motor skills as they identify how many syllables are in the word for each picture. You can also make these activities self-correcting to increase independence during morning work time. Just add a sticker to the back of the card behind the correct answer and students can see if their clothespins line up.
Phonics
Morning tubs are also great for phonics practice! For example, your students can practice identifying beginning sounds in words as they review word families.
High Frequency Words
Tracing, building, and writing sight words is great morning work practice. As your students learn more words and master new phonics skills, you can update and add to this tub as the year progresses. You can also encourage students to read the words they've built to a friend, which they love to do!
Your students can also practice identifying color words as they sort pictures by color.
Math Morning Tubs for Kindergarten
Number Formation Practice
Using a dry-erase marker, your students can practice writing numbers 1 to 10 along with number words.
You can also add some hand-strengthening exercises to number formation practice by having students use pipe cleaners or play dough.
Counting
Students can use mini pom-poms to match the number on each task card using one-to-one correspondence.
Number Identification
Your students can improve their number sense and number identification as they match picture cards onto the correct mat.
Kindergarten Morning Tubs
If you are interested in ready-to-go tubs for the ENTIRE school year, I have the resource for you! I've created a Morning Tubs Bundle that has seasonal activities that follow a natural progression through the school year. Click below to take a closer look at these morning tubs for the beginning, middle, and end of the school year.
Save These Morning Tub Ideas for Kindergarten
If you'd like to find this resource later, be sure to save this post! Just add the pin below to your favorite teaching board on Pinterest. You'll be able to quickly find this resource when you're ready to plan your morning work routine for the year.