The process of teaching sight words looks different in each classroom, but one fact remains the same: Kindergarten students need plenty of practice with each new sight word! Repetition is key to helping young readers learn to read sight words fluently. You can keep your students engaged in reading practice with hands-on Sight Word Centers for Kindergarten!
Practicing Sight Words During Centers Time
It can be challenging to fit in all of the meaningful practice and repetition that students need. A great way to add some purposeful sight word activities into the daily routine is during centers time! There are a few reasons why literacy centers provide the perfect setting for additional sight word practice:
Individualized: Centers activities are an easy way to customize tasks for individual students. As you determine which sight words your students need to practice, you can mix and match activities to best meet their needs.
Engaging: Since centers are typically hands-on learning activities, they can bring an extra level of engagement to sight word practice. As students rotate through different activities, they will have so much fun that they'll forget they are hard at work!
Routine: Finally, students thrive on routine! Sight word activities can be repeated over time for many different words. Students don't need to learn a brand new activity for each sight word they practice. Instead, they can get right to work independently (or in small groups) with minimal direction needed from you. The routine will be the same even though the words are different.
Sight Word Centers for Kindergarten
With the benefits of centers in mind, let's talk about some specific activities that are perfect for interactive sight word practice. These fun sight word centers will help your students become more confident readers and writers! The best part is that these activities can also be used for small group instruction, early finishers, or even morning work tubs!
Build a Dog Leash
As kindergarten teachers, we know how important it is for students to have multiple exposures to concepts as part of the learning process. This is especially true when it comes to applying phonics knowledge to reading and spelling sight words! The more opportunities that students have to work with high frequency words, the more quickly they will be able to read and spell them accurately. However, this repetition doesn't need to be boring! You can make learning fun with this dog-themed sight word activity!
Each adorable dog card has a sight word for students to read and spell. The card is attached to a pipe cleaner "leash" that can be used for spelling practice! Students can add letter beads to the leash in the correct order, using the sight word printed on the dog card to check their work. This beading activity also encourages little learners to use their fine motor skills as they work to get each letter onto the leash.
Read & Reveal Sight Words
Self-correcting activities, like read and reveal, are one of my favorite ways to make the most of independent practice time during literacy centers. This particular read and reveal activity has a fun sight word twist!
After laminating the cards, simply fold and crease the card so the flap covers the sight word. You can hold the flap in place with a clothespin or clip. Students will use the pictures as clues to help them spell the sight word that is underneath the flap. As they write down the beginning letter for each picture, they will be spelling the sight word! Once they have "cracked the code," they will open the flap to see if they were correct.
Sight Word Task Cards
Practicing sight words both in isolation and within sentences is important for young learners! This gives them the opportunity to practice spelling and reading each word before reading it fluently in a sentence. Sight word task cards provide all of this practice in one low-prep resource.
Simply choose the words you'd like your students to practice, then print and laminate the corresponding task cards. These task cards are easily prepped and organized since they are the perfect fit for task card storage boxes, or you could group words together onto binder rings.
Students will practice reading the word at the top of the card, then build it using magnetic letters, beads, or even play dough. After reading and spelling the word in isolation, they can then use a dry-erase marker to trace the word in a sentence. Finally, they can practice reading the sight word in the sentence on the card.
Sight Word Sentence Strips
Sentence strips are another great option for sight word practice during centers. These laminated strips can be attached to a binder ring and added to your literacy stations. Kindergarteners are always so excited to see all of the different sentences they can read using the phonics skills they have learned!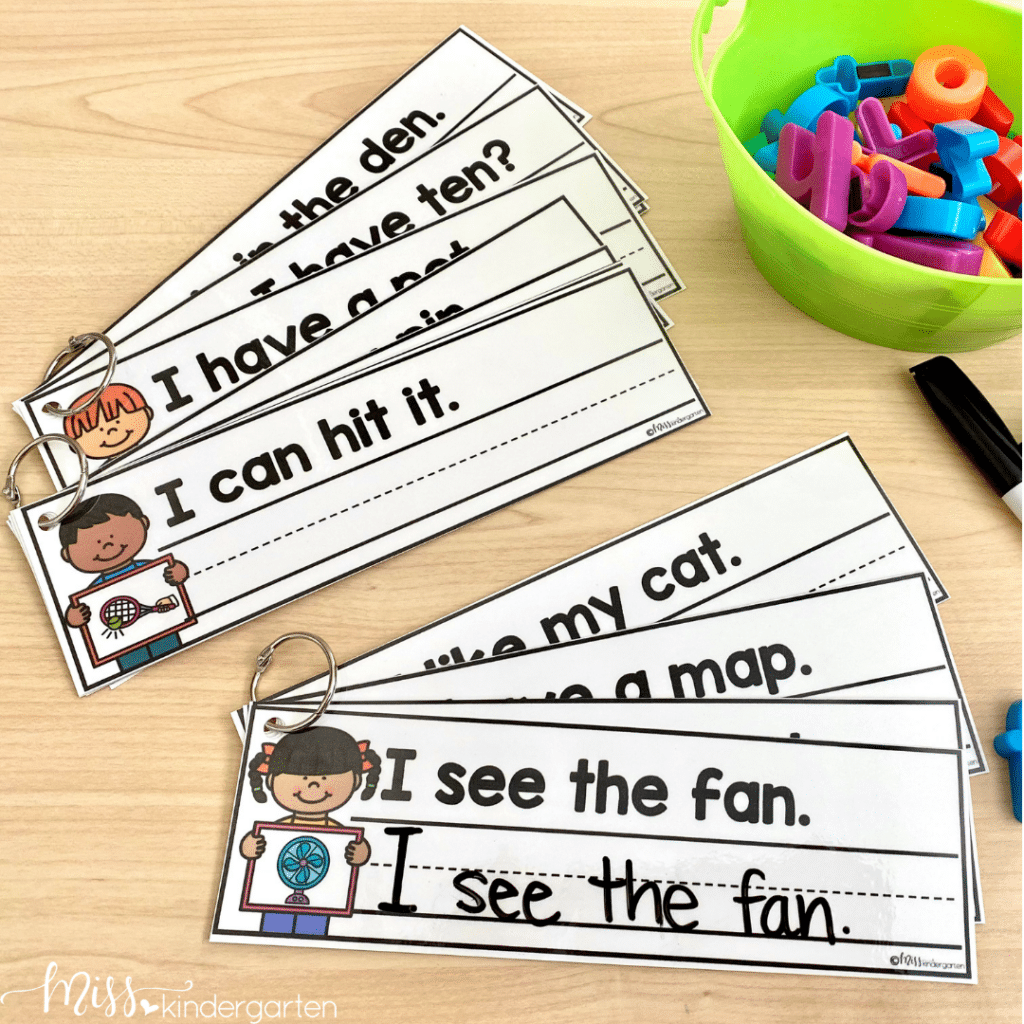 In addition to reading CVC words and high frequency words, these sentence strips are a great way to practice other important skills. As students write each sight word sentence, they will practice proper letter formation and sentence structure. The pictures on each sentence strip also provide guided vocabulary practice for students. With so many skills to practice in kindergarten each day, it's always a bonus when one center can address several at once!
Printable Sight Word Centers for Kindergarten
All of the hands-on sight word activities that I shared above can be found in my set of Kindergarten Sight Word Centers and Games. These literacy centers are perfect for helping your beginning readers recognize, read, and write sight words. These activities include common high-frequency words, but I've also added some editable templates so you can add your own words to the mix!
If you would like to take a closer look at everything included in this resource, including a sight word list, you can find it in my shop.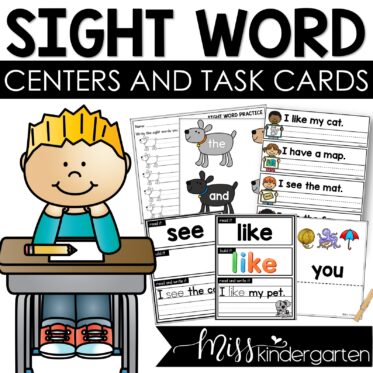 $15.00
Activities to help your beginning readers recognize, read, and write sight words. These fun and engaging word work activities include common high-frequency words plus some editable templates so you can add more words.
Shop Now
Save These Kindergarten Sight Word Centers
If you'd like to add some fun sight word practice to your literacy centers, be sure to save this post! Just add the pin below to your favorite teaching board on Pinterest. You'll be able to quickly locate this post the next time you're looking for hands-on and engaging sight word practice activities!