As you may already know, I LOVE incorporating centers into my classroom learning for so many reasons! Centers in the classroom are fun and exciting for students, they can help you differentiate the learning in your classroom so all your students get what they need, and they can be easily changed out each month to keep engagement high!
Whether you are just starting out in your teaching career or you're simply looking for more centers to use in your classroom to help your students practice new skills, help review skills, or give students the opportunity to work collaboratively with their classmates, you're in the right place!
Choosing the right centers for your classroom may feel a little daunting at first, so I wanted to help you out and share the different types of centers I have used and what I like about them! Once you have tried a few centers with your class, you can get a better idea of what works best for you and your students, and keep them going year after year. Here's a look at some of my favorite low prep center activities I have used successfully in my classroom over the years.
What Are Centers In The Classroom?
Centers are a designated space within your classroom for students to work semi-independently or with a small group to review information or a skill they have previously learned.
Some ideas for centers in the classroom could include:
Reading centers or listening to reading centers
Word work activities
Writing centers
Math centers
Art centers
Building centers
Digital centers with tablets, computers etc. that can be used to access digital learning materials
Even though centers are highly engaging, they serve many other uses in the classroom. Students can use centers to practice working independently or with partners, solve problems on their own, and review important skills. Teachers can also use centers to differentiate instruction for students.
Prepping Centers For Your Classroom
If you're just getting started with centers in the classroom, you might want to start with centers that don't require a lot of planning or prep to get going. I know I am always looking for ways to save myself a little time! However, it's important to me that students are receiving the full benefit of a center activity, no matter how much time I spend getting it prepped and ready to go. This is why I have created an entire year's worth of kindergarten centers that are easy to prep but full of engaging skill practice!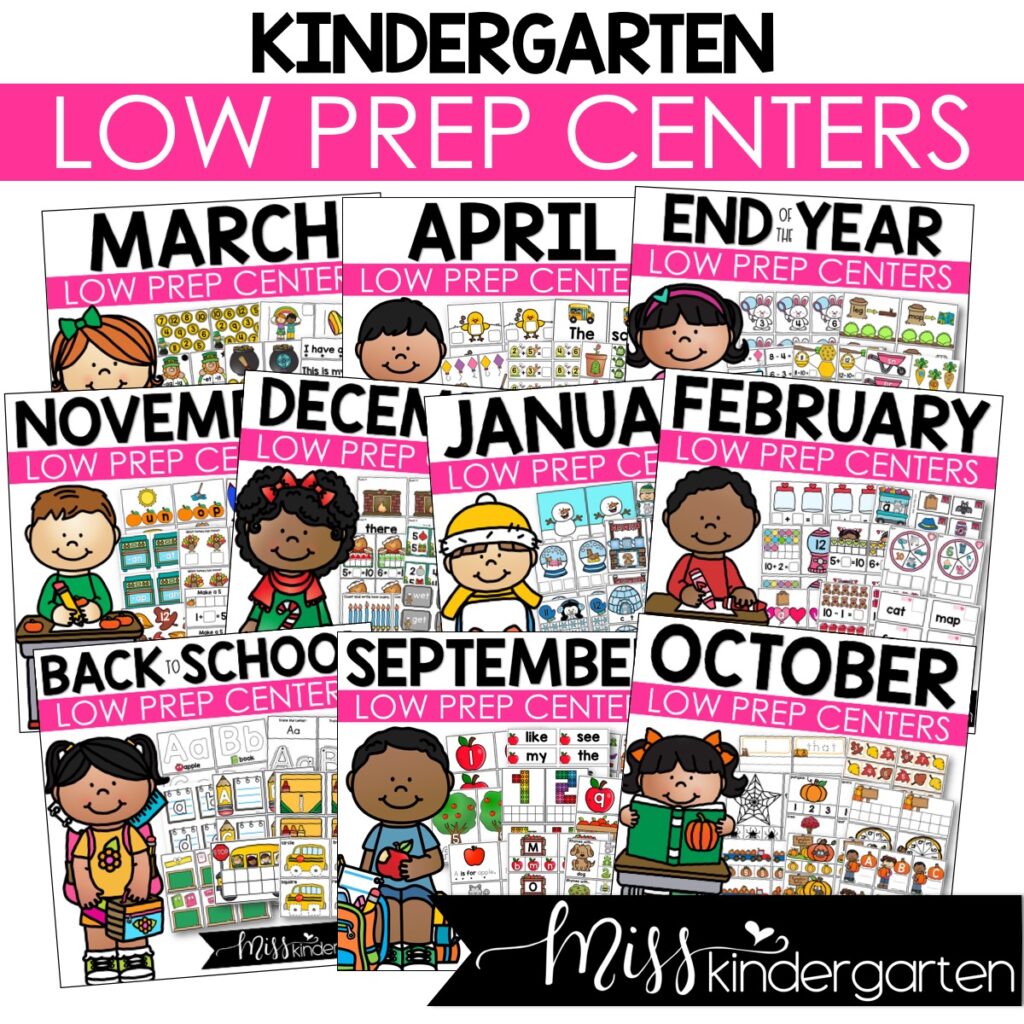 These math & literacy centers cover:
Alphabet letter sounds
Alphabet matching
Phonics and reading practice
Sight word spelling
Number sense and counting
Addition & subtraction
And TONS of more important kindergarten skills
With this Low Prep Kindergarten Math and Literacy Centers Year Long Bundle, you and your students have access to fun and interactive activities all year long. You will love how easy these low prep centers are to set up and store. By using photo boxes, plastic baggies, bins, and zipper pouches, you can quickly store and find all of the laminated resources and manipulatives students will need for center time.
The best part is that this resource is organized by month or season of the year. This way, you can easily pull out the center activities needed each month during the school year.
Centers in a Classroom with Limited Supplies
Have you ever found yourself in a teaching situation when you have limited supplies and a small budget? Low prep centers can be a great option in this situation! I created hands-on math and literacy centers during my first few years of teaching kindergarten. They were designed to be an all-in-one centers solution so we didn't need to use many additional supplies.
As I continued to use low prep centers, I discovered that they saved time and resources in several other ways. One, in particular, was when it came time to celebrate holidays as a class. It might sound simple, but themed centers can be a great money-saving alternative to holiday parties and classroom transformations.
Something as easy as swapping out your regular centers with seasonal activities can bring fun and excitement to your classroom, with minimal time or money investment.
Instead of having to go all out at Target or the Dollar Store to bring seasonal excitement to a holiday week, you can just pull out my Holiday Themed Kindergarten Centers. Everything can be prepped and ready to go when each holiday rolls around!
Incorporating Technology in Centers
After the last few years of distance learning, we realized the importance of teaching our kindergarteners how to use technology for their learning. It enhances the learning process for math and literacy skills with fun and educational games and activities. Plus, young students will use these technology skills for years to come.
I know how much screen time kids get these days, so when I plan technology-focused centers, I do it with a purpose. This is why Kindergarten Boom Cards™ are my FAVORITE activity to use in a technology center. They are a highly engaging way to help students practice grade-level math and literacy skills as they grow accustomed to using technology for learning.
Boom Cards are interactive activities that can be used on computers, tablets, or even smartphones. They are self-correcting and give immediate feedback, so I know that my students are learning rather than mindlessly clicking.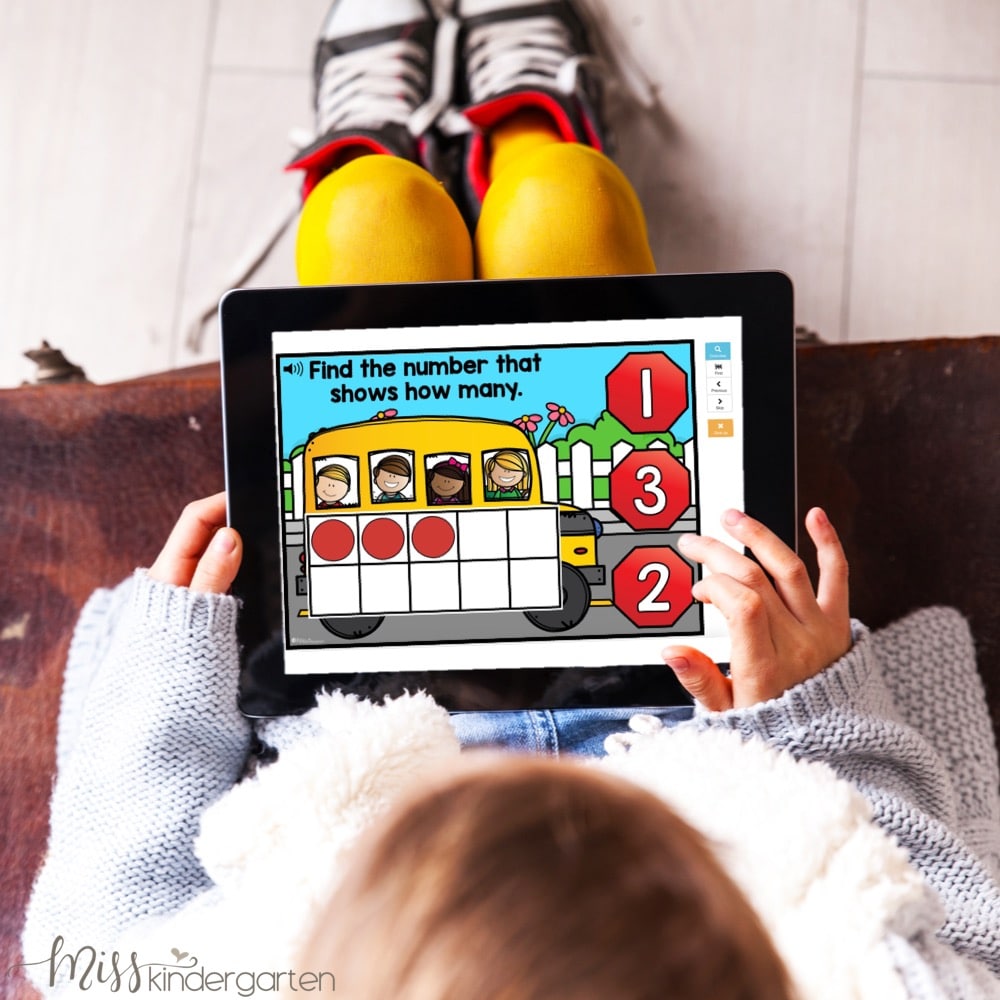 With Boom Card centers, students can practice:
Letter formation
Lowercase and uppercase letter identification
Drag and drop counting
Color sorting
Phonics
Sight words
and SO MUCH MORE!
Boom Cards are an easy, low prep center activity your students will be so excited to use. They can also be used at home if the extra practice is needed. You can learn more about how to use Boom Cards in Kindergarten in this post.
Even More Centers for Kindergarten
I told you I love centers! 🤣 I have even more to share with you!
Believe it or not, worksheets are a fantastic resource to use in centers. Worksheets can be used as a way for your students to record their work and be held accountable for completing their work in each center.
With just a few additions, worksheets can also become reusable write and wipe centers. I have created a set of Math and Literacy Write and Wipe Activities that will last the whole year!
With these centers, your students will pick a card and write the corresponding answer on a recording sheet that has been laminated or placed in a sheet protector. These sheets can be added to a binder for repeated use and the cards can be stored in zipper pouches, task card boxes, or any other storage method that works for you!
Manipulatives Hands-On Centers
Using manipulatives in a center can help your students use concrete methods to practice and understand abstract concepts. Hands-on manipulative activities also help students build and strengthen fine motor muscles. Fine motor skills are important to build as they help with handwriting and stamina in later years. With a few clever activities, your students will be practicing math and literacy concepts in fun, hands-on ways.
Some hands-on center ideas that strengthen fine motor skills include:
Creating dot art with cotton swabs
Clipping clothespins
Assembling snap cubes
Using playdough
Creating with building blocks
Building on a geoboard
Using a hole punch
Stringing beads
Picking up objects with tweezers
Hands-on centers can be easy to put together with common classroom or household supplies you may already have on hand. Store your manipulatives in bins or bags for easy access and easy clean-up, along with any other resources needed for the activity.
Get Ready to Use Centers In Your Classroom
Now that you know the different ways you can use centers in your classroom, it's time to get started! Don't be afraid to jump in and try out a few center activities with your class. Rotate centers monthly or seasonally to give students lots of different activities to work on throughout the school year.
I know you and your students will love these center activities as much as my students and I do! Just click on the product images below to check out everything included in each resource.
Save These Center Activity Ideas
Be sure to save these center activity ideas to your favorite Pinterest classroom board so you can come back again and again for more center activity ideas in the future.