As kindergarten teachers, we are often asked by parents how they can help their children prepare for kindergarten. While there are many suggestions and checklists out there, one of my favorite ways to help children prepare for school is through a kindergarten readiness summer packet. This helpful resource is more than a collection of worksheets; it can help incoming kindergartners practice a variety of readiness skills that will help them start strong!
How to Help Children Prepare for Kindergarten
There are a number of early literacy and math skills that students can practice prior to entering kindergarten. These include:
Writing their first name
Counting by rote
Counting objects with one-to-one correspondence
Reciting the alphabet
Identifying shapes, colors, and numbers
Recognizing some letters and sounds
A great way to help students practice these skills is by sending home a kindergarten readiness summer packet! When possible, teachers can provide this resource to families at kindergarten registration or Meet the Teacher night. However, students can benefit from practicing kindergarten readiness activities at home even after the school year has started!
Readiness packets aren't intended to put pressure on families to help students master ALL of these skills prior to kindergarten. Instead, they are meant to provide a snapshot of the types of activities that students will experience at school.
These activities are intended to be fun and engaging for young learners, so they are a great way to ease students into the learning routine of kindergarten. The best part about this type of resource is that students are also practicing important skills that they can apply to any content area.
Benefits of a Kindergarten Readiness Summer Packet
In addition to early literacy and math skills, incoming kindergartners benefit from practicing other readiness skills that they can use throughout the school day. When students have had plenty of practice with these skills over the summer, they are better prepared to participate in kindergarten learning activities.
Improve Pencil Grip
A summer packet can help students practice holding and using pencils, crayons, and markers. When incoming kindergarten students have a functional pencil grip, they will be able to focus more on the skills they are practicing and less on the physical act of writing.
A great way to help students practice pencil grip is through basic tracing activities. My summer practice pack gives students a chance to trace various wavy and straight lines, which will build a foundation for letter formation. These tracing pages can also be put in sheet protectors so that students can practice again and again using dry erase markers.
Strengthen Scissor Skills
Another important readiness skill is for students to handle scissors. Many of my favorite activities for the kindergarten classroom require cutting. However, when students enter kindergarten without ever having used scissors, there can be safety concerns during these activities. This is why I am always relieved when at least a portion of my new class can safely handle and use scissors from the very beginning of the year.
The safety concern of using scissors might keep this skill off the radar for some parents. This is where kindergarten readiness summer packets come in handy! By including activities that require cutting, this shows parents that this is an important skill for incoming kindergartners to practice. Even if students aren't cutting on a line when they start school, the fact that they have practiced handling scissors will be a huge help!
Practice Gluing
Using liquid glue can also be an adventure in the first few weeks of school! This is why it's so helpful for students to practice using glue bottles as they get ready for kindergarten. It takes time for young students to learn how to apply the "just right" amount of pressure. One major factor in this skill is building hand strength through plenty of practice.
Kindergarten readiness packets can provide that practice! Students can squeeze out dots and lines of glue, even following along a path. These alphabet mats in my kindergarten readiness packet are perfect for this task! Students can add glue to each letter and then decorate with glitter, beads, or even colorful paper scraps.
Reinforce Concepts of Print
There are many pre-reading skills that will create a strong foundation for kindergarten literacy instruction. One of these skills is an understanding of the basic concepts of print. Before entering kindergarten, it's helpful if students can correctly handle a book by holding it right-side-up and flipping through its pages. Students can also practice identifying the difference between pictures and words on the page.
While listening to and exploring books is the best way for pre-readers to develop print awareness, another fun way to practice basic concepts of print is through printable mini books. Students can see these concepts in action as they assemble a book with staples on the correct side, text facing the right way up, and a cover page.
Practice Following Directions
As families work together on kindergarten readiness summer packets, students can practice following the instructions of each activity. This will help them prepare to follow along with activities in the kindergarten classroom. The ability to follow verbal and visual directions is an important readiness skill that all students will need!
A fun and engaging way to practice following visual directions is through color by number worksheets. Students will learn how to follow the instructions on the worksheet so that they can use the correct crayon color for each part of the activity. Many kindergarten activities and worksheets use visual instructions similar to those used for color by number, so this is helpful practice!
Kindergarten Readiness Summer Packet
The activities shown above (and more!) are included in the On My Way to K: Kindergarten Readiness Summer Packet. This pack covers everything from letter names and sounds, number identification and one-to-one correspondence, basic shapes, and colors! The best part is that students will be practicing even more helpful pre-kindergarten skills as they complete these literacy and math activities.
If you would like to see everything included in this kindergarten readiness packet, you can find it in my shop!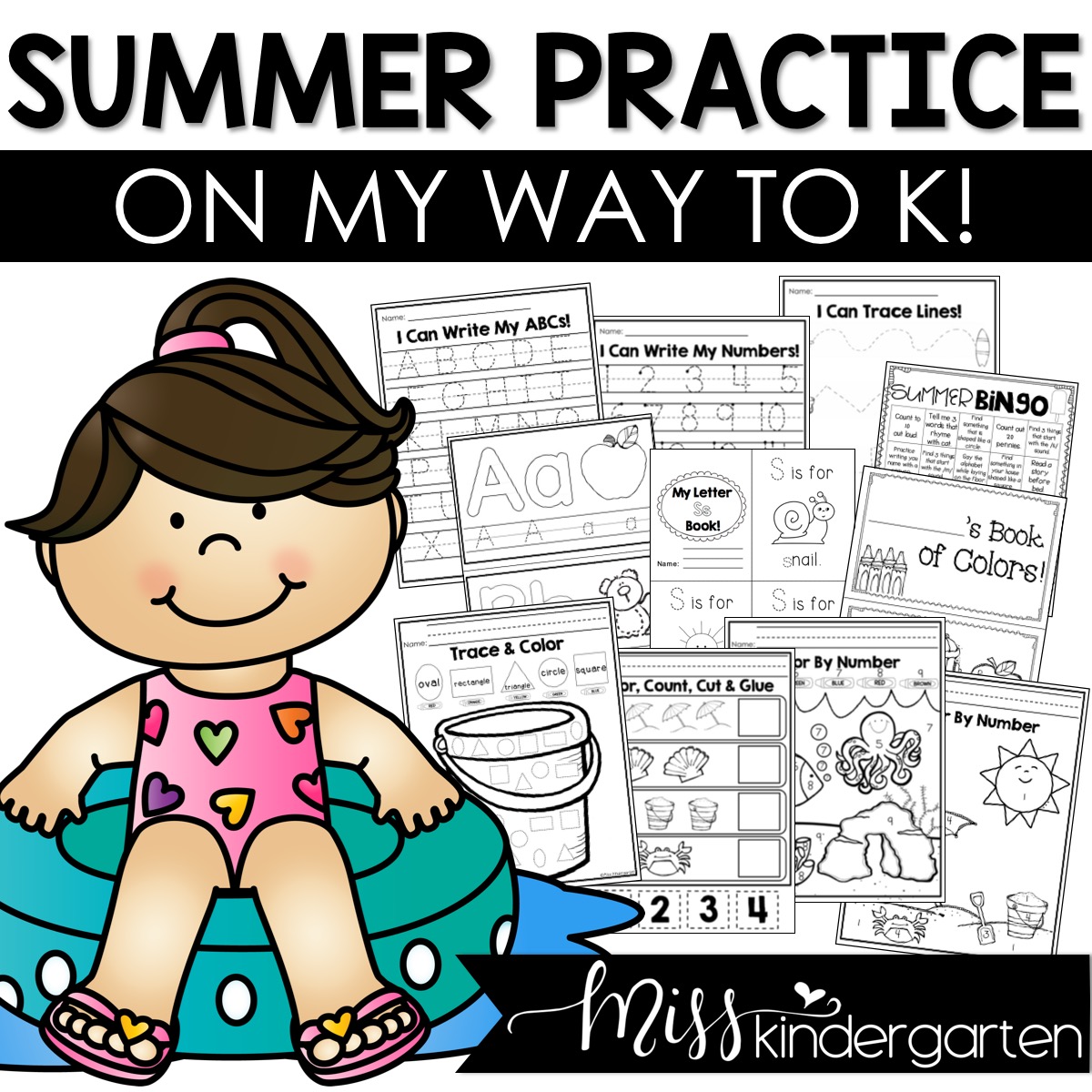 Save These Kindergarten Readiness Activities
Would you like to come back to this post later? Be sure to save this pin to your favorite teaching board on Pinterest so you can quickly find this resource when you're ready to download and print.