As a kindergarten teacher there is so.much.to.do! Unlike older students where textbooks and lecture fill the class period, the primary grades are filled with lots of hands-on practice activities. We tend to teach in mini-lessons in order to keep students' attention and provide lots of time to practice new skills. But I'm here to help you with a lesson that took me a long time to learn . . . you can't do it all – but you don't have to! It's important to find ways to balance your time so that you don't burn yourself out. Sure, it's great to have those five star lessons and classroom transformations – but that just can't be sustained day in and day out. Today I want to share a secret that helped me save my time and my sanity without sacrificing the skills practice my students needed. Let's talk about no prep kindergarten printables.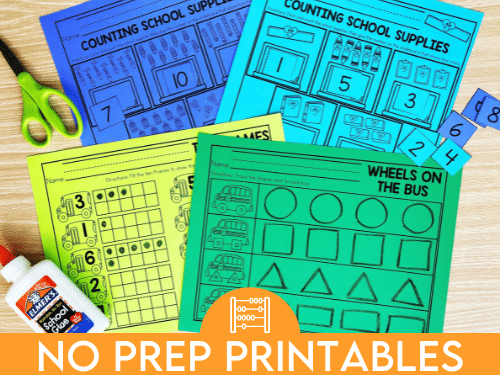 What is a No Prep Printable?
A printable might also be called a worksheet – but not the busy-work kind. Printables are like worksheets that have been amped up or centers activities that have been altered. These printable activities provide a no prep option for providing students with multiple opportunities to practice a new skill.
How do I use printables?
There are so many different ways to use these kindergarten printables in the classroom. These printable activities can be printed black and white and completed as a class. They make a great practice activity or an informal assessment to see how students are doing with a skill or concept. But we don't have to stop there! You can also use printables as center activities! Yep – just print them out on cardstock and laminate them to use as centers. Need an at home practice activity for home learning or homework? Printables are great for that too!
And . . . if you want to be the super organized and prepared teacher, copy some no prep printable activities to add to your sub folder! No more worrying about making last minute sub plans when you aren't feeling well. A beginning of the year set, middle of the year set and end of the year set will provide you with ready-to-go sub plans any time of the year!
Monthly Kindergarten Printables
Over the years I have put together a variety of printable activities to help my students master the skills and concepts we were learning. I have sifted and sorted through all those activities looking for the very best ones. Then I put them into sets to coordinate with the skills and concepts taught each month using a traditional kindergarten scope and sequence.
A little tweaking and designing and the monthly no prep printables were born!
What do the Resources Include?
The No Prep Printables are divided into monthly sets that include skills practice for math and literacy skills in kindergarten. But don't worry about this just being repetitive and boring skills practice. Who has time for that?!? These fun and engaging activities weave in writing, coloring, cutting and pasting to engage students. Add in a little seasonal fun and you have activities that your students will love!
Let's take a sneak peak of what each month has to offer!
Uppercase alphabet tracing
Lowercase alphabet tracing
Lowercase and uppercase letter match
Beginning sounds match
Ten frames
Tracing shapes
Counting to 5 and 10
Color Sorting
Counting to 10
Identifying Numbers on a Ten Frame
Showing Numbers on a Ten Frame
Uppercase and Lowercase Letter Sort
Rhyming Pairs
Alphabet Practice- Beginning Sounds
Sight Word Practice (color, trace, cut & paste)
2D Shape Sort
Counting to 10
Identifying Numbers on a Ten Frame
Ordering Number to 10
Counting Syllables
Identifying Beginning Sounds
Uppercase and Lowercase Letter Match
Sight Word Practice (color, trace, and write) *editable sight word pages included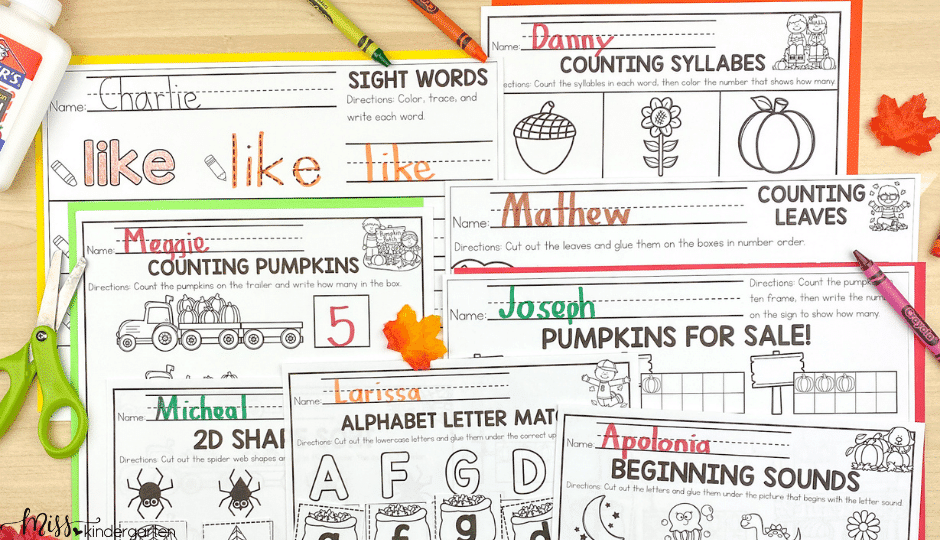 Counting to 12
Identifying Numbers on a Ten Frame
Comparing more or less
Adding to make a 5
Identifying beginning sounds
Spelling CVC words
Sight word practice (read and write) *editable sight word pages included
Short a word families sort
Counting to 10
1:1 correspondence
Make a ten
Counting on
Identifying ending sounds
Decoding CVC words
Sight word practice (read and write) *editable sight word pages included
Short e word families sort
Number sequencing- before and after
Subitizing numbers to 10 and identifying more or less
Teen numbers
Addition to 10
Beginning and ending sounds
Middles sounds
Sorting words by word families
Writing CVC words
Sight word simple sentences
Making a 10 with ten frames
Addition to 10
Counting teen numbers
Subtraction within 10
Identifying beginning sounds
Identifying ending sounds
Reading CVC words
Writing CVC words
Word family word sort
Reading CVC words
Writing CVC words
Simple sentences
Number bonds
Subtraction from 10
Number sequencing to 20
Ending sounds
Beginning L Blends
Beginning R Blends
Sentence scrambles
Sight word write and read
Number sequencing before and after
Missing Addends
Addition with a number line
Reading and Writing CVC Words
CVC Sound Change
Reading & Writing Sentences
Beginning Blends
Missing Addends to 10
Addition to 10
Decomposing Teen Numbers
Subtraction to 10
As you can see the skills each month build on each other and progress throughout the year. Each month is designed to provide students with practice and review for already taught skills. They can also coordinate with current teaching as guided or independent practice.
Save Time and Stress with Printables for the Entire Year
Just imagine the stress that disappears and the shorter to do lists when you have a bundle of no prep, skills based printable activities for the entire year! When I realized that I couldn't do it all – I began looking for ways to work smarter, not harder. These no prep printable activities were one of the things that helped me find balance and avoid burn-out.
Grab your No Prep Kindergarten Printables for the Entire Year and confidently fill those lesson plans with skills based activities to help your students master their new learning.
$24.00
We know how important hands-on learning is in kindergarten. It is tricky enough to figure out how to best utilize center time, especially if our students aren't able to share manipulatives and supplies, or if your students are not currently in the classroom.
Shop Now
Save This For Later!
Be sure to pin this to your favorite classroom board! You'll be all set to practice math and literacy kindergarten skills with these no prep printables for the entire year!