There are so many fulfilling perks to teaching kindergarten, but near the top of the list is teaching students how to read. I think one of the best parts of literacy instruction is seeing the excitement in my students' eyes when they start reading sentences! Once students are ready to take that step, it's just a matter of keeping up that momentum and excitement with additional practice. In this post, I'm sharing some of my favorite ways to use simple sentences for kindergarten reading instruction.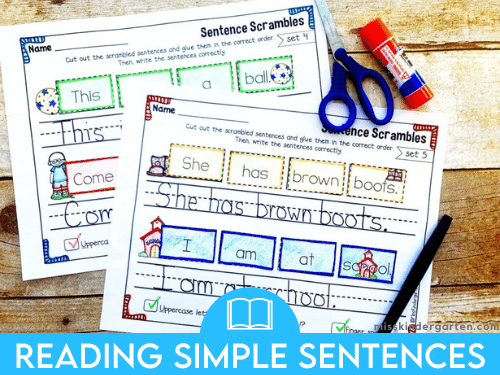 Are My Students Ready for Reading Sentences?
Before we can expect young learners to read even simple sentences, it's important to make sure they have the right foundation. The road to reading sentences includes important milestones such as:
Identifying letters by name
Identifying the sounds that letters make
Blending sounds together to read words
Reading words fluently in isolation, including sight words
Plus, between each milestone is a variety of phonemic and phonological awareness skills that need to be mastered in order to build a solid foundation for reading.
Once this foundation is in place, students are ready to begin reading words within sentences. Keep reading if you'd like to sneak a peek at the simple sentences that I use with kindergarten students when they're ready to take this exciting step!
Simple Sentences for Kindergarten
There are many ways to practice reading sentences in kindergarten. Below are some of my favorite ways to incorporate simple sentences into literacy instruction. I love that these activities are perfect for literacy centers, morning work, small group intervention, or even homework! These activities also grow with students, so that they can read more challenging sentences as they learn more phonics patterns and master additional high frequency words.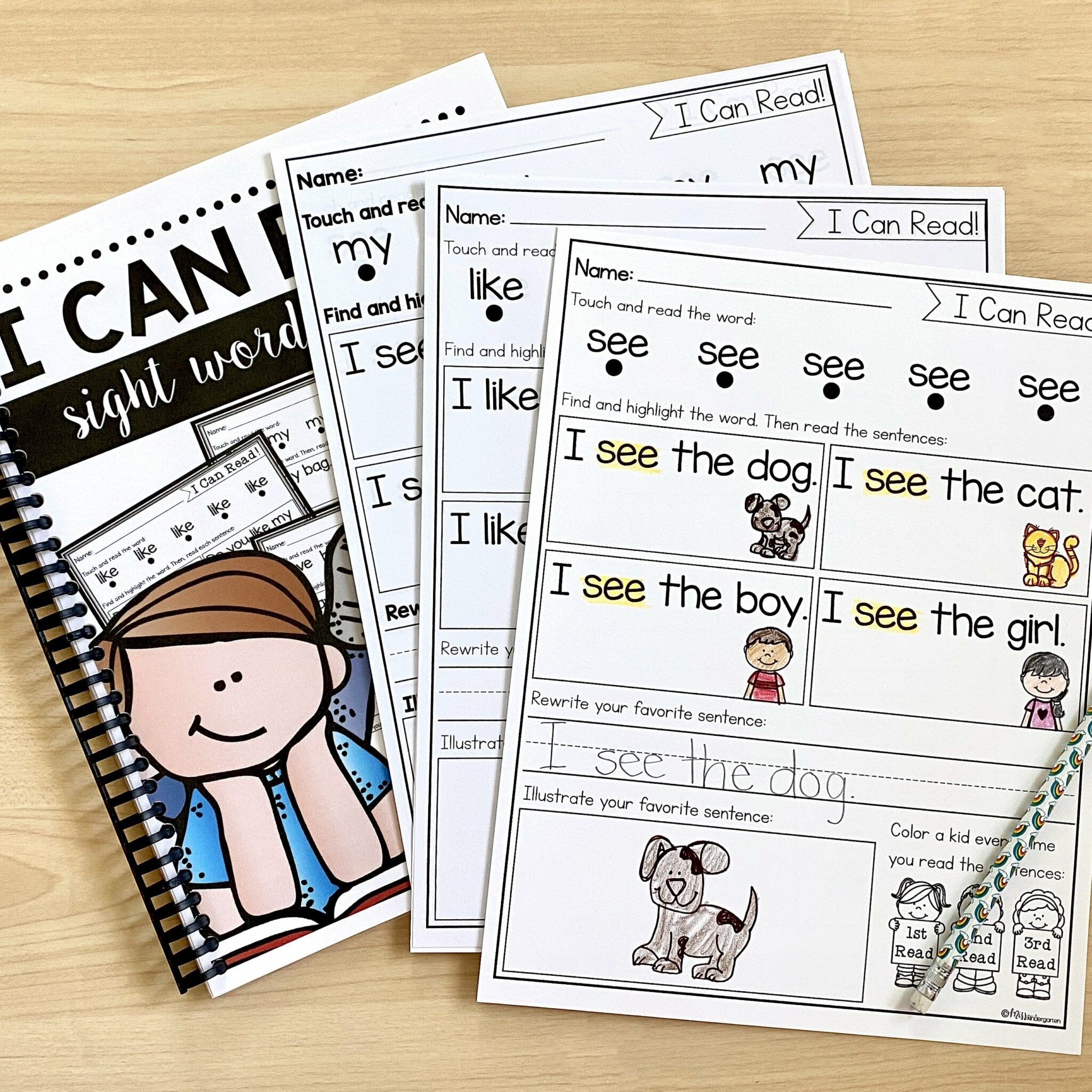 Sight Word Fluency Sentences
When students first start reading words within sentences, it's helpful to start with predictable text. I find that sight word fluency sentences are perfect for this!
These simple sentences often arrange the sight words in a predictable pattern, such as "I see a cat." and "I see a pig." This means that students can practice decoding words within sentences while building their sight word fluency. It's a win-win!
Read and Reveal Sentences
Hands-on activities will help students stay engaged in reading practice. Read and reveal cards are always a hit with students! This activity has students read simple sentences on a card, then unclip the flap to reveal a picture that corresponds to the sentence. Students will use their comprehension skills to decide if the sentence they read makes sense with the picture they just uncovered.
Since this adds an element of self-correction to the activity, read and reveal cards are perfect for literacy centers, morning work, or even a fast finisher activity. The fine motor practice from using clips for this activity is an added bonus!
Sentence Scramble Activities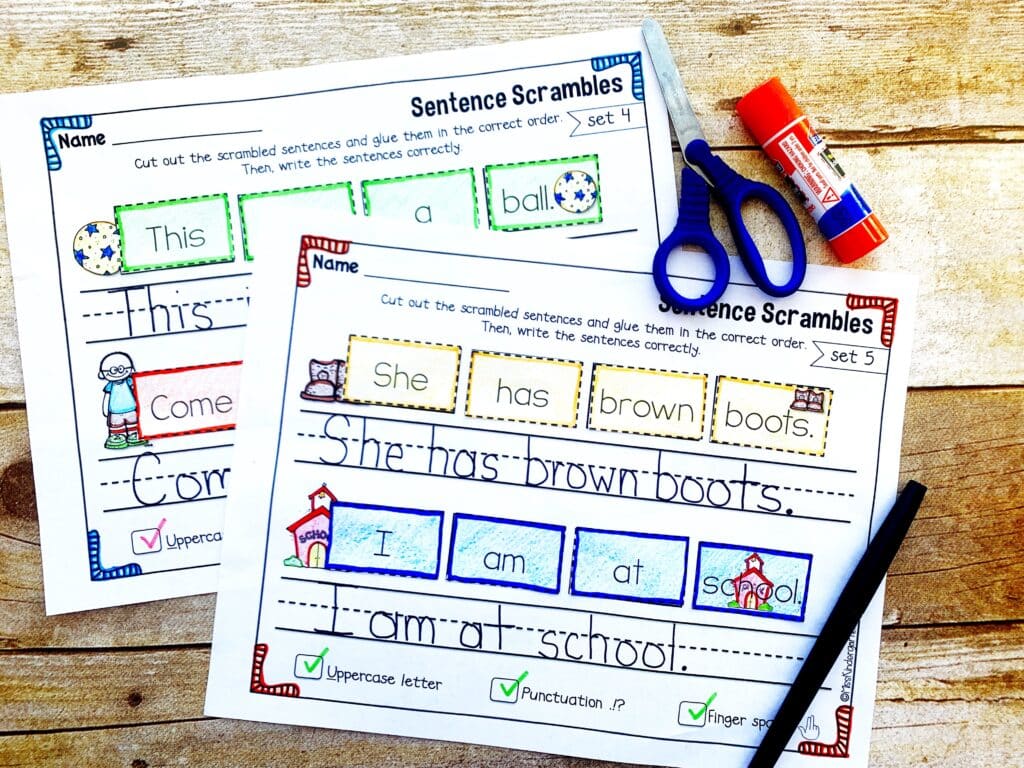 As students grow more comfortable with reading sentences, they will start to get a feel for the natural rhythm of language and word order. This, in turn, will help improve reading fluency. One of my favorite ways to help students understand and practice word order is with sentence scramble activities. After putting a sentence in the correct order, they can practice reading it fluently.
You can add some cutting practice by having the students cut out the scrambled words themselves. Plus, having the word strips available to move around helps students in the task of unscrambling each sentence.
Sentence Dictation
Writing activities are another way that I incorporate simple sentences into literacy instruction. When students write sentences, they are able to practice their phonics skills in a different, yet still very important, way. Sentence dictation is a great activity that incorporates many kindergarten skills!
After listening to a simple sentence, students will use their phonics skills to write each word in the sentence. Then they will use their fine motor skills to form the letters and words in the sentence. Finally, students will practice reading what they wrote as they decide if their written sentence matches what the teacher said. Sentence dictation doesn't have to take a lot of time! If you have whiteboards and markers out for a different activity, do a quick sentence dictation before having the students put things away.
Sight Word Sentence Strips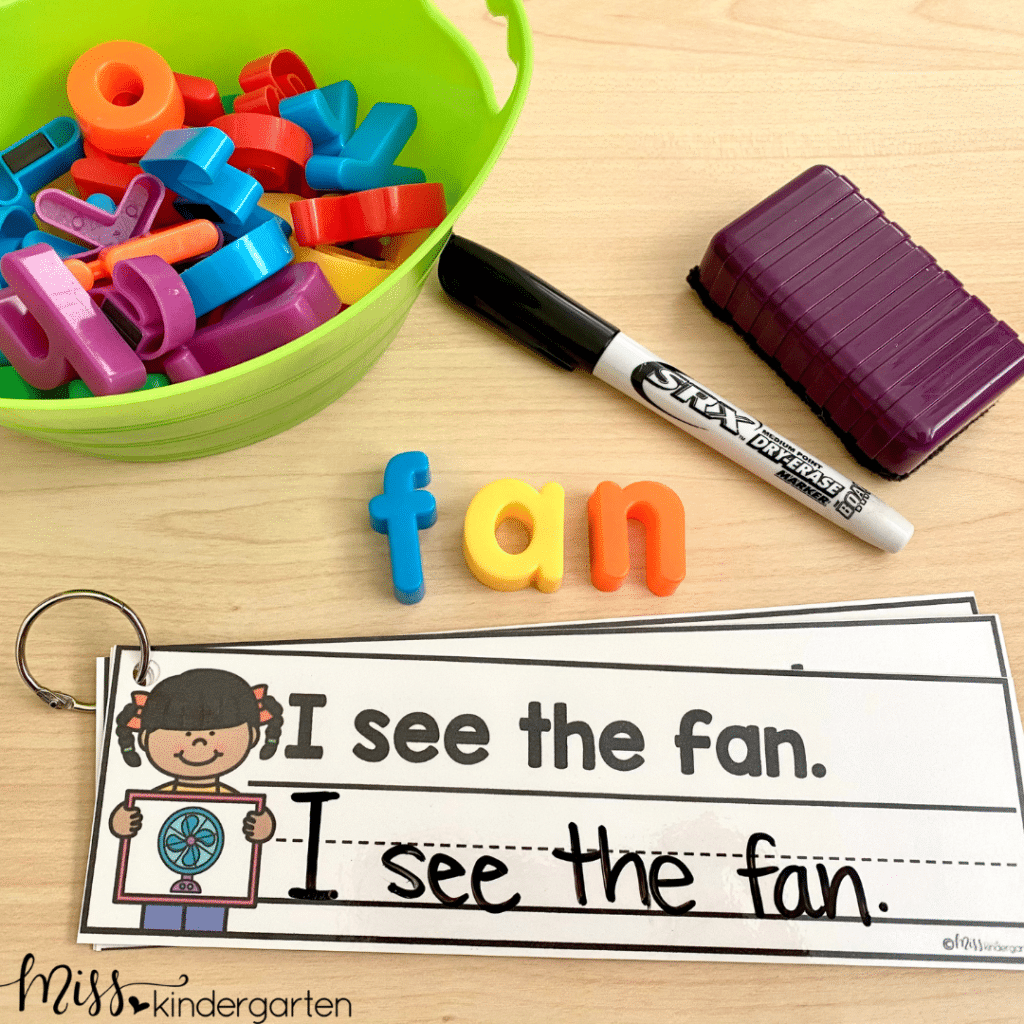 This is another activity that incorporates writing as students practice reading sentences. Students can use these sight word sentence strips to practice decoding sentences fluently as they practice writing them as well.
Once these strips are laminated for durability, students can use dry erase marker to practice letter formation as they copy each sentence. This is another activity that students can work on independently during literacy centers or morning work time.
Since these sight word sentences are prepped and on binder rings, you can also take them on the go for even more practice! Use them as "password" flashcards: Have each student read a sentence from the bundle before entering the cafeteria, going outside for recess, or leaving for the day.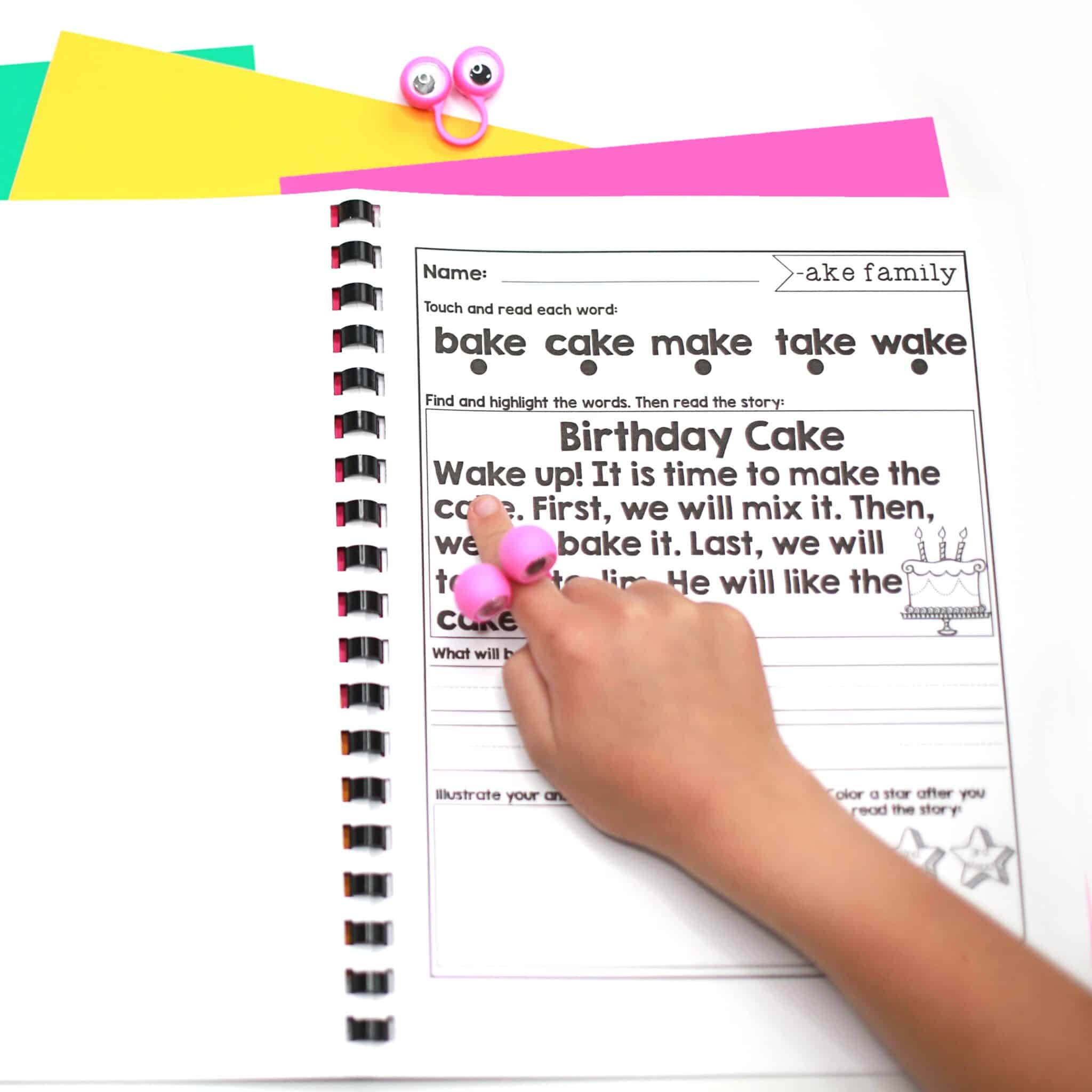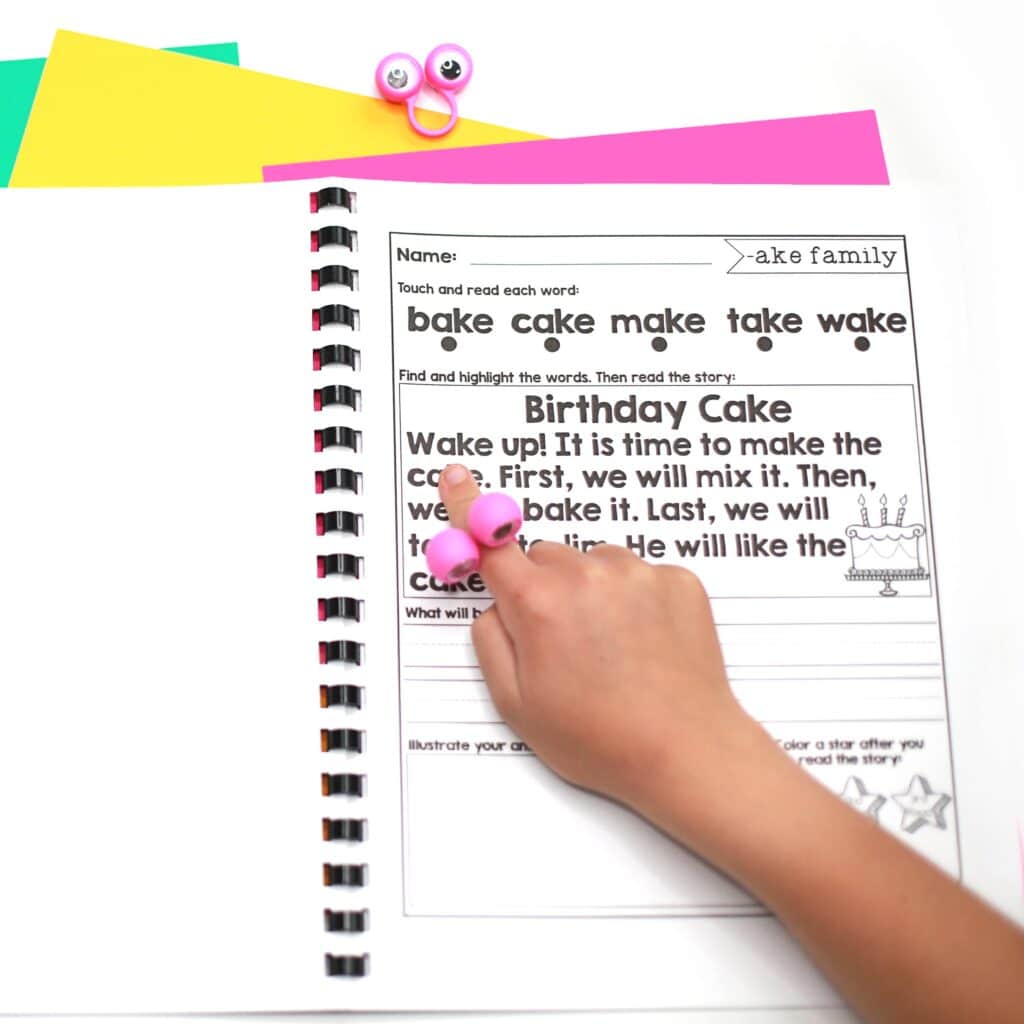 Kindergarten Reading Fluency Passages
Young learners get so excited when they can start reading passages with multiple sentences! This is why I love to use kindergarten reading fluency passages. Students are able to review phonics patterns and high frequency words as they improve their reading fluency and comprehension skills.
After students have had time to practice each passage in the classroom, I encourage them to take it home and read it to friends and family. They are always so excited to show off their reading skills!
Keep scrolling for information about a free reading fluency download that you can use in your classroom.
Free Reading Practice for Kindergarten
Would you like to try these reading fluency passages with simple sentences? You can grab this free collection of nine passages to share with your students. This free download focuses on short vowels, long vowels, blends, and digraphs. Each passage also includes common sight words to help build reading fluency. Just fill out the form below and it will be delivered straight to your inbox!
Free Decodable Passages
Help your students make the leap from decoding words to reading with fluency! These fluency passages are designed to give kids successful reading practice to help students become strong readers!
Save These Kindergarten Sentences
Be sure to save this pin to your favorite phonics board on Pinterest! You'll be able to come back to these simple sentences for kindergarten when your little readers are eager to give them a try.