Once your kindergarten students have mastered letter sounds and CVC words, it's time for them to learn about consonant blends and digraphs! Although reading blends and digraphs are two different phonics skills, there is a similar progression in how students learn and practice them. In this post, I'm going to share helpful tips and engaging resources for teaching Blends and Digraphs in kindergarten.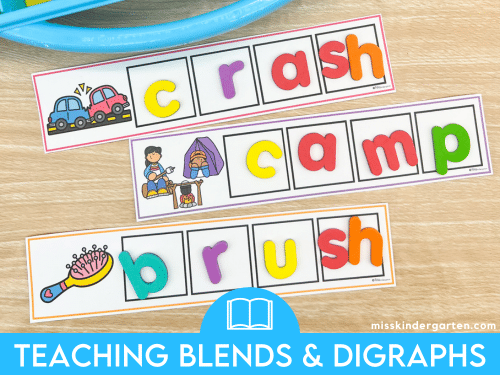 Teaching Blends and Digraphs in Six Steps
There is a progression for teaching blends and digraphs to young students that can help them become more confident and fluent with these phonics skills.
Step One: Practice Blends and Digraphs in Isolation
The first step is for students to identify, build, and write blends and digraphs in single words. However, since blends and digraphs aren't the same, this process will look slightly different for each.
A consonant blend is made up of two (or three) consonants that each represent their own sound.  This means that your students already have the letter-sound knowledge that they need for this phonics skill!  The main challenge is that students have to become more comfortable in identifying an extra consonant sound in words. This can be a tricky transition for students after focusing on the pattern of three-letter CVC words.  Students also need to practice listening for blends at the beginning and the end of words.  
The process of teaching consonant digraphs in isolation is different because students need to learn a new sound. A digraph is when two consonants make one sound, like /sh/. Since students are learning a new sound for a digraph, it's best to introduce one at a time. Just like consonant blends, students need to practice listening for digraphs at the beginning and at the end of words.  
Even though the process of teaching blends and digraphs in isolation is slightly different, it's important for students to have plenty of practice with both. Your literacy centers rotation is a great place to add more of this practice into your school day! You can use a variety of hands-on activities to keep students engaged in the repetition needed to master blends and digraphs.
Step Two: Read Blends and Digraphs as Word Chunks
As you introduce and practice different consonant blends and digraphs, students will begin to see them as word chunks.  Just as we teach CVC words with word families, focusing on word chunks will help students identify words more fluently.  They won't have to rely on decoding each phoneme in every word.
Word-building activities like the one pictured above are a great way for students to see blends and digraphs as chunks. The more opportunities that students have to build, write, and read blends and digraphs, the more easily they will be able to recognize them.
Step Three: Practice Word Reading Fluency
Identifying blend and digraph patterns within words is an important step for students to become more fluent readers. You can also use word reading fluency activities to help students become more confident in reading blends and digraphs.
Flashcards are a great way to help students improve word reading fluency, as well as roll and read activities.
Step Four: Provide Additional Word Reading Practice
You'll likely find that there are students in your class who need extra practice with blends and digraphs at the word level.  Engaging, hands-on activities can keep students motivated to practice these words.  You can even incorporate fine motor practice with fun activities like read and reveal clip cards or play dough mats!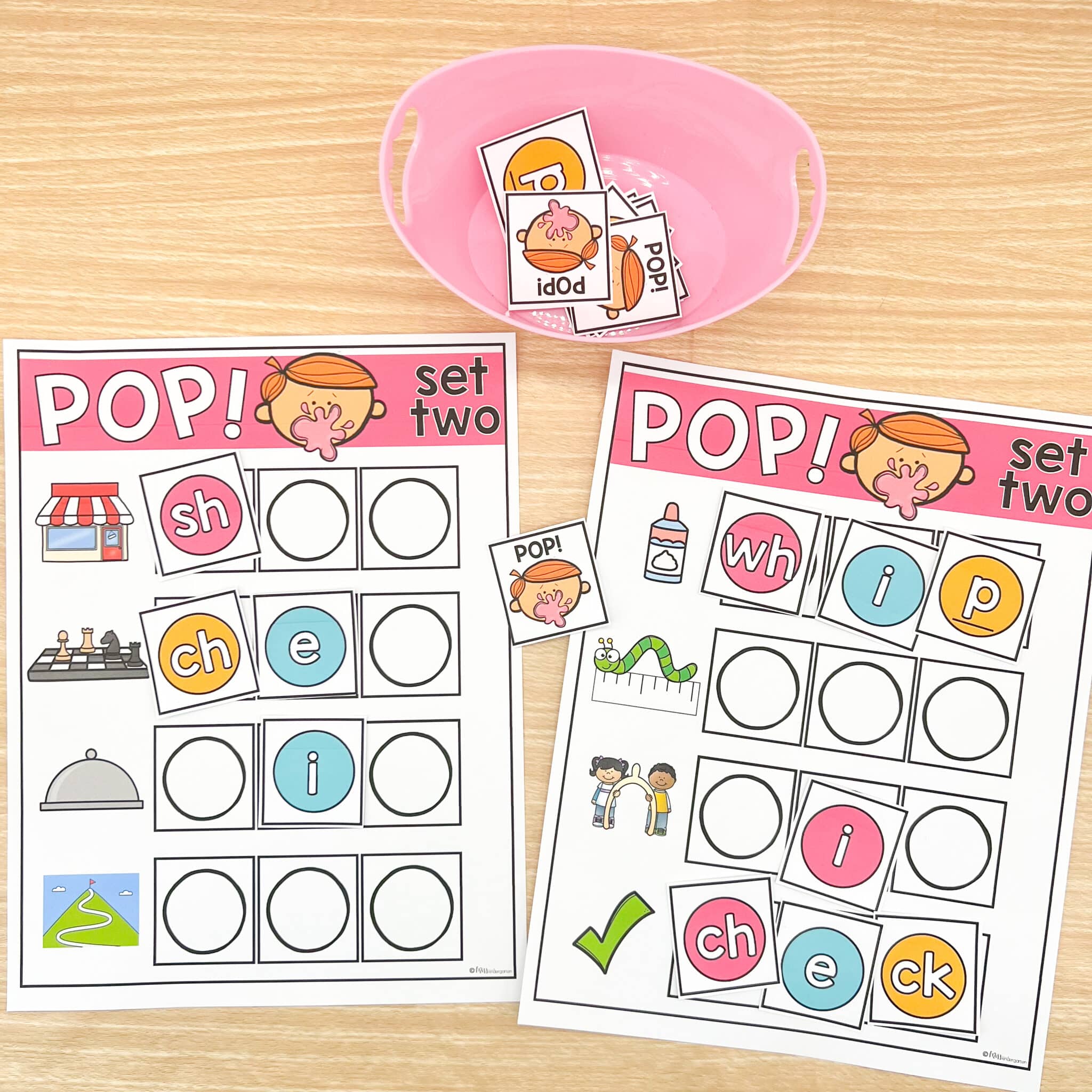 Games are also a great way to keep students engaged in phonics practice. One game that is popular with young students is Pop!  Students take turns choosing gumball cards to help them build words with either blends or digraphs.  If the gumball has a sound that they need for one of their words, they place it on the mat.  If they draw a Pop! card, they can choose a gumball card from another player's mat and put it on their own mat. The first student to build all of the words on their mat is the winner!
Step Five: Read Blends and Digraphs in Sentences
Once students are reading blends and digraphs fluently within single words and word lists, it's time to move on to simple sentences!  I have created printable mini books that give students a chance to practice reading words in isolation and within sentences.   Students are always so excited to take these books home to read with their families!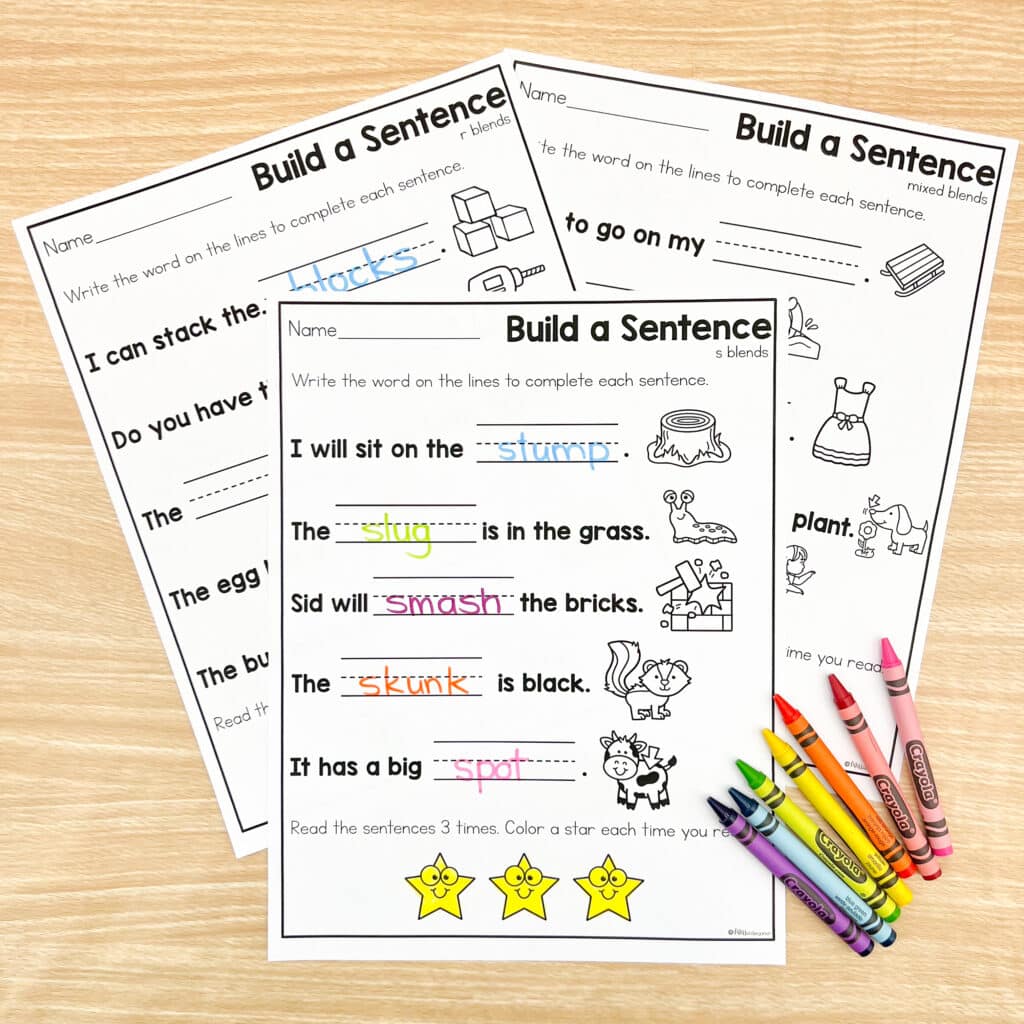 Students can also practice building sentences using words with blends and digraphs. They can fill in the blank for each sentence by using the picture as a clue. This is also great practice for spelling words with blends and digraphs!
Step Six: Read Blends and Digraphs in Passages
It's always exciting to see students apply what they have learned to the task of reading a passage. Young learners are always so motivated to see their hard work pay off!  As students practice reading blends and digraphs within passages, they will become more confident and fluent readers.  My favorite fluency passages also include a comprehension component to help students focus on the meaning of what they read.
Mega Bundle for Teaching Blends and Digraphs
I have put together a mega bundle of fun activities that you can use to supplement your literacy instruction. It has a wide variety of activities that will keep your students engaged in practicing blends and digraphs. This resource includes hands-on centers, printable activities, read and reveal cards, fluency passages, digital task cards, and more! From morning work to homework, this bundle will help you incorporate blend and digraph practice throughout your daily routine.
If you'd like to take a closer look at everything included in this printable resource, you can find it in my shop.
$33.00
A complete reading toolkit! Help your students practice segmenting, blending, reading, and writing BLENDS AND DIGRAPHS words with these fun activities! Phonics instruction has never been so much fun. Each activity is designed to engage your kindergarten and first grade students while they practice decoding and encoding short vowel words.
Shop Now
Save These Tips for Teaching Blends and Digraphs
Be sure to save this post if you'd like to come back to it later!  Just add the pin below to your favorite teaching board on Pinterest.  You'll be able to quickly find this post when you're looking for blend and digraph activities for kindergarten.