Learning Consonant Blends and Digraphs is a fun reading milestone in kindergarten!  Students have been working hard to read CVC words and are so excited to start reading "bigger" words with more letters! However, making the leap from reading consonant blends and digraphs in isolation to reading them within passages can be tricky for young learners. In this post, I'm sharing tips and resources to help your students read these new phonics patterns with more fluency and confidence.
Building Fluency with Consonant Blends and Digraphs
Learning how to read consonant blends and digraphs can be challenging for kindergarteners!  Students need to learn brand-new sounds in order to decode words with consonant digraphs.  Even though consonant blends use letter sounds that students already know, they can feel like a mouthful after practicing the CVC pattern for so long.
After learning to read consonant blends and digraphs within words and simple sentences, it's time to increase their fluency with these phonics patterns. Here are five tips that you can use to help your students become more fluent in reading consonant blends and digraphs.
1. Focus on One Consonant Blend or Digraph
As I mentioned in my previous post about teaching consonant blends and digraphs in kindergarten, it's important to focus on one pattern at a time.  When it comes to building fluency, decodable passages are an excellent way to help students practice one consonant blend or digraph at a time. 
Not only does this give students many opportunities to practice identifying the consonant blends and digraphs, but it also gives them plenty of articulation practice!  For many of our young learners, these phonics patterns can be difficult to say out loud in isolation and within words. Reading these words within passages can pose an even bigger challenge. The more opportunities students have to see, hear, and say consonant blends and digraphs, the better!
2. Teach Pre-Reading Strategies
One way that I like to add a bit more repetition to blend and digraph practice is to have students read focus words in isolation before reading the words in a passage. Then, students can take a minute to find those focus words within the pattern. Taking just a minute for this pre-reading activity can help students read the passage more fluently and confidently.
The other great thing about reading passages is that they usually have a simple title that can be used for activating prior knowledge. After reading the title, students can take just a moment to talk about or think about what they already know about the topic. This is a great way to get vocabulary words circulating in their minds! This helps students read with more fluency and comprehension.
3. Encourage Reading for Meaning
Comprehension is the ultimate goal of reading!  We want students to read to learn.  This goal should be in mind even when kindergarteners are still learning the basics of decoding blends and digraphs. Be sure to encourage them to find meaning in the sentences of their fluency passages.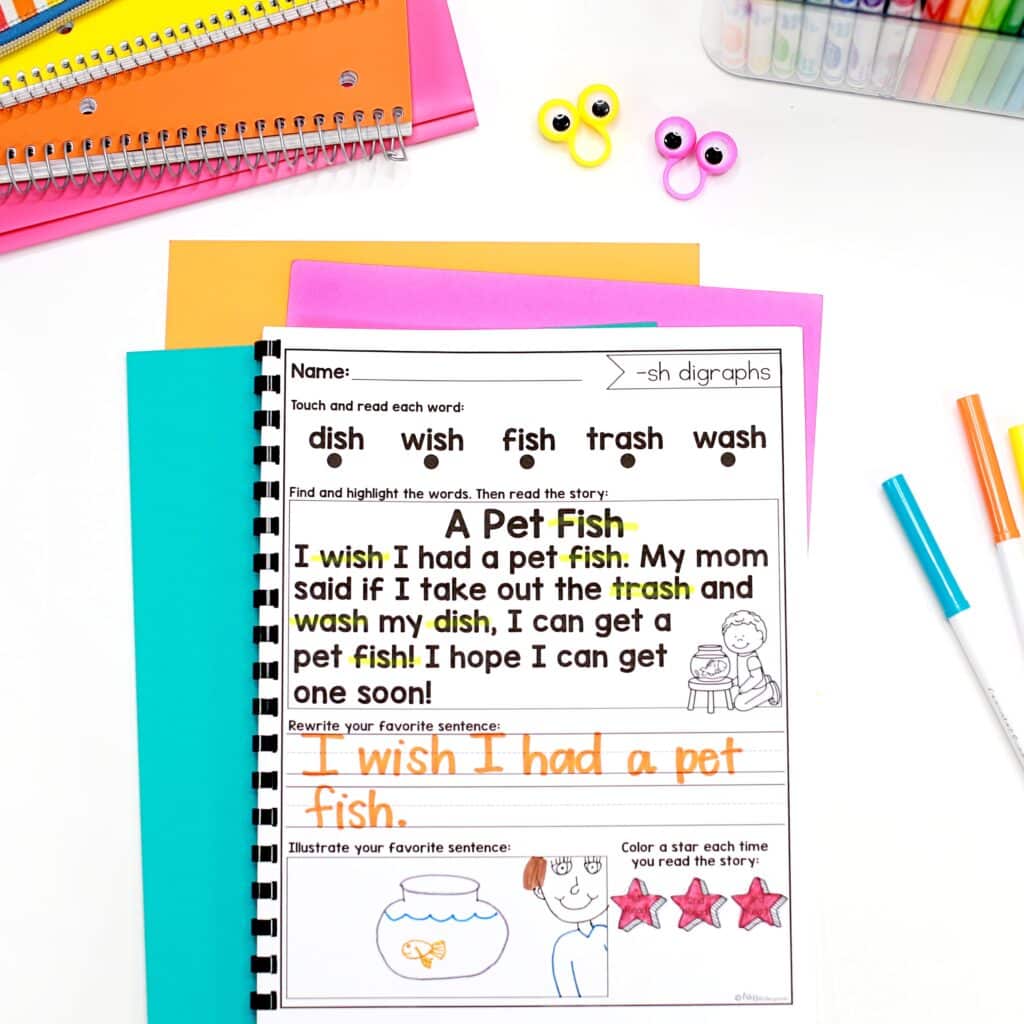 One of my favorite ways to do this is to have students illustrate their favorite sentence from the story they have just read.  This encourages them to create a visual representation of what they have read, showing that they understood what happened in the story.
The more meaning that students find in what they're reading, the more likely they are to read with fluency and expression. They will treat sentences as complete thoughts rather than a random list of words.
4. Use Repeated Readings
Another helpful way to build fluency with consonant blends and digraphs is to give students multiple opportunities to read the passage.  New readers benefit from having several chances to read consonant blends and digraphs within simple sentences.  As students improve their decoding skills and fluency with each reading, their confidence grows!  Plus, they are training their brains to recognize consonant blends and digraphs more quickly, which helps with fluency.
You can also provide repeated reading opportunities by having reading passages available during different parts of your daily routine. Fluency passages can be incorporated into morning work, literacy centers, or even fast-finisher activities!
5. Celebrate Effort to Build Confidence
One of the biggest hurdles to reading fluency can be a lack of confidence. When students are nervous or frustrated about reading, they are more likely to approach reading passages with hesitation or reluctance.  This can definitely impact fluency!  Celebrating effort and small gains is essential to helping students become more confident readers.
Decodable reading passages are a great way to celebrate effort. After practicing these passages in small group reading instruction or during centers, students can take them home to share with their families. They are always so excited to show off their reading skills at home! Not only is this a great way to celebrate effort, but it also encourages even more practice with consonant blends and digraphs!
Decodable Passages for Consonant Blends and Digraphs
Are you looking for some engaging decodable passages for practicing consonant blends and digraphs? Look no further!  I have created a set of decodable reading passages that are the perfect supplement to your phonics instruction for consonant blends and digraphs.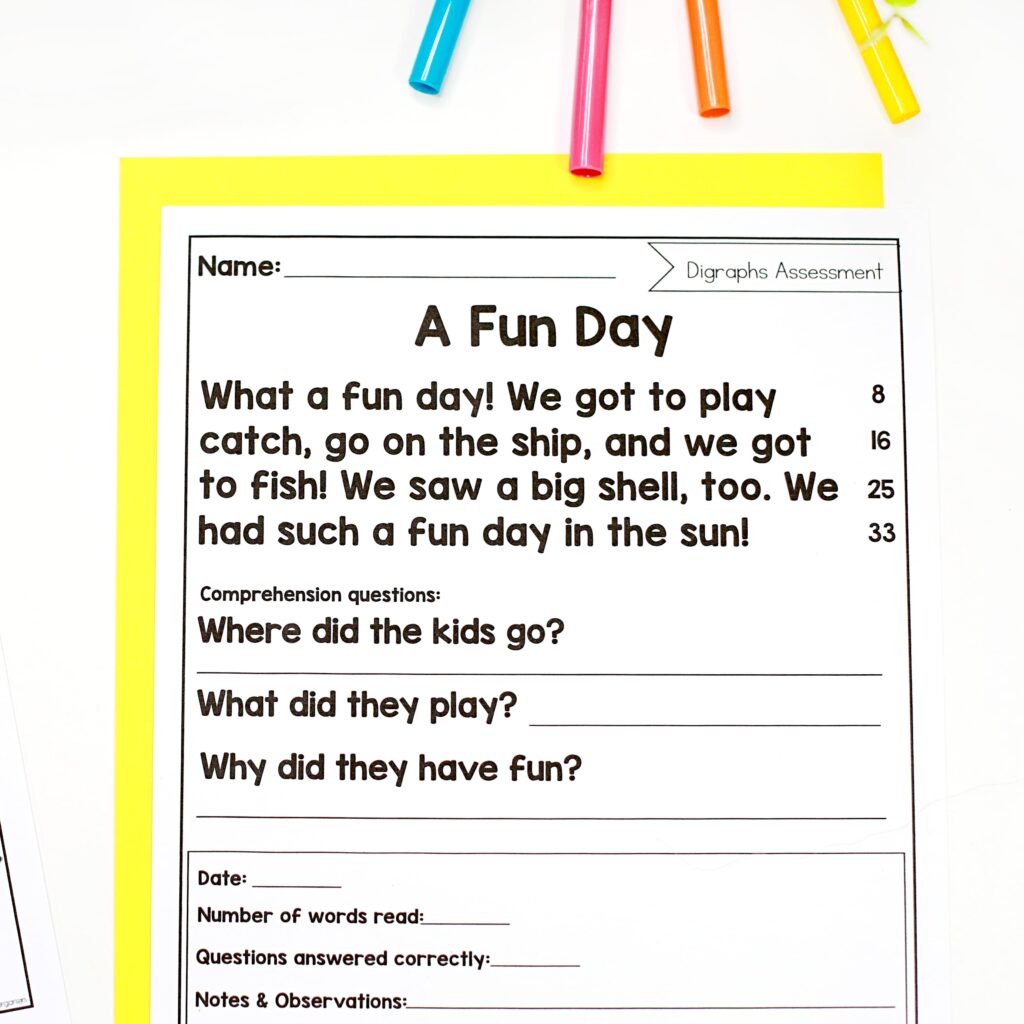 This print-and-go resource is a great way to help young students make the leap from reading words in isolation to reading with fluency!  Each passage focuses on one consonant blend or digraph to help you target specific phonics patterns.  You can use these low-prep printables as individual worksheets, staple them into packets, or even bind them into reading fluency practice books.  The flexibility means you can use this resource in the way that works best for your classroom. This resource also includes assessments that you can use to measure and celebrate growth!
If you'd like to take a closer look at everything included in this resource, you can click below to find it in my shop.
Save These Fluency Tips for Consonant Blends and Digraphs
Be sure to save this post if you'd like to easily find these tips and resources later!  Just add the pin below to your favorite teaching board on Pinterest.