One of my favorite things about teaching kindergarten is watching my students grow as readers! From learning their letter sounds to being able to blend sounds together, making the transition from letter sounds to reading words is a huge accomplishment for your little readers. The easiest way to teach your students to bridge letter sounds into words is with CVC words. Keep reading for a step-by-step approach for teaching CVC words in kindergarten.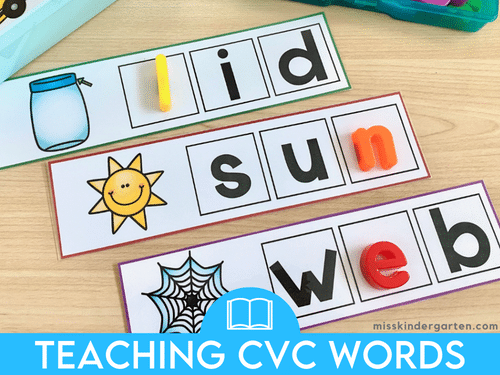 What is a CVC Word?
A CVC word is a word made up of 3 letters: a consonant, a vowel, and another consonant. Cat, fix, and sun are all examples of CVC words. These are words that follow simple phonics rules, meaning each letter makes its sound.
Teaching CVC words is the easiest way to begin teaching your students to read. Since the words follow phonics rules, as long as your students have a strong phonemic awareness (understanding that each letter makes a sound), they can read! When introduced and taught in an intentional way, CVC words give children confidence and make them feel like they are making strides toward being a reader.
How to Teach CVC Words: Step by Step
The process of teaching CVC words in kindergarten follows a general pattern, beginning with reading words in isolation and ending with fluent reading of CVC words within sentences and passages. This is an exciting process for young readers!
Step One: Read and Write CVC Words in Isolation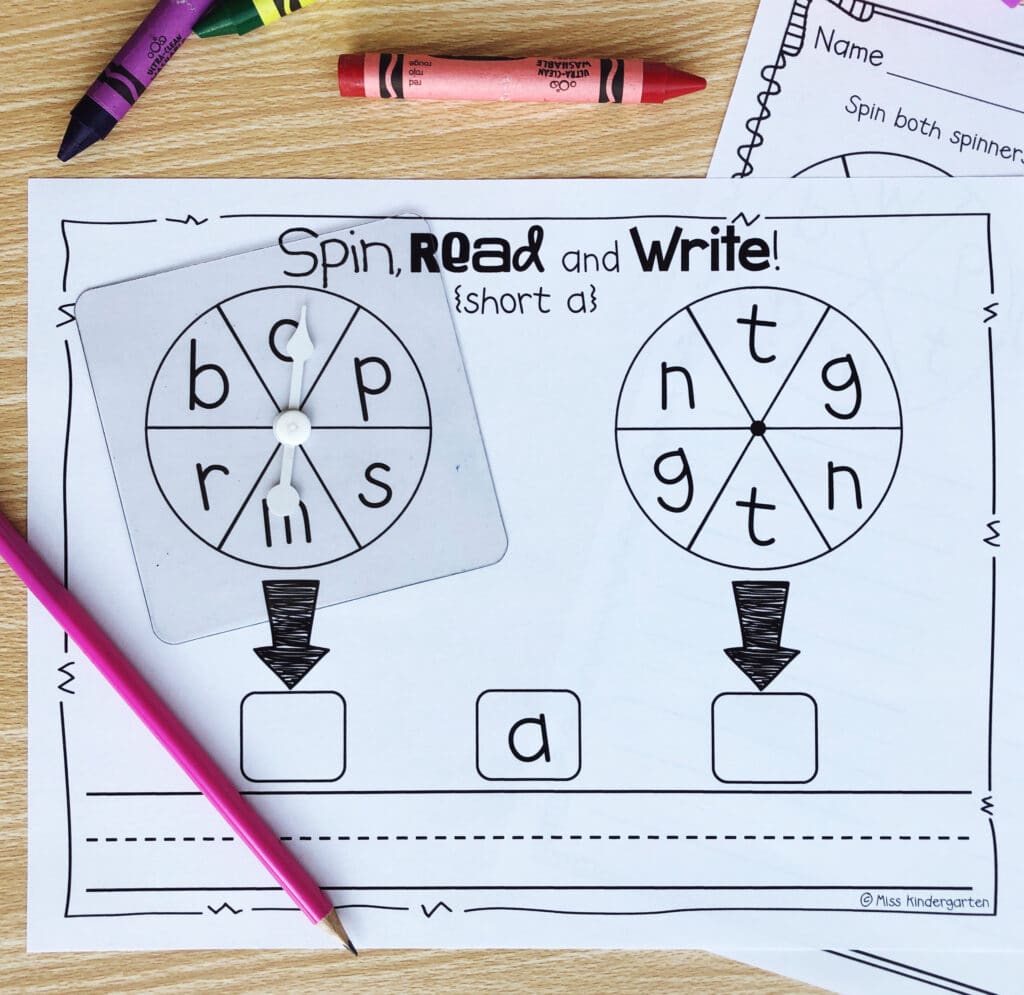 When students have mastered letter sounds, it's time to put those sounds together into CVC words. The first step is for students to practice reading CVC words one at a time, in isolation. This helps students understand that words are created by combining individual letters.
A great way to help students practice reading and writing CVC words in isolation is during centers time. Centers are helpful because they can be individualized based on the skills that students need to practice, such as:
Matching a CVC word to a picture
Identify the missing sound in a CVC word
Building CVC words with letter tiles or play dough
Writing CVC words to go with a picture
Playing CVC word building games
These fun activities will keep students engaged in the repetition needed to master the process of decoding CVC words.
Step Two: Practice CVC Words in Word Families
Once students understand that sounds can form words, it's time to help them identify word patterns, starting with short vowel word families. Teaching students about word families will help them become more efficient in decoding CVC words. When students understand word families, they are able to start seeing the chunks in words. This means they are able to decode words using these chunks instead of sounding out each phoneme. If you'd like to take a closer look at how I teach reading with word families, check out this post.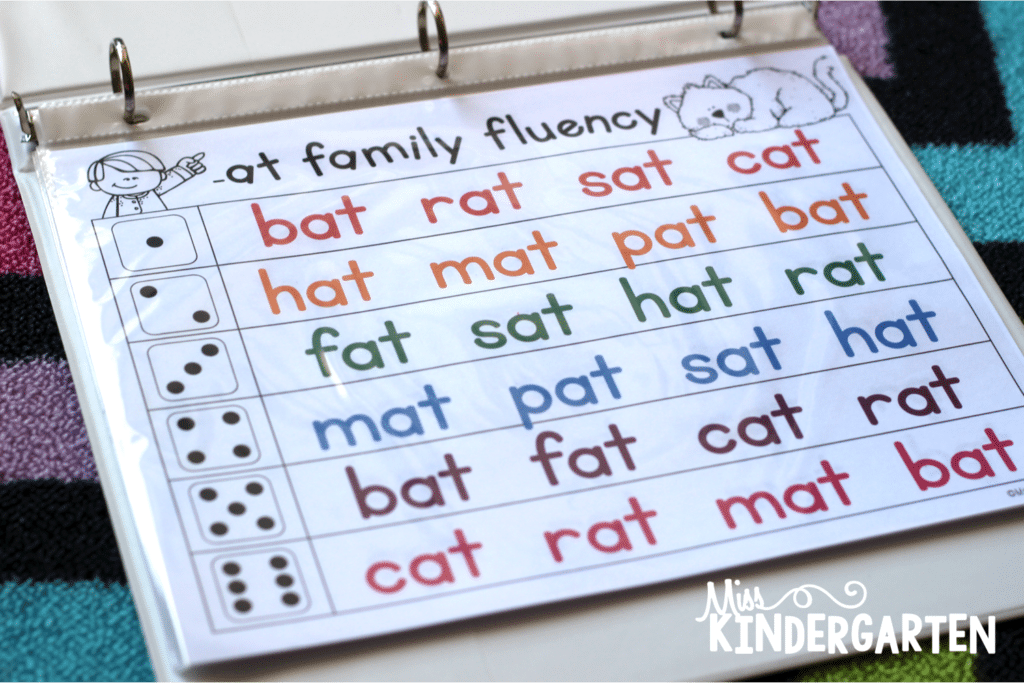 Step Three: Practice Reading CVC Words Fluently
As students become more familiar with word families and are growing in their confidence, it's time for them to practice reading more fluently. Students can improve word reading fluency with a variety of activities. Roll and read activities are always a hit with students! They roll a die and then read the words on the matching line. Flashcards are also a great way to help students practice reading CVC words more fluently. I like to use color coded flashcards that help students visualize the word family chunk in each word.
Step Four: Provide Additional Word Reading Practice as Needed
At this point, there will likely be students who can use more support in blending CVC words. Before moving on to more challenging CVC activities, it's important to provide these students with some additional word blending practice.
Read and Reveal cards are an engaging option for small group intervention and additional word reading practice. Students can slide their finger along the arrow as they blend the sound together. Once they feel confident in the word they read, they can remove the clip to view the picture and see if they read the word correctly.
These cards also come with a Write and Reveal option, where students can build a CVC word that corresponds to a picture.
Step Five: Read CVC Words in Simple Sentences
Once students are able to fluently read CVC words, it's time to put words together into simple sentences. I have created word family books that give students the opportunity to practice CVC words in isolation and in simple sentences. This is a great way to help students transition from reading words to reading sentences, since they will do both in this one printable resource.
Another helpful resource for reading CVC words in sentences is this set of Read and Reveal sentence cards. Just like the Read and Reveal cards for reading words in isolation, this self-correcting resource is perfect for independent practice, centers, and small group intervention. If you'd like even more ideas for reading simple sentences in kindergarten, check out this post! It's full of my favorite sentence reading activities for kindergarten.
Step Six: Practice Reading Sentences Fluently
As students continue to read CVC words within sentences, they will grow in confidence and accuracy. One way to help students reading sentences more fluently is with roll and read word family sentences. Students can read a sentence based on the number rolled on a die. As they repeat this activity multiple times, students can build their fluency and confidence.
The most exciting part of learning to read CVC words is moving on to short vowel reading passages! Students can review the CVC words at the top of the page, then practice reading the sentences in the passage.
Resources for Teaching CVC Words
Would you like an all-in-one resource to help your students progress from reading CVC words in isolation to reading them fluently in passages? This CVC Words Mega Bundle uses a variety of hands-on and engaging activities that will help students grow in confidence as they learn to read CVC words fluently and accurately. It includes everything from low-prep centers and play dough mats to CVC worksheets and reading fluency passages. If you would like to take a closer look at everything in this bundle, you can find it in my shop.
$60.00
A complete CVC toolkit! Help your students practice segmenting, blending, reading, and writing CVC words with these fun activities! Phonics instruction has never been so much fun.
Shop Now
Save These Ideas for Teaching CVC Words
Would you like have easy access to these ideas and resources? Be sure to save this pin to your favorite teaching board on Pinterest!