Reading CVC words is an exciting milestone in kindergarten! After working hard to master individual sounds, students are ready to apply their letter-sound knowledge to reading simple words. Some students experience some difficulty with this transition and would benefit from additional practice and instruction. Adding these engaging CVC Word Activities to your kindergarten intervention will help make this practice more memorable for your students!
9 Engaging CVC Word Activities for Kindergarten
As teachers, we know that every child learns differently. When we have a variety of engaging activities in our toolbox, we're better able to meet the individual needs of our students. I wanted to share some of my favorite ways to keep students engaged in CVC word practice during intervention time. My hope is that this post will give you some fun ideas to add to your phonics toolbox!
You can find all of these CVC word activities available in my shop! Check them out here.
$12.00
These CVC word phonics intervention activities are a FUN & EXCITING way to help your students practice reading, building, and writing short vowel CVC words!
Shop Now
1. Read, Trace, and Write
Exploring CVC words within word families can help students see patterns in written words. You can give students a simple activity like this one that helps them practice reading, tracing, and writing CVC words.
Focusing on one word family at a time will help students more easily recognize phonics patterns. To increase engagement, students can use different writing utensils as they trace and write each short vowel word. Handing out colorful markers instead of pencils never fails to grab students' attention!
2. Stamp and Draw
Once students can read word families with a picture clue, they can create their own drawings for CVC word families. This "Write It, Stamp It, Draw It" activity gives students the chance to practice spelling and reading short vowel words.
Once students have read, written, and stamped each word, they can draw a picture to go with it! The addition of stamping and illustration is sure to keep young learners engaged in CVC word practice. Plus, stamping is a great activity for building strength in little hands.
3. Roll, Read, and Cover
A fun way to help students get more repetition in their CVC word practice is to turn it into a game! "Roll, Read, and Cover" is always a hit with young students! After rolling a letter die and number die, students will find the corresponding word on their word mat.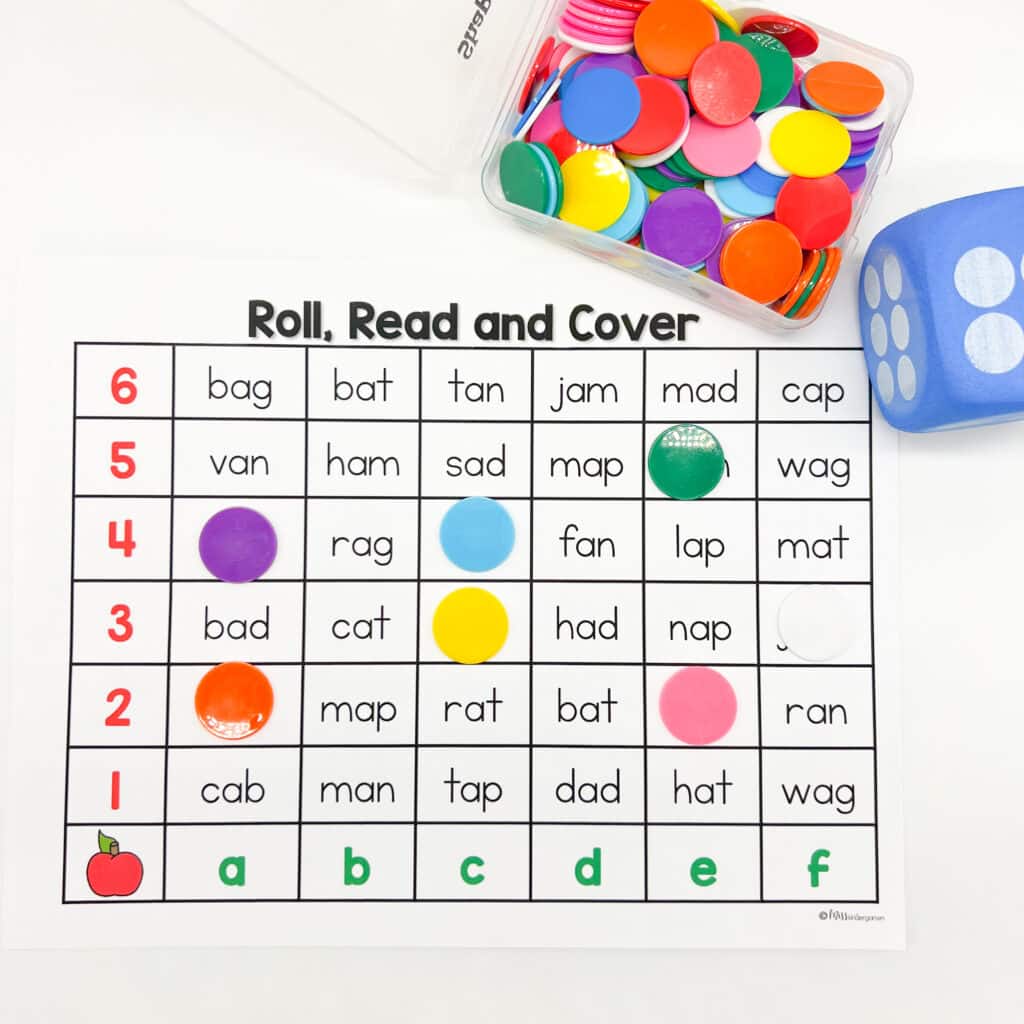 Once students have found and read the word, they can cover it with a small object or color it in with a dry-erase marker. For even more engagement, students can use seasonal manipulatives like mini erasers.
4. "I Have, Who Has?" Game
If you have multiple students in a phonics intervention or small group lesson, "I Have, Who Has?" is a great way to get students excited about reading! Each student has one card and they will listen for someone to ask for their word. Once their word has been read by another student, they will read their card to the group in order to find the next person.
You can also increase the challenge of this game by giving students more than one card. This means that students will be listening for two or more different words at a time.
5. Pocket Chart Word Building
Moving activities from the table to a pocket chart is a great way to boost the engagement of phonics practice.
In this pocket chart word building activity, students will place one picture on each line. Then they will build CVC words to match each picture. This is a great independent activity during centers time but it can also be used as a guided activity for a phonics intervention.
6. Read and Match
As students become more confident with word families, they will be ready to complete activities that use a variety of word families with the same middle sound.
This "Read and Match" activity helps students practice fine motor skills like cutting and pasting as they match CVC words to the correct picture.
7. Spin a Word
Spinner activities are always popular in kindergarten! You can use a clear spinner overlay, a paperclip with a brad, or even just a pencil holding a paperclip in place.
The first spin will decide the onset and the second spin will decide the rime. As students record the words they spin, they can sort by word family or by real words versus nonsense words.
8. Writing Practice
Your students will have fun coloring each picture on these writing practice pages. They will use their knowledge of letter sounds as they write the CVC word to go with each picture.
This is great fine motor and writing practice for young students! After identifying each word, they can come up with their own sentence using a word from the worksheet.
9. CVC Word Board Games
Finally, CVC games are a great way to keep your students engaged in short vowel practice! For example, this fun board game lets students practice short vowel words as they try not to let the cat out of the bag. Students will take turns choosing a card from a paper bag. If they read the word correctly, they will roll the die to determine how many spaces they can move on the board. If they pull a cat card out of the bag, they have to put all of their earned cards back in the bag.
Games like this are a fun way to add repetition to phonics practice. Students will grow in confidence and fluency as they read a variety of short vowel words.
Printable CVC Word Activities for Kindergarten
To save you time, I have created a set of low-prep CVC word activities that you can use to bring engagement and variety to phonics instruction. These activities are grouped by individual short vowel sounds, so it's easy to find the exact CVC word patterns that your students need to practice!
These engaging activities follow a predictable structure for each vowel sound. This makes them perfect for literacy centers, phonics intervention, and small-group instruction. If you'd like to take a closer look at this resource, you can click below to find it in my shop.
$12.00
These CVC word phonics intervention activities are a FUN & EXCITING way to help your students practice reading, building, and writing short vowel CVC words!
Shop Now
Save These Kindergarten CVC Word Activities
If you'd like to come back to this post, be sure to save this post! Add the pin below to your favorite teaching board on Pinterest. You'll be able to quickly find this post when you're looking for engaging CVC word activities that your students will love!