Understanding the sounds in words is super important for developing readers and writers. When students understand that words are made up of sounds, they are able to transfer this knowledge to their reading and writing. However, before jumping into phonics skills, which require students to correlate sounds with written letters, they must first be able to understand that words are made up of sounds, also known as phonemic awareness. These beginning sounds worksheets and activities will help your students practice this important skill!
It's easiest to teach beginning sounds, because, well, they come in the beginning! 🙂 Some kids have a hard time hearing sounds at the end of words, and middle sounds are often hard to differentiate! These beginning sounds worksheets and activities will help students learn how to find the beginning sounds in words and build those phonemic awareness skills!
Getting Started With Beginning Sounds
When getting started with beginning sounds activities, it is important to scaffold instruction and build upon these skills. To start, first listen to the beginning sounds in words. One of my favorite activities for practicing this listening skill is to do beginning sounds picture sorts.
For this activity, the students pick a card, name the picture, and figure out which picture has the same beginning sound. This activity comes with 3 pictures for each letter in the alphabet. I like to start by doing 4-5 letters at a time and work our way up to more. Using too many letters at first can be overwhelming for students. Using fewer letters allows them to really focus on those beginning sounds before moving on.
This is a really great independent activity, but I would also encourage you to have your students say the sounds aloud. This helps them make those letter-sound connections. As you can see in this picture, the "alligator" is in the /c/ column. This student said it was a "crocodile," which is why it's in that column! Even though it wasn't the picture that was intended, the student still was able to distinguish the correct sound. For the word "bell," the student called it a "school bell" and decided it was a /c/ sound. As you can see, this is a great way to informally assess your students and see what sounds they need help with. From there, you can provide the exact support they need.
Hands-On Center Activities
Now that your students are working hard on listening for beginning sounds and making letter-sound connections, it is a great time to start bringing in more beginning sounds activities. Using hands-on activities is a great way to build phonemic awareness and fine motor skills all at once!
A fun activity for building these skills is to use beginning sounds clip-it cards. The students will clip the picture that has the same beginning sound as the larger picture. The clothespins are great for developing those little fine motor muscles in their fingers!
Beginning Sounds Games
Incorporating games into your beginning sounds activities is a fun way to grab your students' attention and keep it. Engagement will soar with these games! One of our favorites is this first sound fluency activity.
Students simply roll the dice and say the first sound for each picture as fast as they can. They love this! To differentiate this activity for your students who are still building up their fluency, they can roll the dice and you can say the name of each picture in that row. They will tell you the first sound they hear in each word, all while still having fun!
Download the First Sound Fluency Freebie here!
Beginning Sounds Worksheets
It is always fun for kids to use their creativity and practice coloring in the lines. This beginning sounds coloring activity is a black and white printable, which allows your students to color the pictures with the same beginning sound.
In this activity, students will color the picture that has the same beginning sound as the first picture. This allows them to use beginning sounds phonemic awareness skills as well as problem-solving to determine which picture does not start with the same sound.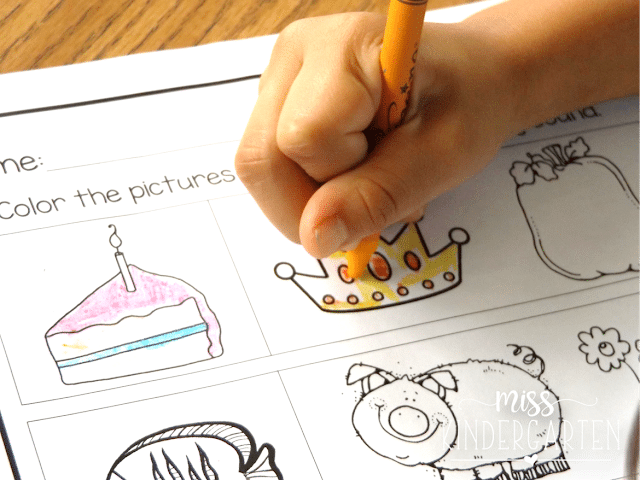 Getting Started With Phonics
Now that your students have gained confidence and skill with their beginning sounds phonemic awareness skills, it is time to move on and incorporate phonics skills. My favorite way to start doing this is by matching pictures to letters. These clip-it cards come with both upper and lowercase letters and are the perfect activity to start with. This time, your students will clip the letter that matches the beginning sound for the picture.
Cut and Paste Beginning Sounds
Having a variety of beginning sounds activities for students to complete is key for keeping the engagement and learning high! These cut and paste activities are great practice and the kids will love them. Anytime they feel like they are doing art while learning is a win-win!
The "What's in my Backpack?" activity is fun because the students get to cut out the letters and glue them down to match! The students will glue down the pictures to match each letter and color the picture.
Once students have mastered matching the letter to the picture, they can also start matching the beginning sounds in pictures to each letter. They can even begin to write out the word if they are ready! This cut and paste activity is great practice for this skill.
I hope these beginning sounds activities and ideas have given you an idea and step-by-step plan for teaching these important phonemic awareness and phonics skills to your students. These activities build on each other to ensure that your students are building a strong foundation for reading skills to come. You can find all of these activities, plus middle sounds and ending sounds in my Sounds in Words Activities Bundle!