Hearing and identifying the individual sounds in words is a very important skill for young learners. When students understand that words are made up of sounds, they are able to transfer this knowledge to their reading and writing. However, we can't jump right into phonics skills, which require students to correlate sounds with written letters. Instead, students must first be able to understand that words are made up of sounds, also known as phonemic awareness. These Beginning Sounds Activities will help your students practice identifying initial sounds in a fun and engaging way!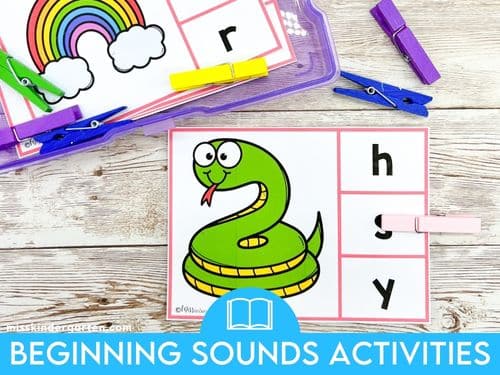 Teaching Beginning Sounds First
Students should have a strong foundation of letter and sound identification prior to working on identifying sounds in words. When they are ready for this step, it's best to start at the beginning! Initial sounds are the best place to start when it comes to identifying sounds. Some children have a hard time hearing sounds at the end of words, and middle sounds are often more difficult to differentiate!
6 Hands-On Beginning Sounds Activities
These beginning sounds activities and worksheets will help students learn how to find the beginning sounds in words and build those phonemic awareness skills!
1. Beginning Sound Picture Sorts
When getting started with beginning sounds activities, it is important to scaffold instruction and build upon these skills. To start, students should listen for the beginning sounds in a variety of words. One of my favorite activities for practicing this listening skill is to do beginning sounds picture sorts.
For this activity, the students pick a card, name the picture, and figure out which picture has the same beginning sound. This activity comes with three pictures for each letter of the alphabet. I suggest starting with four of five letters at a time and working up to more. Using too many letters at first can be overwhelming for students. Doing it this way allows them to really focus on those beginning sounds before moving on.
This is a really great independent activity, but I would also encourage you to have your students say the sounds aloud. This helps them make those letter-sound connections.
2. Hands-On Phonics Centers for Beginning Sounds
Once students have been able to practice listening for beginning sounds, it's time to start bringing in more beginning sounds activities.
Students can continue to build phonemic awareness as they complete a variety of hands-on learning tasks independently, with a partner, or in small groups. Highly-engaging literacy centers are perfect for giving students additional practice with identifying initial sounds in words.
A fun activity for building these skills is to use beginning sounds clip-it cards. The students will clip the picture that has the same beginning sound as the larger picture. The clothespins are great for some additional fine motor practice!
3. Beginning Sounds Games
Incorporating games into your beginning sounds activities is a fun way to grab your students' attention and keep them engaged in learning. This First Sound Fluency activity is sure to be a favorite in your classroom!
Students simply roll the die and say the first sound for each picture as fast as they can. Young learners love this fun game! To differentiate this activity for your students who are still working on fluency, they can roll the die and then listen as you can say the name of each picture in that row. They can then tell you the first sound they hear in each word, all while still having fun!
4. Beginning Sounds Coloring Activity
Coloring activities are always a great option for kindergartners. Coloring allows students to use their creativity while practicing fine motor skills and following the directions of the learning activity. This beginning sounds coloring activity is a black and white printable, which allows your students to color the pictures with the same beginning sound.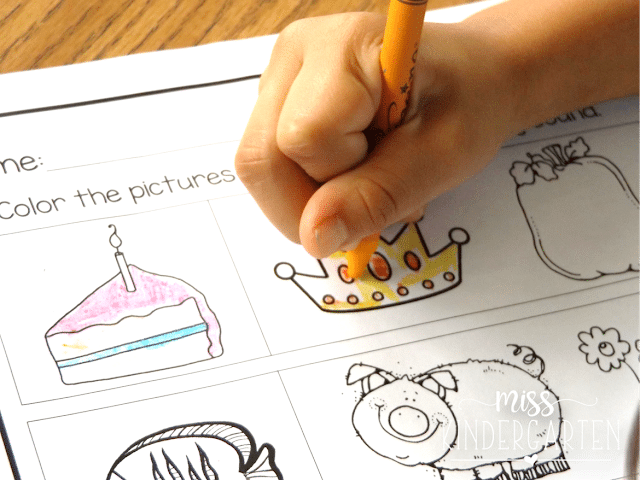 In this activity, students will color the picture that has the same beginning sound as the picture in the first column. This allows students to use phonemic awareness skills as well as problem-solving to determine which picture does not start with the same sound.
5. Match Letters to Beginning Sounds
Once students have become more confident in identifying beginning sounds, it is time to move on and incorporate phonics skills. A great place to start is by matching pictures to letters.
Since your students are already familiar with clip-it cards, it's a seamless transition to have them practice matching pictures to the correct beginning sound letter. These clip-it cards come with both upper and lowercase letters, depending on which option you'd like students to use.
6. Cut and Paste Beginning Sounds
Having a variety of activities for students to complete is key to keeping students engaged in beginning sounds practice! These cut and paste activities are great phonics and fine motor practice. Plus, the students love them! Anytime they feel like they are creating art while learning is a win-win!
This "What's in my Backpack?" activity is fun because the students get to cut out the letters and decide which backpack they belong to! The students will glue down the pictures to match each letter and color the picture.
Beginning Sounds Activities…and Beyond!
I hope these beginning sounds activities and ideas have given you some ideas for teaching these important phonemic awareness and phonics skills to your students.
To save you some time, I have created a set of activities that helps students practice not only beginning sounds but middle and ending sounds as well! Since many of these hands-on activities are similar for the different sound positions, they are easy for students to navigate independently during literacy centers or morning work time.
These activities build on each other to ensure that your students are building a strong foundation for reading skills to come. If you'd like to take a closer look at everything included in this resource, you can click the link below to find it in my shop!
Save These Beginning Sounds Activities
If you would like to refer to these beginning sounds activities later, be sure to save this post! Just add the pin below to your favorite teaching board on Pinterest. You'll be able to quickly find these activity ideas and printable resources whenever you need them!