As kindergarten teachers, there are many things we can do to set up our classrooms for a successful school year. Kindergarten classroom labels should be near the top of your list! They will support your students and help your classroom run more smoothly. Keep reading to see exactly why classroom labels are a must-have for every kindergarten classroom!
What Should I Label in My Kindergarten Classroom?
First, you might be wondering what exactly to label in the kindergarten classroom. After all, the choices really are endless!
The answer is going to vary based on the needs of your class, but I've found a pattern in the types of labels that are most helpful in kindergarten. Here are a few ideas:
Classroom Features: Flag, SMART board, window, door, plant, fish tank
Classroom Destinations: Carpet, sink, cubbies, teacher's desk, restroom
Self-Care Items: Tissues, hand sanitizer, soap, bandages
Manipulatives: Counters, cubes, blocks, play dough
Supplies: Markers, crayons, pencils, paper, glue
Classroom Library: Label by genre, author, or series
In order to make classroom labels as effective as possible, be sure to keep them simple! Use a font that is easy to read and uses correct letter formation. Labels are intended to be functional, not purely decorative!
It's also a great idea to print or mount classroom labels on card stock and laminate them for durability. Many classroom labels will be in high-traffic areas, so you want them to stay in good shape throughout the school year!
5 Reasons to Use Kindergarten Classroom Labels
Now that you have a better idea of what you might want to label in your classroom, let's chat about why it's worth the time! Adding labels to your classroom will support your young learners in many ways. They will also help your classroom run more smoothly.
1. Associate Objects with Print
First, classroom labels are a great addition to a print-rich learning environment! Some students enter kindergarten having very little prior exposure to print. Labeling your classroom will help your students begin to associate familiar objects with print. Try to use classroom labels with pictures to support this connection even more!
Students might not read the words on the classroom labels right away. That's okay! They will start to see visual patterns in the letters. This will be especially true as students start mastering the alphabet. The environmental print will help students make connections between vocabulary they already know and what they're learning about letters and sounds.
2. Encourage Independence
Another important reason to use classroom labels in kindergarten is that it allows students to be more independent. Young learners often look to the teacher for confirmation that what they're doing is correct. This can be true even for students who typically have no trouble following directions.
When a young student is given a direction to put a glue stick back in the basket, it's not uncommon to hear "In this basket, Teacher?" even after explicit instructions. If that sounds familiar, you're not alone! Kindergartners just need that little bit of extra reinforcement that they are completing a task correctly. Classroom labels can provide that reinforcement! A label with a picture of glue will help students confidently choose the correct basket, instead of needing to double-check with the teacher.
Labeling the classroom can help students locate supplies, navigate through the centers rotation, or put away books. Every small task that students can complete with the help of labels is a step toward a classroom of responsible and confident learners!
3. Stay Organized
Organization is essential for a kindergarten classroom to run smoothly! Cohesive classroom labels can help you and your students stay more organized. In addition to finding what they need for an activity, students can also more easily put things back in the correct place when bins are labeled. In a well-organized classroom, books will be easier to find, centers will run more smoothly, and clean-up will be a breeze!
4. Support All Learners
Classroom labels with pictures are a great way to support all learners in your classroom. You can stack Spanish and English labels as a way to support students who are learning English as a second language. Bilingual classroom labels can also be helpful if you are creating an immersive classroom experience for English-speaking students that are learning Spanish. In both cases, students will be exposed to a wide variety of relevant vocabulary words by using kindergarten classroom labels.
As the year progresses, there will be students who learn to read the words on each classroom label while other students will continue to need the picture for support. Classroom labels with pictures will support all of your students, regardless of where they are in their early reading development.
5. No-Prep Write the Room Activity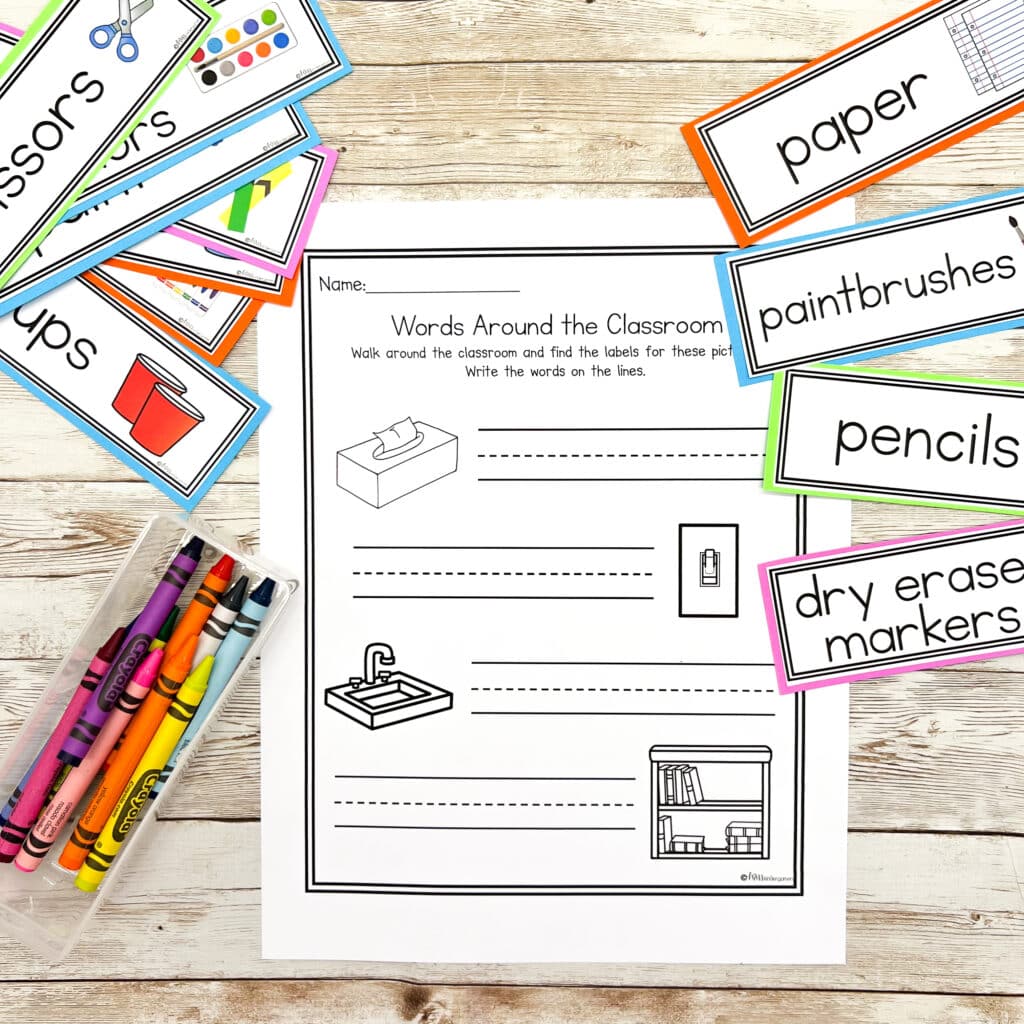 When your students are ready to practice writing, classroom labels can serve as a no-prep write the room activity! Write the room is a fun way to add some additional movement and engagement to the daily routine. You won't have to use prep time to place labels around the classroom for write the room, since you already have everything labeled!
Simply give your students a recording sheet with pictures of several classroom items, then let them search the room for the corresponding labels. Once students have located the correct label, they can use it as a model to correctly write the word. This independent activity is great for low-prep centers or even a fast finisher activity!
Editable Classroom Labels for Kindergarten
Would you like to add classroom labels to your kindergarten classroom? Grab this printable resource! It comes with English, Spanish, and editable versions of labels that you can use in your classroom. These classroom labels use simple black text on a white background with child-friendly images. They will look great with any classroom color scheme! These classroom labels also come with a printable write the room activity.
If you'd like to take a closer look at everything included in this resource, just click below.
Save These Kindergarten Classroom Labels
Be sure to save this pin to your favorite teaching board on Pinterest. You'll be able to quickly find these classroom labels when you're ready to download and print.