Name writing is one of the first things kindergarten teachers like to focus on during the first weeks of school. This is a skill that students will need early in the school year but many of them start kindergarten having never written their names before. In this post, I wanted to share some helpful tips and resources for kindergarten name writing practice. Your students will be writing their names independently in no time!
Tips for Kindergarten Name Writing Practice
Tip #1: Start with Name Identification
Before students even pick up a pencil, it's important for them to practice recognizing their own names. Many kindergarten students come to school having rarely seen their names in print before. Once you have your class list in hand, you'll want to start preparing student name labels for your classroom! This way, students will have multiple opportunities to see their names in print right from the first day of school. (Before adding the last name to the mix, give students a chance to focus on their first name only.)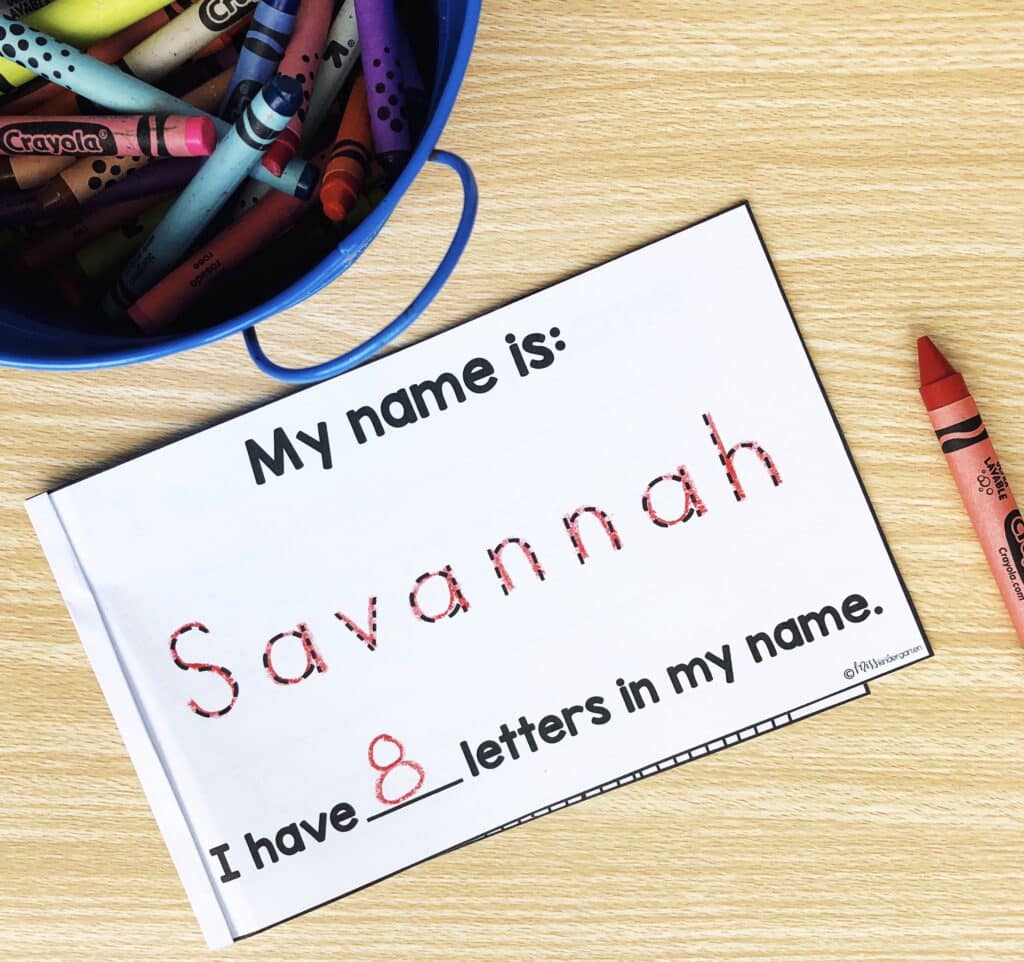 Another helpful way for students to practice name recognition is to learn how many letters they have in their names. The beginning of the year is a great time to create a class graph of names or provide other activities that give students a chance to count the number of letters in their names. This is great math practice!
Tip #2: Play Name Games
Once students have a good handle on what makes their names unique, it's time to have some fun with names! Give students a chance to play some name games as a class. This keeps students engaged in name practice and it helps them think about their names in a variety of ways.
You might play a mystery name guessing game where you give clues like "The mystery name has five letters." Students can start the game standing up and then sit down when the clue does not apply to their own name. The last person standing has the mystery name!
You can also use name "games" as part of your classroom management. Try dismissing your students in smaller groups based on their names: "All students with a Z in their name may line up." If you need students to pair up for an activity, they can find a partner that has the same number of letters in their name.
Tip #3: Practice Letter Order
Another pre-writing name activity is to practice letter order so that students can learn their name spelling.
Since many young students are still working on fine motor skills, it can be helpful to take away the task of writing when teaching students how to spell their names. This allows students to focus solely on the letter order without getting overwhelmed by holding a pencil. Then they can continue to practice letter order as they start tracing their names.
Whether you use puzzles, name scramble games, or crafts, it's important to give students a chance to practice letter order before focusing on writing.
Tip #4: Use a Variety of Utensils and Activities
When students are ready to start tracing their names, give them a chance to use a variety of different writing tools and name practice activities. This keeps little learners engaged in the name writing activities so they can get the repetition they need! Some fun ways to add novelty to name practice are:
Rainbow writing with crayons or markers
Name tracing with bingo daubers or paint sticks
Building names with blocks or mini erasers
Forming letters with play dough or pipe cleaners
Using tweezers to place pom poms on a name page
Finger tracing on sensory bags
Spell with stickers
When students are engaged in practice, they are more likely to remember the letter order and formation of their names.
Tip #5: Reinforce Proper Capitalization
Some of the students who have had prior experience writing their names might have learned to write their names in all capital letters. This is common for young children who rely on straight lines to create letters. However, it's important that students understand that names generally start with one uppercase letter followed by lowercase letters. Not only will this help them write their own names, but it will also help them understand how to identify and spell proper nouns later on.
Tip #6: Make It Fun!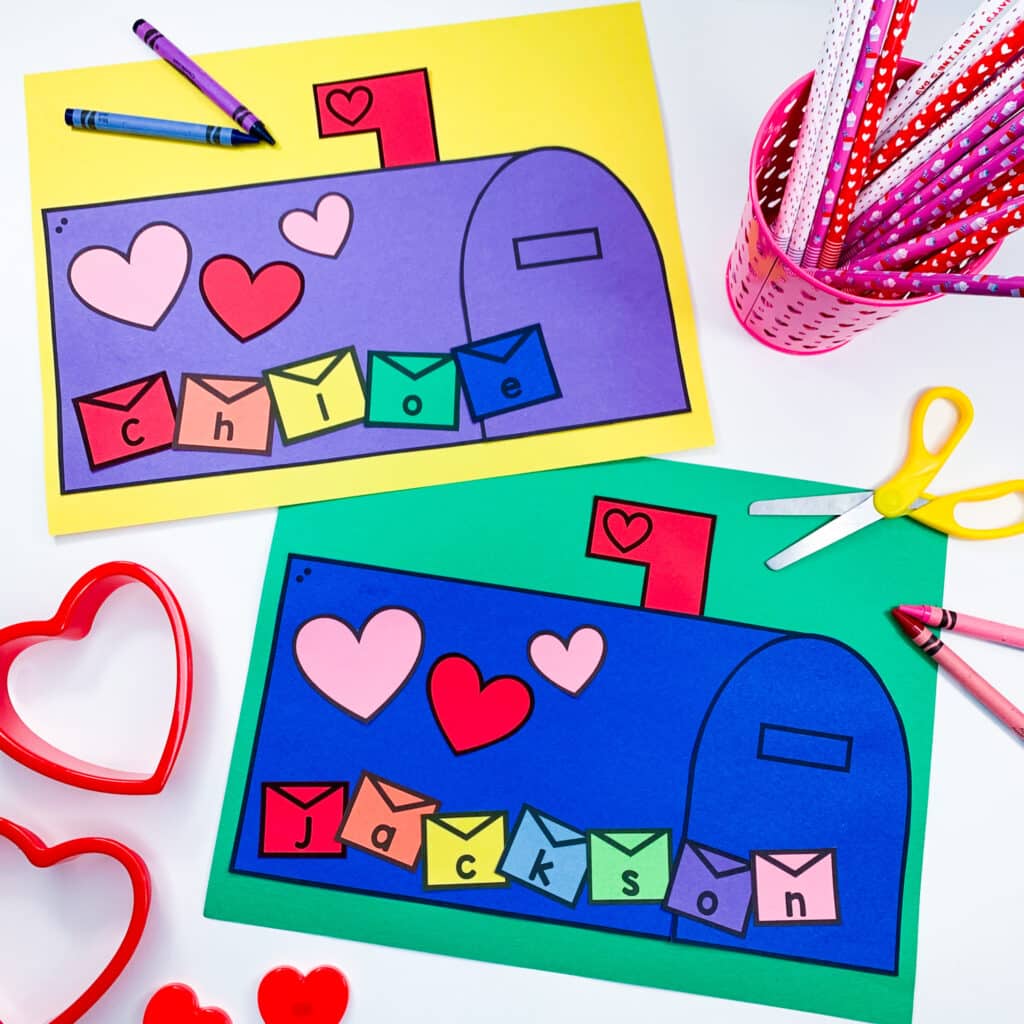 Kindergarten crafts are one of my favorite ways to bring fun and engagement to the classroom. There are so many seasonal crafts that you can use to make name practice more exciting for your students. These engaging crafts can even be used for quick and easy seasonal bulletin boards. Kindergartners love to look for their own name among the crafts on the bulletin board, which gives them even more opportunities to practice name recognition!
Not only do crafts help students practice spelling their names, but they also provide essential fine motor skill practice. As students use scissors they are building the hand strength and hand-eye coordination needed for a good pencil grip! This will help them write their names more legibly.
Tip #7: Use Personalized Name Writing Practice Activities
Personalized worksheets can be very helpful for young students who are learning how to write their names. These resources provide consistent and accurate models for tracing practice.
Creating personalized worksheets is not as time-consuming as it might sound, especially if you use a name practice template that you can customize for each student. I have created an editable name writing practice book that makes it simple for teachers to create a class set in no time at all!
After downloading the resource, you just need to type in your class list and the resource will auto-populate each name into a variety of activities. Then you just need to print and assemble! These name practice books are perfect for morning work, centers, or even homework. Click below to take a closer look at the different name practice activities included in this resource.
$1.00
Make personalize name writing practice fun, and easy with these editable books! Your students will feel super special with their very own name book! All you need is your class list, then you can type, print, and go. It's quick and easy. These name books are great for building your students' confidence by writing their names and working on important fine motor skills.
Shop Now
Save These Tips for Kindergarten Name Writing Practice
I hope these tips have given you some ideas for helping students identify, spell, and write their names. Be sure to add this pin to your favorite teaching board on Pinterest. You'll be able to quickly find these tips and resources when you're ready to revisit them.