After all of the preparation and planning, it's always so exciting to start a brand new school year! Kindergarten teachers have a lot to think about during the first week of school. Not only are you getting to know a whole class full of new students, but you're also supporting many young children who have never been inside a classroom before. The first week of kindergarten is an important time to help your students practice important skills that they will use all year. By adding these ideas to your lesson plans, you'll be setting yourself up for a smooth school year!
6 Things to Practice During the First Week of Kindergarten
1. Morning Routine
It's important to have students practice a variety of classroom routines from the beginning to the end of the day. However, I've found that arrival procedures really set the tone for the school day, so I make sure to practice this routine right from the start.
During the first week of school, it's helpful to ease into the morning routine with simple seat work. Morning tubs are a great way to keep students occupied at their desks while you take care of the other things that require your attention. A coloring page can also be a good option, but keep in mind that young students usually color pretty quickly!
Some of your little learners will be stepping into a classroom for the very first time! A predictable morning routine will give you time to support students who might be having big feelings as they arrive at school during the first week. By creating and practicing a morning routine from the very first week of school, you can help students become more independent at arrival time. They will develop a habit of putting their things away and heading straight to their morning activity.
2. Sitting at the Carpet
Since so much daily instruction occurs at the carpet, the first week of school is a great time to practice expectations for carpet time. Kindergartners need plenty of modeling to learn how to sit appropriately on the carpet, participate in the morning meeting, listen to instruction, and make good choices when sitting close to their peers!
One of my favorite ways to help students practice sitting at the carpet is during read-aloud time Students love to listen to and discuss engaging stories! Plus, you can choose books that broach topics like expected behavior for kindergarten or review concepts like counting, colors, and shapes. Two of my favorite books for the first week of school are "Brown Bear, Brown Bear, What Do You See?" by Eric Carle and "Miss Bindergarten Gets Ready for Kindergarten" by Joseph Slate.
3. Using School Supplies
Kindergarten crafts are one of my favorite ways to help students improve their fine motor skills and practice following directions. In order for students to reap the benefits of crafts, they need to be able to use school supplies safely and effectively! Use the first week of kindergarten as a time to slowly introduce and practice using crayons, markers, scissors, and glue. As each supply is introduced, you can review what it's used for, what it's NOT used for, and how to put it away.
I try to incorporate simple tasks into the school supply practice, so students can review some skills as they practice using the school supplies. This can also add some insight to your beginning of the year assessments!
4. Name Writing Practice
One skill that you'll want to practice as early as possible is name writing. While this is a skill that kindergarten students work to improve for most of the year, it's important for them to start practicing right away. I like to spend time on name writing practice on the first day and then review for the rest of the week. Not only does this help students write their names correctly, it also helps them navigate the classroom. Students can more easily find their mailboxes, cubbies, supplies, and more when they can identify their names.
5. Navigating the Kindergarten Classroom
Students don't just need to find their names throughout the classroom. They also need to know where to find important things like the trash can and tissues! The first week of school is the perfect time to practicenavigating the kindergarten classroom. I have created a simple but fun printable scavenger hunt that has students look for common things that they might need during the school day. As they walk around the classroom, they can color in the star next to each item as they find it. This is a fun and interactive way for students to learn about new things in their classroom.
It's also helpful to take a little bit of time during the first week to practice getting around the school. Think about the different times your students might need an emergency bathroom break (recess, cafeteria, library, etc.) and show them the routes they would take to the nearest restroom.
6. Other Rules and Procedures
As you go about your first week of school activities, leave some time to practice any routines or rules that need to be reviewed prior to starting the activity or routine. For example, give yourself enough time to review lunch line procedures the first few times you head to the cafeteria. Kindergarten is a whole new world for your students! They are surrounded by new faces while they learn a huge batch of new rules and new routines. If you'd like some additional tips for practicing classroom rules and routines in an engaging way, check out these classroom management tips and ideas!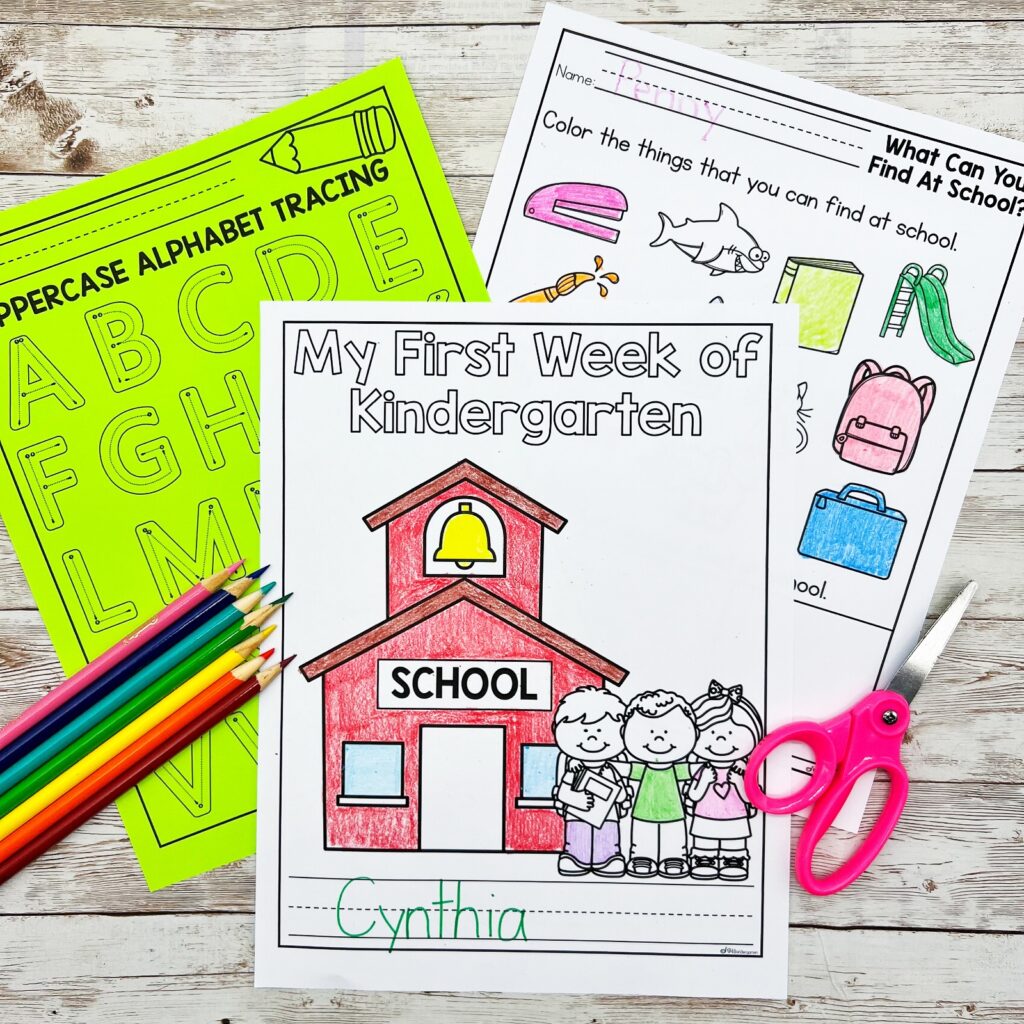 Helpful Resources for the First Week of Kindergarten
I have created a resource that is full of no-prep printables for the first week of school! You'll find several activities that will help your students practice using school supplies as they review numbers, letters, and shapes. They can also practice writing their names using an editable name practice printable. Be sure to have your students complete the coloring page, which can be attached to the front of their work from the first week of kindergarten. This makes a great keepsake to send home at the end of the first week! Just click below to take a closer look at everything included in this resource.
$3.50
Help your students practice important back-to-school kindergarten skills with these hands-on printables. They can be used independently in the classroom or sent home as packets.
Shop Now
Save These Tips for the First Week of Kindergarten
If you don't have very much time, be sure to add this pin to your favorite kindergarten board on Pinterest! You'll be able to quickly find this post again when you're ready to print and download these resources for the first week of kindergarten. I'm cheering you on as you start the new school year!