We all know that routine is an essential part of the kindergarten classroom, especially during the excitement of spring! One routine that is easy to maintain until the end of the school year is a centers rotation, especially if you've been using my low prep centers throughout the school year. The familiar activities and routine of these low prep centers for May will keep your students engaged with very little effort or extra instruction needed from you!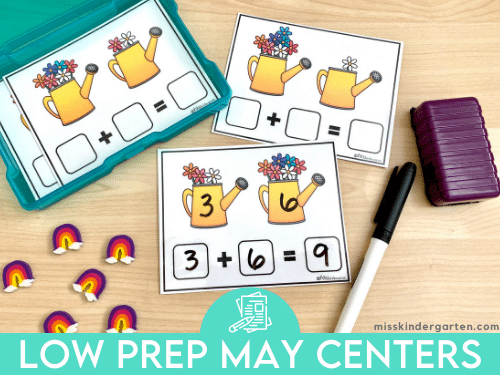 Low Prep Literacy Centers for May
By the end of the school year, kindergarten students have typically mastered letter identification and sounds. They are learning about consonant blends and are growing more comfortable with reading words in isolation and within sentences. These literacy centers for May will help students practice these important phonics and reading skills so that they will be ready for first grade in the fall! However, many of these centers activities can also be modified for learners who could use additional support or more of a challenge.
Phonics
The Building CVC Words activity is a great example of a center that provides support for many different learners.
In this center, each card provides a written CVC word on a bag of garden soil, then points to an image for a word that is almost the same, but has a different sound (such as "fix" and "fox"). Students will then build the new word in the garden below.
Students who could use more support with manipulating sounds within CVC words would benefit from building the first word with letter magnets. They can segment the new word as they touch the magnets, which will help them identify the sound that needs to be changed. Then they can switch the letter in order to build the new word.
After building each of the CVC words, students can also come up with sentences using the words if they need an early finisher activity. An extra challenge would be to create a sentence that uses both the first word and the new word!
Another phonics activity for May is the Beginning Blends center with a fun garden theme! The carrots need to be sorted into wheelbarrows based on the beginning consonant blend. Students can choose a carrot and identify the picture. (Putting these carrots on popsicle sticks makes it even more exciting!) Then students listen for the consonant blend they hear at the beginning of the word and slide the carrot behind the matching wheelbarrow.
Word and Sentence Reading
In the Reading CVC Words center, students will match the correct CVC word to the picture on the easel. You can provide any manipulative for students to mark the correct word on each card. One of my favorite things about low prep centers is that you can use them with anything you have on hand: Math counters, dry erase markers, seasonal erasers, etc. Check out this post for my favorite manipulatives to use for centers.
You could also add clothespins and make this a self-correcting activity! Just add a sticker on the backside of the card, behind the correct answer.
Another clip-friendly activity is the Read and Clip Sentences center. Students will read the sentence on each card and identify the missing word. For more fine motor practice, you can also provide a dry eraser marker so students can write the word on the blank. The tasks vary slightly in difficulty; some cards use words with different beginning sounds while other cards feature words with the same beginning sounds.
Low Prep Math Centers for May
By the time spring rolls around, our young learners have been practicing more challenging math tasks. These centers for May provide students with an opportunity to solidify their math skills before summer break!
Decomposing Numbers
This collection of math activities has two options to practice decomposing numbers. The first, Catching Butterflies, helps students visualize the process of decomposing numbers. Students will draw a bunny card with a number and then count out that number of "butterflies" (any manipulative will do). Then they will put part of the objects in one jar and the rest in the other jar. To finish the task, they will write the numbers under each jar.
Beehive Number Bonds is a center that has students decompose teen numbers using number bonds. This activity reinforces other skills as well, including counting on from ten and visualizing number bonds as addition equations. Students are given a total number written on a beehive, with ten bees heading toward the hive. Then students will add the correct number of manipulatives to the other half of the number bond. Students will complete the task by filling in the addition equation on the card.
Addition & Subtraction
If your students need more practice with addition, be sure to add Flower Addition to your spring centers rotation! Students will count the number of flowers in each watering can, then write the numbers. For students who need more support with counting, this might be the only part of the task card they are asked to complete. The rest of your students can use those numbers to write and solve an addition number sentence.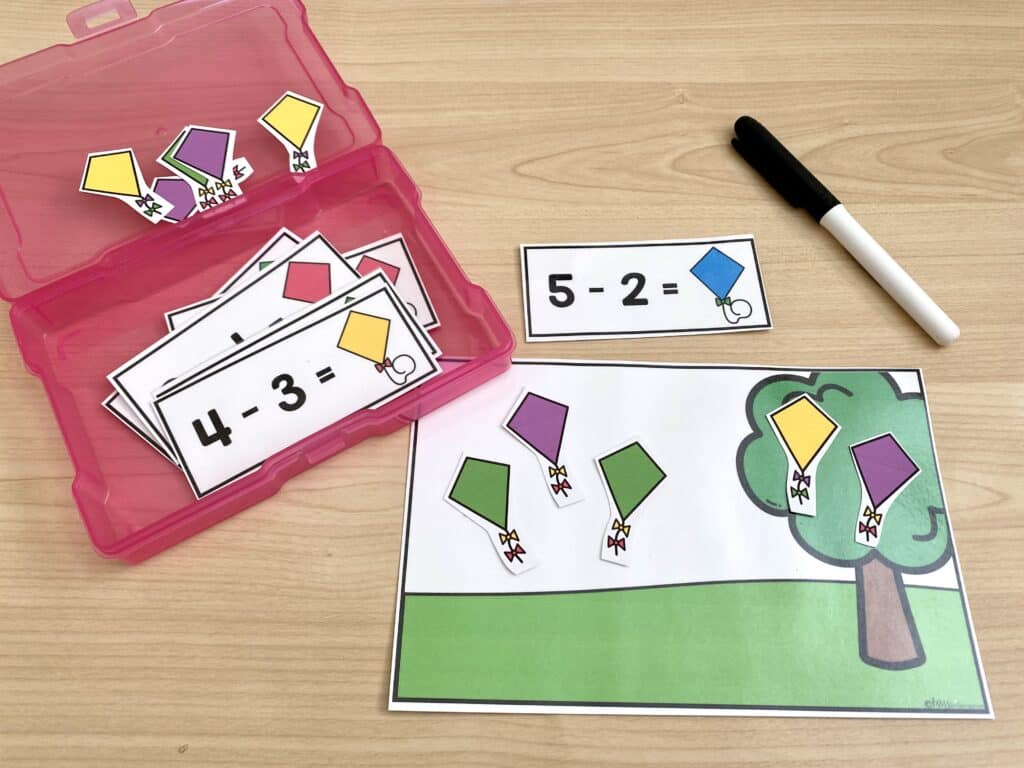 If your students have ever flown kites, they will love the Subtracting Kites center! In this spring-themed math activity, students will illustrate subtraction sentences with the scenario of kites getting stuck in a tree! They will start with a number of kites in the sky, then subtract the given number of kites by moving them to the tree. Then they will write down the number of kites that are still flying free.
Low Prep Centers for May (& Beyond!)
If you want to try these fun spring activities, you can find the Low Prep End of the Year Centers in my shop. Do you like the idea of spending less time prepping centers next school year? You'll definitely want to check out my Low Prep Kindergarten Centers Year Long Bundle. Provide fun literacy and math practice all year long without using all of your prep time switching out activities!
Save These May Kindergarten Centers for Later
Be sure to add this pin to your favorite board on Pinterest! You'll be able to find these end-of-the-year centers activities when you're ready to download and print.