As a pre-k or kindergarten teacher, you know your students come to school with such a wide array of academic abilities! Some of our students are able to name and recognize every letter of the alphabet, while some are not. We spend a lot of time in kindergarten learning letter formation, letter sounds, and practicing writing letters correctly. Here are some of my favorite alphabet activities for helping students learn all of their letters!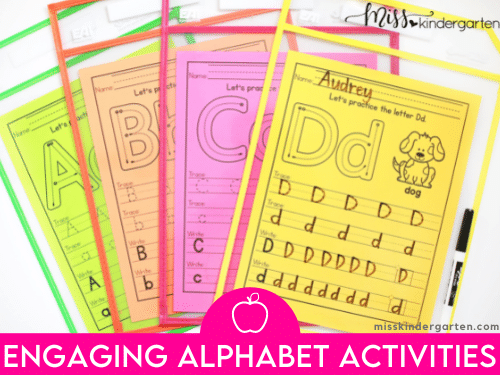 As with most everything in the primary classroom, getting students active in the learning process is key to helping them master the foundational skills. I love to incorporate hands-on activities that get students interacting with the letters, writing them, and connecting the visual letter to its sound.
1. Letter Identification
The first goal when it comes to learning the letters of the alphabet is to identify the letters and name them. One of my go to resources is this Letter Match Freebie! This alphabet mat is versatile and fun to use. At the beginning of the year, these mats stay in our centers for weeks, and can be used over and over with different learning activities.
Here are some of my favorite activities to use with this mat:
Letter Scavenger Hunt – students take a black & white mat on a clipboard and walk around the room looking for all 26 letters of the alphabet. When they find one they color in the matching letter. The only rule I have for this scavenger hunt is that they can't use the classroom alphabet display to find the letters. That would make it a little too easy. 🙂
Magnetic Letter Matching – using a grab bag approach or a sensory bin, students grab one magnetic letter and then match it to the correct spot on the mat.
Q-tip Painting – Students use the black & white mat to dot all the letters by dipping a q-tip into a small amount of paint. If the thought of paint at the beginning of the year is a little scary, watercolors work well too.
Make a puzzle – I love this activity because it gets my students working on scissor skills too! Students will first color all the letters of the alphabet. Next, I have them practice cutting by asking them to make 5 cuts across the paper. Then we take each piece and cut it again. Now it's time to put our puzzle together. After they put it together they trade with a partner and put together the new puzzle. The students love the idea that they can make a puzzle all by themselves.
Paper tearing letters – Another fun activity with multiple purposes is using the alphabet mat to create paper tearing letters. Here students practice making small glue dots and then tear paper to fill in each letter.
For the remainder of the year, we keep the letter mat on a magnetic cookie sheet and use it to organize our magnet letters for when we start word building!
There are so many ways to use this alphabet mat! Grab your free alphabet mats in my shop!
2. Writing Letters
The next step in learning the letters of the alphabet is writing them. It's so important for students to learn proper letter formation. Not just so that they learn to write legibly, but also because using the correct letter formation saves time. When students start out writing letters they often do it with more of a drawing technique. Instead of using the letter formation sequence of curves and lines, they are merely drawing shapes on the paper to make their drawing look like the letter. This process, however, will not serve them well in the future as they begin writing sentences, paragraphs or even taking notes during a lecture.
To help my students work on proper letter formation I created some Alphabet Writing sheets. On each sheet students will practice tracing and writing the letter.
I like to have students start by tracing the large letter at the top with their finger three times. They can follow the numbered steps and the arrows to work on the proper letter formation. After tracing they can then move to tracing the letters on the lines with a pencil. Finally, they will practice writing each letter.
I like to copy these alphabet writing activities on paper and have students practice writing using a pencil. Sometimes I'll put the entire alphabet together into a handwriting workbook. This makes a great morning work or writing activity for the beginning of the school year. You can also copy them onto colored paper and slide them into reuseable dry-erase pockets. Stick them in a center and your students can then practice writing, again and again, using a dry erase marker. These are perfect for centers, early finishers, and morning tubs.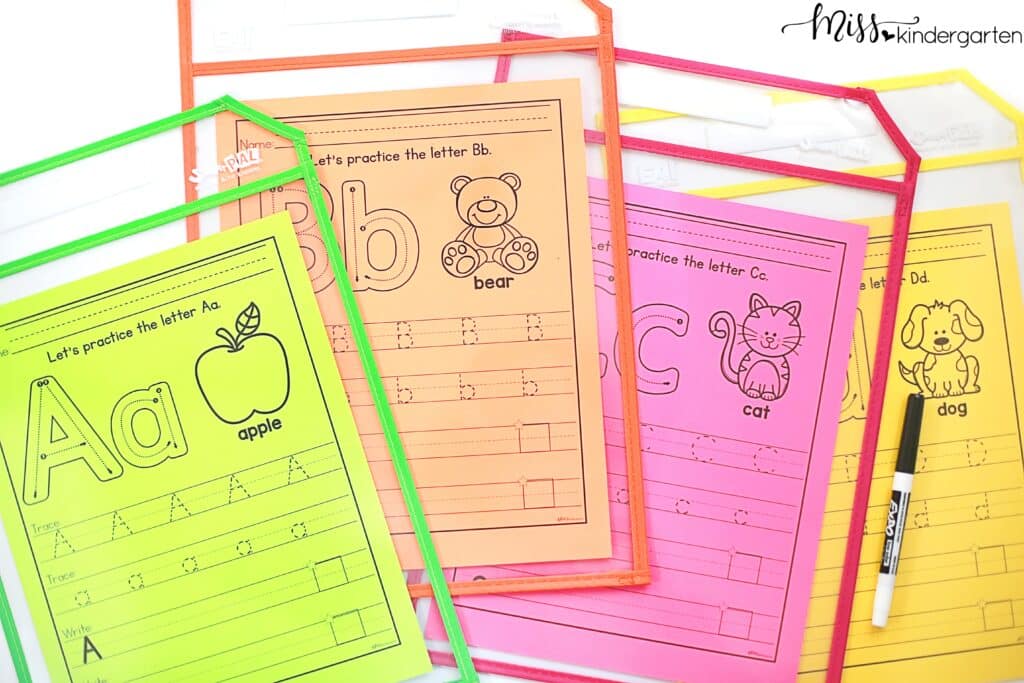 You can find the full set of Alphabet Writing pages in my shop.
3. Connecting Letters with Sounds
The final goal when it comes to learning the letters of the alphabet is connecting the visual letter with its sound. This is the foundation of reading and such an important part of the process.
My absolute favorite activity for this is creating simple letter crafts. We do this after the letter and sound and has been introduced. During our mini-lesson I like to include the object we will be making. This helps the craft to connect to the lesson and making those connections helps learning stick in the brain. Not only do the students love the crafts but they tend to remember them better than other activities.
Each craft represents an object that corresponds to the letters sounds. This help the students learn the sounds, and it also lays the foundation for the concept of identifying the beginning sound of words. This resource includes two page options. One to trace the letter and word and one which provides a sentence starter. Choose the one that works best for your students.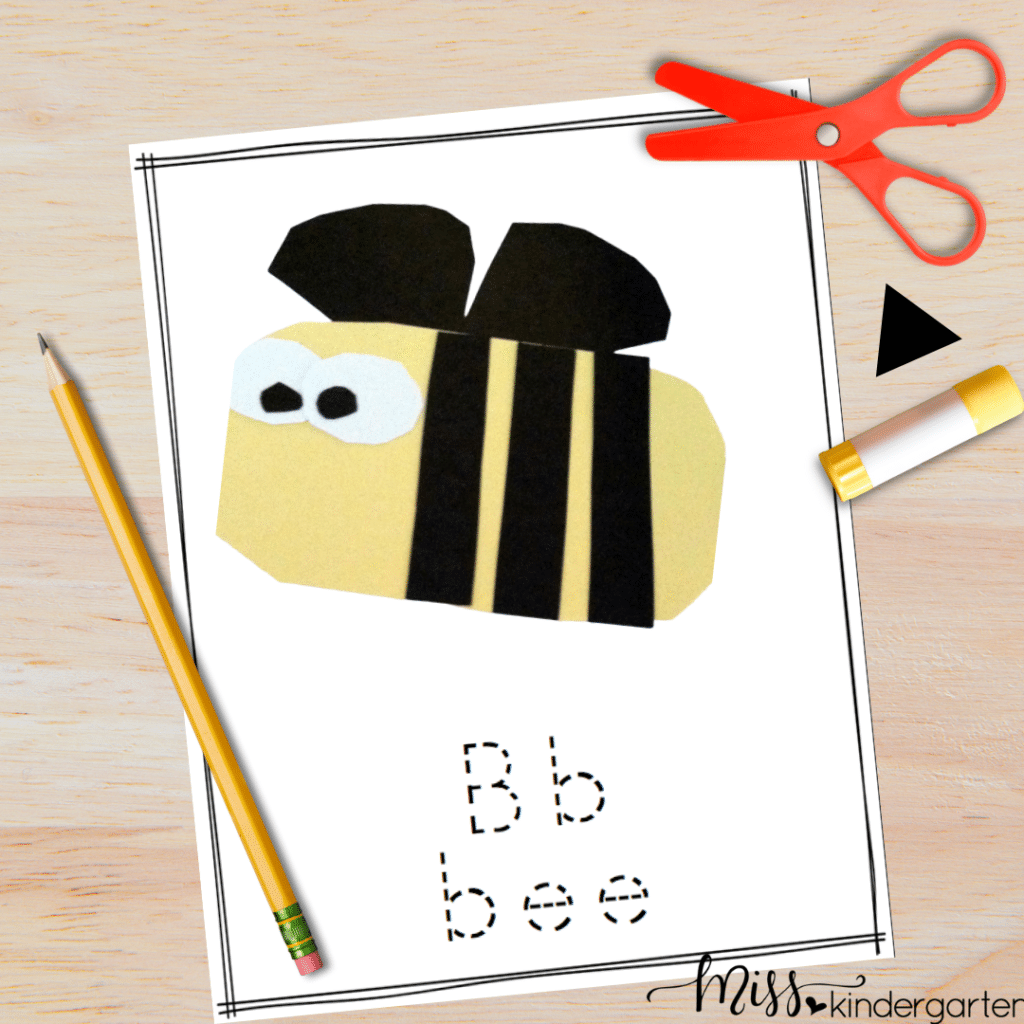 These Easy Letter Crafts give students opportunities to practice following directions, work on fine motor skills, practice with scissors and glue, and work on letters and sounds. That's a lot of great practice in one really fun activity!
Keep all of the craft pages together and let students create their very own alphabet book. Not only do they love seeing their creations for every letter of the alphabet, but the book makes a great kindergarten or preschool keepsake too!
You can find everything you need to create these Easy Alphabet Crafts in the store.
Save these Alphabet Activities
When it comes to teaching the alphabet you can't ever have enough ideas in your teacher toolbox. Save these fun and engaging alphabet activities by pinning this to your favorite classroom Pinterest board. That way you can quickly and easily come back for these alphabet activities and more.