If you've ever read the honest responses of an "All About My Mom" questionnaire, you know that they provide a fun snapshot of life through the eyes of a kindergartner. When it comes to using these questionnaires for Mother's Day, I like to take it one step further in order to create a memorable gift for moms. That is why I have created an All About My Mom printable book and craft, an engaging activity for students and an adorable gift for moms!
All About Mom Questionnaire – All Dressed Up!
All About Mom questionnaires are always a hit in kindergarten!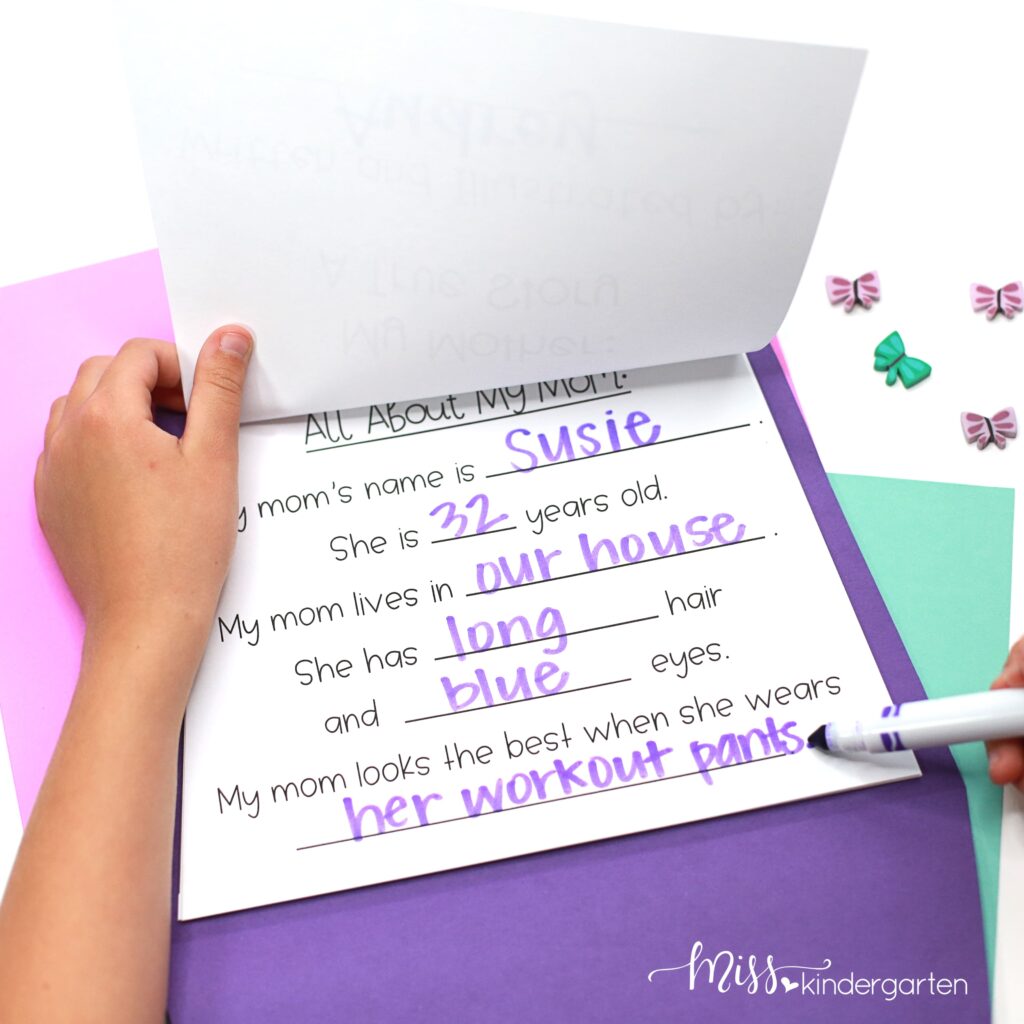 The way they usually work is that students simply fill in the blanks of an "All About Mom" printable worksheet. Many of the questions have a single correct answer, such as "My mom is ______ years old." Other questions give students a chance to express their feelings about their mom, such as "I love when my mom ______." As a result, reading the responses of an All About Mom questionnaire is a fun, touching, and usually humorous experience for moms. Pairing it with a craft makes it even more memorable.
It's no secret that I love to use crafts to celebrate holidays in the kindergarten classroom, and Mother's Day is no exception! There are three reasons why I love using this Mother's Day purse craft with kindergartners.
Fine Motor Practice
Any time I can help students improve their hand strength and scissors skills is a win for me! By turning the traditional Mother's Day questionnaire into a craft, you can increase the number of fine motor skills used to complete the activity. Students can cut out the prepared purse, handle, and flower templates prior to assembling with glue.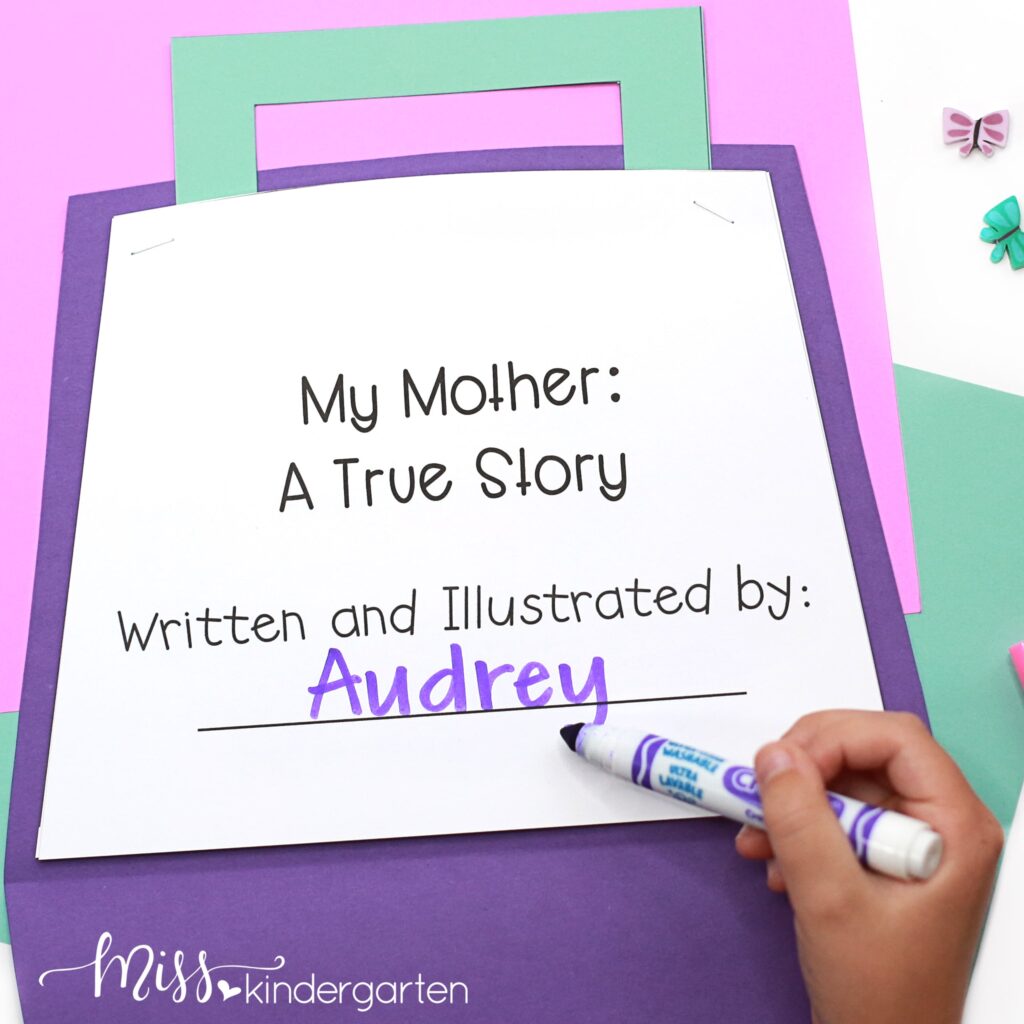 There are five pages for this All About Mom printable book, which means multiple opportunities for students to practice handwriting. Since the pages of this book will be cut to fit the shape of the purse craft, I suggest having the students trim the pages before they start writing. This will ensure that students write within the lines and won't have to cut off some of their responses.
This would be a great activity to complete over a period of time. You can work on the pages within small groups so that you can provide guidance for students or have them dictate their answers to you if needed.
Unique and Customizable
One of the best parts of kindergarten crafts is seeing how each student creates something totally unique, even from a template. That is especially true for this Mother's Day purse craft!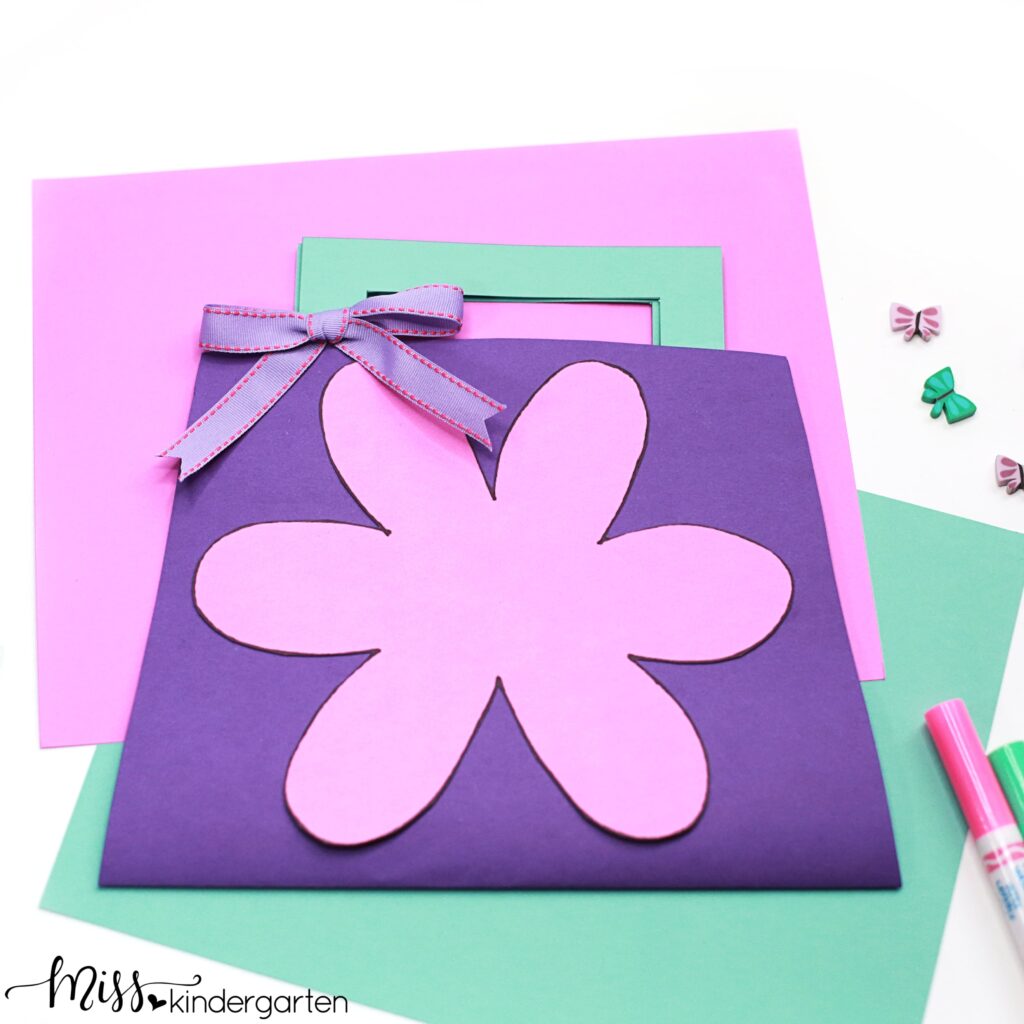 I suggest preparing templates in a variety of colors so that each student can choose their mom's favorite. Then, when possible, provide the accent templates in coordinating scrapbook paper. It's so fun to see the combinations that students create with a variety of paper options!
The pages of this All About Mom book also include an opportunity for students to draw a picture of their mom and even the contents of her purse! This is another chance for students to add a unique finishing touch to their craft. You could also invite students to decorate the individual pages of the book to add some color and personalization.
Easy Mother's Day Gift for Kindergarten
After the craft has been assembled, students can choose a ribbon that will be used to tie the handles of the purse closed. This adds the perfect finishing touch and makes it feel even more giftable! By taking the time to turn an All About My Mom questionnaire into a craft, you have helped your students create a memorable gift for Mother's Day.
Inclusive Mother's Day Activity
It's important to create an inclusive experience when creating a Mother's Day gift by being mindful of family diversity, current living situations, and trauma. Consider these factors for each of your students and decide on the most inclusive approach for this type of activity. Every classroom is different! Here are a few ways that you can make this activity more inclusive, based on your class.
Celebrate All Parents, Guardians, and Important People
Since Father's Day is often celebrated during summer break, many teachers choose to create Mother's Day and Father's Day gifts at around the same time. This allows students to create gifts in the combination that best suits their families. This is one reason why my Mother's Day and Father's Day crafts are bundled together.
Allow Student Choice
Some students might choose a briefcase for Mom, if that's what she carries instead of a purse! Sometimes a student might not feel comfortable writing about a particular parent and would rather create a craft for Grandma. Follow their lead! The book pages come in a variety of different options to reflect all of the important people that care for our students: Aunt, Grandma, etc.
Go Digital
Sometimes students aren't currently living with a parent (for a variety of reasons) but still want to create a gift for them. A digital version of this activity makes it possible to do just that! I have created an editable version of this craft in Google Slides that students can complete and then email to their parent.
All About My Mom Printable
If you would like to grab this Mother's Day purse craft, you can find it in my shop! As I mentioned above, this download also comes bundled with a Father's Day briefcase craft.
Both of these crafts are also included in my Crafts for the Whole Year Mega Bundle. Save time and money by having all of your crafts planned for the entire school year! Each seasonal craft in this mega bundle includes easy-to-use templates, step-by-step picture directions, and templates to incorporate writing.
Save This All About My Mom Activity for Later
Be sure to save this Mother's Day idea to your favorite Pinterest board of classroom crafts. It will be easy to find when you're ready to download, print, and create!