At the beginning of the school year, kindergarten students work hard on routines and procedures in order to become responsible learners. Then they move on to mastering kindergarten literacy skills as budding readers. By the time spring rolls around, our young students often have a lot left to learn about adding and subtracting! In this post, I want to share some of my favorite tips for teaching addition and subtraction in kindergarten.
Tip #1: Make It Meaningful
One of the most important steps in teaching addition and subtraction to young children is to make it meaningful. This starts with number sense! The majority of kindergarten students can count by rote early on in the school year, but do they know what they're saying when they do? Do they know what the names of those numbers stand for? Can they identify written numbers and match them to quantities?
It's important to help students attach meaning to numbers. This will make addition and subtraction more meaningful to them, as well. (If you're looking for more number sense activities for your kindergarten students, be sure to check out this post.)
Tip #2: Model with Manipulatives
When it's time to introduce addition and subtraction to young students, it's helpful to start by modeling with manipulatives. Have students put two groups of manipulatives together to model addition. Invite students to physically take away manipulatives when subtracting. Here are some of my favorite manipulatives that work for both addition and subtraction instruction:
Fingers
Finger counting is a strategy that is important to teach to young children because they won't always have teddy bear counters or paper and pencil handy! You can also use this strategy to keep students engaged during group instruction. You can invite them to model a math scenario on their fingers and then check for understanding with a quick scan of the group.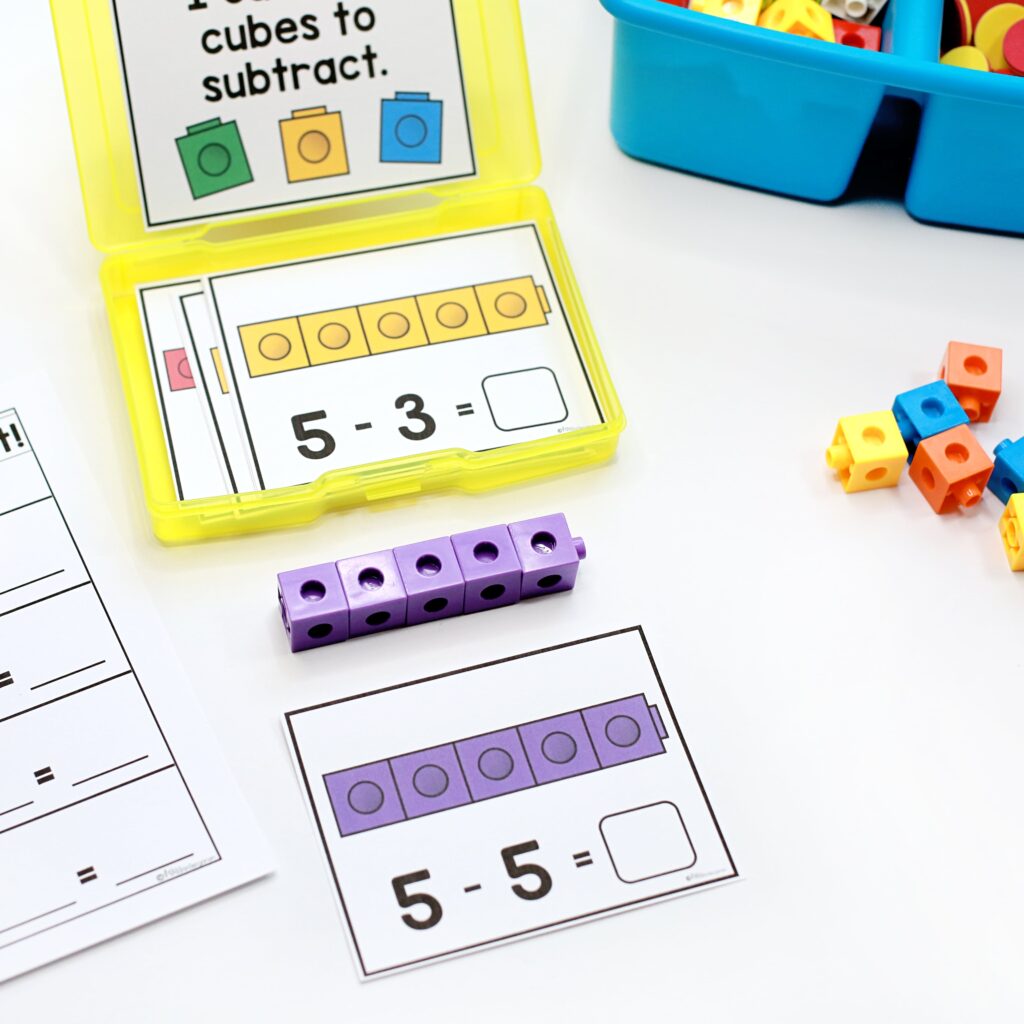 Cubes
Cubes are an excellent way to visualize different math scenarios. When first modeling addition, it's helpful to use two different colors of cubes, then put them together. This helps students see that adding is putting together two quantities. Cubes are a great way to introduce subtraction, as well. Students can physically remove cubes from the stack to determine how many are left.
Counters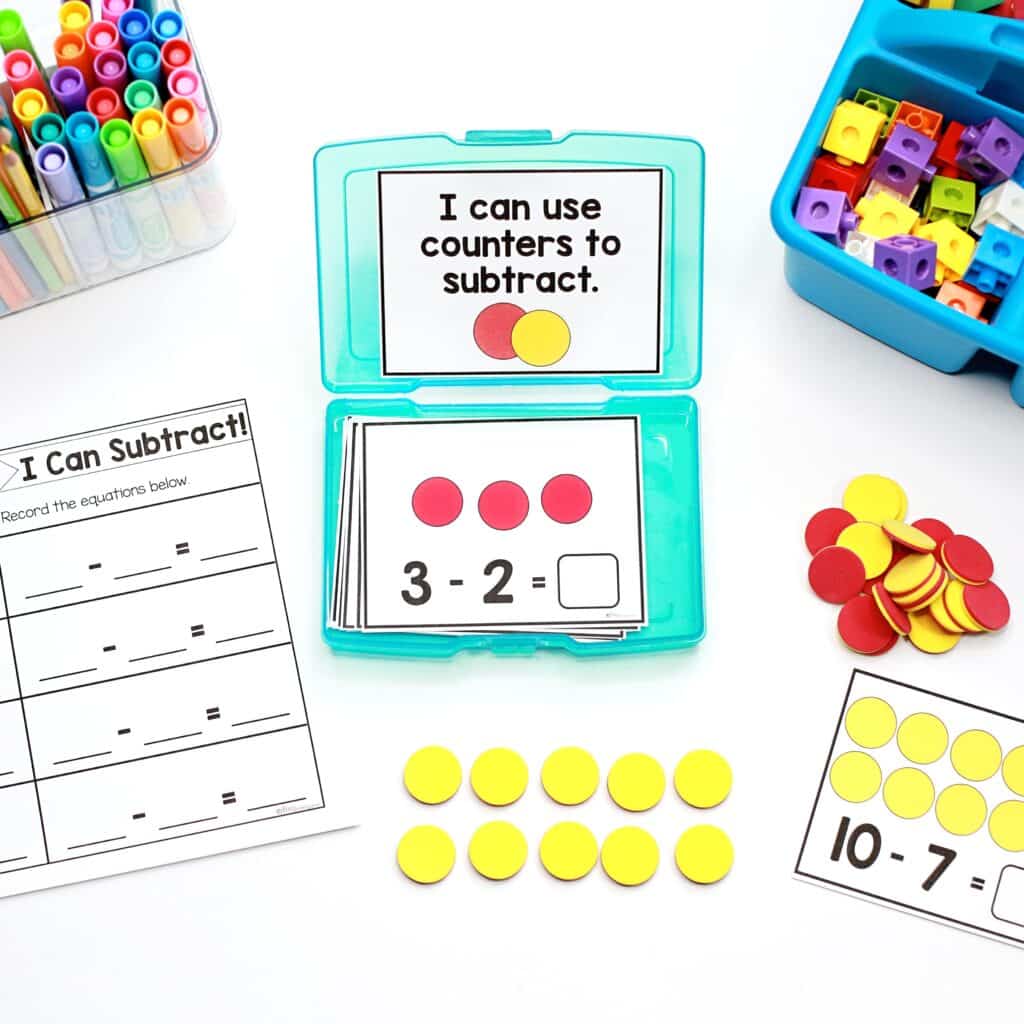 Once students have a good understanding of subtraction as "taking away," it's also helpful to introduce the idea that subtraction is finding the difference between two quantities. I like to use two-sided counters for this! Students can start with a quantity of counters that are yellow, then turn over the given number of counters to red. The answer will be how many counters are still yellow.
Tip #3: Teach Additional Strategies
The goal of teaching addition and subtraction in kindergarten is to help students transition from concrete to abstract models. There are several strategies that can bridge the gap between physical manipulatives and number sentences.
Number Line & Counting
Number lines are very helpful for students to visualize addition and subtraction. Not only that, students will use number lines for a variety of math skills as they get older, so this is a perfect time to help them get comfortable with them.
Number lines can also be used to help students count on or count back when adding or subtracting. It's nice for students to have a visual, like a number line, to reference when counting!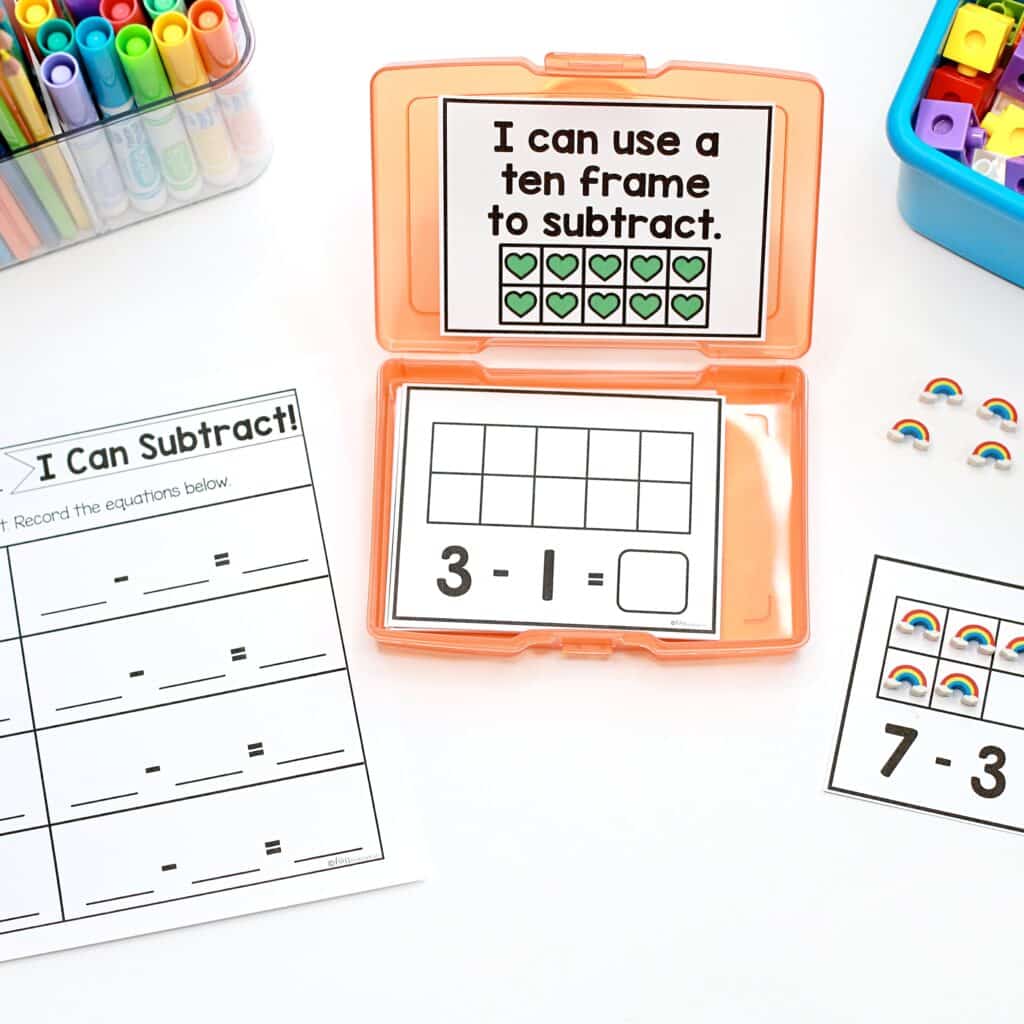 Ten Frame & Making Tens
Chances are that you've been using ten frames with your students all year to model numbers and visualize ten. Include them in your addition and subtraction lessons, as well! Ten frames can also be used when practicing the "make ten" math strategy. When students can easily identify what number combinations make ten, they are able to quickly and confidently solve a variety of math problems.
Math Strategy Posters
As teachers, we never know which strategy will "click" with each individual student, so it's important to teach multiple! I like to keep these strategies on display in my classroom when teaching addition and subtraction. As we learn each strategy, I add the poster to our bulletin board until we have a large variety for students to reference.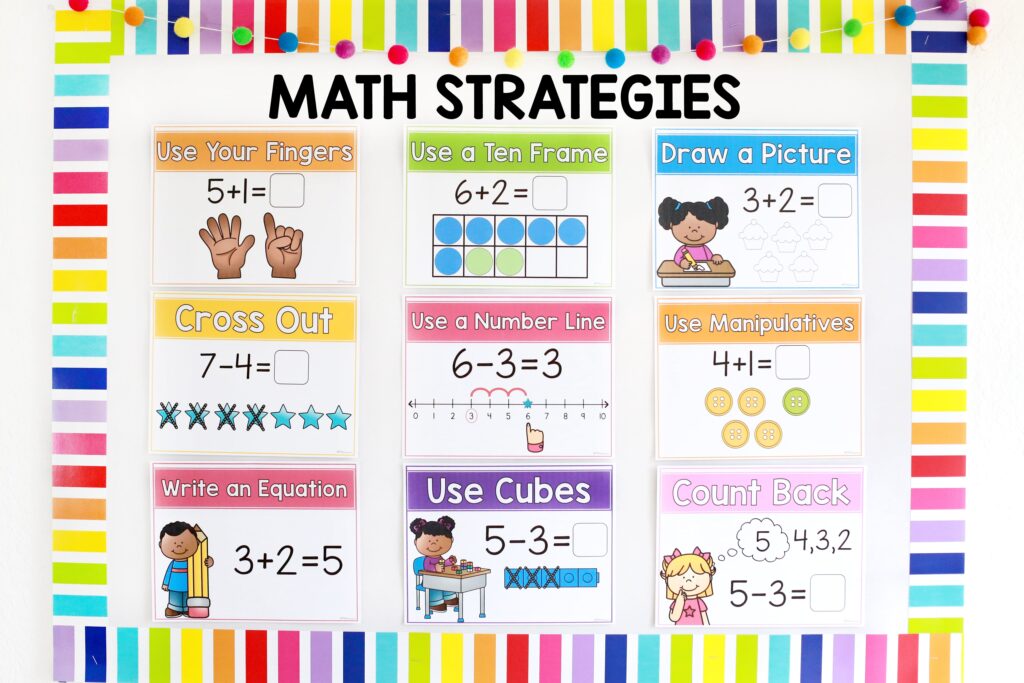 Tip #4: Provide Support with Number Sentences
It's always exciting when students are ready to transition to modeling addition and subtraction with number sentences! However, it's important to continue to provide visual support along with those number sentences. For example, in my story problem worksheets, students can cut out manipulatives to help them model an addition or subtraction scenario. After this visual practice, they're ready to write the number sentence at the bottom.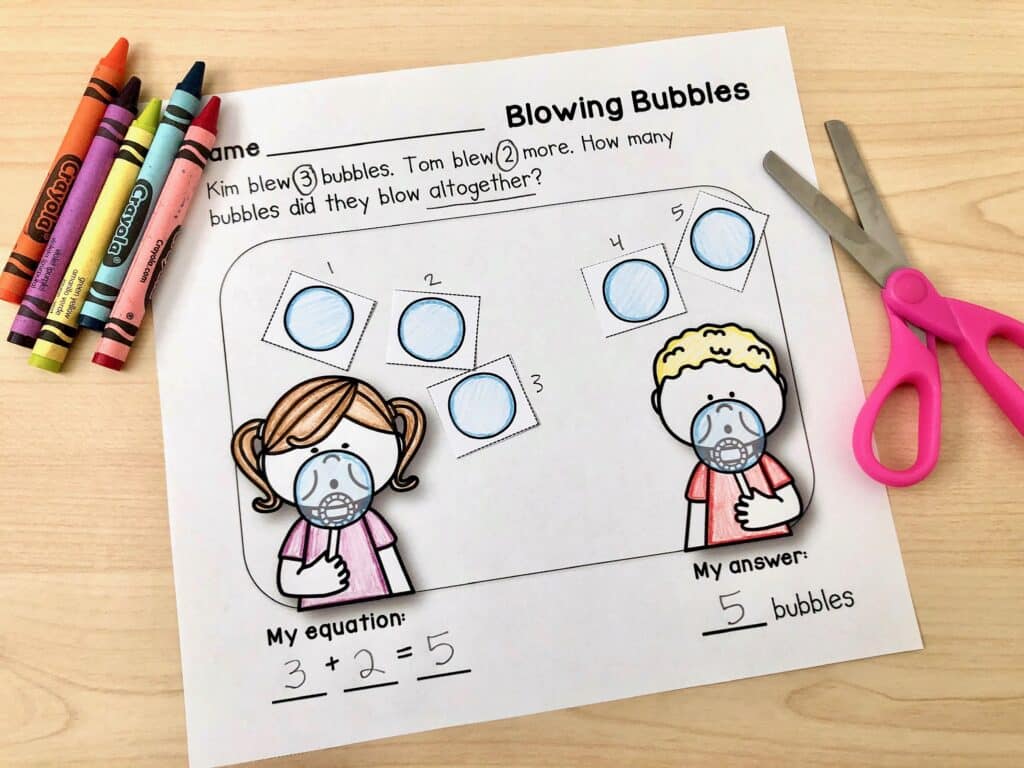 Tip #5: Practice, Practice, Practice!
The final step in teaching addition and subtraction to kindergarten students is to keep practicing! However, we need to keep things fresh in order for students to remain engaged in the much-needed repetition.
Math Centers
Math centers are perfect for including a variety of different addition and subtraction tasks for students to practice. A crowd favorite in my classroom has always been self-correcting clip cards. Students solve each math fact, then unclip the card to see if they were correct. Math task cards are also a great option for centers because they provide a variety of hands-on practice for addition and subtraction.
Addition & Subtraction Games
One of my favorite ways to provide repetition without boredom is to use addition and subtraction games. Roll-and-cover addition games are always a hit in my classroom! Students roll two dice, then cover the corresponding sum with a manipulative. They repeat this activity until they've covered all of the numbers on the mat. It's simple but effective!
Digital Addition & Subtraction Activities
Using digital math activities can also keep motivation high when it's time to practice addition and subtraction! I love to use digital task cards for math practice because Boom cards can be accessed from anywhere with internet access. It's a great way to encourage students to practice addition and subtraction at home!
Teaching Addition and Subtraction in Kindergarten
Are you interested in trying the activities I mentioned above to help your students practice addition and subtraction? You can save some money and time by downloading them all together in my Addition and Subtraction Practice Activities Bundle. It includes math strategy posters, seasonal story problems, math task cards, and more! You can find it in my shop.
Save these Tips for Teaching Addition and Subtraction
Be sure to save this to your favorite math board on Pinterest. You'll be able to quickly find these tips for teaching addition and subtraction at any time!