If you have ever tried to teach Kindergarteners how to add and subtract, you already know it can be a bit tricky! Finding activities to engage young learners while practicing math in a fun way isn't always easy. Not to worry though! If you are looking for a painless way to teach addition and subtraction, math task cards will be your new best friend! Today, I'm sharing 3 reasons to use math task cards for Kindergarten math!
1. Task Cards Illustrate Math Strategies
Before we jump into practicing those math skills, we need to prepare our little learners, right? Over the years, I have found that Kindergarten students excel in math when they have options for solving equations.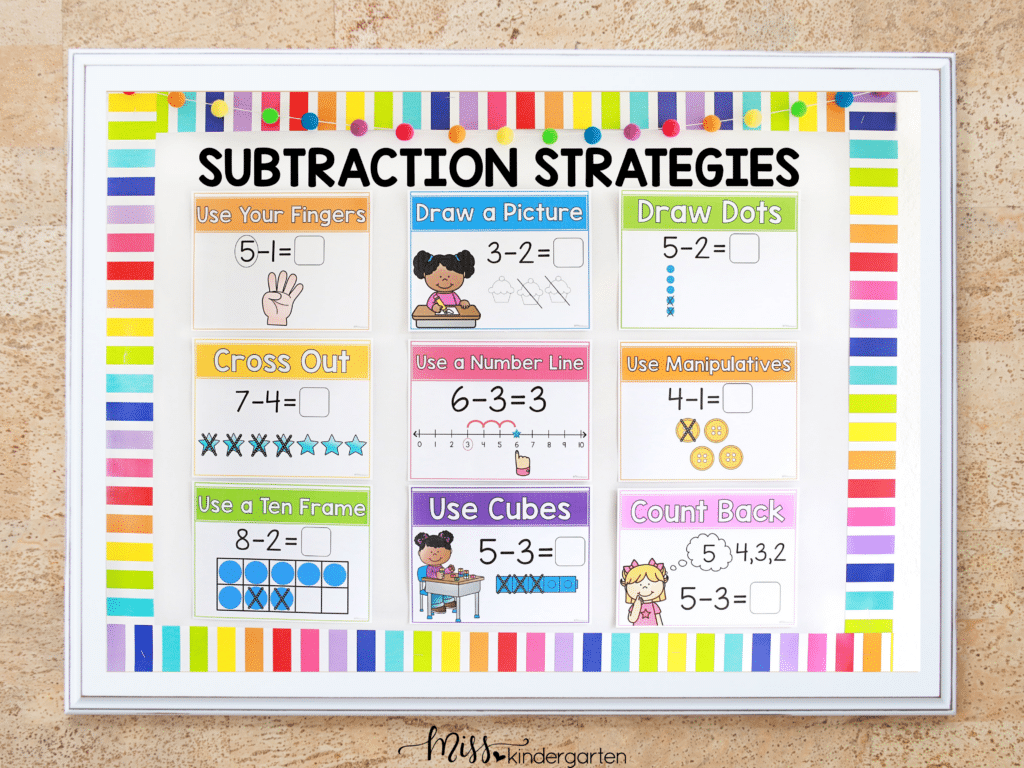 Because of this, I like to make sure my teaching covers more than one strategy for addition and subtraction.
I created these Math Strategy posters to illustrate the many ways students can solve their math problems and set the stage for using task cards successfully.
When we first start learning about addition and subtraction, I will introduce these posters one at a time and leave them displayed on a bulletin board as a visual reminder to my students.
Aside from the initial introduction of each poster, I also love to revisit the posters anytime we are about to start working on math to give my kiddos a quick reminder.
After introducing each strategy, I will use the corresponding math task cards to further illustrate these math strategies.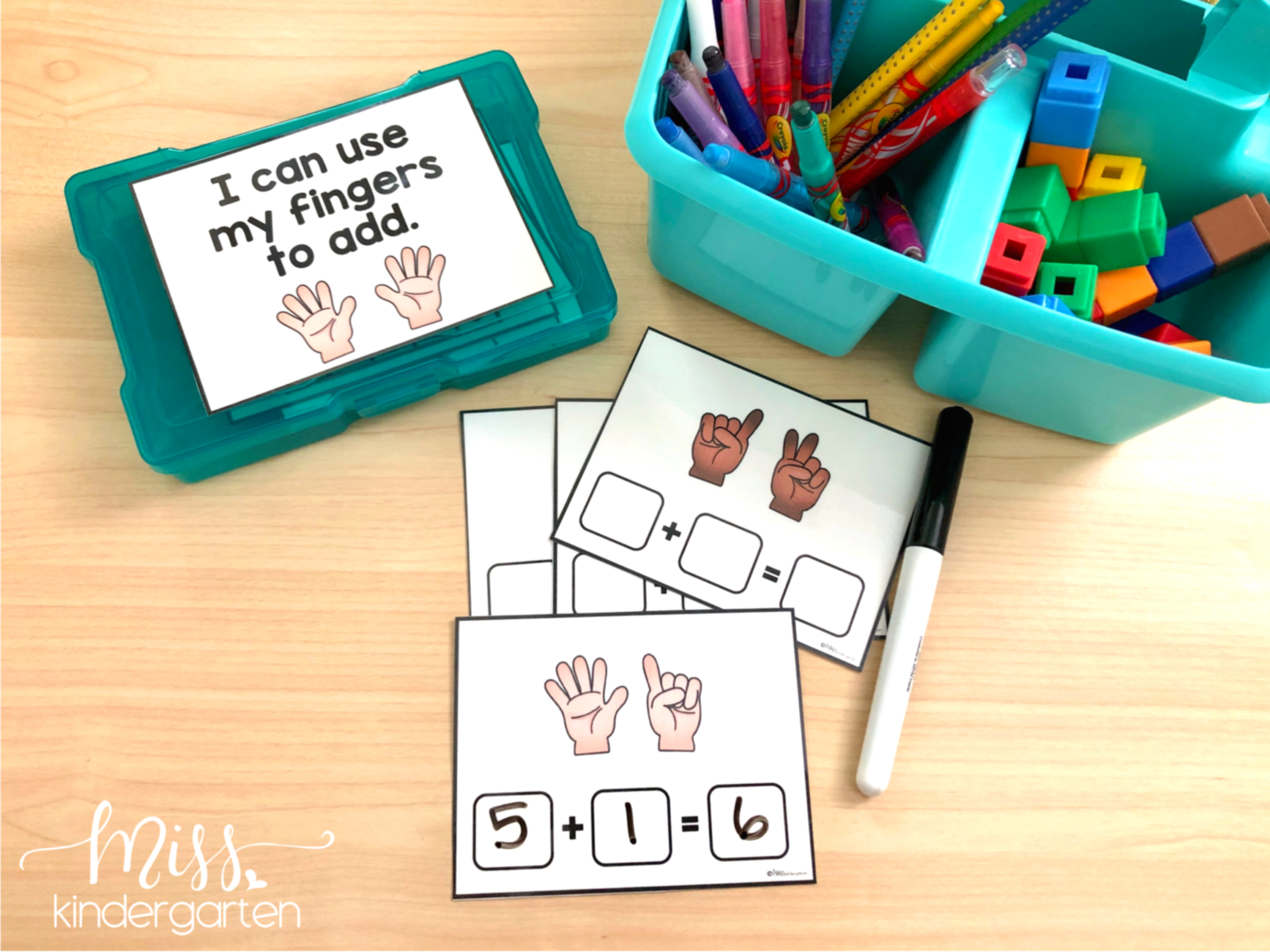 This is best done as a small group activity when your students first start out adding and subtracting, to make sure they are getting the hang of the concept. I like to first demonstrate how to use the cards in my small group and then let each child get to work solving their own card.
Using math task cards in conjunction with the posters is the perfect way to introduce your class to addition and subtraction in a simple way.
The visual aid of the posters will serve as a great reminder, while the task cards provide the hands-on practice your students need to master these concepts!
2. Tasks Cards Use Repetition
Once kiddos have a good understanding of the different strategies they can apply, it's time to start practicing! As early elementary teachers, we know practice makes perfect! Kindergarten students need lots of repetition to truly understand key skills and task cards are the perfect way to ensure your kiddos are getting all the practice they need.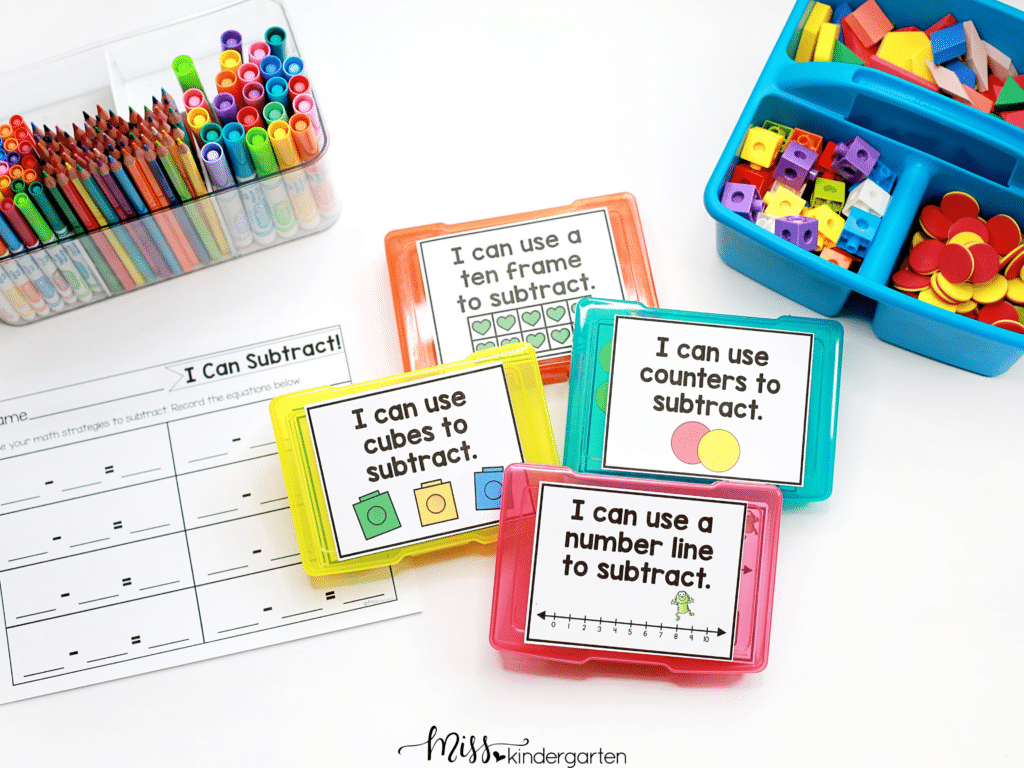 Using math task cards in your lessons makes repetition SUPER simple. I love to print these cards out, laminate them and bind them together with a binder ring or keep them in a plastic photo box.
Then, I will use them as a math station in our center rotations. Since these cards are "write and wipe", I will typically reuse the same deck many times throughout the year to make sure my students get multiple opportunities to practice their math knowledge.
Using these cards will help your students practice the many strategies for addition and subtraction while keeping them engaged!
Another great way to use these to sneak in extra practice is as a "fast finisher" activity.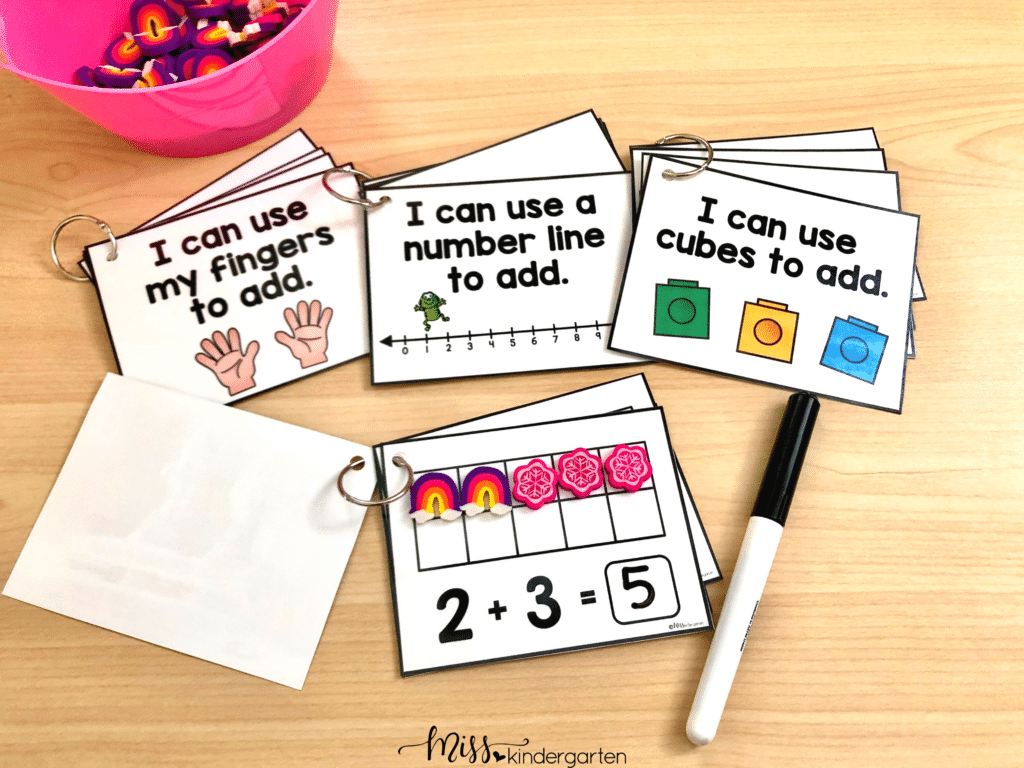 I will keep a few of the decks ready to go in a bin with the necessary manipulatives or dry erase markers. Once a child completes their work, they can choose one of the decks and work on getting some math practice in while the rest of the class finishes up.
I love these math task cards for this purpose because they provide a simple, extra practice activity for those students who just seem to fly through their assignments.
3. Task Cards Are Fun!
Ultimately, the best way to keep your students engaged in learning is to make sure they are having fun, right?
As a teacher, I love knowing that the lessons I plan will not only help my students reach learning goals but will also make them smile. Task cards are KEY for making math fun on a daily basis.
My Addition and Subtraction Task Cards cover all of the essential strategies for adding and subtracting, but they also allow students to practice in a fun, hands-on format.
Make these math task cards feel extra special with seasonal manipulatives for counting and colorful dry-erase markers.
These task cards are neutral, so you can use them all year long and simply swap out materials to fit your theme.
Another way to make math time more fun is to use these task cards as a partner game. Pair children up and have them take turns with a partner solving the equation on their card and checking their partner's work.
Kiddos will love working together and they will get plenty of extra practice without even knowing it!
Start Using Math Task Cards Today!
So what do you think friends? Ready to give these a try in your classroom? Grab your set of Addition and Subtraction Task Cards to get started right away! Once you have these math task cards prepped and ready to go, you can pull them out all year long for quick and effective practice. Don't forget to grab your set of Math Strategy Posters as well! Bringing both task cards and a visual aid to the classroom can really level up your math lessons and help your students master key math skills in a super fun way!
Save these Ideas for Later!
Don't forget to save these math ideas to your favorite Pinterest board for when you're ready to start using task cards in your classroom!