One of my favorite parts of teaching kindergarten is watching students go from brand-new kindergartners to independent learners over the course of the year. A key part of this transformation is using a center rotation for literacy and math practice. Kindergarten centers can be a powerful tool for learning and growth, but there are a few things you'll need in order to make this possible. Keep reading for the five must-haves for kindergarten centers!
Benefits of Kindergarten Centers
Before we dive into my list of must-haves, I wanted to share a quick reminder of why it's worth the effort to use centers in the classroom.
Kindergarten centers are so important for young learners! Hands-on and engaging centers activities provide essential repetition and practice of grade-level skills, but that's not all! Kindergarten centers can also:
Encourage students to be independent learners
Build problem-solving skills
Give students opportunities to work cooperatively with peers
Provide fine motor practice
If you're ready to help your students reap the benefits of kindergarten centers, there are a few things that you will need to get started.
Must-Haves for Kindergarten Centers
While there are many resources that teachers can use to help them prepare for kindergarten centers, I have found that there are five things that all teachers need. With these five must-haves, you'll be setting up your classroom for a successful year of engaging, hands-on learning! You will have a smooth math and literacy center rotation that encourages independence and teaches your students skills that they will use for years to come.
1. A System for Centers
The logistics of 20+ kindergartners working independently through multiple literacy and math rotations can be intimidating! The key to successful kindergarten centers is in setting up a system from the very beginning. Think about how you want to structure your schedule, group the students, rotate through the centers, and organize the physical space.
Young learners thrive on routine! The more structured and predictable your center rotations are, the more independent your students will be. The key to this structure is choosing a system that is easy to maintain throughout the school year.
2. Kindergarten-Friendly Activities
Once you have set up a system that will work for your classroom, it's time for the fun part: Choosing activities for centers! There are so many fun literacy and math center activities out there. As you decide on the right activities for your students, it's important to choose centers that are age-appropriate and aligned to kindergarten standards.
Another factor in choosing centers is finding activities that fit into your schedule! Be sure to choose activities that don't have you spending hours of your time cutting, prepping, and setting up each week! If you'd like to get an idea of what these centers look like, check out this post about how to choose the right centers for your class.
3. Manipulatives
One of the biggest perks of kindergarten centers is that they can be hands-on and engaging! This means that the centers activities you choose, more often than not, will require the use of some sort of manipulatives. By having a variety of manipulatives stocked and ready to go, you can quickly grab what you need for your learning rotations each week.
When choosing manipulatives to use for centers, try to choose items that will help students practice fine motor skills and improve hand strength. Also, before hitting the Target Dollar Spot, take a look around your classroom to see what you have on hand. Don't feel like you need to have themed manipulatives to match every activity and holiday!
4. Organization
Keeping your center activities organized is one of the most important ways to save valuable prep time. It's especially important when you're managing centers with just one teacher in the room. When thinking about organizing your centers, be sure to find a way to prep and organize centers for future months. I like to have my centers prepped and organized for the whole year!
You'll also want to make sure you choose an organization system that makes it easy to switch out your activities each week, so you don't have piles of old centers taking up valuable real estate! Finally, consider how you want to keep your daily center activities organized so they're ready to go with minimal prep time. Well-organized centers will help students find what they need more easily, increasing independence.
5. Flexibility
As with most aspects of teaching kindergarten, a healthy dose of flexibility is a must-have for kindergarten centers. Whether it's an activity that doesn't go as planned or an aspect of your rotation that could use a revamp, you'll find yourself exercising that flexibility throughout the year!
However, by being intentional with your center system from the beginning of the year, you'll find that you won't need to make adjustments quite as often. A well-planned system will help you and your students reap the benefits of kindergarten centers all year!
Setting Up Centers Successfully
Would you like some specific, actionable tips for setting up centers successfully in your kindergarten classroom? Consider signing up for my FREE three-part mini-series! I'm sharing my best tips for all of the must-haves I've mentioned in this post: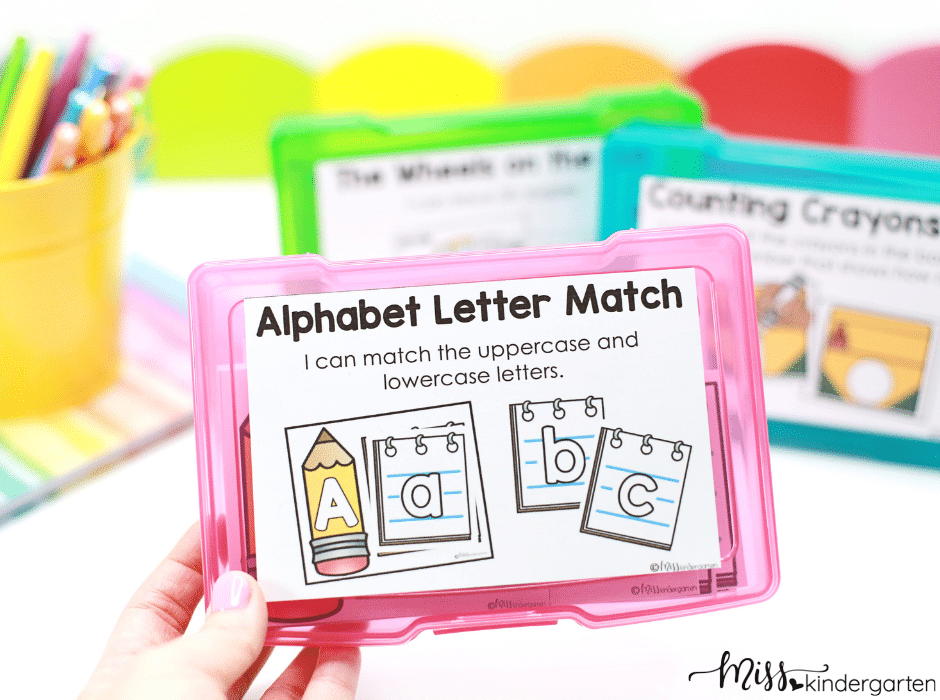 System: I'm sharing how to set up your centers successfully, right from the start!
Organization: You'll learn my top three tips for storing and organizing centers.
Manipulatives: I'll show you how to utilize manipulatives you already have in your classroom to save time and money!
Activities: You'll get four FREE low-prep centers sent to your inbox, immediately after signing up!
Flexibility: With this strong start to kindergarten centers, you'll have less last-minute scrambling to make adjustments!
The best part is that all of these tips will be delivered straight to your inbox. To take advantage of this free training, just click below to head over to the sign-up page!
Save These Tips for Kindergarten Centers
Be sure to save this pin to your favorite teaching board on Pinterest. You'll be able to find these tips for kindergarten centers whenever you need them!