Watching your students grow into successful readers is one of the most exciting things about teaching kindergarten and first grade. Seeing my students go from pre-emergent readers to fluent readers amazes me every time! After months and months of hard work, something clicks and their reading takes off. But we know that behind the scenes, there was a lot of intentional planning to get them there. One of the most successful strategies I have found to help my littles learn to read is teaching with word families.
Word Family Activities
Teaching reading with word families is one of the most effective techniques I have found as an early literacy educator. The repetition that students see and hear within the words is very important. They start to recognize the phonics patterns quickly and use these skills to help them decode words forever. It also builds on the skill of rhyming and helps to make the connection between sounds being heard and the letters that make them.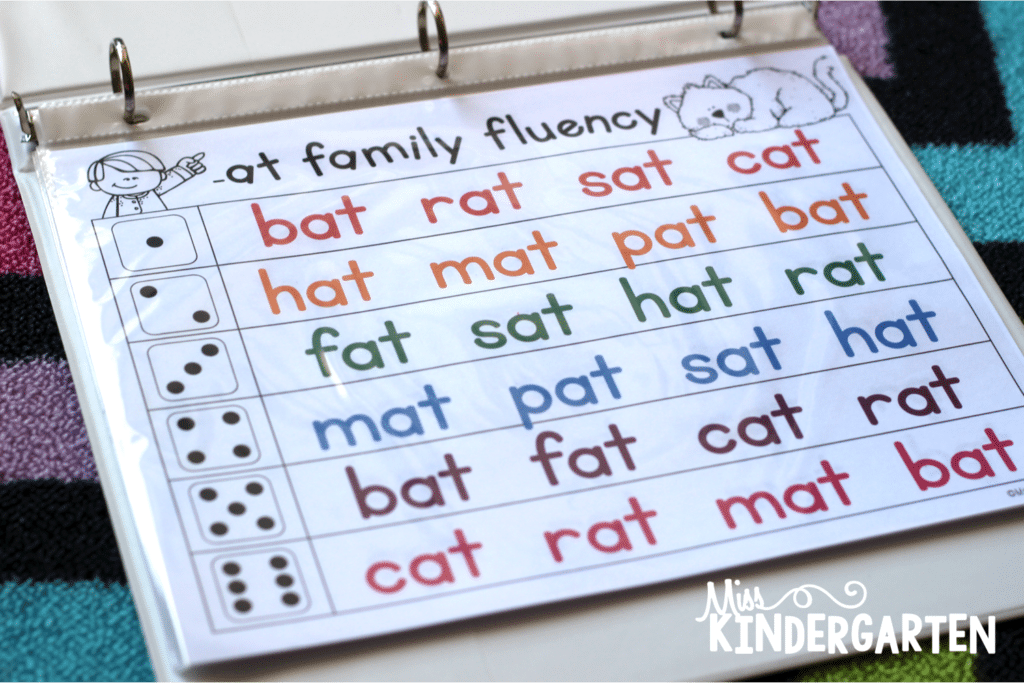 Students begin to understand the basic sounds of letters and words by using word family activities. The process of focusing on a word family allows students to master the "chunk" in the word. Through practice and repetition of the same word family "chunk", students become more fluent readers! Check out this FREE resource for using word families to develop reading fluency.
When reading with word families, once students recognize how the rime (the ending chunk of the word) stays the same, they only have to focus on changing the beginning sound. This makes decoding much faster and easier for them, which in turn builds their reading confidence. There are so many fun and engaging ways to incorporate word families into your reading lessons. Let's take a look at some of my favorites!
#1 – The Power of Pictures
One of the easiest ways to introduce word families is with pictures. This is a great place to start when introducing a new set of words. Pictures help students make the connection between the sounds of words and the meaning of the sounds. And if your emergent readers have not quite mastered their phonemic awareness, it is a great strategy to help them recognize that letters create words. This not only helps with decoding but it also reinforces that letters have sounds.
Before children are even able to talk, they are already making that important connection between an object they see and the word that is used to describe it. Using that natural way of learning helps students to learn new words and understand that when the letter sounds are put together, they form the word that represents the image.
#2 – Games Make Learning Fun
We all know how much kids love playing games. By using games as part of the learning process, your students will be more engaged and won't even realize they are learning!
I love incorporating word family games into our reading centers. After introducing games to the whole class or in a small group setting, students are able to play the games again and again during centers. These word family egg games are always a hit in the spring!
They are a fun, hands-on activity that gets students manipulating sounds to create words. Besides word family eggs, we also love to make words with spinners, puzzles, building blocks, and even muffin tins!
These word-building games are always a class favorite year after year! I love that they are easy to store and grab as needed. It's probably no surprise that these games find their way to our reading groups many times during the year!
One of my favorite games to play when introducing reading with word families is the classic memory game. I start with a group of 5 words and I create two cards for each word. Each card will have the written word and a picture on it. As students try to make a match, they must read each word on the cards they turn it over. This really helps students make the connections between the visual images and the written words. It's also really easy to differentiate this game by taking off the pictures. This makes it a little more challenging for those students who are ready to take their blending skills to the next level.
#3 – Finding Word Families Quickly
Word identification is an important part of reading. The faster our students can learn to recognize those word family "chunks" the better their reading will be. In my word family mini-books, I incorporated some fun word search activities to help students with this skill.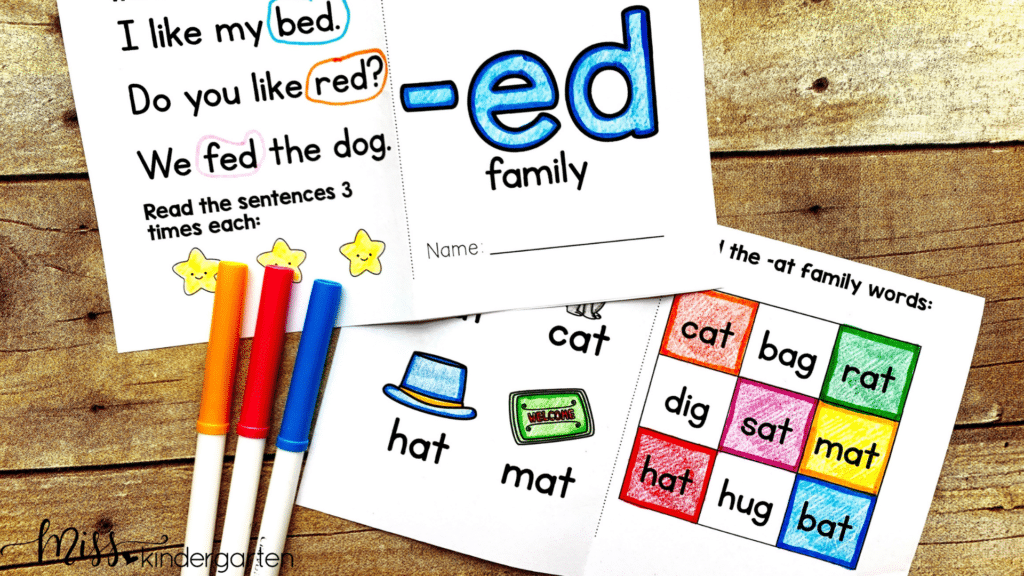 The first activity is a word quilt. Each square contains a different word with a mix of word family words and other CVC words. Students must find and color all the words from the target word family. Once they are done I have them read each word.
We also put on our detective caps and go searching for word family words in sentences. Before reading the sentences, students search for and circle the word family words. Not only does this give them practice in finding that important chunk, but it also helps them prepare for reading the sentence.
#4 – Word Families in Context
Once students have been introduced to the new word family and read some words, it is important to move those words into a sentence. After all, this is how students will find the words in real life. Reading words in a sentence is one of the final steps of teaching reading with word families.
These simple sentences use basic sight words and word family words to provide a fun way to practice reading sentences. The students love seeing how their reading fluency improves as they read and re-read.
Begin by having your students go through the sentences and circle or highlight any words in the designated word family. Next, have them read each sentence three times. They can do this with a partner, in a center, or even for homework.
Sentence strips are a great way to keep your word family sentences organized. You can laminate the strips and keep each set of word families together on a binder ring. This allows for easy access in small groups or reading centers.
As students find success reading sentences, you can move them on to simple word family reading passages. Students really love knowing that they can read a story all on their own.
I love that not only do these passages provide reading fluency practice, but the students can also work on reading comprehension. Part of reading fluently is also making sure you are understanding what you are reading. One activity that helps students practice reading with accuracy, fluency, and comprehension is a must-have!
Teaching reading with word families can be a lot of fun! By using pictures, games, identification, and context, you will have budding readers in no time!
Guided Reading Bundle!
Are you looking for low prep activities to use in your guided reading groups? Check out this HUGE Guided Reading Mega Bundle, full of engaging ways to help your students master their reading skills!
$230.00
Guided reading groups are an effective way to provide targeted instruction to all of the learners in your class. This Guided Reading MEGA Bundle includes all of the reading resources I use to help my students learn to read, practice their reading fluency, work on phonics skills, and much more!
Shop Now
Save These Word Family Ideas
Be sure to save these word family tips and resources to your favorite classroom Pinterest board. Then you can quickly come back any time you need ideas for teaching reading in your classroom.