One of the most memorable milestones in kindergarten is when students are able to blend sounds together in order to read CVC words. The excitement of kindergartners who are ready for this step is contagious! You can channel that excitement into a variety of engaging CVC Activities for Kindergarten that encourage your students to become more confident and fluent readers.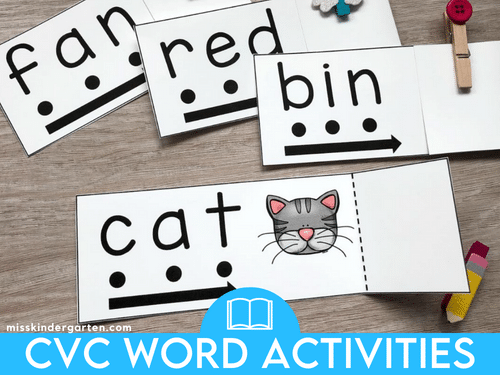 Tips for Teaching CVC Words
In a previous post, I shared six steps for teaching CVC words in kindergarten:
Read and write CVC words in isolation
Practice CVC words in word families
Practice reading CVC words fluently
Provide additional word reading practice as needed
Read CVC words in simple sentences
Practice reading sentences fluently
Mastering each of these early reading skills takes time and plenty of repetition! Due to this, kindergarten teachers need a variety of learning activities to keep students engaged in practicing CVC words. Keep reading for some of my favorite CVC word activities for young learners!
Fun CVC Activities for Kindergarten
If you're looking for fun and engaging ways to help your students practice CVC words, there are many hands-on activities to choose from!
CVC Word Links
Your students can build CVC words based on what they hear when they name each picture. They will link each letter together until they have formed a word. These word-building links also add fine motor practice to your literacy centers or morning work tubs.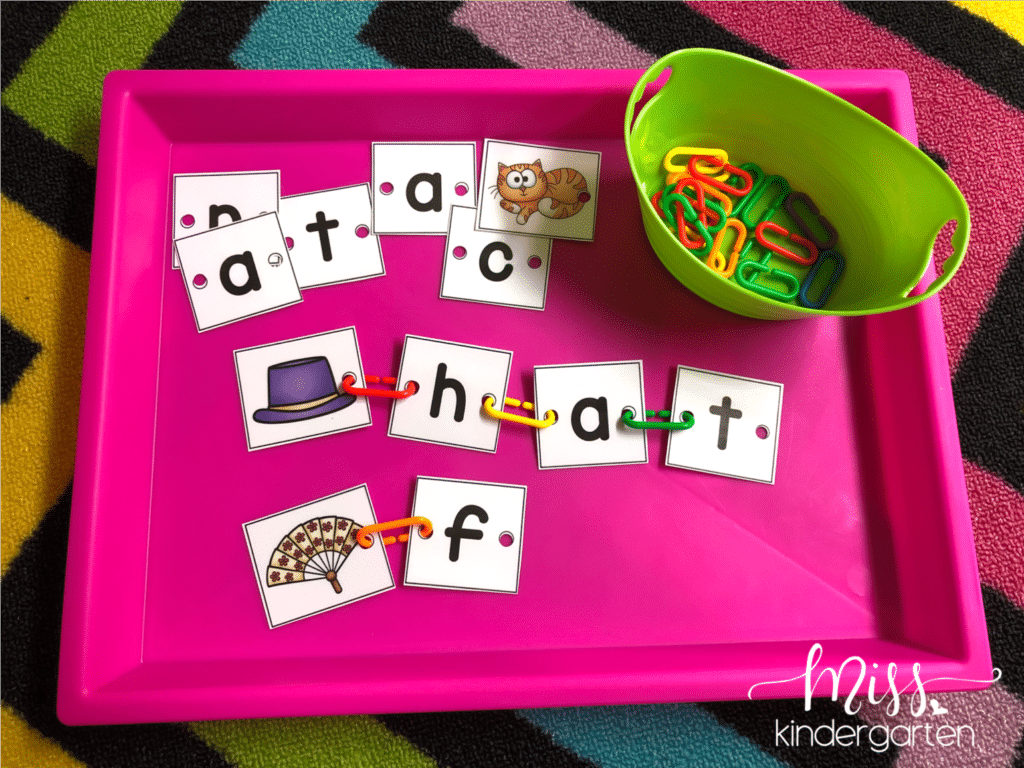 Play Dough Mats
Bring even more fine motor work to your reading practice with play dough! Your students will love building and reading CVC words with these play dough mats! After building each word, they can also practice writing with a dry erase marker.
Write and Wipe
In addition to writing CVC words on their play dough mats, your students can practice CVC words with even more write and wipe activities! For example, students can fill in the missing letter on each of these write and wipe cards. They might also enjoy using letter tiles or magnets instead.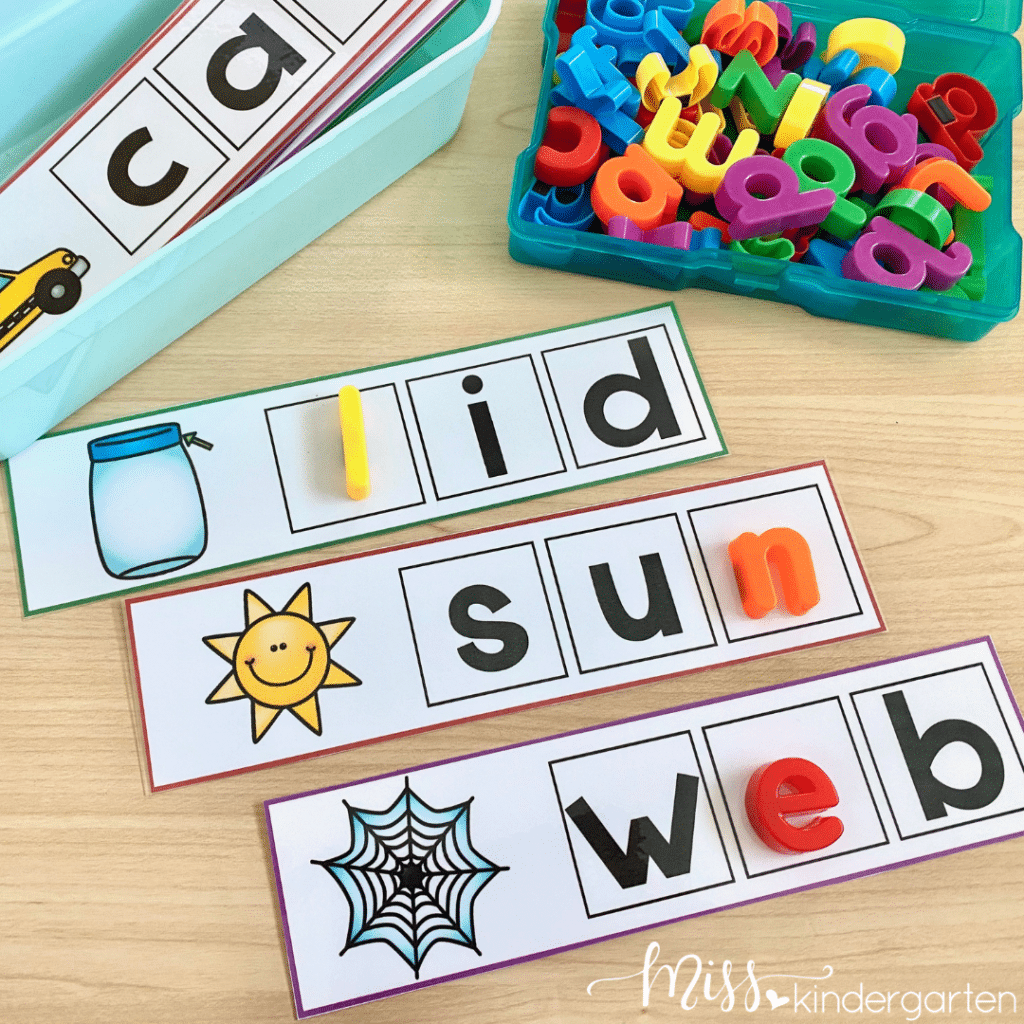 CVC Word Centers
If you use literacy centers in your classroom, be sure to add CVC activities to the rotation.  There are so many fun activities that can be included in your low-prep literacy centers.  For example, students can practice reading, building, and matching images to CVC words.
Students can also build and write CVC words. There are also many fun activities that have students match CVC words to a corresponding picture. Centers are one of my favorite ways to keep young learners engaged in CVC word practice since there are so many options!
Digital CVC Word Activities
You can up the engagement factor of your CVC word practice with digital learning activities!  Students can practice building and reading CVC words independently with these self-correcting Boom Cards centers and activities that require zero prep!
Word Building with Spinners
Spinners are a great way to bring additional engagement to CVC word practice! There are many different word building activities that you can do with spinners. First, students can use a spinner to choose from a variety of pictures. After landing on a picture, students can use their knowledge of letter sounds to build the CVC word that matches the picture.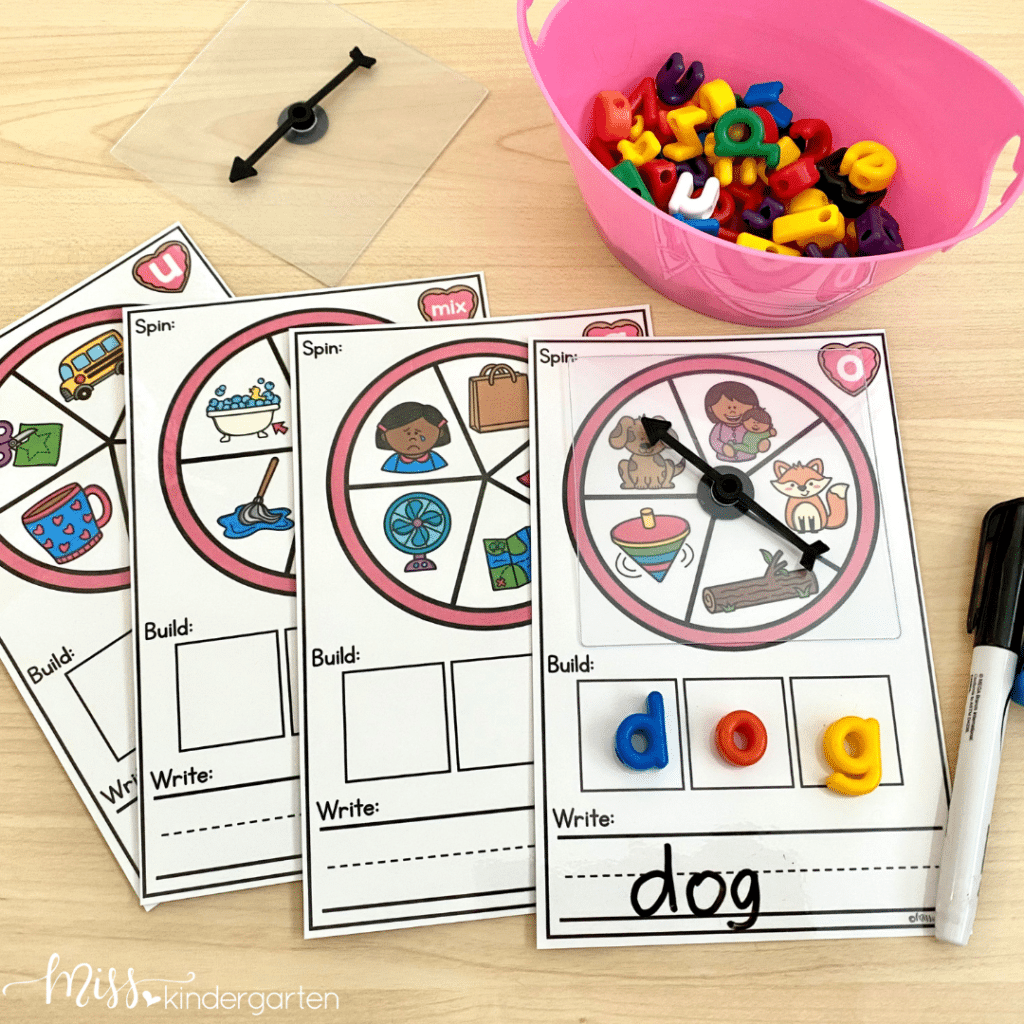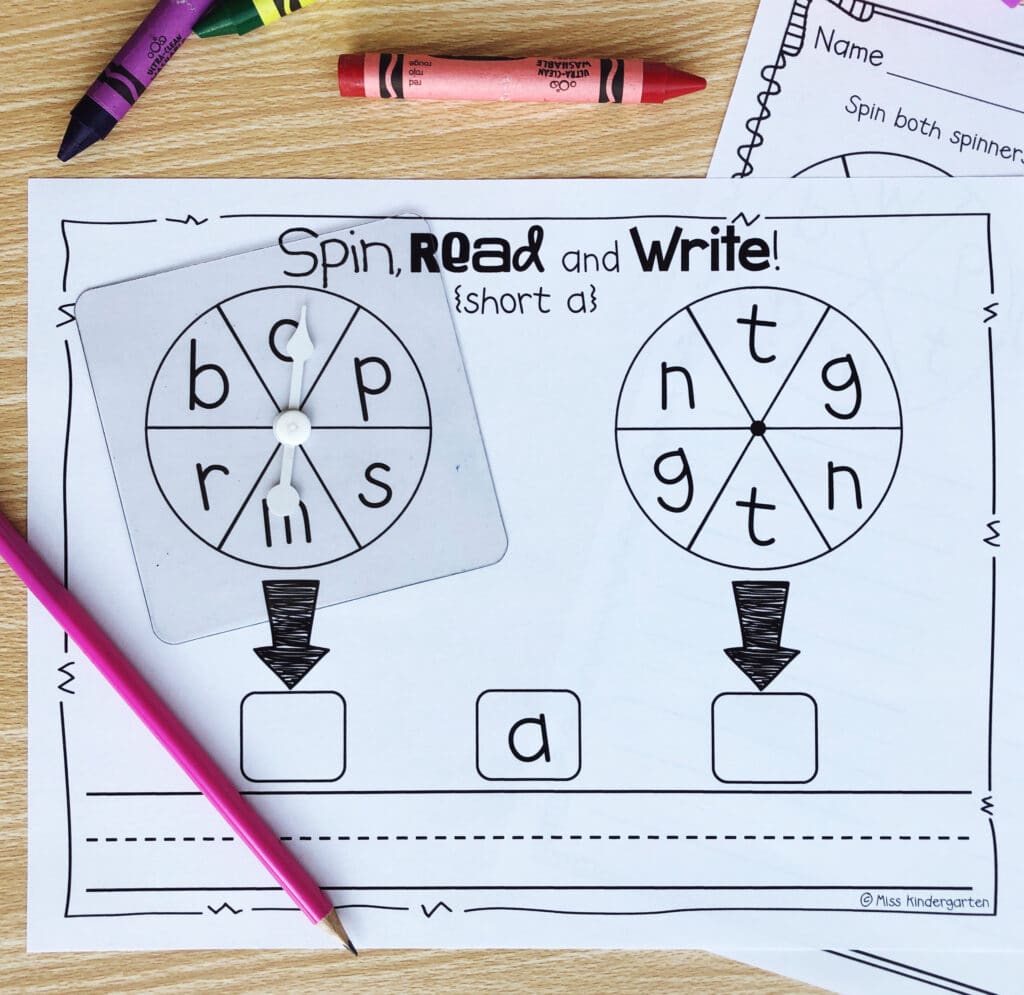 Your students might also like a spin, read, and write activity that uses two spinners! Each spinner will provide either the beginning or ending sound to build a CVC word. Students will write down the letters they land on, then sound out the word they make.
Roll, Read, and Cover
This is a fun game that your students will want to play over and over again! Students will roll a die and read one word from the line with the corresponding number. After reading each word, they can cover it with a small manipulative. They will repeat until they have either covered all of the words in one line or until they have covered all of the words on the page.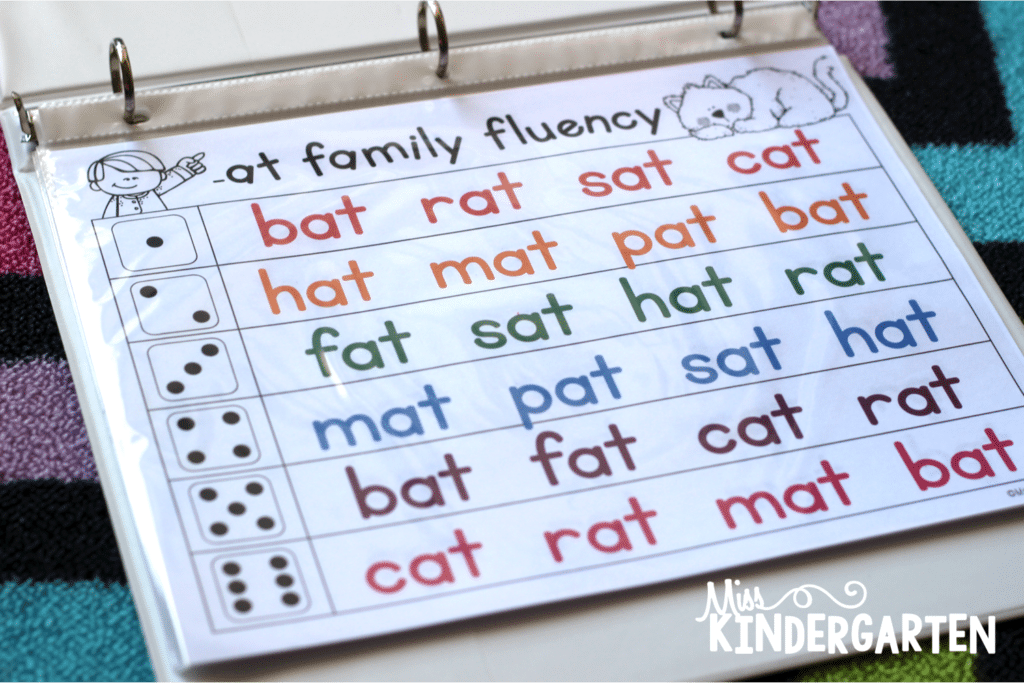 Onset and Rime Puzzles
Before practicing CVC word families, your students can explore onset and rime! These self-correcting puzzles are perfect for independent practice. Students can enjoy this activity during morning work time or literacy centers.
CVC Word Family Books
Learning about word families is an important part of reading CVC words. Students will become more fluent readers when they can see patterns in the way words are spelled. These printable word family books contain several engaging activities to help students practice reading CVC words.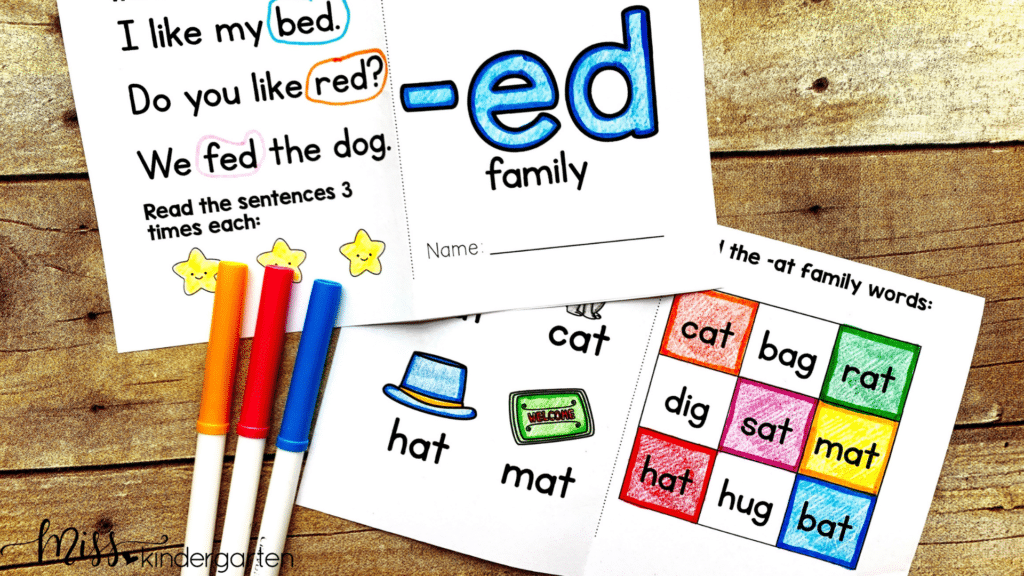 Read and Reveal
Students love read and reveal activities! These self-correcting activities also bring an element of fine motor practice to literacy centers or morning work. Students can practice reading CVC words in isolation or within sentences, then unclip the flap to see if the picture makes sense with what they just read.
Sentence Reading Fluency
When your students are ready for more of a challenge, they can start reading CVC words within sentences. In addition to the read and reveal sentences pictured above, students also enjoy this roll and read activity! Rolling a die to choose which sentence to read is a fun way to incorporate repetition as students work to build reading fluency.
Reading Fluency Passages
Students can put all of their CVC practice to good use with these reading fluency passages that are perfect for kindergarten! For each passage, they can review several CVC words before reading them within the passage. Students can then rewrite and illustrate their favorite sentence from the passage for additional fine motor and reading comprehension practice.
Printable CVC Activities for Kindergarten
To save you some time and money, I have compiled a CVC Words Mega Bundle with everything you need to introduce CVC words to your students. The wide variety of activities in this bundle means that you can add engaging CVC word practice to morning work, literacy centers, homework, interventions, and more!
Just click below to take a look at everything included in this complete CVC toolkit!
$60.00
A complete CVC toolkit! Help your students practice segmenting, blending, reading, and writing CVC words with these fun activities! Phonics instruction has never been so much fun.
Shop Now
Save These CVC Activity Ideas
If you're short on time, be sure to save this post for later! Just add the pin below to your favorite teaching board on Pinterest so you can quickly find this post the next time you're looking for CVC word activities!