Teaching is always difficult, but teaching in the middle of a global pandemic is even harder! We are continuing to look for ways to keep our students engaged while also making sure to not overwork ourselves either. I created these Sight Word Boom Cards ™ to help my students practice their sight words and they have been a huge help!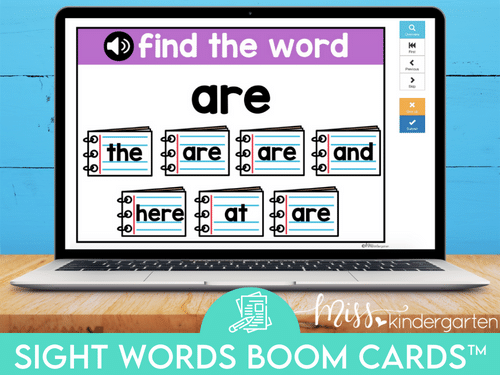 Working on Sight Words
Sight words are words that we teach our students to recognize quickly by sight. We teach our students HOW to read the word (whether it can be sounded out, or if there is a tricky remembering part we need to focus on), and then practice reading the word until we can read it fluently, just like we talk.
The sight words we teach typically fall into these two categories:
They are either hard to phonetically sound out. Words such as is, one, and blue.
They are used often in our daily language. Words such as the, is, like.
We start with the words I, see, my, like, a, and the. This way, we can start creating sentences using the words we know like "I see my mom" or "I like my cat".
Why I Love Boom Cards
I like to find ways to incorporate games into our learning to keep my students engaged. They love using apps on the iPad or the computers. We started using Boom Cards this year and they have been such a wonderful addition to our learning!
Boom Cards are a web-based game, but the best thing is, there are no ads or banners while the students play! It allows the students to play interactively whether in the class or virtually. You can learn more about using Boom Cards in your classroom in this blog post.
I love these Boom Learning cards because they are interactive, self-correcting, and FUN! I love being able to differentiate the decks for specific student's learning needs!
Sight Word Boom Cards
I created over 100 Sight Word Boom Cards to help my students practice their sight words in an engaging way. Each deck focuses on one word and includes audio support so my students know exactly what to do, even if they are working from home!
Each Boom deck is set up the same way so the students can focus on practicing the word rather than learning a new task.
The Boom Cards are easy to use anywhere because they can be played on a computer or handheld device. The cards can even be connected to teaching platforms like Seesaw or Google Classroom!
How to Play
You will find that the sight words taught starting in kindergarten can vary by district and school, so this bundle covers the most common 100 words. Each deck has 6 cards to help your students practice the word. For each deck, your students will:
Say or listen to the sight word.
Touch and say each letter in the word.
Trace the letters in the word.
Find the word.
Build the word.
Listen to the sentence and find the word in the sentence.
Your students can use these decks over and over again to practice their sight words. You can assign new words as they master old words so they can always add new words to their sight word bank.
If you are interested in using these Sight Word Boom Cards with your students, you can find the bundle in my shop!
You will be prompted to redeem the special Boom Cards link that will automatically add the Boom Decks to your library. I also included a video tutorial showing you how to easily find the word you need!