As young learners begin to write, they aren't always familiar with the capital and lowercase letter shapes. Knowing the difference between capital and lowercase letters is a tricky task. In my experience, plenty of students only know how to write capital letters because there are less curves and hand motions with those letters. Starting to write those lowercase curvy letters takes fine motor practice. Many students have never picked up a pencil before and it's our job as educators to show them the first steps. Handwriting is a fundamental skill in writing, and while their writing won't always be completely legible, there are ways to help them practice those fine motor skills. Letter formation can be frustrating, but I have some ways to help!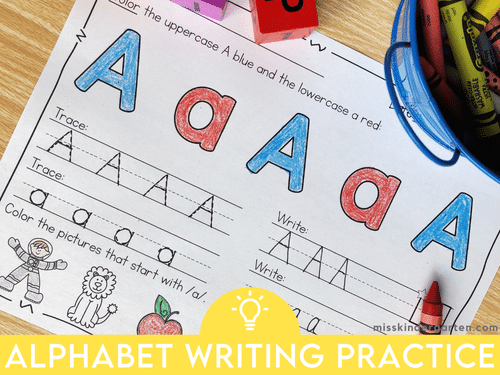 Alphabet Tracing Worksheets
I love using these Alphabet Tracing Worksheets to scaffold students' writing skills. There are so many ways to use them, making them an amazing addition to your classroom. Simply download, print and go!
Students color the uppercase letters blue and lowercase letters red to practice differentiating between big and little letters. Then, they trace the letters to practice the formation of each letter. Next, they write the letters on their own on the dotted lines. I love to encourage my students to do their best work here and I come around later and draw a heart around the letter they think is the best! Finally, students color the images that start with the letter for that page. They love taking their time coloring the pictures. Here's a little secret… that's fine motor practice too! Once they learn to do their best work and put all their energy into their writing, these worksheets keep them engaged for quite a while! Practicing letter formation will soon be a breeze!
How Can I Use Them?
One of my favorite ways to use these worksheets is as morning work! They are a great way to manage the class as they enter the room AND to practice letter formation skills. I place a sheet at each of their seats or in a basket for them to grab and they get right to work after they unpack their things in the morning.
Another great use for these worksheets is as an activity in their word work or literacy centers. You can set them out for students to use during their work times and collect them for grading later. I print a second set and laminate them so students can practice writing their letters over and over with a dry erase marker! This way they have multiple letters to choose from and they can keep working the whole time they are in rotations.
If I notice some students need extra help forming their letters, I use the worksheets in my small groups so I can work one on one with anyone that needs it. My class loves working with me at my teacher table. It's one of the only times we get to chat with one another and get to know each other better!
Another way to use these Alphabet Tracing Worksheets is to send them home for extra practice. My kids love bringing their homework back the next day and showing me their hard work from the night before! I also think parents like to see what we are working on in the classroom and skills their child may need more practice with.
Letter Formation
Why is letter formation so important? Think about someone you know that has handwriting that is hard to read. As children start writing, they struggle to read their own handwriting, especially when they are still learning to identify letters. Eventually, we start writing personal narratives or short sentences in kindergarten and it's important that a student can read their own writing to check for mistakes or just to enjoy reading their own story.
I specifically remember one student that could not form their letters very well. When they would go back to read over their work, they would ask me for help reading it and neither of us could read their work. Using these worksheets to practice letter formation will help a student form their letters in a legible way so both they and their peers can enjoy their writing pieces.
Hopefully you've gotten a glimpse into the endless ways these alphabet tracing worksheets can be used to scaffold your students' learning as they begin writing. I also hope this help you see why learning to form letters correctly is an important skill as students learn to perfect their handwriting. These worksheets can also be found in my Back to School Activities Bundle for Kindergarten.