One of the very first math lessons we teach in kindergarten is 2D shapes! There are so many ways you can introduce shapes while also engaging your students in fun, hands-on activities. I think one of my favorite things about teaching shapes is that the students don't even realize they are learning! They get to build, sort, and manipulate shapes in many ways, which leads to high engagement. Read on for my favorite kindergarten-approved 2D shapes activities that your students will be begging to do!
Learning 2D Shapes
When it comes to learning 2D shapes, there is so much more to it than being able to identify the shape. We want our students to be to identify the shape's attributes too. We teach our students to describe shapes by their sides and angles, then compare and contrast their characteristics.
I love introducing the shapes with these 2D Shapes Poems! These poems are catchy and help students learn about each shape's attributes as well as relate them to real-world objects that they already know. Before you know it, your students will look at a stop sign and say, "Hey, that's an octagon!" 🙂 #proudteachermoment
I introduce the shapes one at a time which prevents overwhelm and allows the students to focus on that shape and everything that makes it special. We add a shape each day until all of them are up on our shape wall!
Identifying and Describing Shapes
When it comes to identifying and describing shapes, I want my students to become familiar with the name of the shape as they study its features. These 2D shape activity ideas will help students describe shapes and their attributes.
Play a shape game where students draw a shape out of a bucket and say its name and whether it has curved or straight lines.
Play "I Spy" where students must find real-world objects that match a specific shape.
Go outside on a nature hunt and see what you can find in each shape.
Do a shape show-and-tell.
Making Shapes
After students have a good understanding of shape names and their attributes, it's time for them to start making shapes and putting their knowledge to practice! Here are some 2D shape activities for practicing forming and writing shapes.
Practice drawing shapes in the sky.
Highlight shapes.
Trace shapes with a writing utensil.
Practice making shapes with sensory materials, such as in sensory trays filled with beads, cereal, rice, etc.
Trace over shapes with little cars or something similar.
Form shapes with playdough. (Check out this playdough mat freebie).
Form shapes with craft supplies, such as pom-poms, craft sticks, pipe cleaners, etc.
Working With Shapes
Students learn so much about shapes by manipulating them, sorting them, and building. This skill is one where learning through play is critical and also fun for kids! Students can:
Sort shapes by attributes, size, color, etc.
Build with shapes.
See what they can build using only one shape.
Do art projects using a variety of shapes.
Build their name with shapes.
Make a shape book.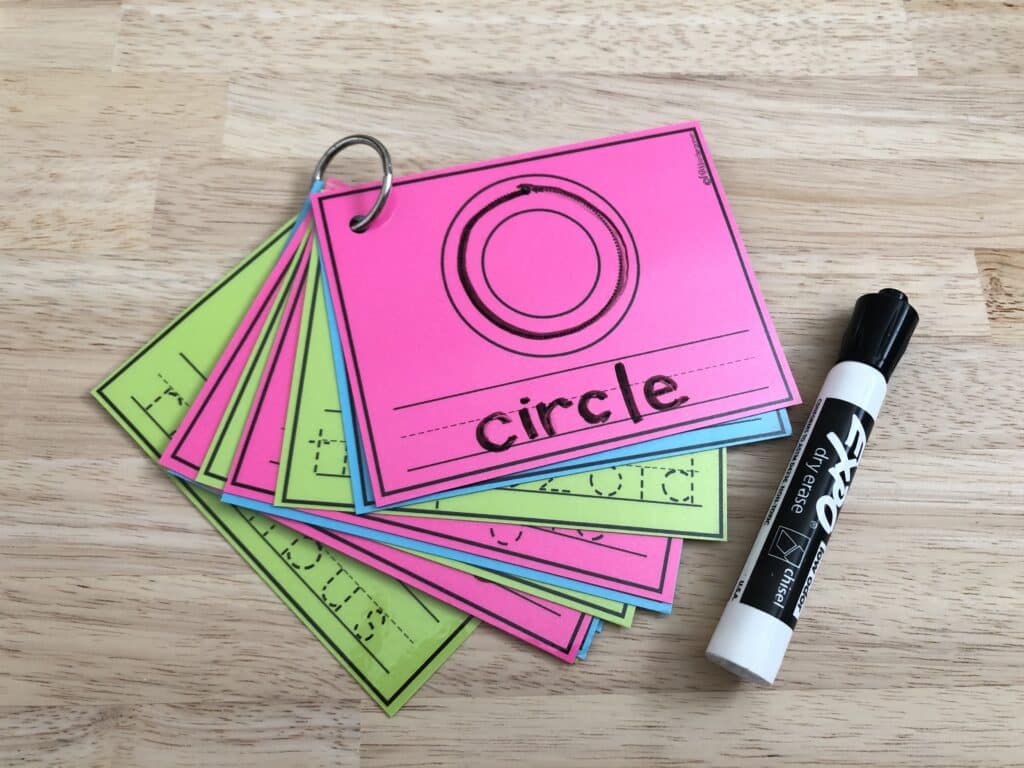 2D Shapes Centers
Are you wanting to incorporate new 2D shapes activities into your math lessons and centers? You can find activities for 12 different 2D shapes in my 2D Shapes Centers and Activities bundle! There are up to 10 activities for each shape included! These are great for preschool and kindergarten students!
$8.00
These 2D shapes centers and activities are full of learning and fun for your preschool and kindergarten students. You can use these activities as you introduce the 2D shapes to your class, or spread them out throughout the year in your math centers. Some centers are also in black and white to be printed on colored paper.
Shop Now
I hope your students love these ideas and activities!