I love to switch out my centers each month, but I don't love committing large amounts of time to preparing materials. This is why I focus on low-prep centers! I'm able to keep my students engaged with fresh activities without spending a lot of time prepping new tasks each month. If you're interested in doing the same, here are some low prep April centers that will help you bring some seasonal fun to your literacy and math practice.
April Literacy Centers
One reason why it's important to switch out centers activities regularly is that our young learners grow so much from month to month, especially in their literacy skills. By April, kindergartners are able to practice a variety of reading and writing skills independently or in small groups during centers time.
Beginning Blends
Spring is such an exciting time for our young readers! They are decoding short vowel words and are beginning to blend consonants together. In the Beginning Blends center, students identify the picture on each flower pot, then clip the consonant blend that they hear at the beginning of the word. You can make this a self-correcting activity by placing a sticker or similar marking behind the correct blend. Students can also use a manipulative to cover the correct blend if you don't have clothes pins on hand.
Writing CVC Words
Centers time is a perfect opportunity to build in some writing and spelling practice! In this Building CVC Words activity, students will say the word for the image on each task card. Students will then use their letter knowledge to build the word for each image by putting one sound on each kite with a dry-erase marker or letter magnets.
To make it easier for students to find the letter magnets they need for this activity, you can store the letter magnets on a cookie sheet with my Alphabet Letter Match freebie!
Building & Reading Sentences
The Low Prep April Centers bundle comes with two opportunities for students to read sight words within sentences. The first is the Sentence Building center, which has students put together multiple word cards to form sentences. In order to help young learners complete this task independently, the cards for each sentence all contain the same image. This helps the students sort the correct task cards for each sentence. From there, students can use their knowledge of sentence capitalization and punctuation to help put the cards in the correct order.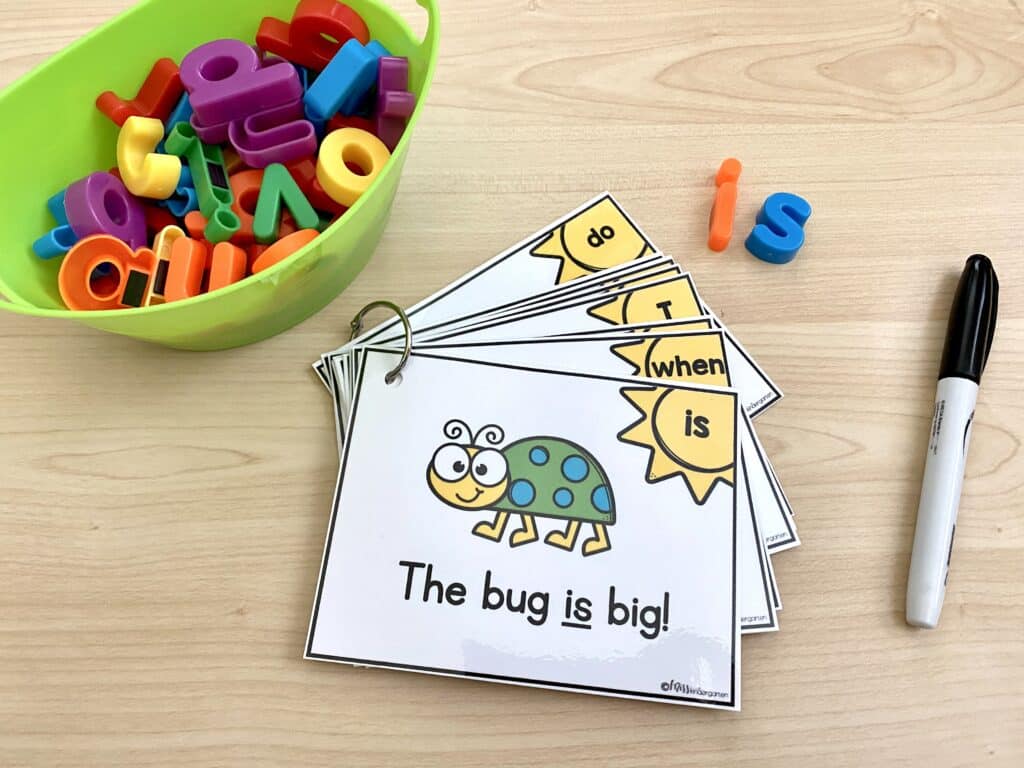 The Reading Sentences activity allows students to practice reading sight words in sentences. The focus word for each card is shown on the sun in the corner of the card and is underlined in the sentence. After reading the sentence on each card, students can also practice writing or building each sight word. This activity could also be extended by having students write their own sentences using the focus sight words.
April Math Centers
Centers time is a great way for students to have some additional hands-on math practice. By adding manipulatives that you already have on hand to the task cards from this bundle, you can create fun and engaging learning experiences for your students. They will love applying their math skills to these seasonal tasks!
Counting
By the spring, kindergartners are comfortable with counting by rote and one-to-one correspondence. This is a great time for students to apply their counting skills to additional math tasks! The Egg Number Sequence center has students count and record the number of eggs on each task card. The next step is for the students to identify the numbers that come before and after. This multiple-step activity can easily be modified for students who need to focus on one step at a time. For example, students can use manipulatives to replicate the number of eggs on the task card, then count and record the number.
Students can also apply their counting knowledge to the Count & Compare Bugs center. After counting and recording the number of two different types of bugs, students place a clothes pin on the number that shows more. Using a clothes pin for this center is a great way to build hand strength! If you don't have clothes pins, students could also circle the number with marker or use a manipulative to cover the number that shows more.
Addition
It's important to help our young learners understand and use a number line, since they will be using number lines to help them visualize and understand math concepts in the future. The Addition with a Number Line center brings some seasonal fun to number line practice! You can attach the cute bunny cutout to a popsicle stick so that students can use it to hop their way to the answer of an addition equation.
Another addition skill that students can practice in April is identifying Missing Addends. In this center, students will add butterflies to the sky to complete the equation. With this low prep center, it's easy to use whatever you have available: Playdoh balls, cubes, or even mini erasers. Students could also draw additional butterflies with a dry-erase marker. Check out this post to read more about the manipulatives that I love to keep on hand for centers.
Literacy and Math Centers for April (and More!)
Are you ready to add some seasonal fun to centers time in your classroom? All of these literacy and math centers for April are included in this set. Do you like the idea of having a grab-and-go solution that allows you to switch out your centers each month with minimal prep time? If so, you'll definitely want to check out my Low Prep Kindergarten Centers Year Long Bundle that will save you both time and money! This bundle includes all of the April centers activities shown above, plus low prep centers for every other month of the school year.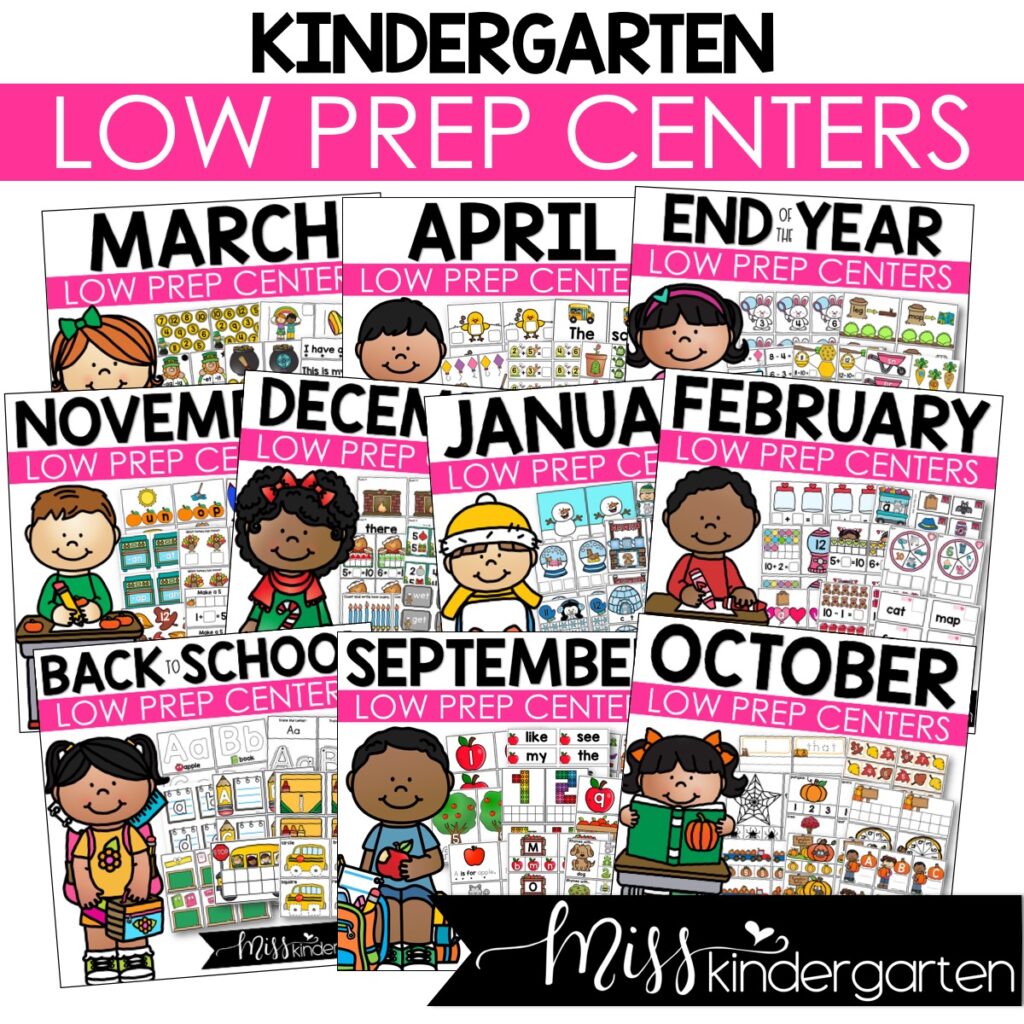 Save these April Center Activities for Later!
Be sure to save these April low-prep center activities to your favorite Pinterest board so you can find them when you're ready to download and print!