I was asked recently about some of my favorite kindergarten center manipulatives. It got me thinking that I should share some of those ideas here on my blog! An important part of keeping centers engaging is rotating center manipulatives that the students can use while learning. Here are a few of my favorite center manipulatives and how I use them in both math and literacy centers!
This post contains affiliate links. By purchasing through this link, we get a small commission. Rest assured – we only share links to products that we use and love!
Magnetic Letters as Literacy Center Manipulatives
Magnetic letters are my all time favorite center manipulative! They can be used in so many ways. I love these ones from Lakeshore Learning because they show correct letter formation and are the perfect size for our centers. We use these at the beginning of the school year to introduce the letters of the alphabet and let our kindergartners play around with something tactile to get used to centers.
Once we begin CVC words and sight words, I put these letters in bins for students to build the words we are working on. I love that they can be used at their desk, on the carpet, on a magnetic board, or on the side of a filing cabinet. We have even used them with baking sheets from the dollar store as well!
Unifix Cubes as Manipulatives in Math and Literacy Centers
Unifix cubes are a MUST have in kindergarten. We use them all the time for counting, specifically at the beginning of the year when practicing one to one correspondence. Unifix cubes are also great for working on partners of five or ten later in the year. Students start with ten cubes and use a break apart stick (or a popsicle stick) to separate groups of cubes that equal ten. They can then be used to solve other simple math problems throughout the year.
Unifix cubes are also a great tool for literacy games that might require a space on a board to be covered up. We also use them in guided reading groups to push sounds in words while working on phonemic awareness or to count words in sentences. It's a great visual to help them see parts of words and sentences. You can find these unifix cubes on Amazon!
Links As Center Manipulatives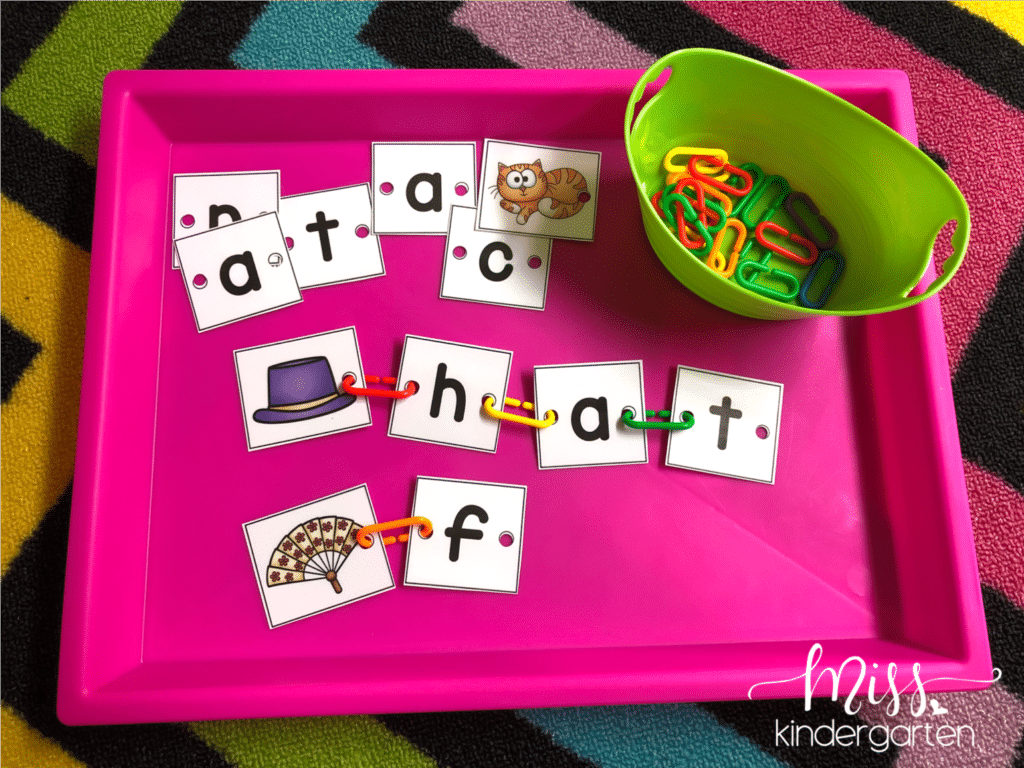 We love these plastic links from Amazon in our classroom to use as a quiet morning activity. They are meant for bird cages but they're a cheap and easy manipulative to add to your collection 😉 I like to set them out in the morning or during indoor recess for the kids to link together and practice their fine motor skills. They get very creative with them and what they can build. They like to create necklaces and little roads.
We also use these plastic links in our counting centers, as well as using them when building words. They can link the letters together to sound out the word and match it to the image. The uses for these links are endless and every year they are a hit!
Bingo Chips As Counters
We love to use these Bingo Chips and Magnetic Wands during guided reading and math groups. You can find these in a variety of colors on Amazon. The bingo chips are great because they are transparent so the kids can still see what's underneath them when they're covered. They are also magnetic, so it's really fun to swipe the magnetic wand over them!
We use these bingo chips when working on phonemic awareness with our Elkonin centers. The kids push up a bingo chip to represent each sound in the word, then glide the magnetic wand over the chips to blend all the sounds together.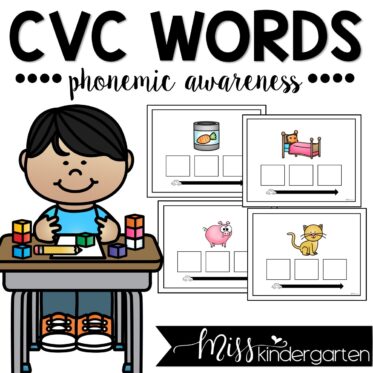 Phonemic awareness helps your students understand that a word is made up of letter sounds. I like to use these CVC sound boxes to help my student learn the sounds in each word. You can use bingo chips, mini erasers, pennies, or any small manipulative to represent each sound in the word.
Grab the freebie!
We also like to use these as our daily counters instead of the red and yellow counters. The kids love the variety of colors and their favorite thing is cleaning them up with a wave of the magnetic wand when we are finished. You also can use the magnetic wand to pick up fallen staples in the carpet 😉
Other Useful Manipulatives
Some of my favorite manipulatives to grab each month are the mini erasers from the dollar bins at Target. The little bags have plenty of erasers for all of the kids and they are themed for the time of year. I use them in our math and literacy centers and I also add some to our prize box for kids to collect!
We also love using plastic tweezers that you can find at the Dollar Tree. They are great for picking objects out of sensory bins to practice fine motor skills. It helps make the activity take a little longer because the students have to really focus on grabbing the objects.
Finally, we always have play doh on hand to use in all of our centers or during indoor recess. I use play doh at the beginning of the year as a quiet activity for morning work. We use them to form letters and shapes too. Play doh is a must have in the classroom!
I hope this helped you get a better idea of the center manipulatives you can use in your classroom and find new ways to keep the learning fun and engaging!
Resources Featured in this Post:
How would you like your math and literacy centers for the entire year planned and ready to go!? These LOW PREP centers are full of HIGH ENGAGEMENT! Allow your students to practice important kindergarten skills all year long with these fun, hands-on centers, and watch their confidence grow! Save 25% on these centers with this bundle!
Grab the Bundle!
These addition task cards make a great math center to help your students practice adding numbers to 10 using manipulatives, drawings, or mental math.
Buy Now!
If the start of your school day is as crazy as mine, I know how stressful it can be! Between parents who have questions, students who need immediate attention, or a call from the front office, it's hard to split your attention in 5 different ways AND still be in charge of your class! That's where Morning Tubs come in! Simply print and prep the activities and set out for your students to enjoy!
Grab the Bundle!