As teachers, we know how important it is for students to learn more about cultural diversity. Young learners need to understand that everyone comes from a different background of culture and experiences. This knowledge will help students as they interact with their peers at school and with people in the community. December is a great time to show students the different ways that people celebrate during the holiday season! In this post, I'm going to share some hands-on Kwanzaa Centers for Kindergarten that will help your students learn more about this holiday as they practice grade-level skills.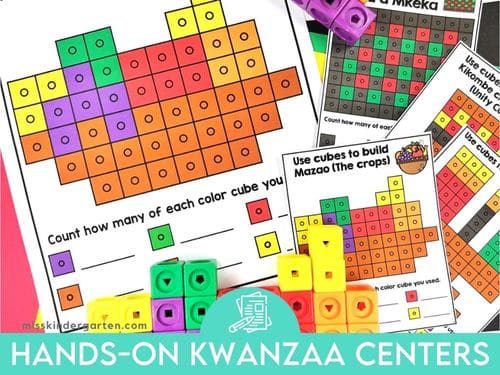 What is Kwanzaa?
Kwanzaa was first observed in 1966 as a way for African Americans to celebrate and honor their African heritage. This week-long holiday takes place from December 26th to January 1st. Each day of the celebration focuses on one of seven principles. During this time, families honor their heritage by decorating their homes with symbolic items and art, lighting candles on the kinara, exchanging gifts, and enjoying a feast called karamu.
Since Kwanzaa is a cultural holiday rather than a religious holiday, it can be celebrated by people of all faiths. This means that it's not uncommon for families to celebrate Kwanzaa along with other holidays, such as Christmas.
Kwanzaa Centers for Kindergarten
You can increase cultural representation in your classroom by adding some Kwanzaa-themed literacy and math activities to your centers rotations. This will mean a lot to the students in your classroom who observe this holiday. They might even enjoy teaching their peers more about how they celebrate this holiday in their own homes.
Kwanzaa Literacy Centers
The Unity Cup (kikombe cha umoja) is an important symbol of the Kwanzaa celebration. Families drink from this communal cup to honor their ancestors and celebrate unity. In one Kwanzaa-themed literacy activity, students will try to cover the picture on each Unity Cup as they spin different short vowel word families.
After spinning, students will find a picture on the mat that matches the word family they spun. They can cover each picture with a snap cube, math manipulative, or even a seasonal mini eraser. The spin-and-cover game continues until all of the pictures have been covered.
Many parts of the Kwanzaa celebration are modeled after traditional celebrations of the African harvest. The Mazao (fruit, vegetables, and nuts) are used to symbolize the benefits of planning and working together.
Students can gather their own crops as they practice building sight words! Students will choose a bowl with a sight word, then find the correct letter cards (crops) to build that sight word themselves. This is also great for students who need more practice with the visual discrimination of letters.
Kwanzaa Math Centers
Your students will love to practice fine motor skills, counting, color identification, and spatial skills with a fun Kwanzaa-themed math activity! This center comes with a variety of building mats showing different Kwanzaa symbols. If there are any students in your classroom who observe Kwanzaa, be sure to include them in describing each item to the class. After building each picture with snap cubes, students can count and record how many of each colored block they used.
Lighting the candles of the kinara is one of the daily observances during the Kwanzaa holiday. Each night an additional candle is lit based on which principle was the focus of that day, until all of the candles are lit on the seventh night of Kwanzaa.
In this kinara-themed math activity, students will build "candles" from play dough to place on the kinara in different combinations. Each task card invites students to use a certain number of candles in two different colors.
After adding the correct number of each colored candle to the kinara, students will then write and solve an addition equation to model the total number of candles. This is a great way for students to visualize addition. The play dough also brings an extra level of fine motor practice to this activity!
Using These Kindergarten Kwanzaa Centers
There are several ways that you can use these literacy and math activities in your classroom! Here are some of my favorites:
Centers Rotations: December is a busy time in kindergarten! If you already use my low-prep kindergarten centers, you can add these holiday centers to your existing rotations. Students thrive on routine, and these activities will help you maintain your regular centers schedule. Plus, your students will be ready to get right to work since they are already familiar with this activity format.
Morning Tubs: These Kwanzaa centers can be a festive addition to your morning routine! Just add the task cards and manipulatives to grab-and-go morning work tubs that you can use to ease into a day of learning.
Holiday Party: Centers are a great way to add some purposeful activities to your classroom festivities. You can set up a variety of holiday-themed centers to create a holiday party that celebrates diversity and highlights different holidays celebrated around the world.
No matter how you choose to use Kwanzaa centers in your classroom, be sure to laminate them for durability. After the season is over, you can store these centers and use them year after year! You'll have these low-prep holiday activities ready to bring some extra festivity to your classroom during this busy time of year.
Printable Kwanzaa Centers (and More!)
The literacy and math activities shown above can be found in my collection of Holidays Around the World Kindergarten Centers. This printable resource includes centers for Christmas, Diwali, Hanukkah, and Kwanzaa. There are four hands-on centers included for each holiday, for a total of sixteen engaging literacy and math activities!
To increase accountability and encourage independence, each activity comes with a recording sheet and child-friendly illustrated direction cards. If you'd like to take a closer look at everything included in this resource, you can click below to find it in my shop.
Save These Kindergarten Kwanzaa Centers
If you're planning to increase the number of holidays represented and discussed in your classroom this year, be sure to save this post! You'll be able to quickly find these Kwanzaa centers whenever you're ready to download and print.