The holiday season is a great time to celebrate the diversity in your classroom, school, and community. Even though the majority of your students might celebrate Christmas, it's important to teach them about holidays celebrated in other cultures. This helps them become more understanding and welcoming of their present and future peers. This also ensures that all of your students feel acknowledged and represented in the classroom festivities. In this post, I'm going to share some Hanukkah Centers for Kindergarten that will help your students practice math and literacy skills as they learn more about this holiday.
Introducing Hanukkah Centers in Kindergarten
If you will be using these centers as part of a semi-independent work rotation, you'll want to take some time to introduce each learning activity to your students. You can briefly demonstrate the steps they will take during each activity, from start to finish. This will help them know what to do as soon as they sit down at each center rotation.
In addition to clarifying expectations, introducing these activities will also give you a chance to discuss the history and celebration of Hanukkah with your students. If there are any children in your classroom who celebrate during the eight nights of the Festival of Lights, be sure to include them in this discussion! Your students who celebrate Hanukkah can help you identify the items shown in each activity, like a menorah and dreidel, and how they are used during the celebration. This will help build community in your classroom and help your Jewish students feel represented in the classroom activities.
Hanukkah Literacy Centers for Kindergarten
Your students can practice listening for different letter sounds with these engaging literacy centers that have a fun Hanukkah twist!
First, your students can play a spin and cover game that encourages them to listen for beginning sounds. After spinning and landing on a consonant, students will review the letter sound and then identify a picture that begins with that sound. Students can use snap cubes, counters, or even mini-erasers to cover the picture. They will also write the letter next to the correct picture on their recording sheet.
The game continues until students have covered all of the pictures. This spin and cover activity can be used for independent practice or as a partner game, depending on how you run your center rotations.
Students can then listen for medial sounds in the Frying Up Short Vowels activity! You can explain to your students that latkes are traditional potato pancakes eaten during the Hanukkah celebration. For this activity, students will read the word on each latke and take note of the medial vowel sound. After identifying the short vowel sound, students will add the latke to the correct frying pan. Students can then color the latkes on their recording sheet according to the key.
Hanukkah Math Centers for Kindergarten
Your students will also enjoy counting and adding with these Hanukkah-themed math activities.
As you introduce the Count the Gelt Ten Frames activity, you (or a student) can explain some additional Hanukkah vocabulary. Students can learn that the dreidel is a four-sided spinning top that is used for a game played during the festival. Gelt is money that is given to children during Hanukkah and can be used as part of the dreidel game.
You can use the Count the Gelt center in two different ways. First, students can draw a dreidel number card, identify the number, and then add that number of gelt (yellow counters) to the ten frame mat. This is great for independent counting practice and you can modify it to best meet the needs of each student. If you have a student who needs more practice counting single-digit numbers, you might choose to set aside the teen number cards when they are completing this center.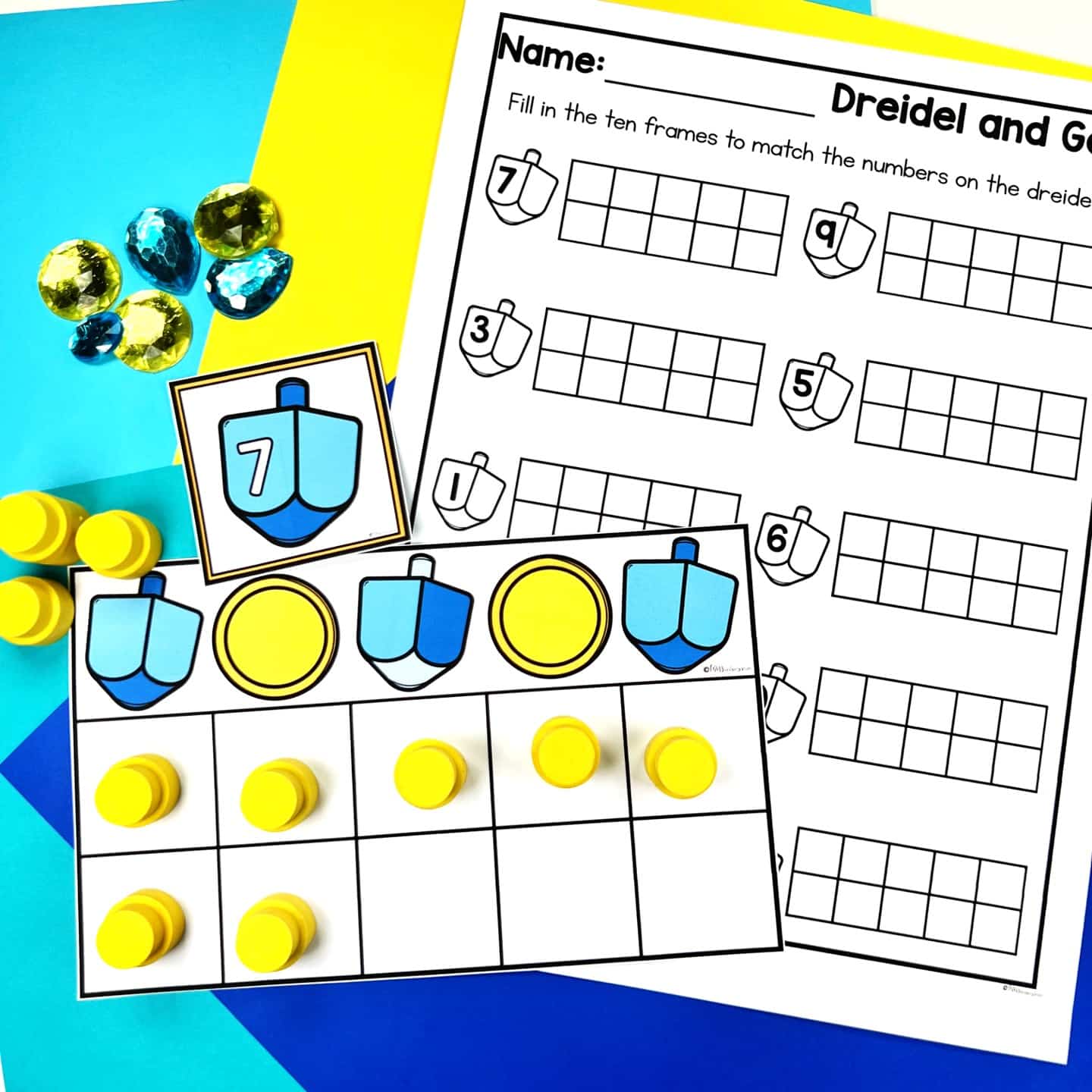 If you'd like your students to work with a partner, they can use this activity as a two-player game. Students can each choose a dreidel card and decide who has the larger number. That student will add a piece of gelt to their ten frame. This continues until one student has filled up their ten frame. Kindergartners have so much fun with this activity, they don't event realize they're hard at work identifying and comparing numbers!
Another fun activity that will get your students excited about practicing math is the Adding Up the Menorah center. Students will choose a card that shows a number for two different types of candles. Students will add these combinations of candles (clothespins) to the menorah, which brings some additional fine motor practice to this activity. Once they have added the correct combination of clips to the card, students will use the model to write and solve an addition equation.
You can also use the recording sheet for this center as a stand-alone activity. Students can color the candles on each menorah to match the addition equation, then solve the equation. This would be a great way to check for understanding after students have completed the center activity independently.
Printable Hanukkah Centers and More!
You can find all of the activities above in my collection of Holidays Around the World Kindergarten Centers. This printable resource includes literacy and math activities for Hanukkah, Kwanzaa, Diwali, and Christmas. Each holiday comes with four themed activities for a total of 16 centers in this low-prep resource! To encourage independence and increase accountability, each activity comes with a kid-friendly illustrated instruction page and a recording sheet.
These activities are perfect for bringing some seasonal festivity to your literacy and math rotations, morning work tubs, or small group instruction. You can find these holiday centers for kindergarten in my shop.
Save These Hanukkah Kindergarten Centers
I hope that these centers will help you bring some additional holiday fun to your classroom. They will build community as your students practice grade-level math and literacy skills. If you'd like to find these Hanukkah centers later, be sure to save this post! Just add the pin below to your favorite teaching or holiday board on Pinterest. You'll be able to quickly find these holiday activities whenever you're ready to download and print.