Centers activities provide a fun and engaging way for kindergarten students to practice important literacy and math skills. Many teachers can feel overwhelmed when thinking about setting up multiple activities for centers rotations in their classrooms. That's where low prep centers come to the rescue! Today I'm going to share with you some centers ideas for kindergarten that are easy to prep and implement in your classroom.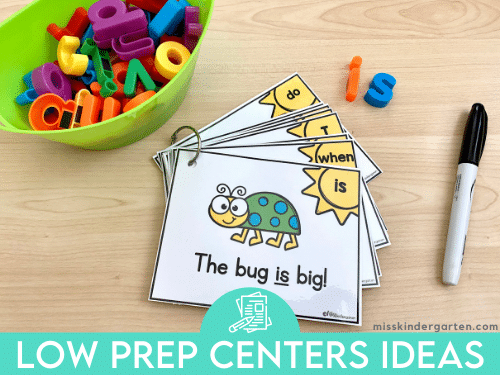 What Are Low Prep Centers?
There are certain terms that we hear often as teachers, and "low prep" is one of them. But what does that really mean? What one teacher considers low prep, another teacher might find a bit too time-consuming.
Even though the criteria for low prep centers activities are different for every teacher, these activities usually have one or more of the following features:
Require Minimal Cutting: If you DO need to cut things out in order to prepare an activity for your students, it can usually be done quickly with a paper slicer. There will be no tiny, intricate cutting!
Reusable: Whatever work is put into prepping the centers is only done once! Then the activity can be reused for years to come.
Grab-and-Go: Each activity in a low prep centers rotation is typically self-contained and easy to store. When it's time to prep the centers for the day or week, it's easy to just grab and go!
Routine-Oriented: Low prep centers typically have a similar routine from week to week. This way, teachers don't have to spend a lot of time preparing their students to work independently.
Easy to Reset: Each activity should be easy for students to reset or clean up independently when the rotation is over.
Low Prep Centers Ideas
Today, I wanted to share with you my favorite low prep centers ideas that check most (if not all) of the boxes above! These easy activities are fun and engaging for students, but don't take a lot of time to prepare.
Dry Erase Task Cards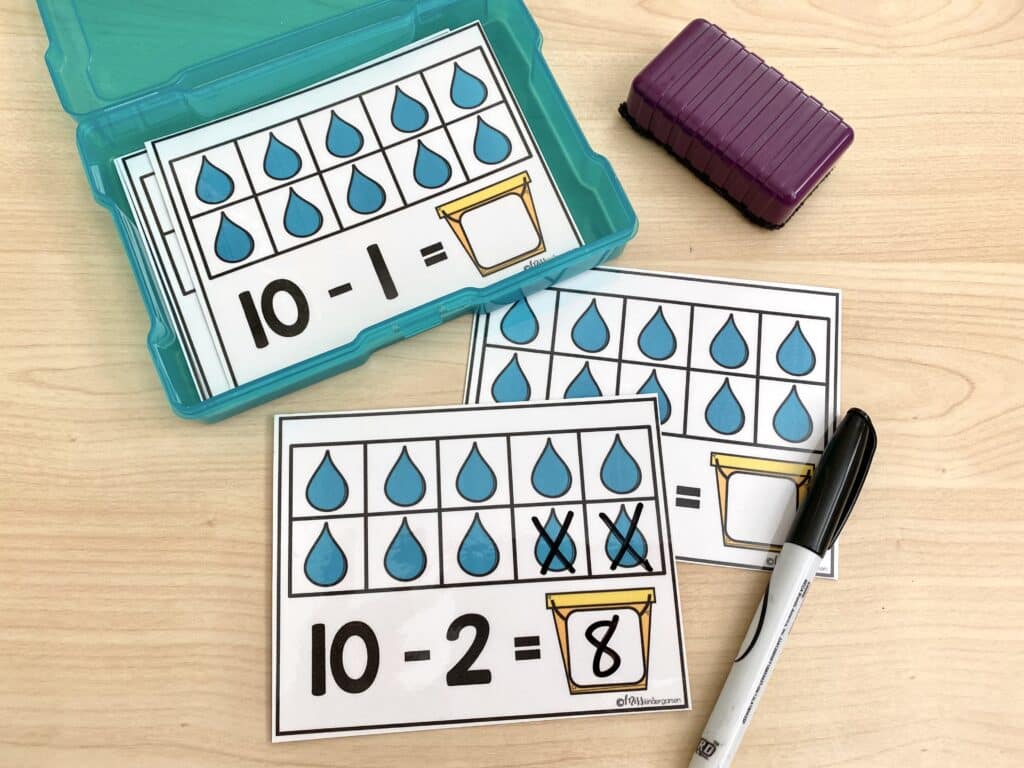 It's no secret that I love using task cards in kindergarten, especially for centers! They take very little time to cut out with a paper slicer and laminate for durability and reuse. Once the task cards are ready to go, they are the perfect size to store in the colorful photo storage boxes from Michael's or Amazon.
When it's centers time, just pull out a box of task cards along with some dry erase markers! Task cards are easy to reset because the students just need to erase their work and return the cards to the box. If you'd rather save your marker ink, laminated task cards can also be used with any manipulatives that you have on hand: Letter tiles for literacy centers, cubes for math centers, etc.
Binder Ring Booklets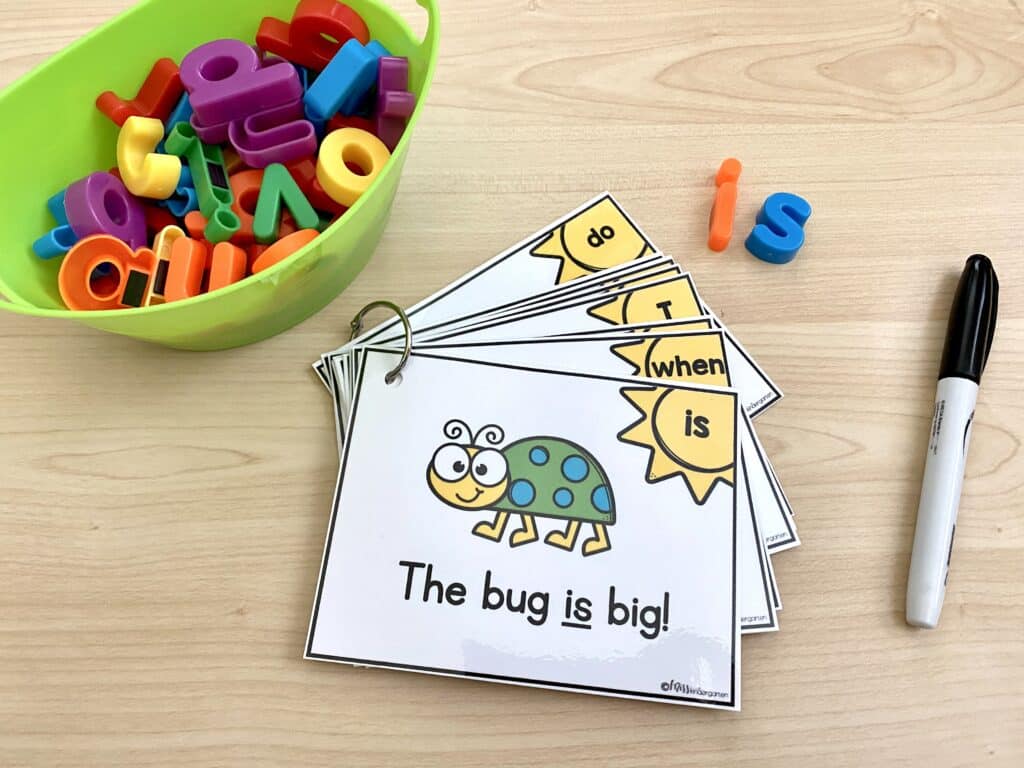 Binder ring booklets are a great option for low prep centers! Similar to the task cards, they are quick to cut out and laminate for durability. The only difference is that the cards are added to binder rings for students to flip through.
Binder ring activities are definitely easy to grab and go, since they can be hung anywhere in the classroom! Students will have no trouble cleaning up these cards since they are contained on the rings.
Self-Correcting Clip Cards
I love to use self-correcting clip activities for kindergarten centers! Since they are a type of task card, they are easy to prep and store. There is just one added step of putting a sticker or other marking on the back of the card, directly behind the correct answer.
Students love self-correcting activities because they can independently check their work and receive instant feedback. They cover the correct answer with a clothespin, then turn over the card to see if they were correct! Another great reason to use self-correcting cards for centers is that the clothespin provides some extra fine motor practice for kindergartners!
Low Prep Games
Simple games with minimal pieces and rules are perfect for centers! The best games for centers can be played independently, with partners, or even in small groups, depending on the needs of the class. Task card games are ideal because they are easy to cut and laminate. Add manipulatives and dice or a spinner, then the students are ready to play!
Roll and Cover is one of my favorite task card games, like this one from my Low Prep November Centers! Students roll the dice, count the number of dots they see, then cover the corresponding number on the task card. This game is easily adapted for different group sizes, or even for independent work.
Spinner Activities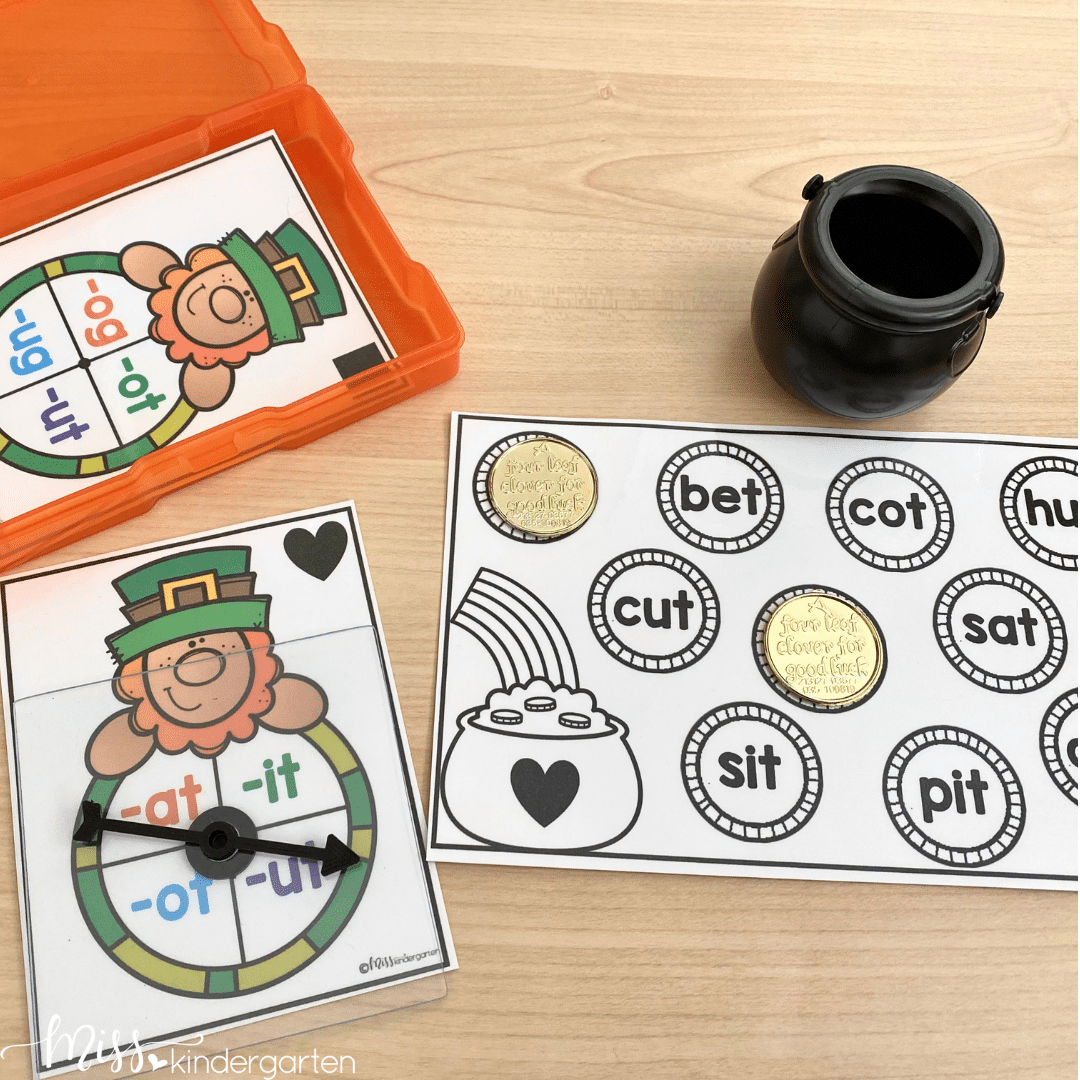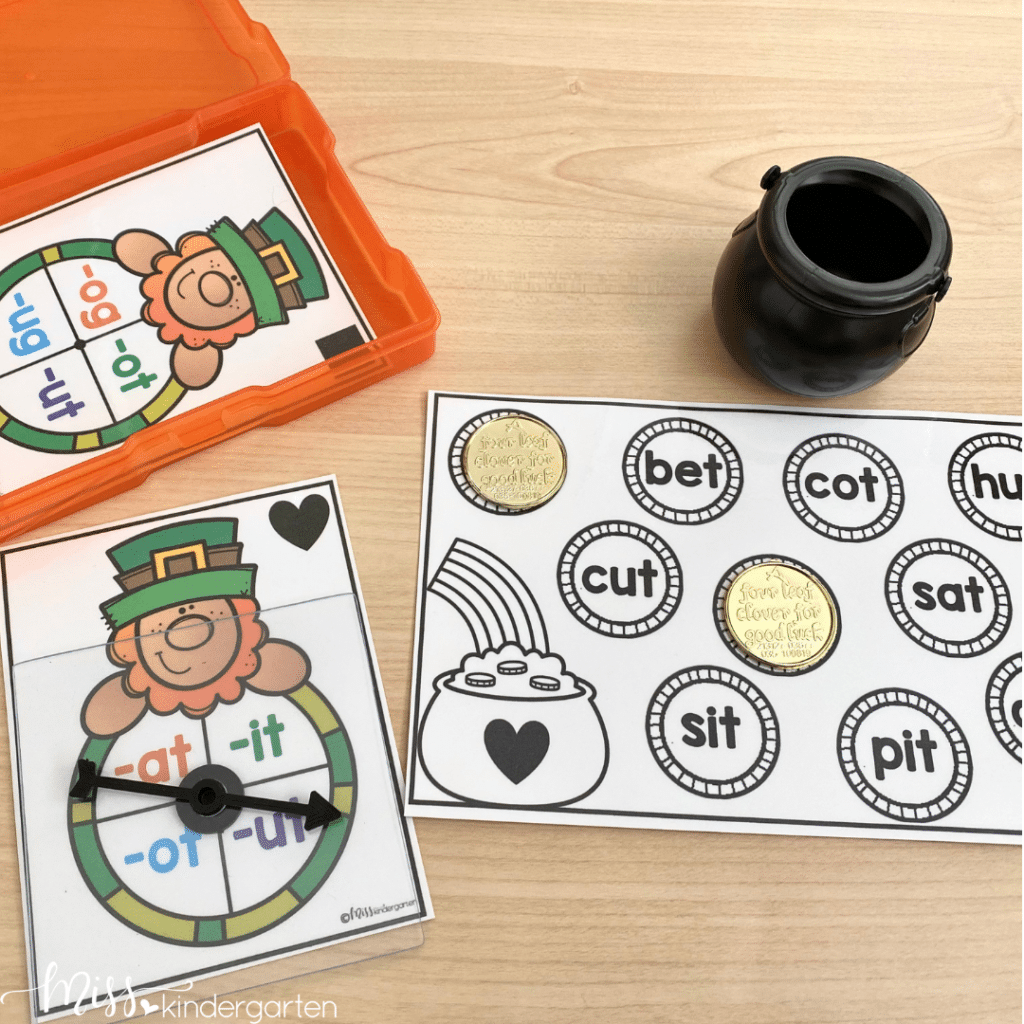 Adding a spinner to a centers activity immediately makes it exciting for young students! Rather than build a different spinner for every centers activity, I simply add clear spinners to the task card boxes as I'm setting up. Students quickly learn how to place the clear spinner on top of the task card in order to complete the activity.
One of my favorite ways to use spinners for low prep centers is with Spin and Cover. Students use the spinner to choose a phonics pattern, in this case a short vowel word family. Then students read the words on the game mat until they find a word that belongs in the word family. Finally, they cover the word they found with a manipulative or color it in, repeating the process until all of the words have been covered.
Low Prep Centers for Kindergarten
You can find all of the low prep activities I mentioned above in my Low Prep Kindergarten Centers Year-Long Bundle. These standards-based activities will naturally progress from season to season, building on the math and literacy skills that you're working on with your class each month. Your students will love these fun seasonal centers and YOU will love all of the time you're saving!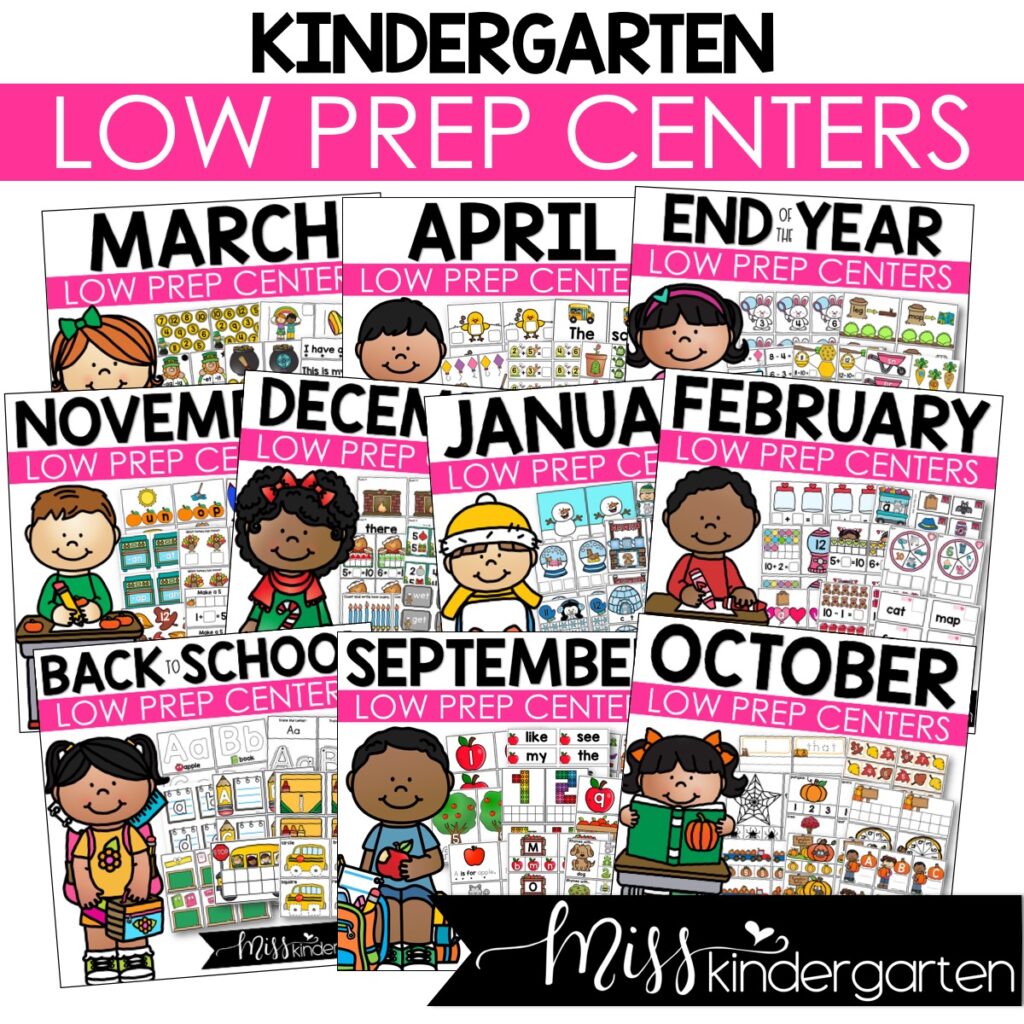 If you're looking for more tips and ideas for using low prep centers for kindergarten, head over here for all of my blog posts about centers!
Save These Kindergarten Centers Ideas for Later
Don't forget to pin this post to your favorite classroom board on Pinterest! You'll be able to quickly find it when you're looking for some low prep centers ideas for kindergarten.