One of my favorite ways to bring some holiday fun to the classroom is during centers time, and Easter is no exception! My Low Prep Centers Year-Long Bundle has fun spring activities for April, but sometimes it's nice to have some additional fun during the holiday week. This is where my Easter centers for kindergarten come in handy. Read on to see how you can supplement your centers curriculum with some Easter fun!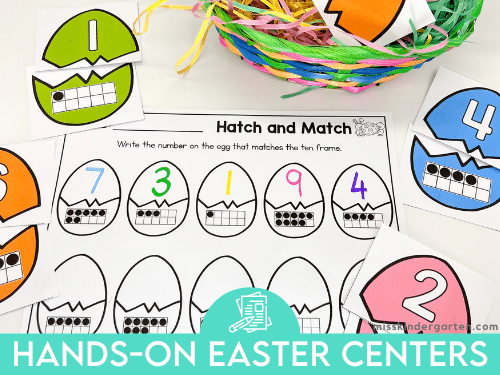 Math Easter Centers
If you have already been using my low-prep April centers in your classroom, these Easter math activities will be a seamless addition to your rotation. Your students will already be familiar with the activity format, so they can quickly get started with the learning activities.
Skip Counting
By the time spring rolls around, our young learners are very comfortable with counting by ones and have been skip counting as well.
The Hop, Skip, and Jump center provides additional practice with skip counting by two. This activity can be modified for a variety of learning goals.
For example, students who are very comfortable with skip counting can put the task cards in order and complete a mostly-blank recording sheet. Students who need more support with skip counting could fill out the tracing sheet first, then use it as a guide to put the bunny task cards in order.
Place Value
Ten frames can be a helpful tool in modeling place value for students! In the Hatch and Match center, students can identify completed frames as ten and then count on if needed. Once they figure out the number represented by the ten frame, students find the matching half of the egg.
If you'd like your students to have more practice with base ten blocks, you'll love the Base Ten Butterflies center! Each butterfly has a teen number on one wing, with a ten block on its body. Students then find a wing with the correct number of unit cubes that will complete the teen number.
Addition and Subtraction
This collection of Easter activities includes two fun games for addition and subtraction! The Roll and Cover center is perfect for addition practice. Students take turns rolling two dice and adding the numbers. Then they find and mark the correct answer with a manipulative until all numbers have been covered. This activity can be used independently or with a partner. I have even used roll and cover activities with small groups!
Spin and Subtract is another game-like center that students love! The goal is to make it from start to finish by marking off flowers. The number of flowers they can mark off with each turn is based on a subtraction equation that is built using spinners.
After writing and solving the equation, students will use the difference to cover or mark that number of flowers on the mat. This is another activity that can be played independently or with a partner. Students love racing each other to the finish!
The Eggy Equations activity is a fun way for students to find the missing addend in an equation. Students are given equation cards with a missing addend, as well as number cards containing eggs. They can use the eggs on the number cards to help them match the correct card to each equation. After finding the missing addend, students can complete the corresponding equation on their recording sheets.
Easter Literacy Activities
Spring is the perfect time to challenge students with additional literacy practice! These Easter-themed centers will help your kindergartners apply their knowledge of sounds, letters, and words to a variety of fun activities.
Phonological Awareness
Students love helping a rabbit find its basket in the Rhyming Rabbits center! They are given a variety of cards with pictures to match based on whether or not they rhyme. The recording sheet offers an opportunity to increase the challenge for students who are ready to spell rhyming words. There is also plenty of space on the recording sheet for students to draw pictures of the rhyming words instead.
Who doesn't love jellybean season?! During the Jellybean Sort, students will identify pictures on jellybean cards, then sort according to the vowel sound they hear. This is a great opportunity for students to hear the difference between short and long vowel sounds!
Phonics
It's never too late in the school year for phonics and word building! The Rain Boot Blends center is perfect for practicing consonant blends! Students will identify the picture on a rain boot and then find the letters that match the consonant blend they hear.
For the CVC Easter Basket center, students will choose an Easter basket with a picture, then use letter eggs to build a matching CVC word. You could also use letter tiles or magnets for this activity if you have them on hand.
Sight Words
As students increase their ability to identify high-frequency words, it's a great time to provide additional opportunities to practice. This helps them increase their sight word reading fluency and become more confident readers!
For the Sight Word Egg Hunt, students will choose an egg, identify the sight word, then sort it based on how many letters are in the word. This activity helps kindergartners practice handwriting and spelling as they read high-frequency words. This activity also comes with editable eggs so that you can include any additional words that you'd like your students to practice.
This collection also includes a Sentence Scramble center, which helps students practice reading and writing sight words within the context of sentences. They will put a variety of spring-themed sentence cards in order, then write the sentences on their recording sheets.
Kindergarten Centers for Easter (& More!)
Are you ready to add a little touch of Easter to your spring centers? You can find these Easter Hands-On Math and Literacy Centers in my shop! Do you love the idea of supplementing your low-prep centers with some holiday fun throughout the school year? Then you will definitely want to save some money with my Kindergarten Hands-On Holiday Centers Bundle. It includes all of the Easter centers above, along with activities for five more holidays!
Save These Easter Activities for Kindergarten
If you're short on time, you can save this pin to your favorite classroom board on Pinterest! You'll be able to easily find these Easter kindergarten centers when you're ready to download and print.