As Pre-K and Kindergarten teachers we spend a lot of time on the alphabet. Students come to us at all different skill levels. Some of them may have already mastered the alphabet, while others aren't sure of their letters just yet. As teachers we need to get everyone up to speed and on the same page with letter identification, letter formation, and sounds. Here are some of my favorite ways to incorporate alphabet practice into your day.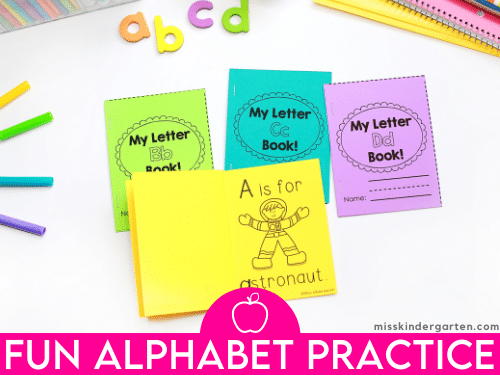 I love to use hands-on and interactive activities because they get the students so much more engaged and excited about learning. Using a variety of different activities keeps learning fresh and fun. And . . . weaving the learning activities throughout the day in different ways gives students the repetitions and practice they need to master these foundational skills.
In order to make things easy and save time, I put together an Alphabet Centers and Printables Bundle that includes EVERYTHING you will need for hands-on, interactive alphabet practice for the whole school year. Here's a sneak peak at what's inside.
Letter Identification and Alphabet Sounds Poems
Of course letter recognition and sounds is one of the first things that you will want to teach. You can always use flashcards in the classroom and at home, but wouldn't it be nice to amp it up a little bit? That's just what this interactive activity will do for you.
I love using this activity as part of our whole class learning time. It's an easy addition to calendar time or as a warm-up activity during your phonics lessons. It's also a great small group activity too! Later I add it to centers for students to use independently.
Each month of the year includes a poem(or two) and a set of letters. We read the poem and a student will pick a letter out of a basket. They hold the card up and the class says the name or sound of the letter. Then they put in on the anchor chart.
This activity also includes cards for common digraphs and blends that are taught in kindergarten, as well as poems included for word building!
Alphabet Centers
If your students are anything like mine, then center time is a favorite time! While I'm pretty sure it feels like "play time" for them, I know there is some serious learning going on. That's why alphabet centers are a must when it comes to classroom alphabet activities. Here's a peek at just a few of the hands-on center activities from this bundle.
Alphabet Road Tracing Cards
Your students will love practicing their letter identification and formation skills with this hands-on activity. Pair the road cards with a small toy vehicle and let students get busy driving through the letters.
Not only are these road tracing cards perfect for centers, but they can easily be used when you are teaching letter formation too! Hold up a card or project it on the board and let students do some air writing while pretending their finger is a vehicle.
Letter Recognition-Who Stole the Cookie?
This fun letter guessing game will have students identifying uppercase and lowercase letters as they look for the hidden cookie.
You can play this game using letter names or sounds by just telling students how you would like them to identify the letter.
As students get better with letter identification I like to make this a fast-paced game to see how quickly we can find the cookie thief!
Fine Motor Alphabet Mat
What I love most about these fine motor alphabet mats is their versatility! With the same mat students can practice letter recognition, letter formation and beginning sounds in so many ways! I like to change up the building material and use these mats over and over again. Some favorite building materials include stickers, bingo daubers, mini-erasers and q-tip painting! But edible building materials during snack time make a great option too!
With the addition of the pictures, students get a visual reminder of the letter sound.
Letter Formation Playdough Mats
Kids love playdough, so I try to incorporate it whenever I can. It's great for building those important fine motor hand muscles that help with writing and scissor skills too!
These letter formation playdough mats are perfect for letter formation practice during centers or morning tubs. They make a great early finisher activity too!
Make sure to laminate them so they'll last longer and the playdough won't stick.
Alphabet Printables
One important part of learning the alphabet is learning to write the letters. This is done by practice, practice, and more practice. Just like with the other types of activities I love to include writing practice with variety too! Several different practice pages are included in the bundle to meet all of your needs.
Each of these activities puts a different twist on alphabet writing practice. Some start basic with just letter writing while others build as new skills are learned. These printable activities are also perfect for morning work or at home practice.
The Alphabet Bundle includes four different alphabet printable activities. Some of these are single page alphabet practice pages while others create little books. This variety keeps students engaged and excited about learning letters of the alphabet. Here's a look at the four different activities your students will love working on as they practice writing their letters.
Alphabet Boom Cards
Engaging students with technology is a no brainer! I love using Boom cards because they are a great platform for our young students. These digital alphabet task cards are interactive and FUN! Your students will practice:
Letter Identification
Alphabet Letter Crayon Match
Uppercase and Lowercase Letter Match
Letter Sounds
They are also easy to assign for at home practice too.
Interactive Notebooks
Last, but certainly not least is one of my go to alphabet resources – the Alphabet Journal! This interactive alphabet notebook is a great way to get your students invested in their own learning. They'll love coloring, cutting, and gluing the flaps and pieces to create their very own alphabet notebook.
But the fun doesn't stop once we learn the letters. I also love to use the alphabet journal as a personal dictionary. When we learn a new sight word, we turn to the letter in our alphabet journal and write it on the page. Commonly used words can also be added. This gives my students a personal reference tool they can use any time they need help writing a word.
Alphabet Practice Bundle
This alphabet practice bundle is just what you need to provide a variety of hands-on and interactive alphabet practice activities for your students all year long! You can rest easy knowing that your students are getting everything they need and having fun too. You can find all of these activities, and more, in the Miss Kindergarten store.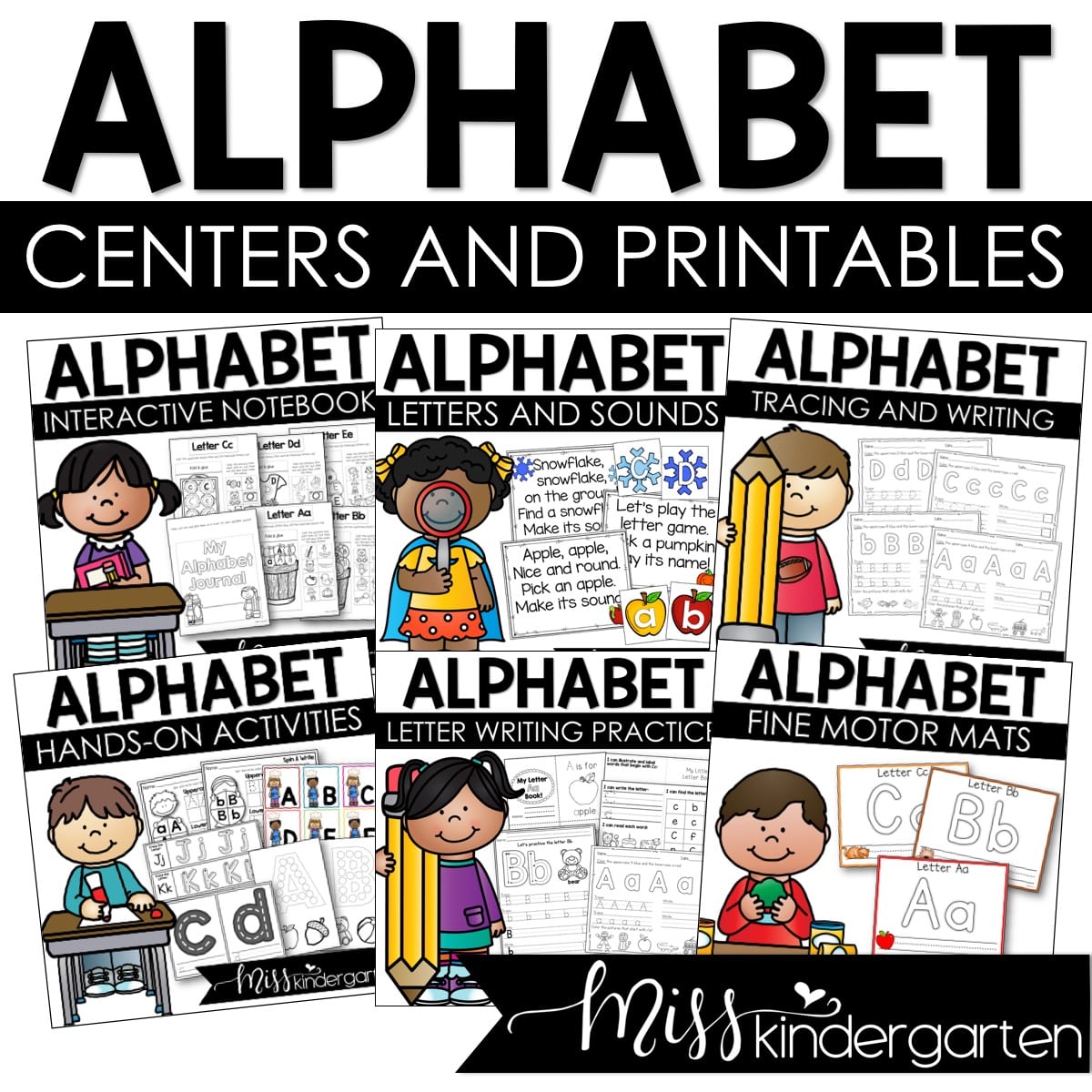 Looking for even more alphabet practice activities head on over to this blog post for more ideas.
Save it For Later!
Be sure to save this to your favorite alphabet board so you'll be all set and ready to go.