When a holiday rolls around, it's nice to add a few festive touches into the school day. These St. Patrick's Day centers for kindergarten make it easy to do just that! The best part about these themed centers is that they are designed to supplement the March centers from my Low Prep Centers Year-Long Bundle, which means additional literacy and math skills review with a fun holiday twist!
St. Patrick's Day Math Centers
If you already use my low prep centers in your classroom, your students will already be familiar with the simple format and routine of math centers: Task cards, manipulatives, and recording sheets. It will take very little prep time and effort on your part to add some extra St. Patrick's Day math fun throughout the holiday week.
More and Less
By March, kindergartners have grown more proficient with number identification and counting.  This is a great time to deepen their understanding of the relationship between numbers, starting with one more and one less.  The St. Patrick's Day centers bundle includes two activities that incorporate this concept.  The first is the Spin and Cover One More, where students use a spinner to identify a number, then they use a manipulative to cover the number that is one more than the number they spun. (Gold coins are a perfect manipulative for this time of year!)
Another option is the One More and One Less center, where students identify the number written on each cart of gold. Students can then use a dry-erase marker to write down the numbers that represent one more and one less than the number on the card. This center also includes a recording sheet that could be used as a stand-alone worksheet, which is a great option for small group instruction, early finishers, or even homework!
Teen Numbers
As kindergartners deepen their understanding of larger numbers, they can benefit from a variety of teen number practice activities! Over the Rainbow helps students visualize teen numbers through place value with a fun card game. The cards are placed face down on the table and students take turns choosing two cards. If the cards can form a rainbow, the student records the teen number created by the base ten blocks shown on the cards.
In the Lucky Leprechaun center, students are given a stack of task cards that are identified by letter, along with a recording sheet containing carts labeled with the same letters. After selecting a card, students count the gold coins and then write the number on the recording sheet. Since the gold coins are placed on ten frames, this center encourages students to count on from ten.
Addition & Subtraction
St. Patrick's Day math centers wouldn't be complete without some addition and subtraction practice! First, the Counting Coins center provides practice with identifying the missing part needed to create a whole. Students can use manipulatives or the provided paper coins to help them visualize the missing addend. Once they have identified the correct number, students can then complete the addition equation on their recording sheets.
Shamrock Subtraction helps students write and solve subtraction equations with a fun game! Students use spinners to determine the numbers for a subtraction equation. Once they find the difference, they cross off or cover the corresponding number of shamrocks on the game sheet. The first student to the finish line wins!
St. Patrick's Day Literacy Centers
The independent and small group practice provided by centers helps students grow in confidence while improving their reading and writing skills!
Phonemic & Phonological Awareness
By this point in the school year, kindergartners can identify and write beginning and ending sounds for a given word. Rainbow Writing is a fun center that has a picture on each rainbow card. After choosing a card and naming the picture, students record on the clouds the beginning and ending sounds they hear. Recording sheets are also included to use as an informal assessment after centers are complete.
The Rhyming Rainbows activity can be adapted to a range of literacy levels. Students could identify matching rainbow card sets by either looking at the pictures or by reading the words. Another option for differentiation is that students can record rhyming words by spelling the words or by drawing pictures.
Vowel Sounds
By the spring, our young students are learning the difference between long and short vowel sounds. The Vowel Sort center provides students with an opportunity to sort pictures based on the vowel sounds they hear. This particular activity focuses on the long and short vowel sounds of a and e. You can easily adapt this based on the needs of your class. For example, you can provide the students with the paper coins and laminated cards for a hands-on picture sort or you can use the recording sheet as the sole activity, since it can easily be used with or without the sorting task.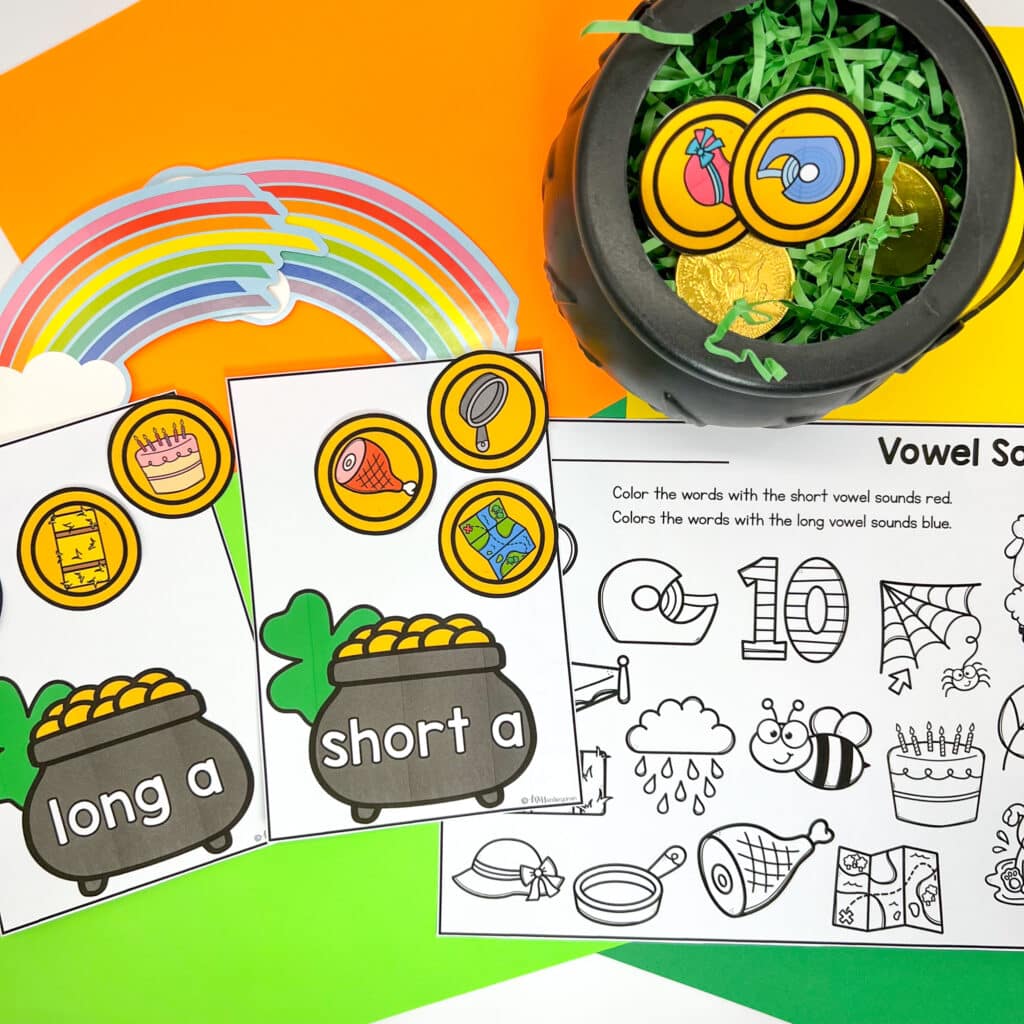 Consonant Blends
Once students have mastered the process of blending cvc words, they're ready to start blending two consonants together! In the Rainbow Blends activity, students are given rainbow cards that each represent a different consonant blend. Students can then assign two pots of gold to each blend card by naming each picture and identifying the blend they hear.
Sight Words
When we give students many opportunities to master high-frequency words, we help them increase in confidence and reading fluency. This St. Patrick's Day centers bundle has two different activities that can help students practice sight words through reading and writing.
The Searching for Shamrocks center has students practice reading and sorting sight words based on the number of letters in each word. This activity also contains editable shamrocks so that you can include words that you're currently focusing on in class.
If you want students to practice reading high-frequency words within sentences, you'll love the Sentence Scrambles literacy center! Not only will students read sight words and other fun seasonal words, but they will also practice sentence structure by putting the words in the correct order. Students can use their knowledge of capitalization and punctuation to help them with this task.
Low Prep St. Patrick's Day Centers
Are you ready to add some extra holiday fun to your March centers? You can find the St. Patrick's Day Math and Literacy Centers in my shop. If you like the idea of supplementing your monthly low-prep centers with fun holiday activities throughout the school year, you can save some money by grabbing my Kindergarten Hands-On Holiday Centers Bundle!
Save these Kindergarten St. Patrick's Day Centers for later!
If you want to come back later to download these St. Patrick's Day math and literacy centers activities, be sure to save this pin to your favorite classroom board!