Concrete, hands-on practice is essential for teaching kindergartners how to subtract.  Not only that, our young learners need to practice subtraction using multiple math strategies so that they have a solid understanding of what this operation represents.  Subtraction task cards are one of my favorite tools to help students practice multiple strategies in an engaging way.  
Setting Up Subtraction Task Cards
One of the reasons why I love to use task cards in the kindergarten classroom is that they provide engaging, hands-on practice without a large time commitment of prep time! I also love that they can be used in a variety of ways: There is no "one size fits all" approach to setting up and using subtraction task cards.
For example, you can choose to print off cards with color clip art, or you can print using black ink on colored paper. You can choose to use the task cards like a deck of individual cards or you can group them together with a binder ring.
No matter how you decide to use task cards in your classroom, I highly recommend laminating the cards first. This helps with durability, but it also allows students to write directly on the cards with dry-erase markers.
Using Subtraction Task Cards
Once you have your cards prepped and ready to go, it's time to put them to use! My favorite way to use task cards is to set them out on the table, along with any manipulatives that are needed for the math strategy being used.
Students choose a task card, use the provided manipulatives to solve the problem (if needed), and then use a dry-erase marker to complete the equation.  You could also provide paper for students to record their work for later review.
Recording sheets help students stay on task during independent center rotations because they know the teacher will be looking at their papers when they are finished!
Task cards and recording sheets can also be used as an informal assessment after math centers to see how your students are doing.
Practicing Subtraction Strategies with Task Cards
Since students learn and understand new concepts in a variety of ways, it's important to expose kindergartners to multiple subtraction strategies so that they can find at least one that "clicks" for them. Task cards give our students this exposure since each set of task cards uses a different subtraction strategy to solve the given problem. Here are some of my favorite math strategies that can be practiced using task cards.
Using Cubes to Subtract
Unifix cubes are a kindergarten classroom staple! Since young students are very familiar with cubes, this is a great subtraction strategy to use when kindergartners first begin using subtraction task cards. Students benefit from the concrete representation of taking away cubes from the line. Not only that, it helps to reinforce the early concept that the number gets smaller in subtraction because students can see the stack of cubes get shorter as they subtract cubes.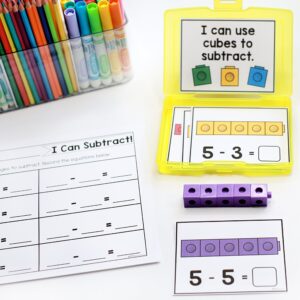 Using a Ten Frame to Subtract
Ten frames are a common strategy to help students visualize addition, with two parts being joined together to form a whole. However, ten frames can be just as helpful on subtraction task cards! Similar to subtracting with cubes, students start with a total amount of counters on the ten frame, and then physically remove counters from the total number. As students watch the quantity get smaller, they are able to better understand the concept of subtraction.
Another great benefit for using ten frames with subtraction task cards is that you can easily switch the manipulatives to increase the novelty and engagement of this activity: Seasonal mini erasers, teddy bear counters, you name it! Check out this post for some of my favorite manipulatives to use for centers and task cards.
Using a Number Line to Subtract
Once students have been able to practice subtraction with physical manipulatives, they can also benefit from using a number line as a subtraction strategy. Number lines can be tricky for our young learners, but they are an essential part of a strong math foundation! Task cards allow students to identify a starting number and then move down a number line to model the subtraction equation.
I like to help students with this concept by talking about a frog hopping down the line: The frog starts on the first number, moves the given number of hops, and the frog's landing spot is the answer.
I have also been known to put various critter cut-outs on popsicle sticks for students to use as they practice maneuvering a number line.
Using Counters to Subtract
At first glance, counters might seem like just another manipulative to help students physically take away items to model subtraction. However, counters are perfect for modeling the important concept that subtraction is the difference between two numbers.
Students can start with all counters of one color, as shown on the task card. Then, they can turn the given number of counters to the other color. The answer is the number of counters that are still the original color.
More Practice with Task Cards
There are even more subtraction strategies that can be practiced using subtraction task cards, such as using fingers, making dots, counting teddy bears, and drawing pictures. All of these strategies, along with multiple addition strategies, are included in this set of Addition and Subtraction Math Task Cards!
If you would like to continue your math strategy discussions in a way that coordinates with these math task cards, be sure to check out my math strategies posters! You and your students will be able to reference these math strategy anchor charts throughout the day. Displaying these posters in your classroom can help students find a subtraction strategy that makes the most sense to them, while helping them grow familiar with additional methods for solving subtraction problems.
If you're interested in using the task cards along with the posters, you'll definitely want to check out the Addition and Subtraction Practice Activities Bundle that includes all of these products and more!
Kindergarten Subtraction Task Cards
I hope these tips will help you put subtraction task cards to good use in your kindergarten classroom! Whether it's during centers, morning work, or even as a fast finisher activity, these cards will provide a fun and engaging way for your students to grow familiar with a variety of subtraction strategies.
Save These Subtraction Task Card Tips for Later
If you're short on time, be sure to save this pin to your favorite classroom board so that you can find these tips later!