Spring is in the air! You can hear the buzz of excitement in the classroom as much as you can hear the bees on the budding flowers outside! With so much going on in our classrooms during the final few months of the school year, it is important to be intentional with our time. At first glance, crafts might seem like a bonus to add to our schedules when there is extra time, but they are actually powerful tools for learning in the kindergarten classroom. Check out these spring craft ideas to see what I mean!
Kindergarten Spring Crafts
Crafts are one of my favorite learning tools to use in the kindergarten classroom all year long. They provide an opportunity for students to practice their hand-eye coordination and scissor skills, but it doesn't stop there! Here are some additional reasons why crafts deserve a spot on your spring schedule.
Reinforce Science Concepts
Crafts are an excellent option to reinforce science concepts in a hands-on and engaging way.
For example, I like to teach my students about the expression "in like a lion, out like a lamb" when talking about spring weather. This two-sided lion and lamb craft pulls triple duty because it can also be used as a fun hanging decoration in the classroom.
Another science-related craft and writing activity to use in the spring is this garden buddy craft. There are multiple ways that this craft can be used to reinforce what students have learned about plants.
Students can practice sequencing by putting the plant-growing process in order. They can also create a funny garden poem by filling in the blanks with two rhyming words. I've also created numerous writing prompts inspired by this spring craft.
Celebrate Holidays
Adding crafts to your holiday celebrations can channel some of that student excitement into an engaging and productive activity. St. Patrick's Day is a great holiday for some spring craft projects! Students can make their own pot of gold with a leprechaun or rainbow! After completing the craft, students can then complete a holiday-inspired writing activity to go with the craft you've chosen.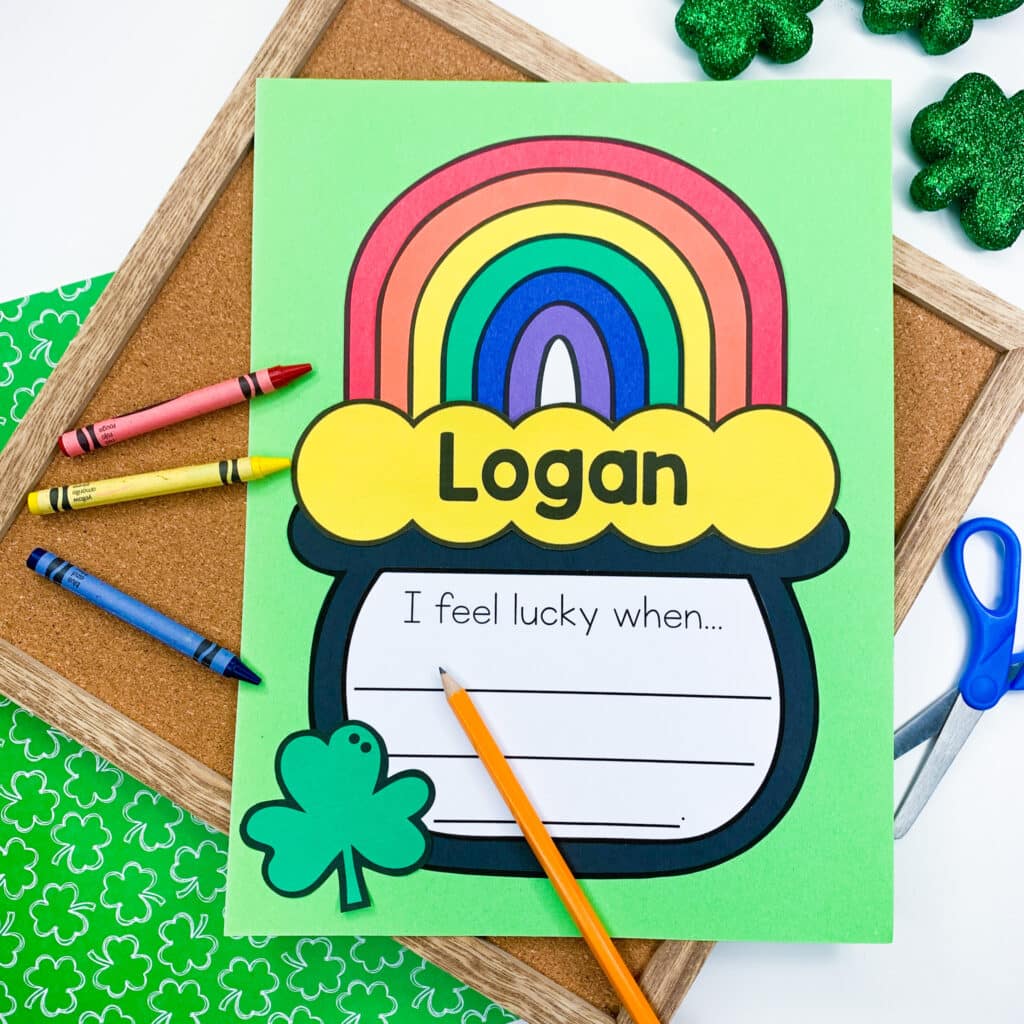 Earth Day is another spring holiday that I love to celebrate in the kindergarten classroom. This Home Sweet Home craft is a favorite that inspires a lot of discussion about how we can help our planet. This craft comes with multiple writing prompts to help students share their thoughts about the earth.
Literacy Practice
Kindergarten students learn so many literacy skills over the course of the school year. Spring is a great time for students to share what they have learned through crafts.
Many of the ideas I've already shared are accompanied by a writing prompt to provide literacy practice for young learners. However, there are many additional ways to incorporate literacy skills into craft time.
One of my favorite spring literacy crafts is the compound word rainbow! Students can divide a compound word, displayed on the rainbow, into its two parts and write them on clouds at each end of the rainbow. Then students can draw pictures of the words and add them as raindrops that "fall" from the clouds. This spring craft serves as a helpful visual representation of compound words.
Math Practice
While task cards are a great way to reinforce math skills, crafts can also help students practice important number concepts.
This flower math craft is a perfect example of this because it gives students the opportunity to represent numbers in multiple ways. Each flower petal contains a different visual representation of the number in the center of the flower.
Understanding base ten, tally marks, ten frames, and more will be essential for our young learners who are entering first grade in the fall. This is why it's helpful to incorporate these concepts into many parts of the school day, including craft time!
Easy Bulletin Boards
Student crafts are a quick way to get your bulletin boards freshened up for a new season. Any of the spring craft ideas in this post would be easy options for a festive bulletin board, but there's just something about baby chicks lining the hallway that exudes spring!
One spring craft that looks adorable on display is this chick dressed up as a bunny. To complete this craft, students will need to practice following directions to assemble the chick in the correct order. After plenty of scissors skill practice, your students will love seeing their completed chicks on the bulletin board!
Another fun spring chick activity is this Peeps in a Basket craft and writing activity. The chicks in the basket look great on display as-is, but this craft also comes with writing activities that will help your students practice a variety of literacy skills. Displaying writing samples on a hallway bulletin board is a fun way to give students something to read when they're lined up outside the classroom.
If you want to branch out from spring chicks, you'll love this bee-themed activity! There are several prompts for writing that go along with this spring bee craft, but one of my favorites is the writing activity that has students write about something they try hard to do. Then, I like to add them to a bulletin board that is labeled "Bee the Best You Can Be."
Kindergarten Crafts for Spring (and MORE!)
I hope that these spring craft ideas will bring some fun and engaging skills practice to your classroom this year. All of the projects that I mentioned above are included in a convenient spring crafts bundle that can save you some money! If you're interested in using crafts throughout other seasons, you'll definitely want to check out my craft mega bundle that has seasonal craft ideas for each and every month of the school year. No more scrambling for craft ideas at the last minute!
Save These Spring Craft Ideas for Later
Short on time? Be sure to add this pin to your favorite classroom board so that you can easily come back to it later.