As the school year progresses, our centers activities should change to reflect our students' developing math and literacy skills. Does this mean devoting huge chunks of time to preparing and switching out centers each month? Not necessarily! I have created low-prep centers that progress through the seasons of a school year, so that the monthly activities match up to the skills your students have been working hard to master. Today I'm focusing on March centers for kindergarten that your students will love!
Math Centers for March
Your students will be able to practice a variety of math skills with these spring-themed centers. The best part about these activities is that you can have them prepared at the beginning of the year, then pull them out and add your favorite manipulatives when it's time for some spring fun!
Decomposing Numbers
The shape of a rainbow makes the perfect canvas for decomposing numbers. In the Rainbow Number Bonds center, students are given a target number on the rainbow with a portion of gold on one end. They are able to add the correct number to the other side of the rainbow in order to reach the target. For additional hands-on engagement, manipulatives can be provided to help students model the number bond.
Non-Standard Measurement
This Magical Measurement activity is worth its LENGTH (and width) in gold! Students are able to use a printed strip of gold coins in order to measure a variety of spring-themed objects. This activity gives students the opportunity to practice non-standard measurement skills by placing the measurement strip in different orientations for length and width. Each image has a line to guide students in identifying where to begin and end the measurement.
Addition and Subtraction
The leprechaun-themed Roll and Cover center for March helps students practice addition to 12 in a fun game setting. Students can roll two dice, add the numbers together, and then cover the answer on the mat. This center is the perfect example of how you can use your favorite manipulatives to quickly set up the activity, or supplement with something more seasonal, such as gold coins. Check out this post to read more about my favorite math manipulatives to keep on hand for centers.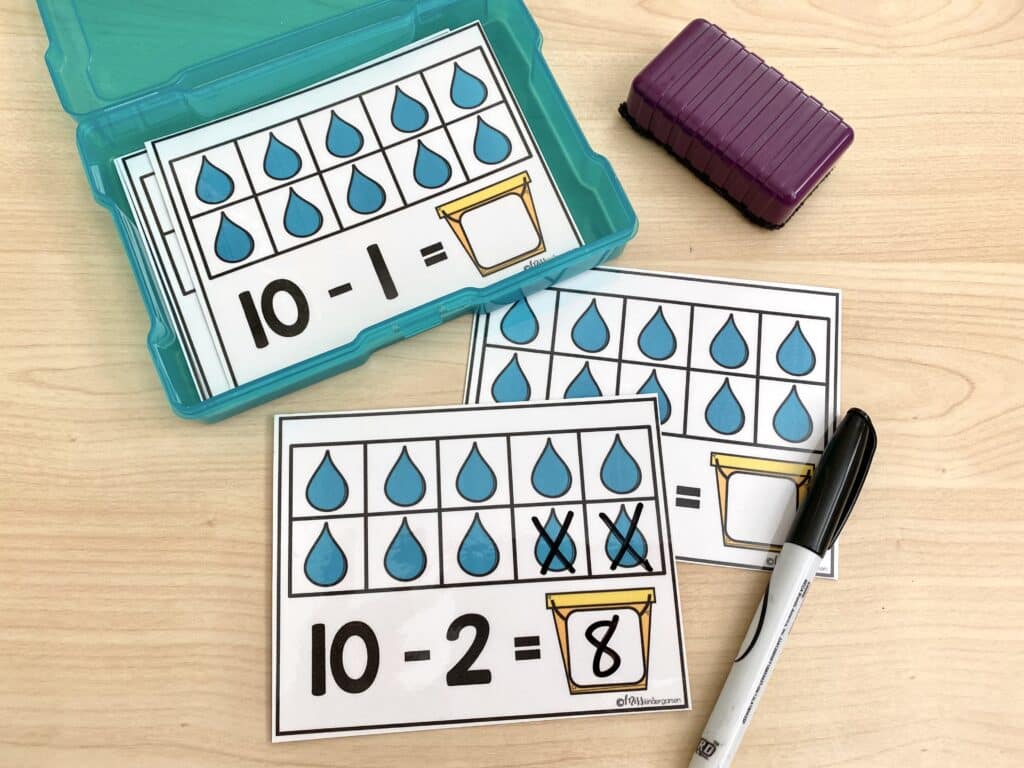 If your students are ready for some additional subtraction practice, they will love this Raindrop Subtraction centers activity. Each task card includes a subtraction equation and a ten frame of raindrops to help students model the equation. They can cross off the correct number of raindrops as shown in the number sentence, then record the answer on the bucket. For additional hands-on modeling, manipulatives could be placed on top of the ten frame so that students can practice physically "taking away" the correct number of objects.
Literacy Centers for March
When spring rolls around, kindergarten students are ready to do more and more reading! These centers are designed for kindergartners to complete independently or with partners, which will help their confidence grow as they see what they can accomplish with their budding literacy skills!
CVC Words
In the Pot of Gold literacy center, students can say the image shown on a pot of gold, then build the word based on the sounds they hear. This activity is great with letter magnets, or you can use dry erase markers for additional handwriting practice.
Once students have practiced building CVC words, they can apply their letter and sound knowledge to decoding! In the rainbow-themed Reading CVC Words center, students will match the word written on the cloud to the image shown on the rainbow. You can provide manipulatives for students to cover the correct word, or you can provide clothespins for a little extra fine motor challenge. This can also be used as a self-correcting activity by placing a sticker or dot on the back of the card behind the correct word.
Word Families
The Spin and Color activity helps students identify CVC words based on short vowel word families. Each word family on the spinner is written in a different color. So, after spinning, students can color in a word on the mat using the corresponding word family color.
Another fun and engaging option is to switch the task to a spin and cover, where students can cover the words with a gold coin or any other manipulative of your choice.
Sight Words
By March, students in kindergarten have been able to build their word reading skills to include multiple high-frequency words. One challenge we face as kindergarten teachers is to help students master and retain sight word knowledge by providing consistent practice and review.
The final activity in this March centers bundle provides a fun way to practice reading sentences with common sight words. Each task card contains a spring-themed picture, along with a sentence that uses basic sight words. Students determine which cvc word card completes the sentence, using the picture as a clue.
It is easy to adjust the difficulty level of these literacy centers by selecting which task cards you include. For example, if your class has not been introduced to a particular sight word yet, you can simply set aside that task card.
Low Prep Centers for March (and Beyond!)
If you like the idea of adding some seasonal fun to your classroom with minimal prep time, be sure to grab the March Kindergarten Centers bundle from my shop! You will be able to print, organize, and store these centers until you're ready. These activities are intended to be low-prep and easy to implement in your classroom!
As I mentioned above, I have created an entire year's worth of low-prep centers activities for kindergarten. The March centers activities above are included in this year-long bundle, which can save you money AND time! Say goodbye to scrambling for fresh centers each time you flip the calendar to a new month. In fact, you can have your monthly centers all prepped and ready to go before the school year even starts.
Time seems to speed up exponentially in the spring, so my hope is that these March centers for kindergarten will help you add some seasonal fun and engagement to your classroom without adding to your stress level!
Save These March Centers Activities for Later!
If you're interested in using these March centers in your kindergarten classroom, be sure to save this pin to your favorite classroom board so it's easy to find when you're ready.