It's always so exciting to welcome a new class of kindergarten students! As you get to know your class, it's helpful to have a variety of activities on hand to help your students ease into the school routine. In this post, I'm sharing some of my favorite Back to School Activities for Kindergarten. These engaging activity ideas will get your students excited for the year to come!
Back to School Activities for Kindergarten
I've compiled these back to school ideas for kindergarten teachers to help you plan meaningful activities for the first few weeks of school. You might even spot a few Miss Kindergarten resources that you already have in your toolbox!
Morning Work
One of the most important parts of kindergarten classroom management is to have a strong morning routine. You can use printable morning work as part of this daily procedure. Students will be engaged in learning activities as you welcome your students and get the class ready for the school day.
These back-to-school learning activities will help your students practice important academic skills that are appropriate for the first few weeks of school:
Name writing practice
Counting practice
Letter identification
Tracing numbers
Identifying and tracing shapes
Morning work activities are a great way to get your students in the groove of school. It also gives teachers and parents great information and data since we can use them as informal assessments. Don't you just love multi-purpose morning work?!
Back to School Literacy Centers
Another helpful routine that you can start early in the year is your centers routine. It can take time for students to get the hang of a centers rotation, which is why it's so important to choose hands-on learning activities that keep them engaged and on task. This will make it easier to reinforce center expectations and procedures, since students will naturally be more interested in the activities.
For literacy practice, these alphabet task cards are a great option for back to school centers! Students can use play dough or any other small manipulative to fill in each letter on the card. For your students who aren't as familiar with the letters of the alphabet, this activity will serve as important fine motor practice.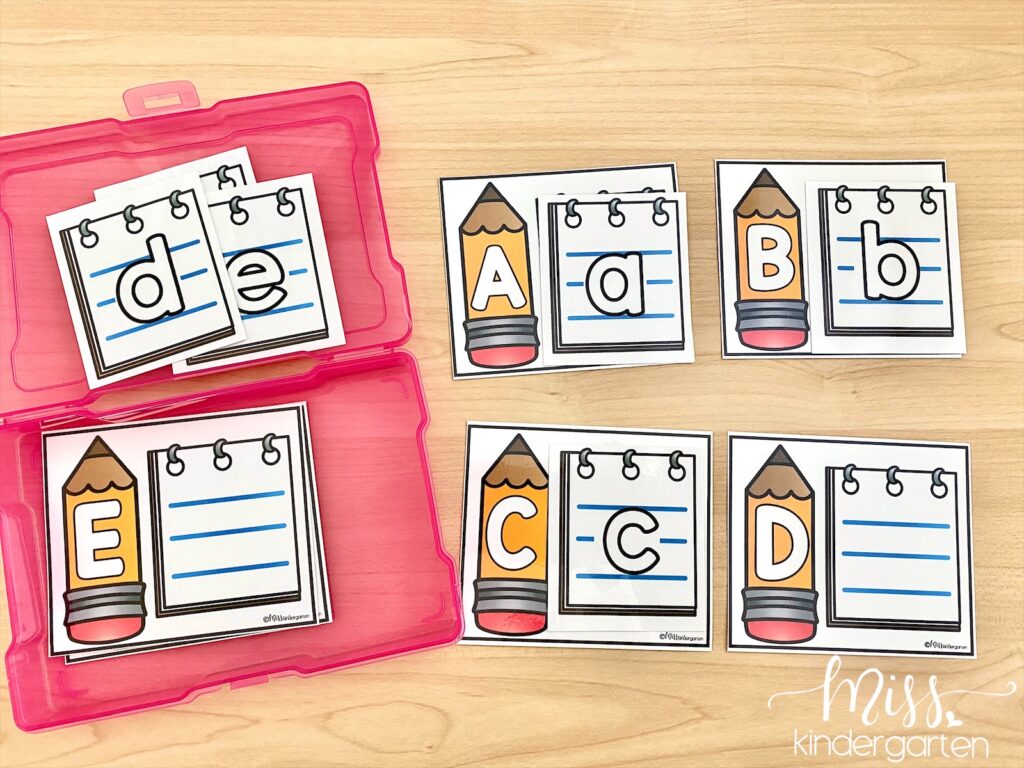 These letter-matching cards are another great activity option that can be modified for your students. This activity is designed for students to match the lowercase letter card to the correct uppercase letter. You could also turn this into a letter formation activity. Students can trace the uppercase letter on the left side of the card and then practice writing it on the other side.
Back to School Math Centers
Math centers are also a helpful way for students to practice navigating rotations independently. They can practice counting and number formation with these crayon task cards. Students will count the crayons on each card and then trace the number.
To add more practice with one-to-one correspondence, you could add snap cubes or small manipulatives to this learning station. Students can practice creating a group of objects to match the number on the card.
This fun shape practice center is another way to help students get the hang of math learning stations. They can choose a bus card, identify the shape of the wheels, and then practice tracing the shape. This activity, along with the other centers, helps students practice using school supplies responsibly.
Name Writing Practice
Name writing practice is something we work on a lot in kindergarten, especially during the first month of school. It's important for students to know how to identify, spell, and write their names. This is a skill that helps students navigate the classroom, improve their alphabet knowledge, and identify themselves.
These editable name books are a great addition to your back to school activities! Each student will have their own name book that helps them practice spelling and writing their name. These printable name books are a great activity to help students practice using additional school supplies, like paint.
Back to School Craft
This adorable crayon craft is another fun way to incorporate name practice at the beginning of the year. Crafts aren't just for fun and decoration! They cover SO many important skills, including direction following, spatial awareness, fine motor skills, creativity, and more. Plus, they make the classroom walls really fun and engaging.
Your students will have a blast with this craft! They will gain a sense of pride knowing that their name will be displayed for all to see. Whenever we hang crafts in the classroom or hallway, I like to take my students on a tour. I point out each person's project and what is so special and unique about how they made it. Their little eyes seriously light up when we do this and it makes them feel like a superstar.
Boom Cards
Boom Cards are digital centers that are engaging and self-correcting. The immediate feedback is so helpful when learning a new skill! I created a set of Drag & Drop practice to help get the students used to using this technology. Practicing these routines and procedures is key at the beginning of the year because it will set you up for using technology throughout the daily routine.
No-Prep Printables
These print-and-go activities are perfect for practicing math and literacy while also working on fine motor skills. The beginning of the year in kindergarten is such a crucial time to improve hand strength and coordination! These back to school activities can help you see which students may need more fine motor practice or additional support.
The best part of these printables is that they can be used in whatever way makes sense in your classroom. You might add them to homework folders, incorporate them into learning stations, or use them for small group instruction. These printables focus on the same concepts as the other activities I've shared, so your students will be able to really hone in on these skills. Practice and repetition are your best friend at the beginning of kindergarten and beyond!
Kindergarten Back to School Activity Bundle
I know how important it is to save time at the beginning of the school year, so I created a bundle of activities that you can grab in one easy download! You can find all of the activities mentioned above in my Back to School Activity Bundle. These engaging activities will help your students review important skills as they settle into the kindergarten routine. If you'd like to take a closer look at everything included in this resource, just click below to find it in my shop.
$20.00
This bundle of Back to School activities is everything you need to create a fun and memorable start to the year, whether you are meeting your students in person or virtually. It's full of engaging activities your students will love and will give you the confidence of knowing you are providing them with meaningful resources that will help work on important kindergarten skills.
Shop Now
Save These Kindergarten Back to School Activities
Be sure to save this post if you'd like to come back to it later! Just add the pin below to your favorite teaching board on Pinterest.