It's always fun to have a first day of school memory! Thanks to my amazing teacher, my love of kindergarten, and a really good memory, I remember my first day of kindergarten like it was yesterday. If you want to help your students create a fun memory of kindergarten, crafts are a great option! Here is a First Day of School Craft for you to try this fall!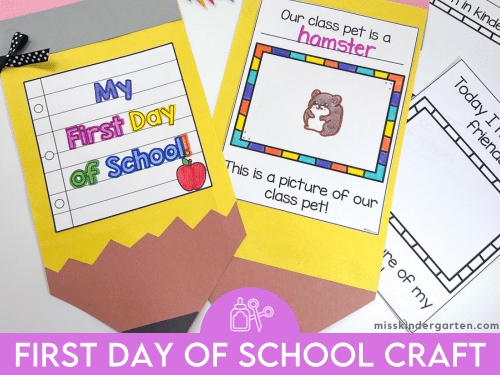 Using Crafts on the First Day of School
It might seem ambitious to do a craft with a room full of brand-new kindergarten students! However, I have found that a first day of school craft is a great introduction to kindergarten for a few reasons.
Memento: A first day of school craft is a special memento for students to keep. This will make it easier for them to hold on to a kindergarten memory!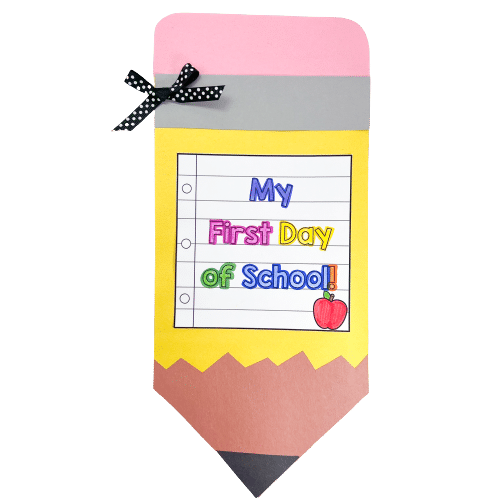 Practice Using School Supplies: An important part of the first week of school is for students to learn the procedures for using different school supplies. You can modify crafts to help your students be successful. For example, you could have individual pieces pre-cut so students just need to focus on using glue sticks to assemble the craft.
Following Directions: Crafts are a very visual and concrete way for students to practice following directions. This is especially helpful on the first day of school!
Calm Nerves: The first day of school is full of big feelings! A craft project can be a welcome distraction from the nerves brought on by starting kindergarten.
Family Interaction: Your students aren't the only ones with nerves about starting kindergarten! Parents are always eager to hear about the first day of school, but it can be hard to get very many details from their exhausted kindergartener. When students come home from the first day with an adorable craft in hand, families have a starting point for their discussion!
Even if you decide against creating a craft on the first day of school, this would still be a good activity to use at some point during the first week. Since there are so many benefits of using crafts in kindergarten, it's a great idea to get students used to this routine as soon as you can!
Creating a First Day of School Craft
If this pencil craft is something you'd like to try in your classroom, keep reading! I have outlined a few tips to help you make this crafting activity a fun and memorable experience for your students.
1. Create the book pages
Choose which of the book pages you'd like to include with this craft.  Some of the page options include:
Pictures of important people, like their teacher, principal, and friends.
Details about the class pet
Classroom and school information
A favorite memory from the first day
You don't have to choose all of the pages and you don't need to complete all of them on the first day of school! You can spread out the pages over the course of the first week.
2. Assemble the Book
Staple the completed pages onto a piece of yellow construction paper. This paper will be the yellow of your pencil craft. The stapled pages are on the back of the pencil. If you do this before creating the pencil craft, the staples will be covered with the details on the front.
3. Create the Pencil Craft
Next, it's time to assemble the pencil craft!  Trace or copy the craft templates onto colored paper and prep them in whatever way you'd like for your students.  In addition to the yellow paper that you've already used for the book, each pencil will need pink for the eraser, gray for the metal band, brown for the wooden tip, and black for the pencil lead.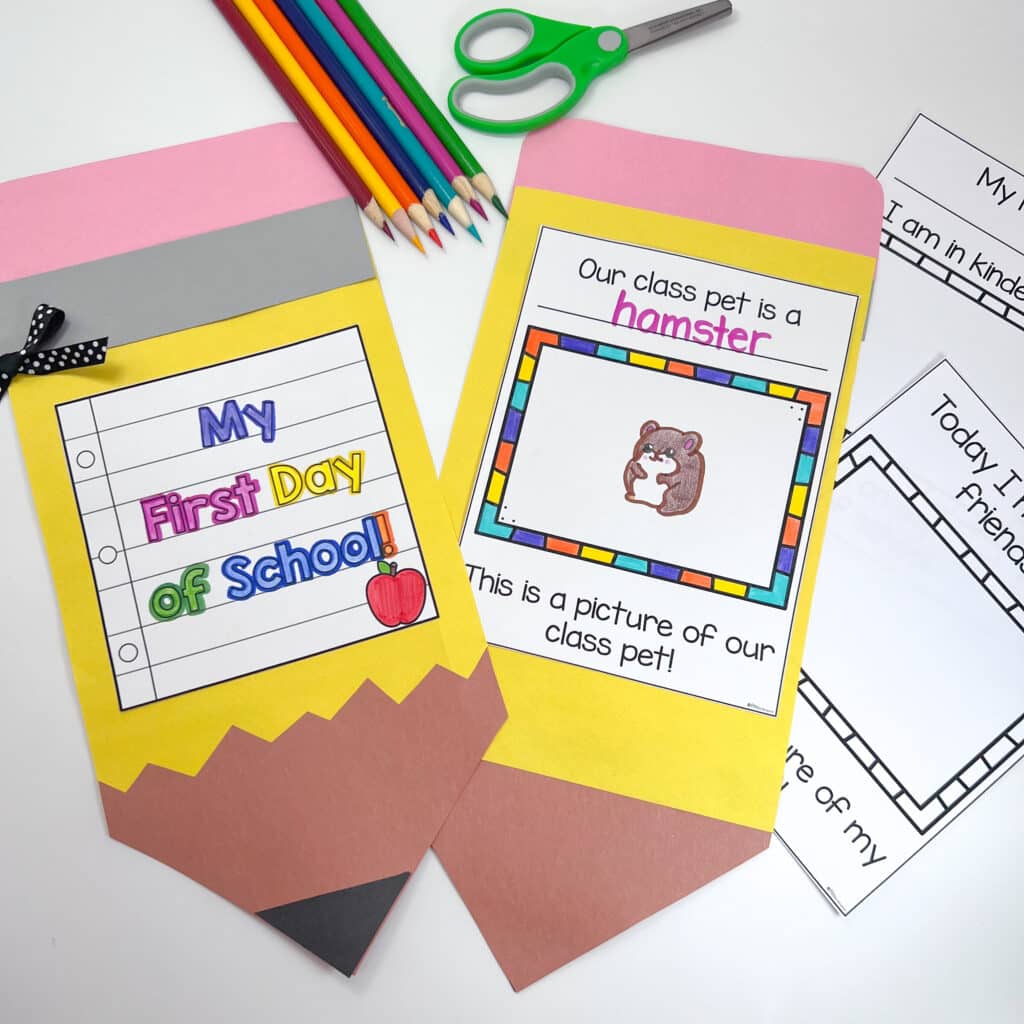 You can just rough-cut to separate the copied pieces and have students cut them out, or you can have them already cut for the students. This just depends on whether or not you want students to practice using scissors on the first day of school! After the students have assembled their pencil crafts, you can add a ribbon bow to the front for a cute final touch.
4. Attach the Title Page
The final step is to have your students color a title page. If you don't want this craft to be specific for the first day of school, you can skip this step.
That's all it takes to put together a fun kindergarten memento for your students to take home. You might also decide to hang these crafts on a bulletin board or in the hallway. You could attach the book pages facing the other direction to create a book that can be displayed on an interactive bulletin board. The pencil craft can be lifted to see the pages underneath.
Download the First Day of School Craft
Would you like to try this craft with your students this school year?  I have created an easy-to-assemble template with everything you need for this memorable activity. This back to school craft comes in two sizes and it also includes options for other grade levels, including preschool and TK! You'll also find a Spanish version available in this download. To take a closer look, just click below to head over to my shop.
More Back to School Crafts for Kindergarten
I have even more fun crafts that you can use in your classroom at the beginning of the school year! Whether it's a crayon box name craft, an "All About Me" backpack craft, or seasonal fall crafts, you're sure to find an activity that your students will love! You can take a look at this post with craft ideas for fall to check out all of the fun options for the beginning of the school year!
Save This Craft for the First Day of School
Be sure to save this post if you'd like to come back to it later!  Just add the pin below to your favorite teaching board on Pinterest.  You'll be able to quickly find this craft idea when you're looking for fun activities for the first day of school.