If you teach kindergarten, then you know how important crafts are. Not only are they fun for your students to create, but there are so many amazing benefits to using crafts in the kindergarten classroom. I love to incorporate crafts all year long in my classroom. We try to complete a craft once a week, so I have many, many options up my sleeve! If you're looking to include some crafts into your day, here are some of my favorite crafts to use at the start of the year and some fall crafts for kindergarten too.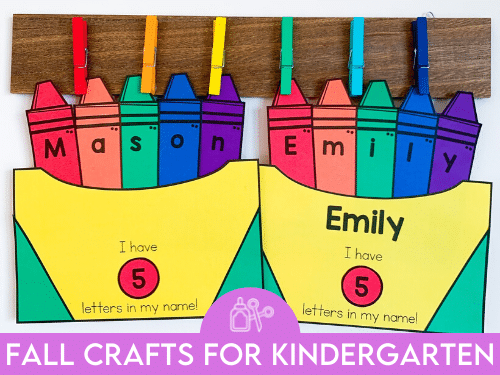 Back to School – The First Few Weeks
First Day of School Pencil Craft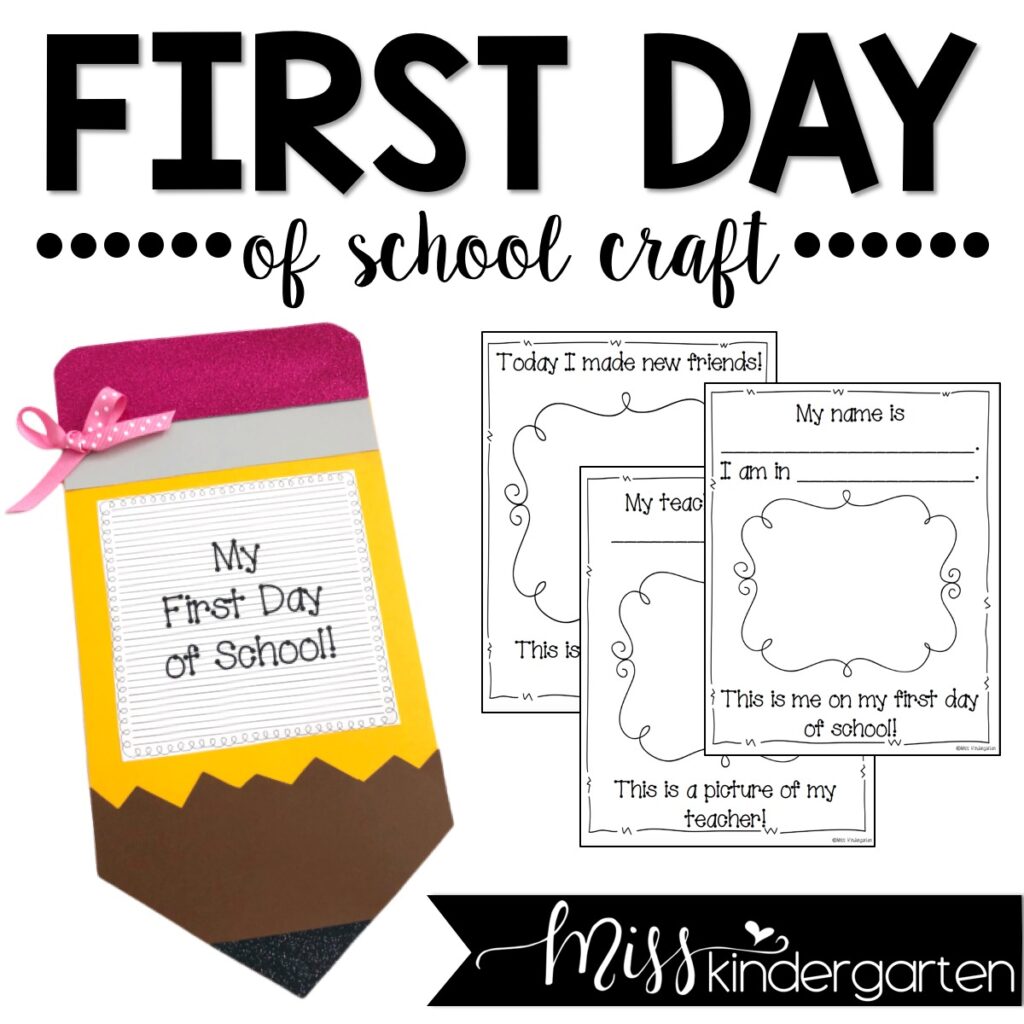 You can start using crafts in your classroom on the very first day of school! This fun pencil craft is the perfect way to engage students while also getting a sense of their cutting, gluing, and coloring skills. It also makes an adorable first day of school keepsake that is loved by students and parents!
This craft includes a little booklet to staple behind the pencil craft for your students to draw and/or write about themselves on the first day of school. The booklet doesn't need to be completed on the first day, so you can spread it out throughout the first week if needed.
I love that with this one project, I can get an idea of their writing and drawing skills and their ability to use scissors and glue. That's a lot of great information to learn about students on the very first day!
This First Day of School craft is also available in Spanish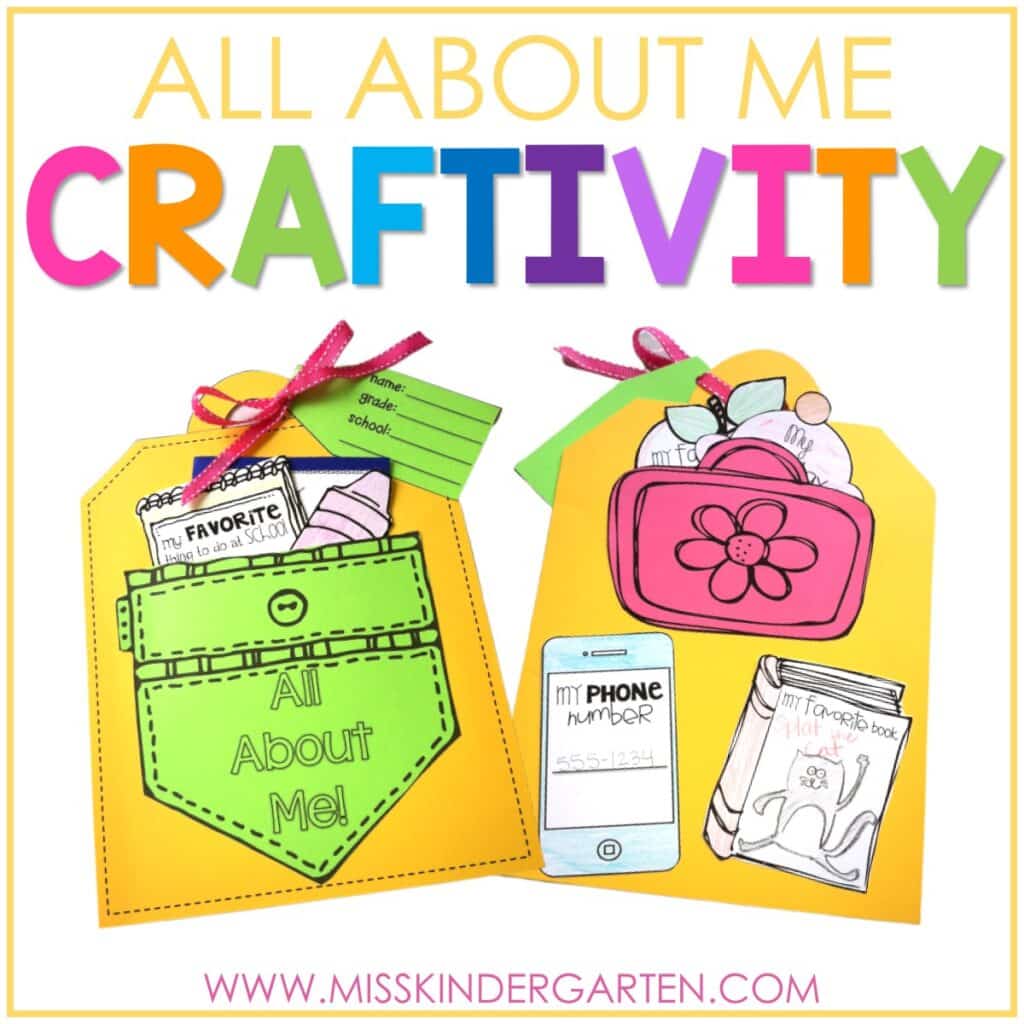 All About Me Backpack
Another fun craft I like to use at the beginning of the school year is this All About Me Backpack. This craft is a fun way to get to learn a little more about each of my students. They can draw and write about their favorite color, their favorite snack, what they look forward to doing at school, and even share about their favorite book.
I love to hang these finished backpacks in the hallway or create a back to school bulletin board. They make a great display and if you have a beginning of the year Open House, they are a great way to show off what students are learning.
Fun with Names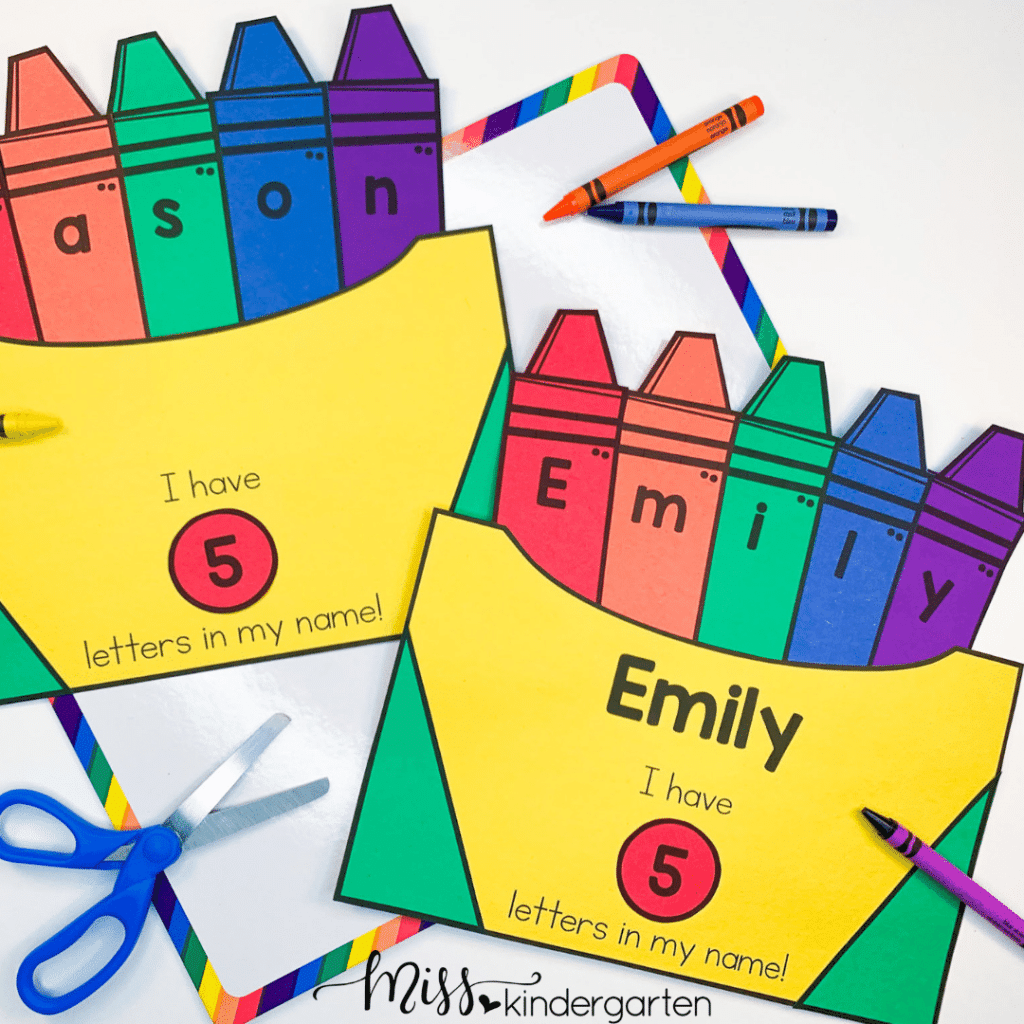 The beginning of the year is also when we spend a lot of time working on building and recognizing our names. This crayon box name craft helps my students practice writing their names, recognizing the letters in their names, or spelling their names. You can provide them with the letters of their names already on the cards to organize, like a puzzle. Or they can write the letters of their name directly onto the crayons!
Print the crayons on colored paper for your students to write the letters on and cut out, or you can use the editable version to type in each student's name. With these simple cuts your students will get some great scissor practice while working on their name too!
Seasonal Fall Crafts for Kindergarten
Just about the time Back to School season ends we find ourselves running straight into fall. I love everything about fall! The crisp cool mornings, the warm autumn colors, and the yummy fall food. I just had to use these wonderful things to bring some crafty fun into the classroom.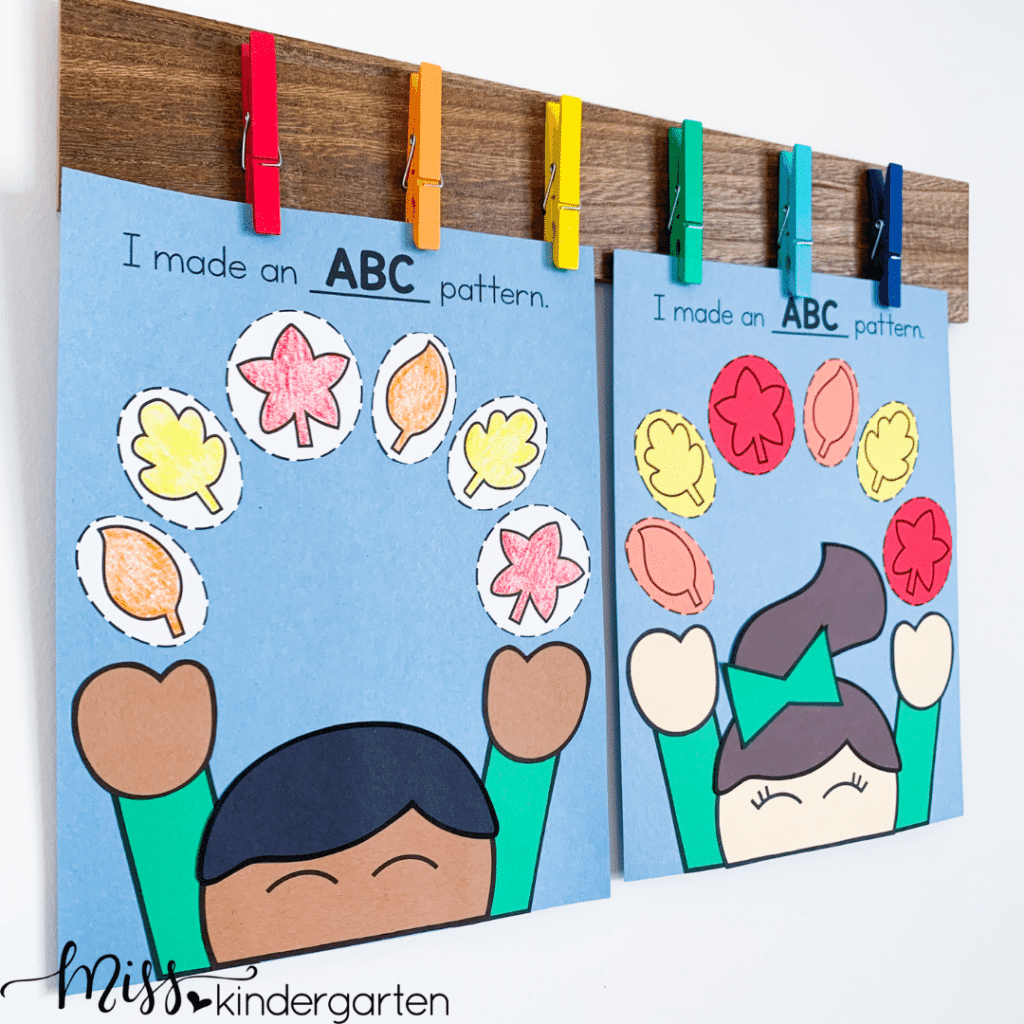 Fall Leaf Patterns
One of the first math skills we cover is patterns. Fall leaves are the perfect backdrop for some fun pattern creating. Your students can color the leaves to create their own pattern, or you can go on a leaf hunt and glue real leaves onto the craft! Then we display the patterns with a little reminder of a fun fall activity – playing with leaves!
This activity is great for differentiation or to use an informal assessment. You can easily change out the pattern for each student to meet their needs. You can also have students create their own pattern and name it.
What's Fall without Apples!
Apples are one of my favorite fall themes and so much fun to use in the classroom. Whether you are learning about Johnny Appleseed, making homemade applesauce, or learning about the life cycle of apples, these apple crafts will be a great addition.
These apple crafts are great to connect with science and math. We use the apple basket to work on counting and writing numbers to 5. And while this is great for beginning of the year kindergarten, you could easily have students write an addition equation on the basket and use it with first grade too! Our apple craft is also filled with fun activities to connect your apple unit to math, science and art!
Crafting and Social-Emotional Learning
One of my favorite fall books is Scaredy Squirrel by Mélanie Watt. It's a great social-emotional learning book that fits right in with fall themes.
After reading the book and talking about being scared we put together this scarecrow craft. It is a great way to talk about emotions and write about what scares them.
Fall Holiday Crafts for Kindergarten
Fire Safety Fun
In October, we talk all about fire safety. We make this fire engine craft to learn about how to be safe during a fire. It's also a great craft to incorporate into your community helpers unit, too. It also is a great way to review shapes with all the simple shapes used to create the craft.
Halloween
If you are allowed to celebrate Halloween in your classroom, the Witch's Brew and Monster craft are fun to use! However, I know it's not allowed in all classrooms, so I have options for pumpkins and spiders too.
These fall crafts are a fun way to connect rhyming, graphing, science, and writing into your day. You can have your students rotate through the different crafts, or work on one a week.
Veteran's Day
In November, we learn the importance of honoring others and recognizing the service and sacrifice other people have made. This Veteran's Day craft activity will help students do just that.
This craft connects with language arts writing standards. Students will work on writing a letter to a soldier or using the word HERO to write a poem. A great activity to display if your school does a Veteran's Day ceremony. The letters could also be collected and shared with a local veterans organization. I have heard from so many teachers about how much they enjoyed sharing their students crafts with veterans and knowing that the youngest generation is learning about the importance of honor.
Thanksgiving
We finish up the fall season with the Thanksgiving holiday. These two Thanksgiving themed crafts are always a class favorite. We love to make these turkey name crafts to display during our Thanksgiving feast. I've even included a headband option that students can wear during the event. There's something about a crafty creation that can be worn that just makes the students beam with pride. I love seeing all the little turkeys strutting their feathers as they leave school.
And what's Thanksgiving without some homemade pie? We've all got our favorites and many types of pie adorn the Thanksgiving table. This Sweet as Pie craft gives students the opportunity to dream up their own type of pie and write about it! They can show off their writing as it is framed by this yummy looking pie craft. A great bulletin board or hallway display for the holiday season.
Find All Your Fall Crafts for Kindergarten
Whether you are looking for a single craft activity for the fall season, an autumn holiday, or all of them, you can find them in my shop! Each of these fall crafts for kindergarten were designed with our young learners and their skills and standards in mind. They work great in pre-k and first grade too! Increase the engagement by pairing your academics with crafts this fall.
Save these Fall Crafts for Kindergarten
Pin this to your favorite classroom Pinterest board so you can come back any time you are looking for fun and engaging fall crafts for kindergarten or other primary grades.