Learning the letters of the alphabet requires plenty of repetition for young students! Centers can be a great option for adding more alphabet practice to your schedule with minimal extra prep time.  The hands-on nature of centers makes them a great fit for keeping students engaged and on task!  If you're looking for a great way to practice letters and sounds in your classroom, check out these engaging Alphabet Centers for Kindergarten!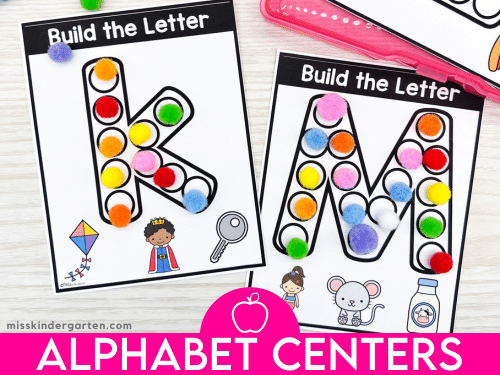 11 Alphabet Centers for Kindergarten
Here are several fun activity ideas if you're looking for letter centers to add to your literacy rotations! All you need are task cards and a few extra supplies to have these centers prepped and ready to go each day. These activities are designed to fit perfectly in photo storage boxes, so they're easy to store until it's time to grab and go!
1. Fine Motor Letter Building Mats
Alphabet crafts aren't the only way to bring fine motor activities to alphabet practice! Use these letter-building mats to help your students strengthen their hand muscles as they practice letter identification and formation.  Just add some tweezers and small manipulatives to the activity and your students will have fun building the letters, one object at a time.  You can also make multiple paper copies of the task cards for students to dot the letters with bingo daubers. 
2. Popsicle Stick Letters
Your students can also explore letter formation by building letters with popsicle sticks. This alphabet center can help students practice problem solving and visual perceptual skills as they recreate the letter on each task card.
3. Letter Road Tracing
Letters are more fun when toy cars are involved! Your students will have fun "tracing" each letter as they drive the car over each letter road. There is a star on each letter task card that shows students where to start. Each card also has space for students to practice tracing the letter with a dry erase marker.
4. Geoboard Letter Formation
With this geoboard alphabet center, students can explore letter formation as they strengthen their fine motor skills. Students will use the task card for reference as they recreate the letter by pulling the rubberbands to place them on the correct pegs. After they have successfully built the letter, students can also practice tracing the letter on the task card.
5. Letter Tracing Task Cards
Students can use these letter tracing task cards for even more writing practice! To mix it up, you can also add some fun manipulatives to this letter center. Students can then fill in the letters with colorful buttons or pompoms after tracing them with dry erase markers.
6. Letter Tracing Strips
Repetition is key when learning how to correctly form the letters of the alphabet!  Students can trace and then write each letter with these tracing strips. This set of task cards comes with both uppercase and lowercase options to give students plenty of letter writing practice!
7. Alphabet Letter Match
Help your students make the connection between uppercase and lowercase letters with this alphabet letter match center.  Students will match the uppercase and lowercase letters to complete each book. The books come in different colors to help students be more independent with this activity. They are able to use the card colors as a clue to help them find the correct match.  If your students are ready for more of a challenge, there is a black-and-white version that you can print on bright, solid-color paper. 
8. Say and Write Letters
This center can be used to practice both letter identification and letter formation. Students will say the name of the letters on each card and then write them on the line. You could also use this as a letter sorting activity! Students can sort letter magnets or tiles by putting them on the correct line of the task card.
9. Find and Smash Letters
Play dough is an easy way to bring a lot of extra engagement to your alphabet practice!  Students can practice fine motor skills as they form small balls of play dough. Then they will find the coordinating letters on each card and smash them with the play dough balls.  
10. Say and Clip Letters
To continue the letter identification practice, students can practice saying letter names with this clip activity.  Students will choose a card, identify the uppercase letter by name and then clip a clothespin to the matching lowercase letter. You can make this a self-correcting activity by putting a sticker on the back of the card, behind the correct letter. After clipping the lowercase letter, students can check their work by flipping the card over to see if their clothespin is on top of the sticker.  
11. Who Stole the Cookie?
This final alphabet center is always a hit with students!  Just set the letters you want your students to practice in a pocket chart, then hide a cookie card behind one letter. Students at this center will become cookie detectives as they try to find out who stole the cookie!  They will take turns identifying one letter at a time as they pull that letter card out of the pocket chart.  Once they have found the cookie, students can take turns hiding the cookie for their partner or small group. This alphabet activity is also a fun addition to circle time or small group literacy practice!
Printable Alphabet Task Card Centers
All of the letter activities pictured above can be found in one easy-to-download set of Alphabet Task Card Centers.  These task cards can be used during literacy centers, morning work time, small group practice, or even as early finisher activities. Your students can build a strong foundation of letter knowledge as they strengthen their fine motor skills!  To take a closer look at these alphabet centers for kindergarten, just click below to head over to my shop.
$5.00
Alphabet centers made easy with these kindergarten fine motor task card boxes! Incorporating hands-on learning into your students' day is fun AND easy with these centers. Your kindergarten students can work on developing a strong alphabet foundation.
Shop Now
Save These Kindergarten Alphabet Centers
Be sure to save this post so you can come back to it later!  Just add the pin below to your favorite teaching board on Pinterest. You'll be able to quickly find these alphabet task card centers whenever you need some hands-on letter activities for your classroom.