Back to school time is in full force and getting our students acquainted to routines, procedures, and diving into those key beginning of the year skills is essential. Learning the alphabet starts right away, so you want to be sure to engage your students from the get-go and meet them at their level. Your students will have fun learning and becoming alphabet masters with these engaging games, alphabet tracing activities, and little letter books!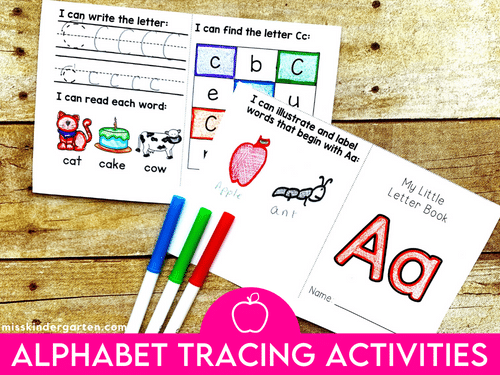 Effective Ways to Teach the Alphabet
When it comes to teaching the alphabet to your students, you must consider the level of your students. When they come to Kindergarten, there will be a lot of variation in skill level as some students may be reading and others may not have the basic foundations of letters. You may need to level your students and work with them in small groups so that they are getting the instruction they need.
As you work on letters, incorporating visual, auditory, and fine motor activities will be beneficial to your students as they get to work with and manipulate the letters and sounds in many ways. This also ensures that you are meeting every learning style that your students may have.
As a whole group, practice the alphabet with a fun song with actions or do a fun alphabet brain break. These are great for all levels of students, are fun, and the actions and rhythm of the music is helpful for students. Books that teach the alphabet are great to incorporate too! We love the "Miss Bindergarten" books!
Begin with a Focus Letter
An effective practice is to begin with teaching one letter at a time and focusing on it's name, sound, attributes, and words that begin with that letter. As you do this, give your students multiple opportunities to work with the letter and use different senses and learning styles.
Your students can use letter books to focus on the letter's name and shape as they decorate it. You can also make a letter craft or have a letter-specific snack. Kids love when they get to incorporate these fun activities into their learning. There are a ton of great letter apps and videos that are also great to work into your lesson plans.
Another way to practice learning about the letter is by forming it with materials such as playdough or building the letter with manipulatives, such as blocks, art supplies, etc. You can get creative here!
Alphabet Tracing Activities
After introducing the focus letter, practicing the sound, and looking at its attributes, students are ready to practice writing the letter. I like to begin with alphabet tracing activities first in order to help my students learn the basics of writing from left-to-right and top-to-bottom. You can also start with air-writing or tracing the letters in sensory materials, such as kinetic sand, rice, cereal, etc.
As your students begin tracing the letters, you will learn a lot about their fine motor skills and basic writing skills. I like to give my students a nice, big space for their alphabet tracing activities. This helps them visualize where the letters should be sitting on the lines and is a little easier for those beginning writers compared to short, compact lines.
If your students have trouble touching the lines, simply highlight them to give them a better guide. Teach your students right away to use a finger-space so that each letter has enough room!
Bring in Beginning Sounds
As you work on letters, students will start to identify words that begin with that sound. You can do this with picture cards, drawings, games, matching cards, beginning sound puzzles, etc.
I love to incorporate beginning sounds as a quick exit ticket. I'll ask my students one at a time to tell me a word that starts with a certain letter. They must answer correctly to line up!
Playing "I Spy" is another fun game for working on beginning sounds. Say "I spy something that starts with 'b'," and say the letter or sound. They will look around the room to find things that start with that sound.
These little letter books incorporate a beginning sound activity that will help students not only learn more about the letter but will help them learn those high-frequency words!
Find the Letter
During your alphabet study, it is important for students to differentiate letters and spot them among other letters, especially those with similar attributes. Kids love letter searches and they are highly effective, too! There is a letter search in these little letter books which will also help with fine motor control and coloring in the lines.
Another idea is to mix up magnetic letters and have students search for and find the focus letter, both uppercase and lowercase!
You can also get a stack of uppercase and lowercase letter cards for the entire alphabet. Mix them up and spread them out and have your students work together to match them up. Bonus if they can put them in alphabetical order!
Put It All Together
Now that your students are learning the names and sounds of letters, are writing them, and distinguishing them, you can start putting these skills together! Illustrating and labeling words that begin with each letter allows students to show what they know!
They are on the right track to reading and sounding out words with their newfound alphabet knowledge!