One of my favorite ways to encourage problem-solving and critical thinking is with STEM challenges. Students love these hands-on explorations of science, technology, engineering, and math. You can make them even more engaging by incorporating some seasonal fun into each activity. In this post, I'm going to share some Winter STEM Activities for Kindergarten that you and your students will love!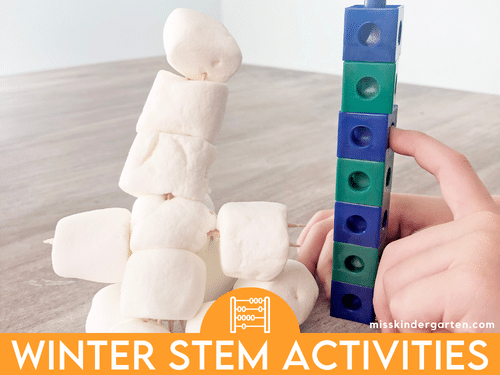 Tips for a Successful Winter STEM Challenge
Choosing an activity is just the first step in setting up a successful STEM challenge in kindergarten. Here are a few more tips to help you and your students make the most of this learning experience:
1. Look for Supply Donations
One of the biggest benefits of a STEM challenge is that it provides students with an opportunity for hands-on exploration. In order for STEM challenges to be most effective, they usually require materials for each individual student or for multiple small groups. This can definitely be a hurdle to doing multiple STEM activities with your students!
If your classroom budget doesn't quite cover the cost of materials for your STEM challenges, you could try turning to families for support. I've found that parents are often eager to help with classroom learning activities by providing supplies. When the cost is spread out among multiple families and other donors, it doesn't place a burden on the families who choose to volunteer. Later in this post, I'll be sharing a resource with a parent letter that you can send home when seeking donations for your STEM challenge materials.
2. Set Expectations
Once you have all of the materials you will need, it's time to get your students ready for the STEM challenge! Since these activities are collaborative, be sure that you've outlined behavior expectations and discussed an appropriate voice level with your students. It's also helpful to remind students that creative thinking is important for these challenges. Young students often want to look around at what their peers are doing for ideas. Encourage them to think of their own solution to the challenge!
3. Provide Intentional Support
STEM challenges are designed to be just that…challenging! This is especially true for young learners in kindergarten. Your support during STEM challenges should be focused and intentional. Rather than give students the "secret" of each activity, support them through the challenges they're facing and ensure they don't become frustrated with the experience. You know your students best and where this line will be!
4. Be Flexible
Time management for STEM challenges can be tricky since each student will take a different amount of time to complete the task. Be sure to keep some flexibility in your schedule when you're working on a STEM activity. You might want to have some related early finisher activities ready for students to work on while they wait for the rest of the class to complete the challenge.
5. Share, Share, Share!
Once everyone has finished the challenge, take time to reflect on the project as a class. This is where students can really think about the concepts that they were exploring during the challenge. If you have access to tablets or cameras, be sure to snap some pictures to share with parents! This will encourage students to discuss the ideas and concepts from the challenge with their families.
4 Fun Winter STEM Activities for Kindergarten
Now it's time to talk about some fun winter STEM activities that you can use in your kindergarten classroom. These winter-themed activities are highly engaging for young learners. Plus, they're simple enough for students to explore independently, with a partner, or in small groups.
STEM Challenge #1: Build a Pine Tree
Give students a variety of materials to build their own pine trees! After brainstorming what a pine tree looks like, students can use pipe cleaners, felt, and clothespins to create a two-dimensional or three-dimensional tree. As students are constructing their pine trees, they will also be practicing fine motor skills.
STEM Challenge #2: Salt and Ice
This challenge gives students a chance to practice hypothesizing. They will use their prior knowledge of ice to guess what will happen when they add salt to an ice cube. Students will record their hypothesis, watch what happens to an ice cube after adding salt, and then decide if their hypothesis was correct.
STEM Challenge #3: Build a Marshmallow Snowman
In this winter STEM challenge, students will try to build the tallest snowman they can using only toothpicks and marshmallows. After using all of their toothpicks and marshmallows to construct a snowman, students will use snap cubes to measure the height of their creations. This is a great way to practice nonstandard measurement!
STEM Challenge #4: Snowflake Symmetry
Help your students learn about symmetry as they design and create snowflakes. After defining symmetry and discussing it as a class, students can start sketching a snowflake on a piece of paper. As they draw each part of their snowflake on one half of the paper, students will add a matching part to the other half. Then students can use their sketches to make textured snowflakes with paint, glue, and salt!
Kindergarten STEM Activities for the Whole Year
All of the activities pictured above can be found in one time-saving download of four STEM Challenges for Winter! You'll be able to incorporate these hands-on learning activities into your lesson plans throughout the winter months. Each STEM challenge comes with detailed instructions, supply lists, parent letters, and any printables that you will use for each activity. All you need to do is add the materials and you're ready to go!
If you'd like to take a closer look at all of the STEM activities included in this resource, you can find it in my shop.
Save These Winter STEM Activities for Kindergarten
Be sure to save this post for reference when planning learning activities for your kindergarten class this winter! Just add the pin below to your favorite teaching board on Pinterest. You'll be able to quickly find these tips, ideas, and resources whenever you need them!