There are many different ways that classroom teachers use sensory bins for kindergarten students, but one thing is always true: Sensory play activities are an important part of the kindergarten classroom. If you're trying to figure out the best ways to incorporate sensory activities into your kindergarten routine, you're in luck! In this blog post, I'm going to share five of my favorite ways to use sensory bins for kindergarten.
What to Put in Sensory Bins for Kindergarten
Creating a sensory bin for kindergarten students is similar to creating sensory activities for preschoolers and toddlers. For a simple sensory bin, you just need a plastic tub (or sensory table), toys (or learning activity), and sensory materials to fill the bin! As students play with the toys or complete the activity, they will be able to explore different textures as they are engaged in learning.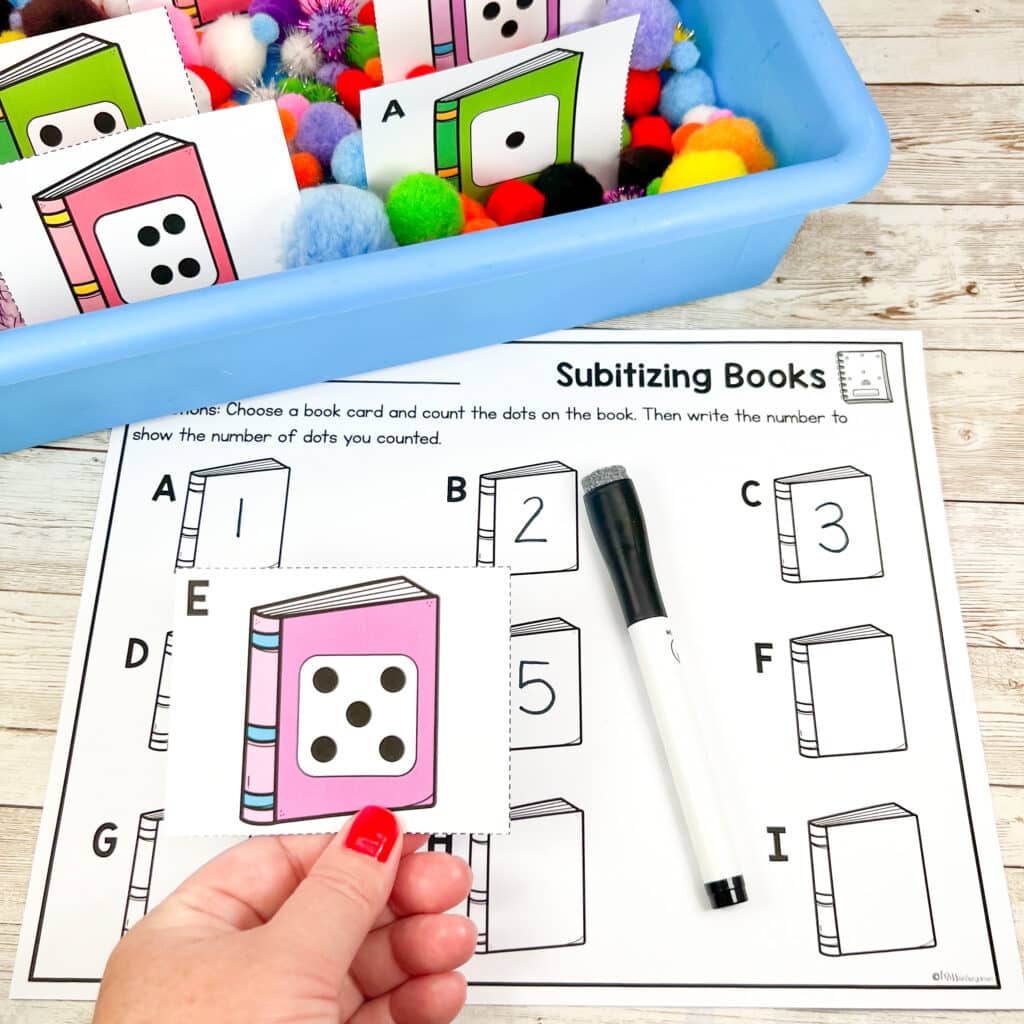 The sky is the limit for sensory bin filler! I like to keep my eyes peeled for small objects to add to sensory bins any time I'm at the dollar store. Here are a few of my favorite sensory bin fillers:
Dry Food Items: Rice, beans, lentils, pasta, popcorn kernels
Craft Items: Pom poms, beads, pipe cleaners, shredded paper, sand
Classroom Manipulatives: Mini erasers, base ten cubes, magnetic letters, counters
Holiday and Seasonal Items: Easter basket grass, tinsel, bells, leaves, gold coins
5 Ways to Use Sensory Bins for Kindergarten
Sensory bins are a great learning tool, but it can be hard to decide on the best time to use them during the school day. Here are five of my favorite ways to add sensory activities to a kindergarten routine:
1. Morning Work
Sensory bins are a great option for morning work! The purpose of morning work is to help students ease into a day of learning. Using sensory activities first thing in the morning can help students activate their senses and be ready to learn!
Since morning work is usually done independently or with partners, you will want to use a variety of small plastic tubs or trays so each student can have their own sensory bin. You definitely don't need a large sensory tub on each desk for students to experience the benefits of sensory play! Plus, smaller trays and tubs are perfect for storing on a shelf so that you can easily pull them out each morning.
2. Fine Motor Practice
Have you set aside time in your day for your kindergartners to practice their fine motor skills? These young children are still building hand strength and stamina, so it's important to provide fine motor practice throughout the school day. Sensory bins are a great way to add that practice to your daily routine!
When you're setting up your sensory bins, be sure to include activities or tools that require students to use their hand strength or manipulate objects in their hands. If you are adding task cards to your sensory bins, you can bury them in the filler so that students have to use their dexterity to uncover them and pull them from the bins. You might also try activities that require sensory bin tools, like a small dustpan, tongs, or tweezers!
3. Literacy and Math Centers
If you have literacy and math center rotations in your classroom, consider adding some sensory activities to the mix! You could add a literacy or math activity to your sensory table for one rotation or you can use multiple bins for several sensory centers!
A low-prep way to add literacy and math practice to a sensory station is by using a variety of card activities. After filling the sensory bin, you can place the cards either standing up, lying down, or buried in the bin filler. Students can then choose cards from the sensory bin, complete the task, and then add it to a recording sheet.
If you would like to increase student accountability, you can print off individual recording sheets that are turned in at the end of sensory bin centers. Otherwise, just place one recording page in a sheet protector for a write-and-wipe sensory activity!
4. Seasonal Fun and Celebrations
Sensory bins can help you bring some seasonal fun to your classroom! As I mentioned above, you can find holiday sensory bin fillers to get students excited about each activity. Then you can add a seasonal literacy or math practice activity to create a themed sensory bin for any holiday or season.
Special sensory activities like these can be used for classroom celebrations or added to the regular center rotation during a holiday week. Either way, students will be excited to participate in these themed learning activities!
5. Small Group Instruction or Intervention
Since sensory activities are highly engaging, they are a fun choice for small group instruction or intervention. Students who need additional practice with literacy and math skills often get bored with the repetition of these skills. They need to participate in instructional activities that keep their senses activated and their minds engaged. In turn, these students will be more likely to learn and retain the targeted skills. The extra fine motor practice is a bonus!
Kindergarten Sensory Bin Activities for the Whole Year
I have created a resource that can easily be added to sensory bins for kindergarten. In fact, it includes an entire year's worth of hands-on learning! This resource has fun seasonal math and literacy activities that will keep your students engaged in learning all year long. These monthly sensory bin activities are designed to follow the typical progression of the kindergarten curriculum, from letter recognition to sight words and everything in between. Your students will have so much fun as they practice important academic skills!
This resource is perfect for teachers who are looking for low-prep sensory activities. Simply print, laminate for durability (if desired), and add to your favorite sensory bins. This printable resource can also be used for centers or as write-and-wipe activities. Click below to take a closer look!
$40.00
Write and wipe centers are a quick and easy way to add engaging sensory bin centers to your small groups every month! These hands-on centers are super easy to prep, so you can feel confident providing your students with new, hands-on learning throughout the year, without spending all of your limited time prepping.

These kindergarten centers include math and literacy skills that align with the kindergarten standards to continue building those foundational kindergarten skills. They are a great addition to your small group instruction or used as an intervention tool for students that need additional practice. 

♥♥♥ SAVE over 25% with this year long bundle! ♥♥♥
Shop Now
Save These Sensory Bin Tips for Kindergarten
Be sure to add this pin to your favorite teaching board on Pinterest. You'll be able to quickly find these sensory bin ideas and tips whenever you need them!