With each new month, comes fun and engaging holidays and topics. That is why I love switching up my centers every month. This provides fresh, new activities for students. And . . . I promise it is much easier than it sounds! Low prep centers are a lifesaver in the primary classroom. They are fun, interactive, hands-on, and provide students with so much valuable learning time. These are some of my favorite math and literacy centers for February.
These February Low-Prep centers are packed with fun, hands-on learning and require very little prep work, always a win-win! I love these low prep centers and just how easy they are to fit into the life of a busy teacher.
In just a few minutes each month, you can have fresh, new center activities for your students.
Before putting out for student use, grab your favorite manipulatives from items you already have on hand. That's it, you are prepped and ready for a month full of learning! Let's check out some of the awesome February centers your students are sure to love!
Math Centers for February
By the time February rolls around, we are in the thick of the school year. You have taught many new concepts to students and they are busy practicing and nailing down those skills.
Incorporating new math activities into our lessons each month is important. Students can repetitively practice these important skills, but in fun new ways, which makes a big difference! Allow your students to learn and grow in confidence with their number skills with these February math activities.
Make a Ten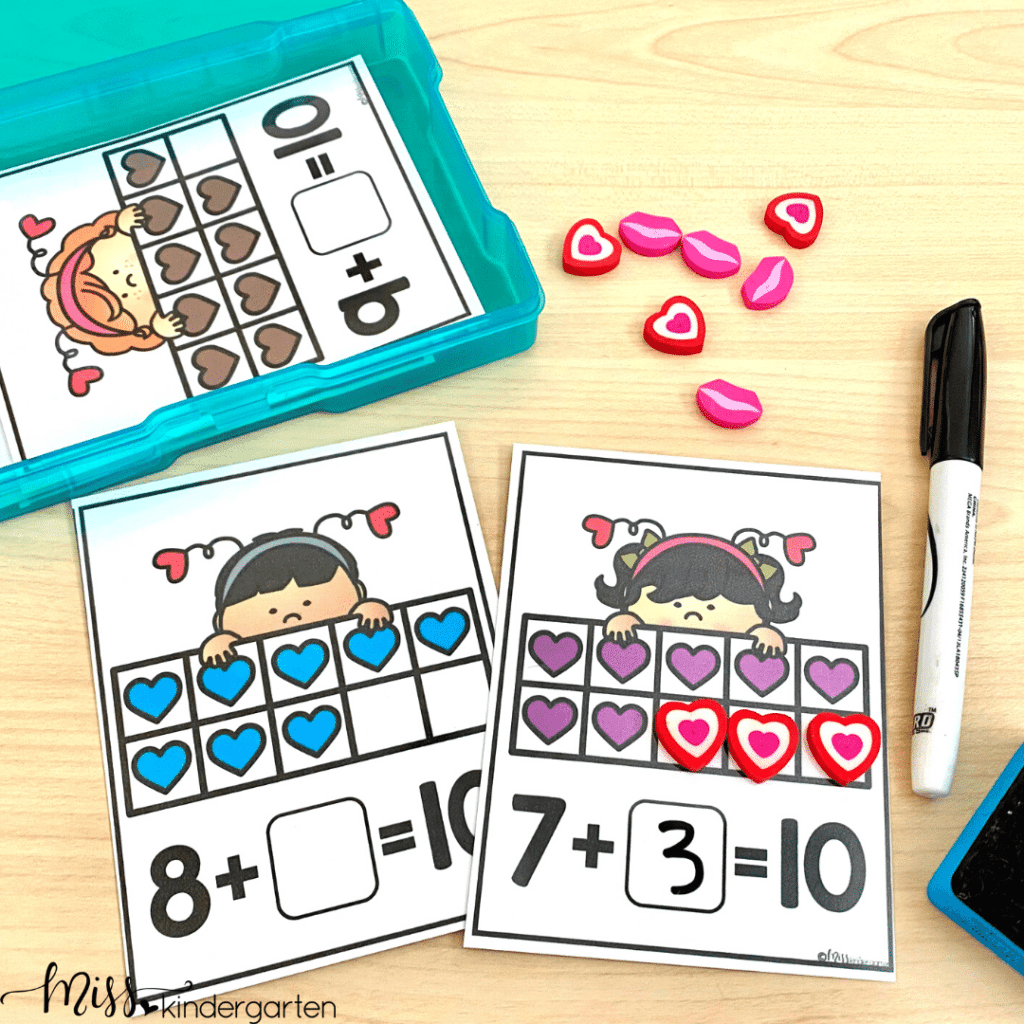 Make a Ten center cards are a great way for students to practice number sense and addition skills.
Each card includes a ten frame to guide students through the addition process. By using manipulatives (I love the little hearts and lips mini-erasers for February!) to fill in the spots to make 10, our students have a practical, hands-on way to practice addition.
They can then write the number in the addition problem to make it correct. This fun, hands-on center gives your students practice with writing numbers, counting, and addition concepts.
Counting Teen Numbers
Once students start to nail down single-digit numbers, it is time to introduce teen numbers which can be a bit trickier. With this center activity, students will practice seeing teen numbers as 10 plus some more. This is a wonderful way to help them build a solid foundation with teen numbers.
Students will draw a teen number card and then match it to a ten-frame card that shows how that number can be created. Using manipulatives, students will count on from ten until they build their teen number.
Then they add it all together and write in the correct numbers in the bottom boxes. A great way to learn about teen numbers and practice writing out their numbers!
Addition to 10
Help students build on their understanding of addition concepts with this dice rolling addition center. Your students will love rolling two dice, building the numbers, and then adding in this fun math center.
While we do lots of work with sets of 10, this math center focuses on addition concepts using numbers 1 to 6. However, you can easily differentiate this center by changing out the dice. Did you know that you can find dice with numbers above 6? Students love using these unusual dice and it is a great number to help them practice addition with larger numbers.
Subtracting from 10
Learning and understanding subtraction concepts is another kindergarten math goal. One of the best ways to help students see these concepts is through visual and interactive math problems.
In this Subtracting from 10 math center, students will start with a set of ten objects. Then, using a dry erase marker, they will mark off the appropriate number to show the taking away process. Finally, students will count the remaining objects to determine the difference.
By using sets of 10, students can connect to prior learning and build new connections between counting, addition, and subtraction.
Literacy Centers for February
These February Low Prep centers also include literacy activities for practicing foundational reading and spelling skills.
Beginning & Ending Sounds
Help students firm up their beginning reading skills with this fun beginning sounds practice activities. Although beginning sounds is often one of the first skills we teach after the alphabet, continuing to review this skill is important. Ending sounds usually comes next and is a key skill to helping students segment words.
In this center activity, students will draw a card and look at the picture. They will say the name of the object and then fill in the missing sound.
A set of letter tiles or magnetic letters is all you need to put this February center into action.
Reading CVC Words
As our young readers learn to blend sounds to read words, they will need lots and lots of practice. At first, their focus will be on the action of blending sounds. Later, continued practice will help them to develop reading fluency. Both are important skills for our young students!
Practicing CVC words is a must in our classroom and these centers make it so fun and easy for students to work on.
Students will match a CVC word envelope to a stamp with the matching picture. Once students are finished, they can practice reading the words.
Writing CVC Words
While the last center will get your students blending to read words, this center will work on segmenting sounds to spell words.
Spin a word is a fun center for students to practice important spelling skills. Students will spin the spinner to determine their word. Then after saying the word, they will segment the sounds they hear to spell the word.
In this activity, students will practice spelling the word two times. First, they will build the word using alphabet manipulatives, and then they will write it out.
This activity provides a hands-on approach to learning important skills!
Short Vowel Sorting
Finally, students will work on identifying the short vowels they hear in words. This phonological awareness activity helps with both blending and segmenting, thus strengthening reading and spelling skills.
Students will draw a picture card, identify the picture, then sort it under the correct vowel sound.
By choosing which cards to add to the center, you can easily differentiate for your students. Include all the vowel sounds to challenge a higher-level reader. Focus on just two vowel sounds to help a lower-level student. Have a student who struggles to distinguish between short i and short e? Let them focus on just those two sounds.
February Low Prep Centers
If you like what you see here, you can head over to my store and find all these low-prep centers and much more! After you print these activities, just store them away and they will be ready when you are! Just add in manipulatives and other items you have on hand, and you are good to go!
Save These February Center Activities for Later!
Make sure to save these February Low-Prep center activities to your favorite classroom Pinterest board so you can quickly and easily find them later!!