When it comes to teaching my students to read sight word sentences, I love to use word family words. We focus on reading short vowel words first, then we move onto reading those words in sentences!
Incorporating sight words we have learned and short vowel words into sentences really helps my students build their reading fluency! Here are some of my favorite ways to practice reading fluency with kindergartners.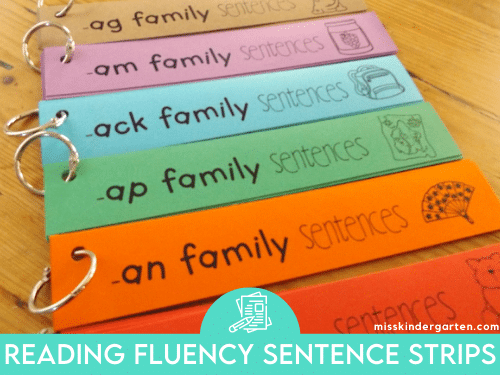 Sentence Strips for Fluency
Sentence reading fluency combines word family words and sight words in order for students to practice reading at a "just right" pace. One of my favorite ways to have my students practice is with sentence reading fluency strips. You can find my Short Vowel Sentence Reading Strips here!
All of the word family words are grouped into rings for my students to flip through. They are color-coded and easy to use at nearly any time of day! Grouping them by word family allows students to work on one vowel pattern at a time. This is helpful as they build their sentence reading fluency. Once they make their way through one ring of words, they can flip through another!
To differentiate each word family, copy the sentence strips onto colored paper. You can laminate these for durability and easy cleaning. I like to place the sentence strips in my word work or literacy center bins when we are learning about word families. They stay there for at least a week before I switch the materials out.
The word family words are paired with common sight words to help students practice reading simple sight word sentences. Word family and sight word practice all in one? That's a win in my book!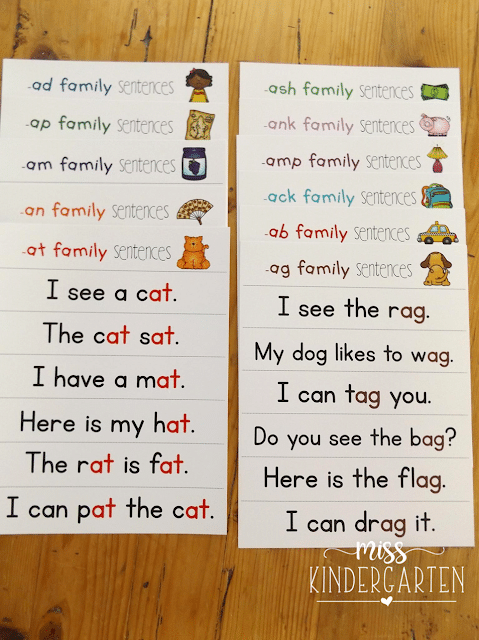 Roll and Read for Fluency
To keep our reading fluency practice fun, the word family sentences also have a roll and read activity, so we can play our favorite "dice game" with our sentences too! We like to play these with partners so we are also reading to someone else. Reading simple sentences to one another holds students accountable. I don't know about yours, but my kids LOVE partner work.
You can find these Short Vowel Reading Fluency Sentence Strips in my store, along with other great word family and sight words activities.
Reading Long Vowel Words
After your students have mastered sentence reading fluency with short vowels, you can challenge them with long vowel sentences. Check out the Reading Fluency Long Vowel Words in Sentences. These are a great pair for lessons about magic e or silent e.
The key to reading fluently and accurately is repetition. Place these activities in your literacy centers all year long so students can practice more than once. I like to put them in for a week and then come back to them after a week or two.
For more ideas on word family fluency, check out this post about Short Vowel Reading Fluency.
I hope these activities and ideas are beneficial and fun for your students. Watching your students grow into little readers is one of the most rewarding parts of teaching! Have fun reading!