When it comes to reading instruction, reading fluency is the ultimate goal. Fluency is the ability to read text quickly, accurately, and with proper expression. But how do you teach fluency in a fun and engaging way your students will not only love but understand? With repetition and lots of differentiated instruction! Instead of spending your time on the internet searching for reading fluency ideas, or trying to come up with them on your own, be sure to check out these awesome short vowel reading fluency ideas you and your students will love!
Developing Fluent Readers
Reading fluently is like talking out loud. We don't talk too fast or too slow, but at a "just right" speed so that others can understand us.
When it comes to helping our littles develop their reading fluency, they start by reading short vowel words. This allows them to learn to see the "chunks" or patterns in words and to apply that skill to reading. Instead of sounding out each phoneme or sound in the words, they learn to blend them together.
Reading fluency also helps with reading comprehension. As students read more fluently they spend less time thinking about how to read and more time thinking about what the words mean.
Reading Fluency Practice Activities
Our young readers need lots of opportunities to build and practice reading fluency. When teaching short vowel fluency, it's important to use a variety of fun hands-on activities to keep students excited and engaged.
The more opportunities students have to practice and apply their skills, the better readers they will become.
Use these fun and engaging activities during literacy centers and guided reading groups. By using consistent activities you not only help students work on reading fluency but they can work independently too. Students know exactly what to do every time they are introduced to a new vowel sound.
This also saves a ton of learning time. It also allows them to jump right in and work on their skills instead of learning a whole new activity.
Step One: Fluency Rings
Word family fluency cards help kiddos practice reading short vowel word family words. Grouping all the word family cards onto a ring helps students easily flip through the cards as they practice reading the short vowel words. Repetition is so important to their learning. Students have so much fun flipping through the cards and reasing their words that they don't feel like they are in the middle of learning.
The word family "chunks" are color-coded to help your students see each chunk or pattern in the word. This visual helps students to see, recognize and read those important "chunks" in words rather than each individual sound.
These cards can be copied onto colored paper to help differentiate each word family. They can also be laminated to make them more durable for little hands and for you to use year after year.
Use these fluency rings during reading time for some extra practice or as quick assessments.
They are also great for those fast finishers. When your readers are ready for more of a challenge, they can move on to reading short vowels with blends.
Step Two: Roll and Read Practice
Roll and read pages are another great activity for working on reading fluency. Students love this game! Here is a short video of one student demonstrating how to play the game. Since they were just working on the "at" family words, they only used that mat. As they learn more word families, we use more mats.
Introduce this game during guided reading groups and once students are familiar with it you can add it as an independent reading center. Students will roll the dice, find the matching number on the paper, and read the words on the line touching each word as they read it.
Kids always love getting to use dice. Using the dice makes this reading fluency practice feel more like a game and less like reading practice. You can pick up some inexpensive dice at your local discount store.
Keep the word family pages in sheet protectors and place them all in a 3-ring binder for easy organization. Simply add pages as your students learn about different word families or phonics sounds.
You can use these roll and read activities during literacy centers, as a quick practice before reading groups, or as an exit ticket at the end of your reading group time.
Want to try out these activities? You can grab the FREE "-at" Family Fluency set to try in your classroom for free!
Step Three: Reading Fluency
Another great way to get in more short vowel practice is using reading fluency passages. These short passages were designed for emergent readers to build their reading fluency. Students love these fluency passages because they are able to read a story all on their own! They are not only great for fluency, but self-confidence too!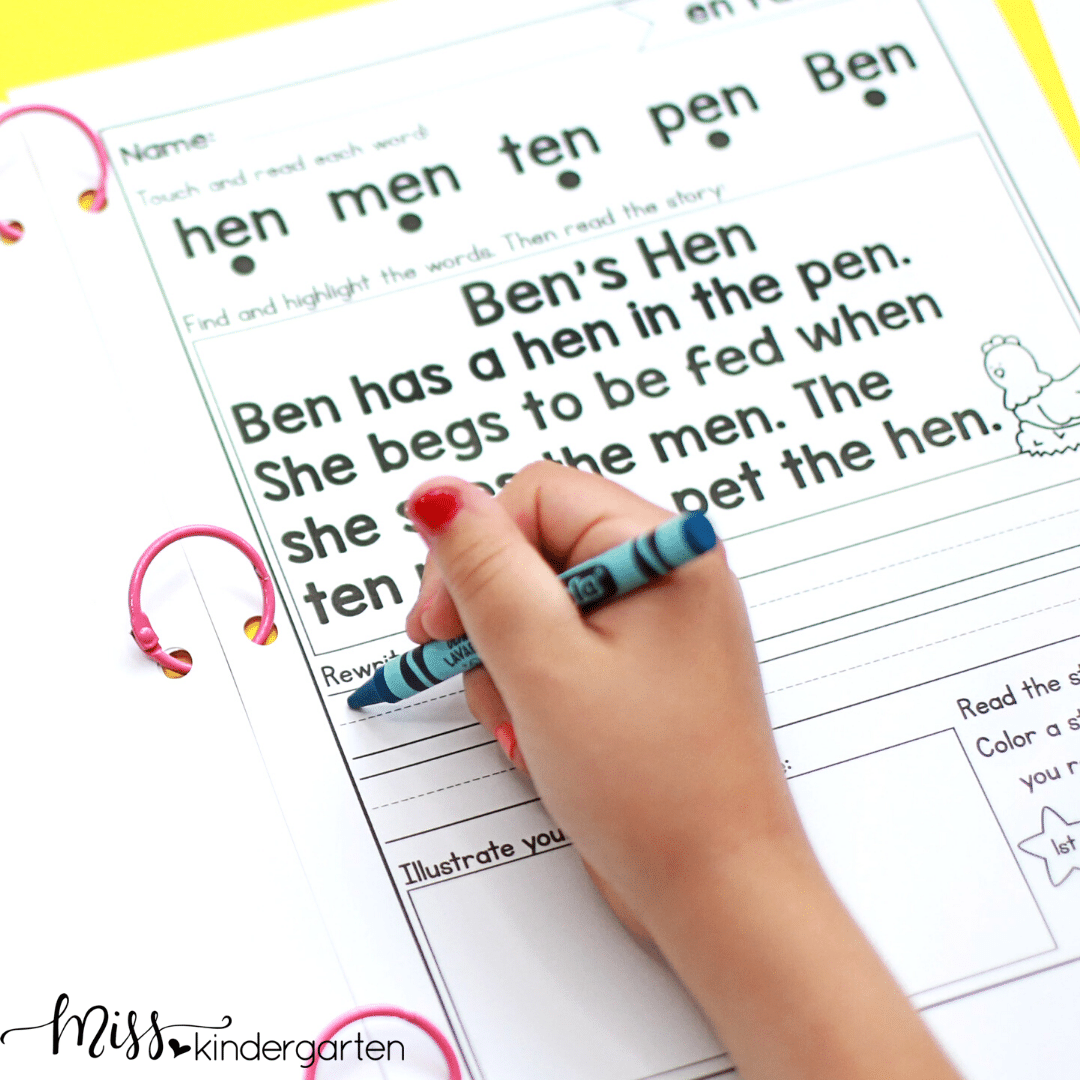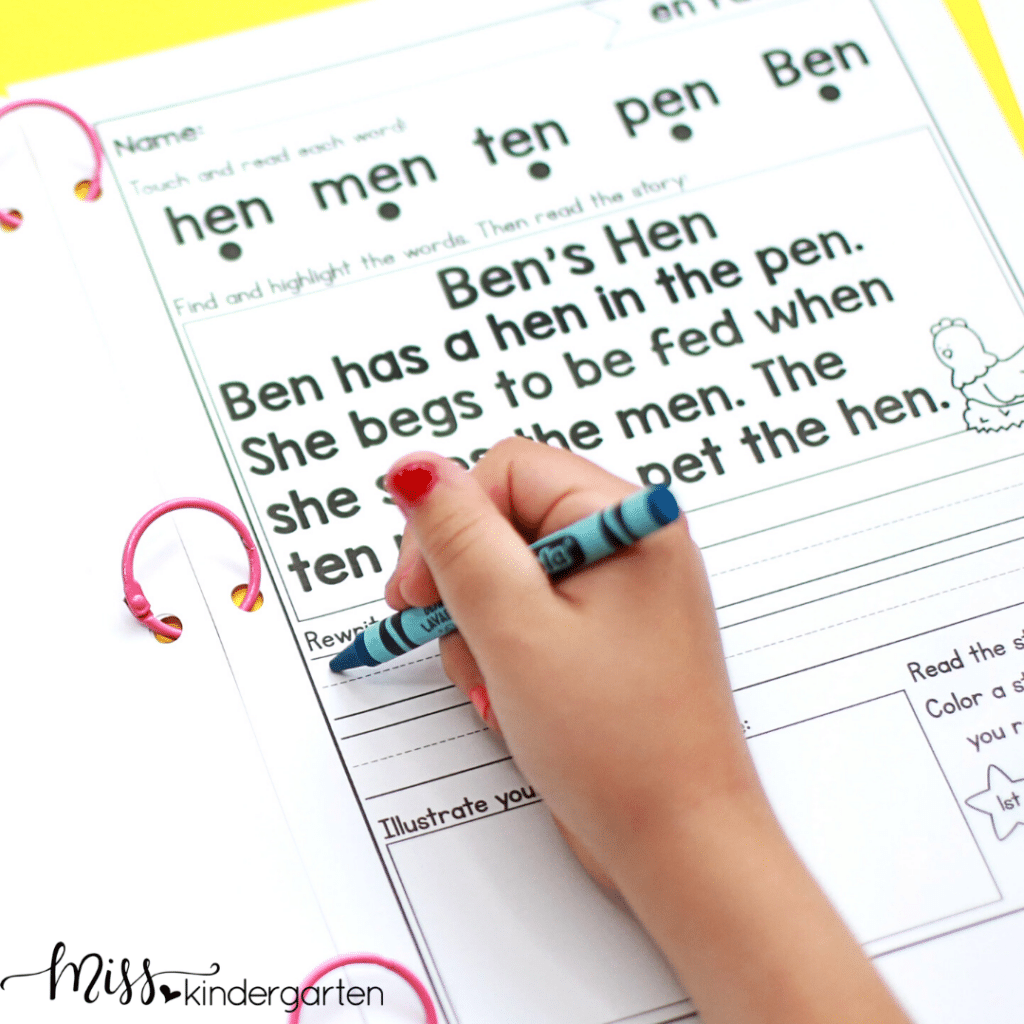 Students start by practicing a specific word chunk as they touch and read the target words in isolation. Then they move to the short passage. Young readers love seeing those target words again when they read the story.
Each time your student reads the passage, they color in a star! It's the repetitive reading that helps them get faster and faster! You can even show students how they are improving by timing them.
Your readers will love showing off their skills for reading and writing as they get to choose and write their favorite sentence from the text and illustrate it too.
These passages are perfect for small reading groups, intervention, and when parent volunteers work one on one with students.
Kiddos will also love taking these home to show off their reading skills to their families.
Free Decodable Passages
Help your students make the leap from decoding words to reading with fluency! These fluency passages are designed to give kids successful reading practice to help students become strong readers!
Step Four: Extra Practice with Interactive Boom Cards
Let's face it, we know our kiddos love anything that has to do with technology. So let's use that excitement and engagement to work on important reading skills.
These interactive Short Vowel Boom Cards are great for helping students to develop reading fluency and comprehension skills.
Students love reading the sentences and dragging the image that matches. Not only does this help with reading fluency but it's a great comprehension quick check too!
Teach these games to the whole class or in small reading groups. Then add them to your independent center rotations, morning work or even as an early finisher activity.
You can also assign them to your students to practice with at home. Directions for how to share a Fast Pin link with parents is included in the download.
Save these Short Vowel Reading Fluency Ideas
Be sure to save these short vowel reading fluency ideas to your favorite classroom Pinterest board so you can come back any time for fun and engaging short vowel reading fluency activities.